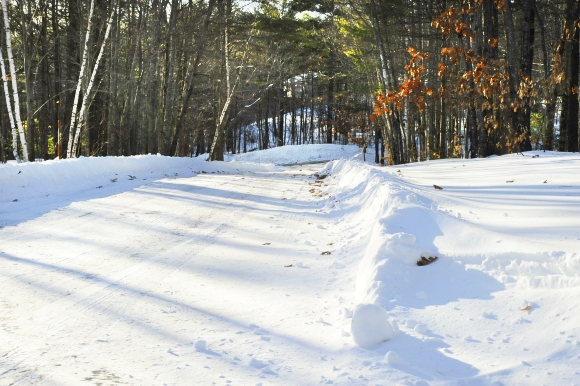 I really have to move the house closer to the mailbox. The snow fall hasn't been too bad, compared to the past year, but the wind chill factor yesterday was -15°F with winds gusting to 30 knots. I've had to pour hot water on my trigger finger to separate it from project rifles. I shouldn't complain. I left New Jersey to get away from the cold and ended up in South Dakota. Accordingly, another move would probably put me above the article circle. Joe, stop whining. Stop it. Right now!

The term "transference" refers to the reassignment of feelings, often retained from early days in a person's life, to a new object, sometimes human, sometimes not. Please see Sigmund Freud's "Remembering, Repeating and Working Through" circa 1914. I picked up the Hawkeye Long Range Target rifle and it was 1959, I was fourteen years old and attempting to master a Winchester Model 54 target rifle. It was heavy, the 30-06 Springfield cartridge was stout but, with concentration and some practiced sling work, it shot as a memorable firearm.
Other than the Ruger's absence of: a parkerized finish, linseed oil blackened walnut stock, peep and globe sights, the rifles are nearly identical. Actually, the familiar presence is the heavy barrel, fat stock and the Ruger's heft. The rest of the old Winchester attributes gave way to much improved modern materials and processes developed during the 60 years that separate the two rifle's manufacture.
Ruger's Hawkeye Long Range Target

Manufactured
Newport, NH

Model #
 47189
Type
Bolt Action 90° Lift

Caliber
6.5 PRC

Mag Capacity
3
Barrel

26″ 4140 CM 5/8″-24 Threaded

Rifling
5R Type 1:8″ RH Twist

Weight – Actual
11 Lbs

Overall Length
47″ – 48.50″ (Recoil Pad Spacers)

Stock
Laminate

Hardware Finish
Matte Black
Length of Pull
13″ – 14.50″

Drop at comb
+/-1/2″ Bore ℄

Drop at heel
1/2" Below Bore ℄

Sights
Clean
Scope
20 MOA Picatinny Rail
Trigger
Two Stage Adjustable
Safety
Three Position

MSRP
$1279
For the neophobic enthusiast, the Long-Range Target rifle is also available in 300 Winchester Magnum and 6.5 Creedmoor. But what fun would that be with a year old, stubby long range cartridge right in front of us in the form of the Hornady 6.5 Precision Rifle Cartridge? Purpose built, heavy… Not a sporter pretending to be a target rifle and not a target rifle pretending to be a sporter.

First things first… from front to back… sort of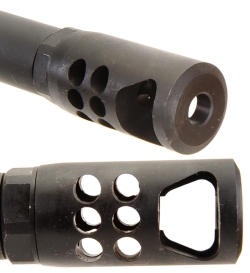 The Ruger Hawkeye Long-Range Target muzzle has a 5/8″-24 thread for attaching muzzle devices. The rifle ships with a removable Ruger Precision Rifle® Hybrid Muzzle Brake in place and a muzzle cap to protect threads when the brake is removed. The brake design is very efficient, substantially cutting recoil and directing muzzle blast away from the shooter.
The Long-Range Target barrel is 26″ long and cold hammer forged from 4140 CM steel. The rifling is the 5R type for more consistent bore diameter, less bullet deformation and for ease of cleaning. The 1:8″ right hand twist is optimized for high Ballistic coefficient bullets. The barrel is matte black to minimize glare.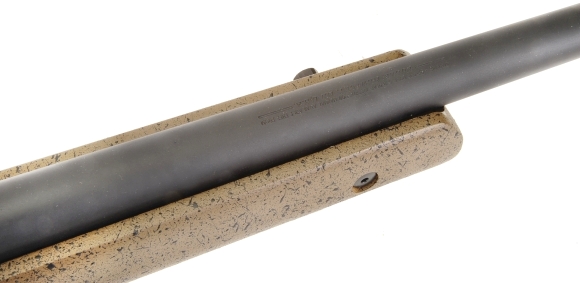 Listing the barrel as a heavyweight is an accurate statement. It begins at the receiver with a 1.160″ diameter and is still 0.840″ at the start of the muzzle end barrel threads. The barrel is full floating. While the bore is cold hammer forged to minimum groove and bore specification, the chamber is cut with minimum headspace and concentric to the bolt face.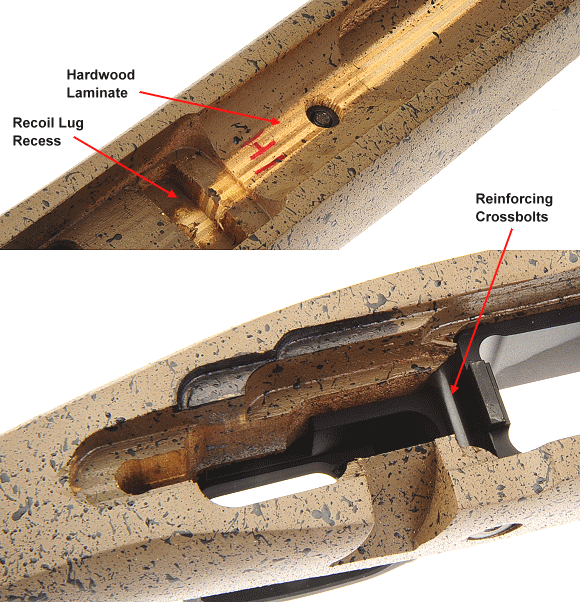 While the stock has the appearance of a foam core fiberglass stock, it is actually a very stable and rigid hardwood and epoxy bonded laminate finished in black and brown speckle. The stock has two cross bolts providing reinforcement at major stress points, the receiver tang is carefully inletted as is the recoil lug.
Beefy stock and stout action and Ruger was smart to include specific torque values and sequence for fastener tightening on a slip sheet, packed in the box. In this case, 95 inch pounds front first, followed by aft fastener torqued to 45 inch pounds.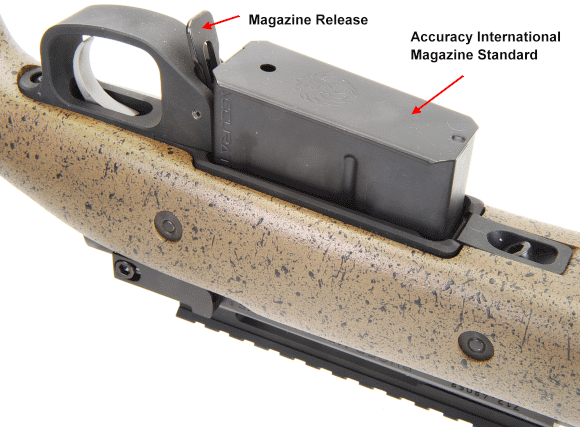 The Ruger Hawkeye Long-Range Target follows the standard for Accuracy International Chassis System magazines, ACIS. Magazines are interchangeable between the Ruger Precision rifle, the Scout rifle and other firearms and aftermarket following the standard.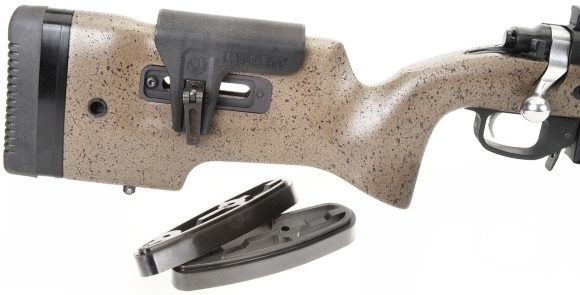 Length of pull is adjusted by adding or subtracting 1/2″ recoil pad spacers. A total of three are supplied with the rifle. The adjustable comb can easily be adjusted by lifting the cam lever. Without the adjustable comb, the stock has a 1/2″ drop from bore centerline at the comb and heel. Installing the adjustable comb raises it to bore centerline with 1″ of upward adjustment available. The comb can also be revered to shift the support surface and the comb can be shifted fore and aft in a range of 2″. Ease of adjustment is important if it is to be used as intended for changes in shooting positions.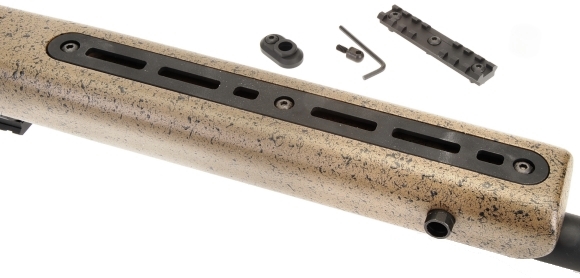 The Long-Range Target includes an M-LOC compatible forearm rail, as well as a Q-LOC sling swivel and Picatinny rail for mounting a Bi-pod. The rifle also has three QD sling mount attachment points.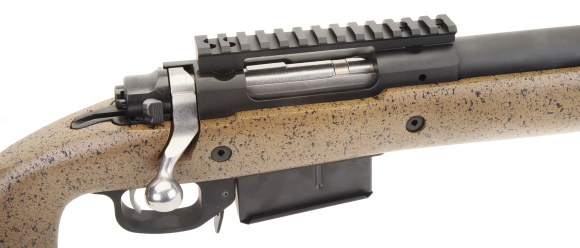 The Ruger Hawkeye Long-Range Target has a three position wing type safety; safe locked bolt, safe unlocked bolt and fire. The 20 MOA Picatinny rail moves scope adjustment closer to optical and mechanical adjustment center for long range shooting. The rail is secured with #8-40 to carry the weight high magnification, large tube scopes.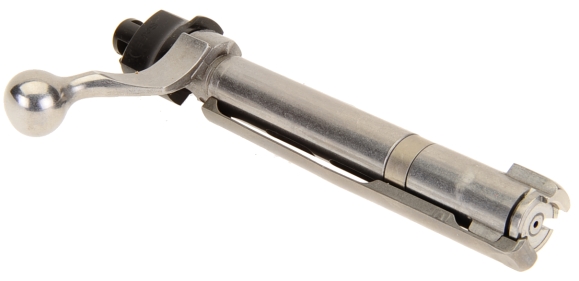 The one piece Ruger Hawkeye stainless steel bolt is two lug for a 90° lift. The long Mauser type extractor provides controlled round feed. A blade ejector allows shooter to determine force of ejection.
The 6.5 Precision Rifle Cartridge
Right, 300 RCM 165 grain and 6.5 PRC.147 grain.
The 6.5 PRC has been with us for just about a year. Originating with Hornady, it is derived from the 300 Ruger Compact Magnum cartridge with a number of notable differences. Beyond the neck size reduction to accommodate a smaller 0.264″ bullet… The 6.5 PRC has a 0.115″ longer MAX COL, its shoulder is set back 0.074″ farther than the 300 RCM and the 6.5 PRC's case capacity is 68 grains of H2O compared to 75 grains for the 300 RCM.
The increase in powder capacity over the 6.5 Creedmoor provides higher velocity when both are loaded with heavier, high BC bullets. Like the 6.5 Creedmoor, the short case permits the use of longer bullets in a short action rifle. As a small bonus, the short case chamber also increases net barrel length compared to a standard length cartridge.
As a note of no particular importance, the case capacity for the 6.5 PRC is actually the same as the 1966 6.5 Remington Magnum, but the 6.5 Magnum was a compilation of the problems the 6.5 PRC overcame. The 6.5 Remington's case length was dimensionally marginal for a short action rifle, which resulted in deep seating heavier, high BC bullets, causing a loss of net case capacity. Consequently, factory ammo was loaded with either 100 or 120 grain bullets. The 6.5 Remington Magnum was launched in a short 18 1/2″ barrel carbine that threw away the benefit of greater case capacity and even the lighter bullets.
Current;y, there are only two factory loads available for the 6.5 PRC, both from Hornady, both with 147 grain bullets, but one is for match shooting and the other is for hunting. Not to let a small issue like factory ammunition availability get in the way of a terrific cartridge, more than half of the 96 bullets available in 0.264″ for handloaders weigh 140 grains or more with several stretching above 160 grains. These would take advantage of the rifle's tight 1:8″ twist and and relatively large case capacity.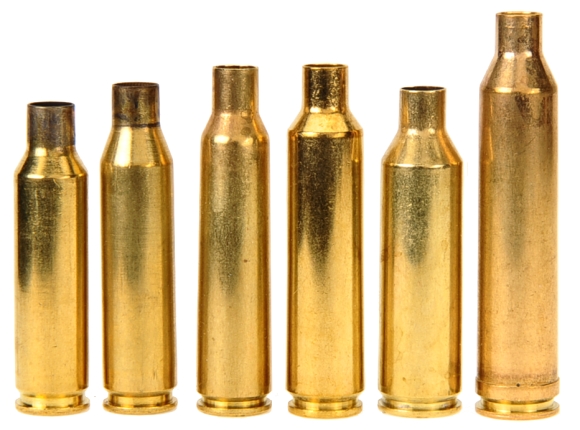 I don't know why some popular writers persist in advising that 6.5mm cartridges are "catching on". There are roughly sixty eight, 6.5mm/0.264″ cartridges, although many of them are are of Euro origins or from the bench of handloaders, with both civilian and military applications. Above, are six I handload with some frequency. We'll use them in order of case capacity to place the 6.5 PRC into proper context. Left to right, top to bottom on the table. Why? Because I said so, and I am the supreme commander of this desk and monitor and the ruler of all that surrounds me… within a foot or two…. until the cleaning crew tells me to clear out.
Cartridge

Case




Length




Inches

Cartridge




Length




Inches

Case




Capacity




H2O

MAP/




Pmax




KPSI

SAAMI
Bullet
Grains

SAAMI
Bullet
FPS


6.5 Creedmoor

1.920

2.825

53.5

62

140

2690


260 Remington

2.035

2.800

53.5

60

140

2725


6.5×55 Swedish

2.165

3.150

57.0

51

140

2550


6.5×284 Norma*

2.170

3.228

66.0

60

140

2936


6.5 PRC

2.030

2.955

68.0

65

147

2900

264 Winchester


2.500

3.340

82

64

140

3015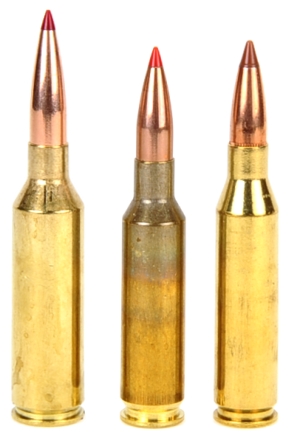 * The 6.5×284 Norma is under CIP homologation, not SAAMI and data is conversion from metric to imperial. All SAAMI listings are with a 24″ test barrel and velocity and pressure are stated in imperial measurement. The 6.5×55 Swedish, when handloaded for a modern bolt action rifle can easily match or exceed 6.5 Creedmoor and 260 Remington performance.
Left, the 6.5 PRC adjacent to the 6.5 Creedmoor and 260 Remington. All cartridges that have seen a lot of exposure in long range target shooting competition. No, the picture was not necessary. Thank you for pointing that out. Still, it was a good shot and I did not want it to go to waste.
So where does all of this leave us, other than at the intersection of pseudo arcane and mass confusion? The 6.5 PRC is arguably, the best short action 6.5mm cartridge where there is an objective of using heavy lead and shooting over long distances.
How do the Ruger Hawkeye Lon-Range Target and the 6.5 PRC perform with light bullets and that tight twist? Other than hearsay, I do not as yet know, but I will by the time I get done with Part II.