I do not know much about shotgunning. I tend to think of shotguns, for the most part, as the firearm of choice for golfers and Canadians, the more… evolved sectors of modern society. Reluctantly, I would have to admit that shotguns work well when there is a need to terminate a turkey, or a squirrel, or rabbit, or any number of game birds. Sure, they fit well into some defensive strategies and, yes, there are those "shotgun only" deer hunting states where shotguns have been legislated into use by citing flat earth and urban considerations. OK, shotguns are also great for sharpening snap shooting skills and they do make for an enjoyable afternoon of recreational shooting with family and friends.OK, maybe golfers and Canadians irk me and they seem to like shotguns.
In any event, i have just finished taking a look at a Browning Silver Field. No, it is not a new release, but it has been in production for over fifteen years, which makes it an example of a firearm many people find useful and of value. Sounds pretty straight forward, but that is a far less common outcome than most people might think. Comparing a company's catalog of fifteen years ago to its catalog of today typically will show significant change. So when a firearm persists and expands in models offered, it is worth a closer look. Could be as simple as a well made product, that also looks good and is sold at a reasonable price.
Browning Silver Field


Item #

011413605

Manufactured

Portugal, Viana


Type

Gas Operated Auto Loader

Gauge

20 (2¾" – 3″)

Mag Capacity

4+1 (2¾") 3+1 (3")

Barrel Length

26″

Invector Plus Chokes

Full, Modified, Improved


Weight

6 Lbs 5 Oz

Overall Length

46¾"

Stocks

Walnut – Satin oil

Hardware*

Matte Black/Silver Aluminum

Length of Pull

14¼″

Drop at comb

1¾"

Drop at heel

2¼"

Sights

¼" Ventilated Rib

Trigger Pull

5Lbs. 9 Oz.

Safety

Cross Bolt

MSRP

$1,039.99

*Aircraft Aluminum Receiver
The Browning Silver series is not a new or even recent introduction. Introduced in 2004 as a value priced product, the Silver shotgun has appeared in many versions, something to the tune of thirty seven since its introduction. Currently, there are eight models concurrently available within the Silver product line. The Field model is available in 12 gauge and 20 gauge, each with 24″ or 26″ barrel. Other Silver models are are available in 12 gauge 3 1/2″ and there are both 20 gauge and 12 gauge 3″ chamber slug guns.
Distinguishing features…
First, the things I cannot readily illustrate photographically unless I take a saw or milling machine to the subject firearm. The Silver Field, 12 gauge or 20 gauge, is a back-bored product. The bore is opened in diameter ahead of the chambered shell to reduce shot bore friction; not so large so that gas bleeds past the shot cup, disrupts the shot and reduces velocity, but not so tight as to deform pellets and cause unpredictably formed shot patterns.
The end of a 12 gauge SAAMI chamber is 0.798″ in diameter -0.000/+0.005″ at the onset of the forcing cone. The forcing cone is the length that it takes for converging 5° angles to reduce the chamber diameter to bore diameter 0.725″ -0.000″/+0.020″. This is a longer overall chamber spec, implemented 07/27/2015, which superseded a shorter chamber spec implemented on 05/29/1979.
Browning exploits the SAAMI specification by increasing its 12 gauge bore to 0.742″, which is only 0.017″ over nominal and still 0.003″ inside the maximum diameter tolerance. The 20 gauge Silver; SAAMI bore diameter is 0.615″ -0.000″/+0.020″ and the Browning back-bore is 0.632″. The increase in bore diameter, coupled with a 5° forcing cone angle, allows for a less abrupt transition for shot cup and shot from chamber to bore. And yes, there are many shotgun manufacturers that now do something very similar because it works. My point is that this is a proven technique that is used in many applications from performance car exhaust systems to natural gas pipelines, rooted is some form of aerodynamic and/or hydrodynamic physics, neither of which are very intuitive and easily addressed by opinion.
No, Invector Plus is not a new Marvel Super Hero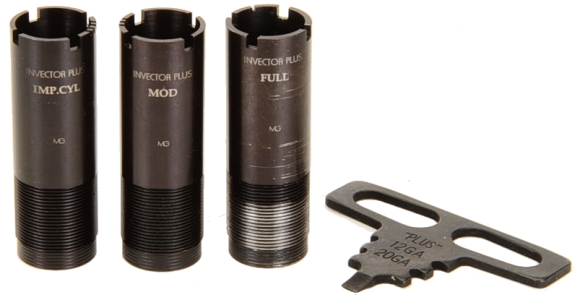 I guess there isn't much point in smoothing out the entrance if you're not going to streamline the exit.The Browning Silver utilizes Browning's Invector Plus interchangeable choke system. Three are supplied with the Silver Field, all are flush fit and the bodies are longer than the Invector Series, which provides a longer internal taper. Yes, the choke key is included. Thank you for asking.
Active Valve gas system…
The Active Valve gas system bleeds gas from the bore, feeds it to the gas piston which actuates the push rod at the end of the piston sleeve and cycles the shotgun. Only enough volume and pressure are used to cycle, the rest is vented through the forearm. This allows the system to function reliably with a wide range of loads.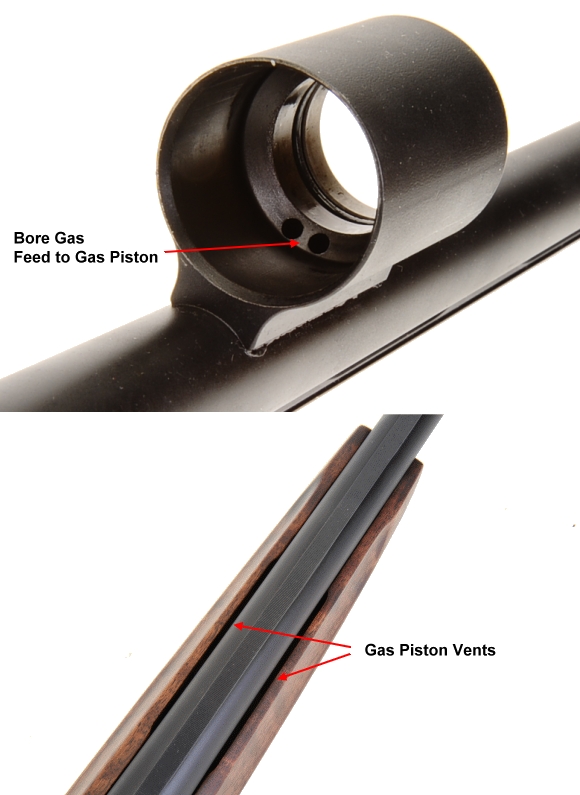 Top, the gas supply ports for the Active Valve system and the vests at the top of the forearm. No, jet streams are not emitted from the forearm that scare wildlife and give your fingers whiplash. In fact, I did not notice the vents until I was illustrating the system and that was after lots of shooting.
Initial Impressions…
I like the Browning Silver. It has an understated appearance, even with the silver sided aluminum receiver and artful logo. I particularly like the combination of matte black metal piece in concert with dark walnut with a satin finish. I like the semi-humpback receiver. It helps me with line of sight alignment and find the front bead quicker.
The Silver Field 20 gauge is lightweight, but nicely balanced. Stock geometry is comfortable. Browning indicated their Active Valve system reduces recoil and gas systems typically reduce recoil by consuming gas volume and  because they slow recoil velocity. In the case of the Browning Silver, recoil reduction is notable in comparison to other other gas actuation systems.
Browning indicates that the Active Value system is adaptive to a wide array of ammunition types. I only worked with three types that were handy, but they all cycled reliably, even when mixed in the shotgun's magazine. Pictured L-R: Winchester Super Target 2 3/4″ 1200 fps 7/8 Oz #8 shot, Remington Express Long Range 2 3/4″ 1220 fps 1 Oz #6 shot, Remington Nitro Turkey 3″ 1185 fps 1 1/4 Oz #5 shot.
I did not put out pattern targets for a couple of reasons. First, because there is no separating the ammunition selection from the shotgun's performance, so it would not be clear who to high five versus raspberry based on the outcome, the ammo maker or the shotgun. Of greater importance, it is sub zero weather, the snow piled high on the ground. While I like you guys a lot, I am not that self sacrificing.  I did shoot some clay targets, connecting much better than my typical. I also did pretty well on some tossed pine cones that turned out to be material for one of my wife's craft projects.
I could have shot the target ammo all day. For a 6 lb shotgun, it really does manage recoil well. Express loads… half a day and still be smiling. For 3″ Nitro turkey loads? After shooting a bunch of the other types, I was not disappointed when I reached into the box for the fourth reload and found only one shell left. Nice shotgun, typical Browning high quality. A couple of days of shooting and both me and the shotgun concluded in good shape.