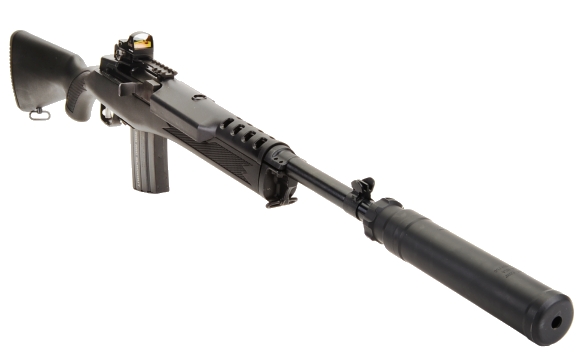 I don't know exactly, how long a firearm needs to be in production before critics become a bit more rational and bit less cliche. The Ruger Mini-14 is a good firearm. How do I know? The Mini-14 has been in production since 1975 and sold worldwide to sportsman, private security firms, police, and military. So, roughly, for forty five years in production and in demand. I have had the pleasure of shooting them out of the factory box and I have had the enjoyment of shooting them in substantially modified form.  They are consistently reliable and accurate.
With a hog hunt coming up in early spring, a Mini-14 in 300 Blackout with a red dot sight system seemed an okay place to begin. The combination represents a fast tracking rifle and ample medium game size power cartridge, certainly out to 150 yards. From a ballistic standpoint, setting aside bullet weight extremes, light or heavy, power is comparable to the 30-30 WCF, but the 300 Blackout offers the additional benefit of higher ballistic coefficient spire tip bullets for improved down range performance.
Some Texas ranches that open their land for hog hunting prefer hunters do not use the 300 Blackout, deeming it under powered.I don't believe that is an accurate criticism when appropriate ammunition is selected. I do believe it may be an accurate criticism when non-expanding subsonic ammo, or non-expanding match ammo is selected. The problem may also exist where handloaders select heavily jacketed 0.308″ bullets designed for use with high performance 308 Winchester and 30-06 Springfield loads or any of the 300 magnums.
It is a Mini-14… Shouldn't it be a Mini Thirty?
Ruger Mini 14

Manufacturer

Ruger
Model
5864
Hardware Finish
Blued Carbon Steel
Stock
Black Synthetic
Action Type
Fixed Piston Gas – Semi Auto
Caliber
300 Blackout
Magazine Capacity
 20 Rounds
Barrel Length
16.12″
Twist Rate
1:7″
Adjustable Sights
Aperture Rear – Blade Front
Scope Mounting
Picatinny Rail Included

Overall Length
36.25″
Length of Pull
13″
Weight
6.7 lbs

Trigger Pull
6 lbs 11 oz
MSRP
$1089.00
While the Blackout is a 0.308″ bullet cartridge, it does not fall into the Mini Thirty model designation which is reserved for the 7.62x39mm chambered Minis. The 300 Blackout falls into the Mini-14 model designation, but differs from the 5.56 NATO version in a number of ways. 300 Blackout discrete parts.
More than a few parts differences, with most of the changes going toward balancing gas pressure/volume and reciprocating mass to assure reliable use of supersonic and suppressed subsonic ammunition.
The 300 Blackout has as wide a bullet weight range as the 30-06 Springfield, 88 grain to 220 grains just in factory ammo. The reward for Ruger's efforts is clean cycling and reliable firing ammo across the range as shipped from the factory. In suppressed form, the same reliability can be found with the exception of some of the lightest bullet loads, 110 grain factory loads in my experience. I've not had that problem with handloads and most factory ammo.
Easy take down…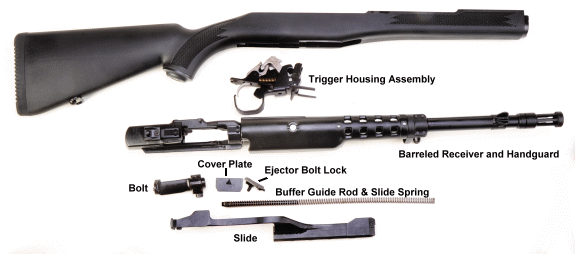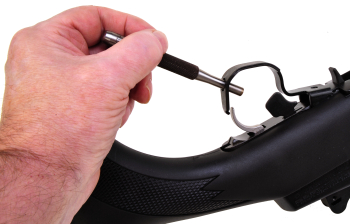 If you've ever taken down an M1 or M14, the Mini-14 will be familiar.  I'm not that bright so the last thing I need is an endless stream of firearms that have their own.. combination locks to figure out. I need a gun that is easy to take apart or it will never be cleaned and it will eventually be rendered inoperative by an overabundance of carbon deposits and small mammals taking up residents in its bore.
With the exception of popping the trigger guard with anything that has a blunt tip and is ¼" in diameter, disassembly of the Mini is easy and requires no tools. Ruger indicates that a bullet is not to be used to perform this task. I concur, but I bet there are a lot of guys who would look at the hole in the guard, look at the tip of a 300 Blackout cartridge and think "Hey!". Bent and lose bullets are not advantageous to safety or accuracy.
The trigger assembly is… robust and logical in design. There is the trigger hooked to the underside of the hammer with a secondary sear on the opposite side of the hammer. The secondary sear catches the hammer as the Mini's bolt moves rearward after discharge. The primary sear on the trigger locks into the sear hook on the hammer as the trigger is released and allowed to move forward.
The subject Mini is typical of the product; a little heavy in pull and with some amount of creep. Not enough to impact function, but it could be a little more crisp and a little bit lighter. It is an area that can always stand improvement, but not an area to play around in without appropriate training. Reworking the hammer, sear and secondary sear means managing metal removal and surface finishing. Done correctly, the result is a slick 3 – 3.5lb trigger. Done incorrectly, the gun will double, it won't get repaired under warranty and you will need a fresh supply of trigger parts.
Pull my finger…

The gas system of the Ruger is much simpler than an AR's system. No long gas pipe or combustion gases make their way to the gun's bolt. The short gas pipe, left inset, channels gas pressure to the front of the slide to cycle the gun. The forearm has a steel liner that protects the stock and shooter from any gas or gas born residue. When they put this type of set up on an AR, manufacturers call it a gas pistol setup and tack $400 onto the price of the firearm.
No, the word is "peep", not "peek"….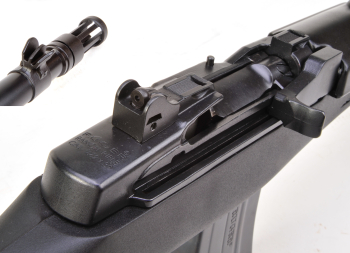 There is a tendency, these days, for mass produced firearms to have less than exciting sight systems. Manufacturers install just about anything to meet the perceived obligation, avoiding the cost of good sights and assuming the customer will find something more personally suitable. Ruger took a different route. They put a good set of sights on the Mini, very much appropriate for the rifle's typical application.
The rear aperture sight is fully adjustable for both windage and elevation. Each full turn of the windage adjustment results in a 5″ shift at 100 yards. Each half turn of the elevation adjustment, the aperture, results in a 1.25″ shift at 100 yards. Adjustments are locked in place with a lock screw. Adjustment requires the use of a 5/64″ hex wrench. Adjustments are precise and settings remain in place under recoil. In use they worked well and were very fast in getting on target. Both front and rear sights are well shielded with brush guards.
In addition to metallic sights, the Mini 14 300 Blackout ships with a Picatinny rail adapter that facilitates the use of conventional scope rings and other types of optical/electronic sighting systems.
Initially, a Burris FastFire was mounted. They are compact, durable and they hold zero. So I installed, I took the rifle outside where everything was snow covered, and squinted to keep the 4 MOA red dot in view, until I began to develop an eye twitch, gave up and went back into the shop. A 3.9″ Red/Green Circle Dot Reflex Sight with Picatinny mount and brush guard was installed in place of the Burris FastFire. Significantly larger than the FastFire, I do not care. Finding a target and tracking against any type of background is a snap, making it a fast system. It is like sitting on a sofa and watching a big screen TV, where the FastFire is like watching a high def movie on an iPhone.
Why is the red dot mounted so far forward? Couple of reasons. The first is that the Mini-14 rail is cutaway on the right side in the central area over the rifle's ejection port to make sure it does not interfere with flying brass. With the right side of the rail missing, nothing can be mounted in that central area. The second reason for the forward mounting is the use of a silencer. Silencers tend to blow minor amounts of bore gases back into a fire arms chamber. Subsequently, until windshield wipers are standard on red dot sights, locating them forward keep the soot off of the lens.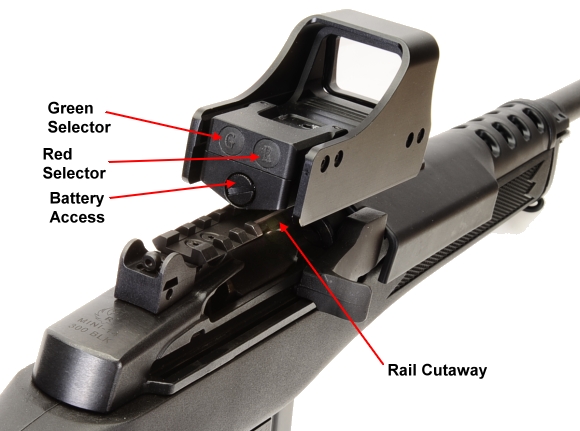 The UTG Leapers 3.9″ Red/Green Circle Dot Reflex Sight comes in two versions, SCP-RDM39SDQ with a 4 MIL dot and SCP-RDM39CDQ with a 4 MIL dot and 58 MOA halo. Both are powered by two AG5 batteries. Each color selector acts as an on/off switch as well as color and illumination brightness selector. Left on, the sight will power down in one hour. Windage and elevation adjustments are in 1 MOA increments and can be locked in position after adjustment is set. This one was aligned with a standard boresighter and was within a couple of clicks of being dead on at 100 yards.

In context with the rifle, rather than in closeup, the red dot is not so large, the viewing area is very easy to pick up with both eyes open, large and eye relief, for all practical purposes, is infinite and parallax free..
  Live fire performance Shhhh…

An Advanced Armament SR7 was installed on the Ruger Mini-14 Tactical with a 90T 1/2×28 Blackout® Flash Hider Mount. It is a multi caliber silencer that also works well with cartridges such as the 308 WInchester, 6.8 SPC and even the 5.56 NATO. It is a mature, quick detach silencer that I've used for some time in defense of my hearing and neighbors.
| | |
| --- | --- |
| Model | AAC – SR7 |
| Calibers | Multi |
| Weight | 19.6 Oz. |
| Length Full/Compact | 7.60" |
| Tube Diameter | 1.50″ |
| Tube Material | Blackened 316L SS |
| Baffle Core | Iconel 718 |
| Assembly | Welded |
| Attachment | 90T Fast-Attach |
| Sound Reduction | 25dB to 39 dB |
| MSRP | $949 |
Factory ammunition indicated below went +/- less than 1% with the silencer in place, so the listed velocity was recorded as the rifle would probably be shot, without the silencer in place. Generally speaking, advertised to actual velocity should be close, as the SAAMI ammunition test barrel spec is 16″ in length with an 8″ twist and The Mini-14 barrel is 16.12″ long with a 7″ twist.
The red dot sight was removed and a conventional scope was installed when the one hundred yard groups were shot. The 4 MOA dot was a little too imprecise to do justice to an accuracy check, but it would be more than enough for hunting, particularly when shots are typically half that distance.
Ammunition

Bullet




Type

Weight




Grains

Rated




FPS

Recorded




FPS

100 Yd




3 Shot




Group




American eagle suppressor

FMJ

220

1000

1056

1.2


Remington High Performance rifle

OTM

220

1015

1088

1.0


Winchester  Deer Season XP

Poly Tip

150

1900

1844

1.2


ADI MSR

FMJ

144

2021

2039

1.4


ADI MSR

HP

125

2132

2199

1.2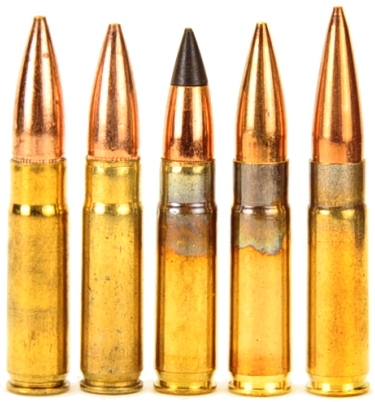 Ammunition was selected based on being handy and because of bullet weight range. Other than the Winchester 150 grain load, none would be on my list for hunting. I've narrowed my handload bullet list to three types for hogs and now I will go to work on working up those loads.
Summary
It seems firearm opinion has become almost as polarized as political opinion and the "love it – hate it" beat goes on. What we are missing, it seems, is a "good points – bad points" analysis that can be prioritized to come to a purchasing decision. No, I am not going to do that here. Too much work and I am not sure if anyone listens… or reads the detail anyway.
So for now, the hog gun will be the Ruger Mini-14 Tactical, the UTG 3.9″ Reflex Sight and… Three types of handloads; coming soon.