I want to say that this rifle makes me want to move to Wyoming, or Montana, or New Mexico and hunt antelope. Especially since Maine's current political climate has Mainers heading toward commuting on electric powered roller skates and dining on rhubarb and tree bark. I may head out of state now to stay ahead of the crowds. Although, as unfettered and unsupportable liberalism spreads through the country like the walking dead, the folks causing the problem seem to flee to rural areas, again spreading their contamination. So the problem becomes finding America within the new brainless society. Anyway…
The anatomy of a value priced rifle
In 1969, a base level Model 70 Winchester catalogued for $157.95. Adjusting for inflation, that is $1,083.32 in 2019 dollars. The Winchester Model XPR, an arguably better and more accurate firearm, sells for half that amount. A walnut stocked Sporter version, rather than the synthetic stocked base model, is sold for under $600.
Holding out for that walnut stocked Model 70? It is still less expensive than it was in 1969 with an MSRP of $1,009.00. I would suggest that firearms are not getting too expensive as much as the cost of everything else is sky rocketing, gobbling up much of what was once discretionary spending. . In 1969, our then young family rented a small, but very nice home in town for $75/Month. Can you point me to the glut of similar homes today that are renting for $514.40? Looking at Zillow listings, homes comparable to the one we rented are now generally priced at $1,400.
The Winchester XPR is Winchester's newer generation bolt action rifle. While deemed "value priced", based on the high quality of materials and assembly, aesthetic appeal and demonstrable performance, the term "value priced" does the rifle a disservice. Add to the XPR packages the 270 Winchester Short Magnum cartridge and there is more than enough gun for any North American setting. Why limited to North America? Because that is as far as my first hand experience can cover my key tapping fingers, at least within the most recent fifty years Yes, I do read first hand accounts written by others, but it is for those folks to tell those stories and for me to tell mine. See how that works?
Winchester XPR

Manufactured

Viana, Portugal

Item #

535700264

Type

Bolt Action

Caliber

270 WSM


Mag Capacity

3

Barrel Length

24″

Rifling

1:10″

Weight – Actual

7 Lbs 0 Oz

Overall Length

44″

Stock

Composite

Hardware

Matte Blued Carbon Steel

Length of Pull

13 3/4″

Drop at comb

1/2″

Drop at heel

3/4"

Sights

Clean

Scope

Drilled and Tapped

Trigger – M.O.A.

Adjustable 3.5 Lbs Nominal

Safety

Thumb 2 Position

MSRP

$549

Available in thirteen calibers
Pictured left, L-R, 270 Winchester, 270 Winchester Short Magnum and 270 Weatherby Magnum.The 270 WSM is one of my favorite high velocity big game cartridges. It is flat shooting, moderate recoiling and lethal on even large bodied game. Compared to the also excellent 270 Weatherby, the average price of WSM ammo, in comparison to the average price of Weatherby ammunition, makes WSM almost a budget round to shoot.
Factory ammunition bullet weight distribution between the 270 WSM and 270 Winchester is currently about the same; 120 grains to 150 grains. Same ammo type and weight typically gives the WSM a 260 to 300 fps edge. For the handloader, setting aside bullets intended for the 6.8 SPC, bullet weights range from 90 grains to 180 grains.
270 Weatherby brand ammunition, bullet weight for bullet weight, shows a 100 to 250 fps advantage over the 270 WSM. However, while all three noted 270 cartridge have a SAAMI homologation calling out a 24″ test barrel, Weatherby ammunition ballistics are based on a 26″ test barrel consistent with their Weatherby Mark V firearms.
In the beginning…

Back in the good old days, all major rifle manufacturers built their products with highly skilled factory craftsmen… and others. So if Chuck, the highly skilled machinist with 30 years of experience cut the barrel threads and set the barrel shank shoulder dimension for headspace on the rifle you purchased, you were aces and, chances are, there would be venison on the table come deer season. Unfortunately, there were ten other guys setting headspace on the factory floor including the recent grad from machinist's school, David, and checkering room Darlene's crazy cousin Carl.
Yes, of course there was also Q.C., supervision and training and, yes, I am being facetious, but my point is that complex processes require skilled people and God does not bless us all with the same talents, experience and education. The good folks at Winchester decided to not make headspacing a creative and somewhat subjective process, by replacing the precision set fixed barrel shank shoulder with an adjustable barrel nut. Headspace is now set to a simple headspace gauge so that it comes out the same every time… even for Carl.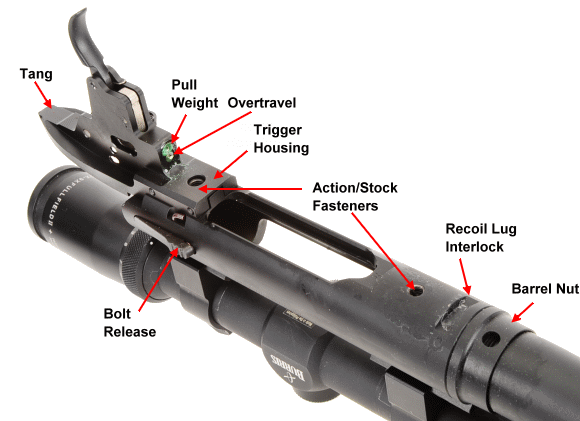 Over the years I have prided myself on the ability to produce very light triggers on target rifle and triggers with slightly more resistance on hunting rifle. Polished contact surfaces, minimal engagement surfaces and just enough spring to keep all of the parts under tension until sear release was desired. The XPR has a better trigger than any hunting rifle trigger I've refined and it is a good deal safer in handling. Winchester's MOA three lever trigger has virtually zero take up, zero creep and zero overtravel. Pull is adjustable but leaves the factory at a nominal 3.5 lbs.
The poly stock is heavily ribbed for reinforcement. Action fasteners pass through the stock at two reinforced bosses, perpendicular to the rifle's bore for the greatest action to stock stability. An embedded steel recoil lug locks into a cross slot CNC machined into the forged steel receiver. For me, the stock dampens recoil, but the rifle always holds zero. Yes, you could point to my prior general lack of muscle tone as the source of dampening effect, but I've been working out a lot, lately, and it has never been much at returning to zero.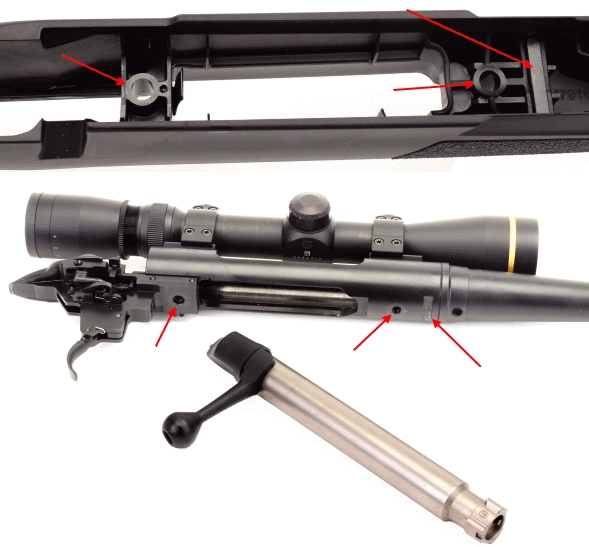 Bottom, oversize bolt body is CNC machined from chromoly steel bar stock and hardened through heat treating. The three front locking lugs and recessed bolt face, enclose a cartridge's case head for added safety and provides a short 60° lift for improved scope clearance and faster cycling. The full-diameter bolt body increases columnar strength and better longitudinal guidance through bolt ways, while its Nickel Teflon coating reduces friction for smoother travel and increases corrosion resistance.
Winchester refers to the XPR bolt handle as "sculptured". I would refer to it as downsized for delicate European hands.That said, I used to work with a business counterpart in France, Marcel, who had hands like a giant brown bear. In fact, he seemed to always enjoy greeting me with a hearty handshake that mostly left me gripping his thumb. Humiliating experience that is no doubt at the root of my unfair criticism of the Winchester XPR bolt. So scratch that. Lets call the bolt, adequate and efficient for serving its purpose in life.
More safety! The hell you say!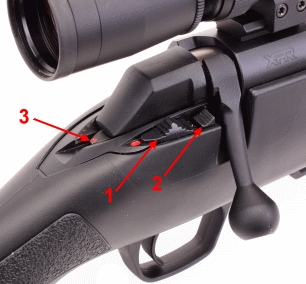 The XPR has a 2 position thumb actuated safety (1); forward off, back on with a red dot safety off indicator. The bolt is locked when the safety is engaged unless the Bolt Release Button (2)  is depressed. The Bolt Release Button permits the bolt to be cycled to empty the rifle with the safety in the on position. In all cases, when the action is cocked a red indicator is exposed (3).
The Bolt Release button fits in well with the Winchester XPR's detachable box magazine. Inline stacked and cartridge self centering, it holds a sufficient number of rounds for a hunter's mission and assures smooth, mistake free feeding. The detachable magazines can also be carried in a pocket as a spare or alternative ammo choice.
The magazine will no doubt be a little off putting for some tastes. It doesn't project downward enough to project the banana clip power image some modern shooters seek and even a contortionist could not find a way for it to get in the way during a carry or shooting situation. Where is the excitement in that? Finally, constructed of durable poly, the oversize trigger guard will allow gloved shooting finger entry while the surrounding magazine frame and magazine will never developed the patina of historically aged significance. The Winchester XPR will keep its looks for a long time.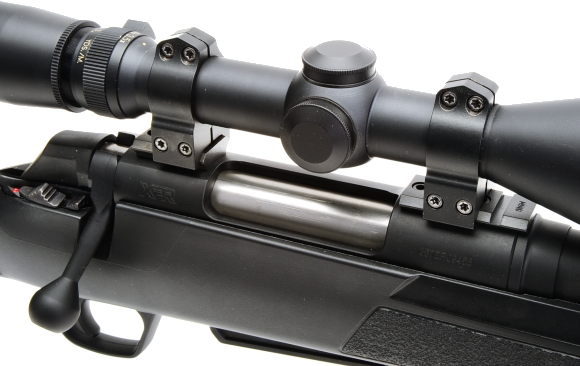 The Winchester XPR scope base fasteners are 8-40 rather than the typical 6-48. Until the recently, 8-40 threads were reserved for bolt action tactical rifle duty were large scopes were anticipated. Above, Warne two piece 8-40 fastener bases with Warne medium height steel rings to clear the scope's 50mm objective lens. The setup definitely stayed put.
Four good bullets; not fancy, but they are effective on big game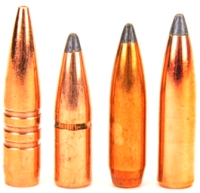 Four popular bullets were selected for 270 Winchester Short Magnum handloads. All are rated by their respective manufacturer for use on medium to large game, 300 to 1500 lbs, or deer through elk. Some of the manufacturers also suggest use on lighter game, down to 50 lbs. The intention of the loads that appear here fall into the 300 lb to 1500 lb thin skinned game category.
All of the products listed are mature and have proven themselves after decades in service. With the exception of the Barnes Triple Shock copper alloy bullet, the rest are of lead core copper jacket construction. The far right Nosler Partition is a two core compartment bullet.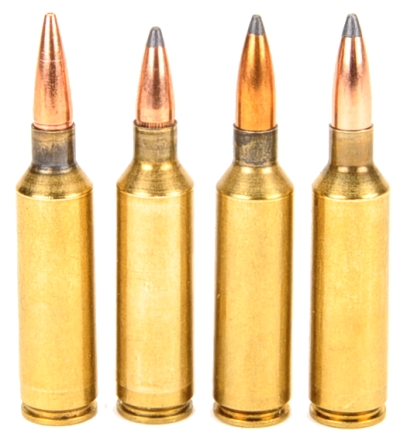 Cartridge – 270 Winchester Short Magnum




Firearm

Winchester XPR


Barrel Length

24″

Min – Max Case Length

2.100″ +0.000″/-0.020″

Min – Max COL

2.560″ – 2.860″


Primer

CCI 250


Bullet Diameter

0.2780″ +0.000″/-0.0030″

Reloading Dies

Hornady

Bullet Type 
Bullet
Weight
Grains

Net H2O
Grains
Capacity
COL"
Powder
Type
Powder
Charge
Grains

Muzzle
Velocity
fps

Muzzle
Energy
ft/lbs

100 Yard
3 Shot
Group "

Barnes Triple Shock


130

71.2

2.830

Re23

66.5

3294

3133

0.5

Barnes Triple Shock

130

71.2

2.830

Mag Pro

74.0

3273

3093

0.8

Hornady Interlock SP

130

73.2

2.785

Win 760

61.0

3241

3033

0.5

Hornady Interlock SP

130

73.2

2.785

Hybrid 100V

63.0

3237

3025

0.6

Sierra GameKing

140

71.5

2.800

Re17

61.0

3208

3200

0.4

Sierra GameKing

140

71.5

2.800

Re23

64.0

3152

3089

0.3

Nosler Partition

150

72.0

2.850

Re23

63.0

3027

3052

0.7

Nosler Partition

150

72.0

2.850

Mag Pro

69.0

3061

3122

0.8
So where does this leave us?
That is difficult to say from a universal perspective. When I wrap up here, I am moving onto a dinner of pulled pork burrito containing low sodium, low fat, Hawaiian style pulled pork with microwave steamed peppers, onions and mushrooms, stirred in with melted no fat, low sodium mozzarella cheese. The tortilla is 100% whole wheat. Email for the recipe.
In regard to the Winchester, it is a fantastic hunting rifle, chambered for a terrific hunting cartridge, although Winchester may take exception to my writing style such as it is. Hey, winter snow storm warning is out, tomorrow will have me out in the weather all day, so I need to enjoy myself when I can.