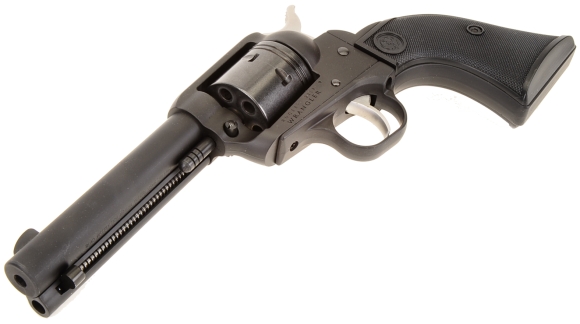 The Ruger New Model Single Six family is arguably the gold standard for small frame, single action revolvers. Of the twenty-four standard models offered, fifteen accommodate the .22 Long Rifle cartridge. The Single Six is stout enough to be also chambered in .17 HMR, 32 H&R and 327 Federal Magnum. The Single Six is made entirely in the U.S.; foundry, process, machining, assembly, and finesse. I've never had one break or wear out. But what about folks who just need a quality utility rimfire revolver, devoid of finesse bells and whistles, and with a price tag to match? Recreational target shooting, varmint control and/or a first handgun to learn firearm safety and to advance marksmanship skills; the New Ruger Wrangler is an ideal fit.
Ruger Wrangler Model 02002

Manufactured

Newport, NH


Caliber

22 LR

Cylinder Material

Alloy Steel – Black Oxide

Cylinder Capacity

6

Barrel Material

Alloy Steel – Black Cerakote


Barrel Length

4.62″

Rifling

1:14″ RH  6 Groove

Cylinder Frame

Aluminum – Black Cerakote

Grip Frame

Die Cast Zinc Alloy

Grips

Checkered Synthetic


Overall Length

10.25″

Weight – Empty

30 oz

Rear Sight

Integral

Front Sight

Fixed – Blade Front


MSRP

$249
What remains the same and what differs…
The Ruger Wrangler shares a core design with other Ruger New Model single action revolvers; small, medium and large frame. There are some minor operating differences, as well as some differences in material selection, part manufacturer and finish. As an example, the Wrangler has a free spin cylinder pawl and an absence of detent indexed positions when loading. So where the Single Six allows only clockwise rotation of the cylinder when loading, and clicks as each chamber passes the open loading gate, the Wrangler rotates in either direction when loading and is click free.
The construction of the Ruger Wrangler is quite a departure from the Single Six. The Wrangler's grip frame zinc die cast, where the Single Six is either steel or aluminum, depending on model. Zinc castings are impact and corrosion resistant, cast to a tight tolerance and require virtually no secondary finishing after being pulled from the mold. The process of die casting is faster than other materials, less material is required because of the precision of the casting and the molds are permanent. An excellent way of reducing cost without diminishing quality. The cylinder frame is aluminum, the barrel and cylinder are made of alloy steel.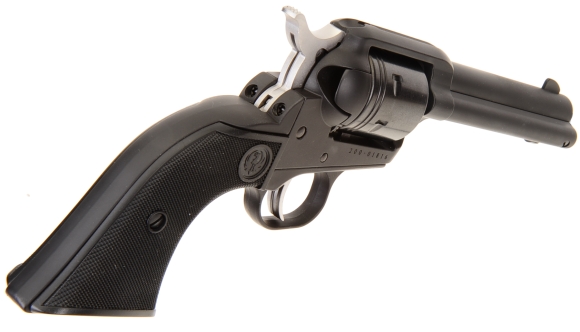 The unfluted steel cylinder has a satin black oxide finish, the hammer and trigger are natural finish MIM material, the rest of the Wrangler is finished in either a matte black (subject revolver) or, alternatively,  silver or bronze Cerakote. Cerakote is a Polymer-Ceramic Composite coating that can be used on virtually any type of metal, plastic or even wood surfaces. It is highly resistant to wear and exposure to abrasive surfaces. It is also corrosion and chemical resistant. While Cerakote forms to a hard surface, it does a good job of withstanding impact damage, scratched and chips. .Again, cost reduction, without quality or performance reduction.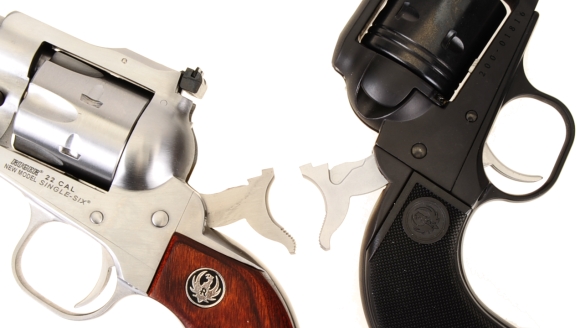 I believe the suitability of using MIM parts, Metal Injection Molding has been flogged to death and found to have two basic underlying causes for concern; some people's inability to cope with change, and a manufacturer's capability or lack of the same, in using the technology. It is process versus machining, and Ruger happens to be very good at both. So the Ruger Wrangler has a hammer with some relieved areas and a trigger with the same treatment, and the finish on both is that of matte finish stainless steel. They look appropriate in context with the Wrangler's other finishes. Again, a method of cost reduction, which feeds a lower price tag, without diminishing quality of performance.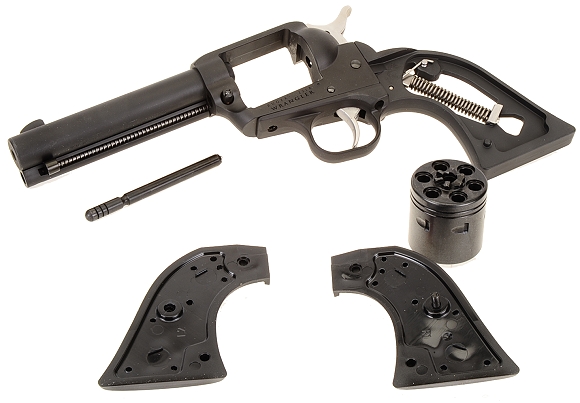 No, the picture is not worth a thousand words, but possible thirty to thirty-five. With the grip panels removed, the Single Six type mainspring and trigger spring can be see… if you put your glasses on. The grip panels are interchangeable with Single Six grip panels, so if you don't like the checkered plastic grips, the alternative are  multifarious from both Ruger and aftermarket suppliers.
The Ruger Wrangler is quite a compact firearm that carries light on a belt and it is compatible with all Single Six holsters. Just 1.4″ across its cylinder, the subject pistol weighed only 28 Oz. compared to a nominal spec of 30 Oz. The sights are simple blade front, frame notch rear with a 0.100″ aperture. The matte finish does a good job of killing glare.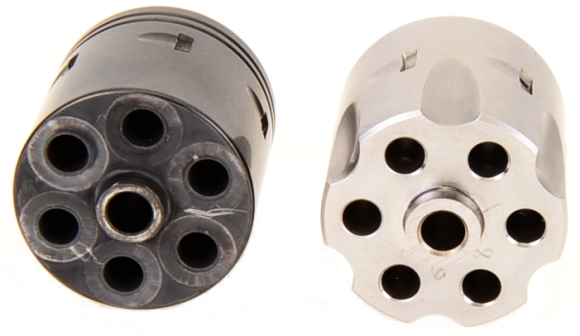 The Wrangler cylinder next to a stainless steel Single Six cylinder. Both cylinder bodies are 1.400″ long.  The Single Six Cylinder at 1.420″ is diameter is 0.022″ larger than the Wrangler. Keep in mind, the Single Six is also chambered for .32 caliber centerfire cartridges. The Single Six throats looks a lot smaller, but that is just an optical illusion, mostly brought on by me not cleaning the Wrangler cylinder. Both set of throats bore gauge checked 0.225″.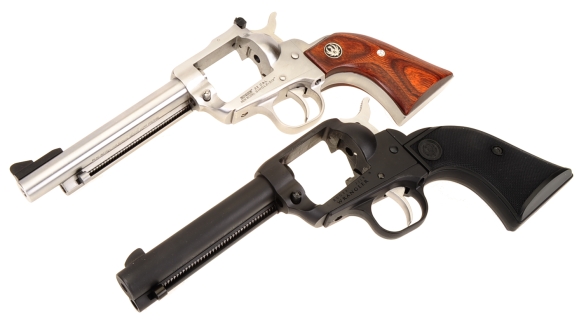 While the top strap of the Single Six appears to be considerably thicker than the Wrangler, net of the Single Six rear sight boss and the Wrangler's raised surfaces to form its integral rear sight, they are both approximately 0.200″ thick. The frame cylinder windows in both are 1.580″ long below the top strap corner radius. The Subject Wrangler's window height at 1.460″ high measured 0.010″ higher, but that could just be production variances. The balance point on the Wrangler is farther forward than the Single Six with comparable barrel length, which I would attribute to the difference in cylinder and grip frame materials.
Live Fire…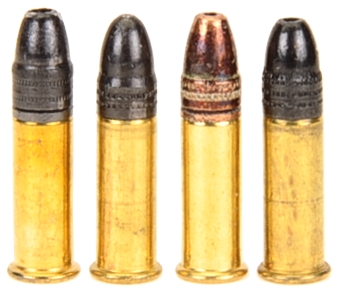 At last count, there were approximately 125 readily available types of 22 Long Rifle ammunition. To avoid creating an ammo bill equal to the national debt, four types were selected as typical and suitable for assessing the Wrangler's performance.
Ammunition

Bullet




Grains

Rated


MV FPS
24″ Barrel


Recorded


MV FPS
4.62″ Barrel


50 Feet




5 Shot




Group "

Eley Subsonic

38

1040

937

2.4

Remington Target

40

1150

939

2.1

Federal Champion

36

1280

1043

1.3

Remington Cyclone

36

1280

1152

2.8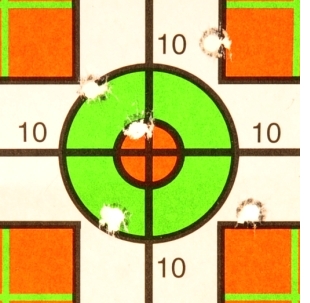 Left, typical of groups shot with Federal Champion bulk pack ammo. I was pleased with the revolver's accuracy and repeatability within an inexpensive ammo type. To tell you the truth, they all shot good enough for plinking duty and recreational target shooting. I have a large supply of Remington Cyclone ammo, and I am always in search of a gun that will shoot it accurately. So far, ten years and no takers. But it is fast.
The greater truth in regard to accuracy and handling  probably resides with the number of pine cones and tree fall branches that fell to the little Ruger while walking the surrounding woods.The only thing that took a little getting used to was the black sights that tended to get lost in less than bright sunlight and against a dark backdrop.
Velocity is about as expected for this length barrel, as .22 LR rimfire ammo's rated velocity is based upon a 24″ barrel. Considering the typical shooting distances and the type of targets in the receiving end, velocity is sufficient.
Not overlooking the obvious
I have previously worked and reviewed two other brands of single action firearms at or near this price point, including a good deal of live fire time.  I think the picture above illustrates how Ruger's foundry and other manufacturing technology pays off for customers. The Ruger cast parts are clean, dimensionally precise and assemble into a quality firearm, even when budget priced. The lower revolver grip frame and cylinder frame had a width difference of over 0.030″. The pin fit was sloppy, the surfaces uneven below the finish. The fit of parts and assemblies were crude and uneven in operation. The Ruger parts, even with different material castings fit precisely, evenly and work well together. The difference pays off in accuracy and longevity of use. The third brand, not pictured, quit after three shots when the trigger broke off. With Ruger, it is the same excellent quality they put into all of their products and backed by the same warranty.
But after a session with my therapist…
When I find myself in a quandary, on the horns of a dilemma, or just can't concentrate while watching the last season of Game of Thrones, I complain to my wife until she is forced to ask me clarifying questions; "Why do you like the Wrangler?", "Why don't you like the Wrangler", "Why are you forcing the use of the term 'rife with ambiguities'?". The truth of the matter is, I didn't like the Wrangler before I took it out of the box. Anticipating what Ruger might have done to my favorite rimfire revolver, the Single Six, I was prepared to jump in and attack every difference. Then I saw the revolver, took it out shooting on woodland trails for a couple of weeks, and took it apart and inspected it closely. In fact, it is sitting on my desk at the moment, and I want to get out and shoot it before the day gets much further along. My conclusion? The Wrangler gives enthusiasts the opportunity to own Ruger quality, in a good looking revolver, at an affordable price.