There are substantially three types of marketing messages used to sell firearms; purpose, style and new. The task gets easier, but a product's longevity of success diminishes the further the category moves to the right of the semicolon. New gets old fast, trends in styles come and go, but the firearm that serves a purpose will remain. Ruger successes seem to come from combining all three categories, even if enigmatically. Ruger manufacturing technology is always leading edge; materials, methods. However, offering products with an obvious purpose, patient product line evolution and standing behind products shipped places the heart and soul of the company in 1949 and the origins of the company's culture.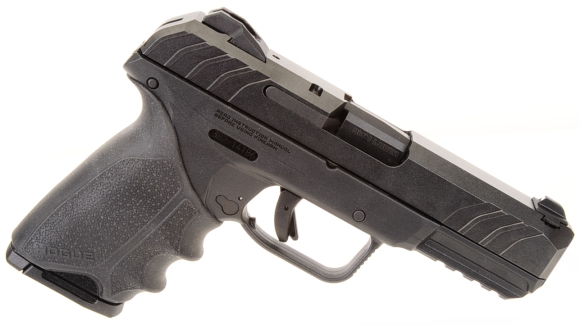 When Ruger introduced the Security-9 product in December of 2017, they presented it as, " Ideal for everyday carry and self-defense, the Security-9 is an affordable, rugged, mid-sized centerfire pistol that provides everyday security in the perfect caliber, size and price point". Tough to add meaningfully to Ruger's positioning statement.
Ruger Security-9

Company

Sturm, Ruger & Co.

Manufactured

Prescott, AZ

SKU #

3819

Type of Action

Single Action – Secure Action

Caliber

9mm Luger & +P

Capacity

10+1

Barrel Length

4.00"

Barrel Material

Alloy Steel

Rifling Twist Rate

1:10″ RH 6 Groove

Slide Material

  Through Hardened Alloy Steel

Slide Finish

Blued

Frame Material

Aluminum

Frame Finish

Black Hard Anodized

Grip Frame

Glass Filled Nylon

Front Sight

Dovetailed White Dot

Rear Sight

Dovetailed White Frame

Weight of Firearm

24.5 Oz

Trigger Pull

5 lbs 11 oz

Overall Length

7.24″

Overall Height

5.0″

Slide Width

1.02″

Safety

Left Side Thumb

Grip Safety

No

Mag Disconnect

No

Loaded Chamber Port

Yes

CA Approved

No

MA Approved

Yes

MSRP

$399
The Ruger Security-9 is a full size 9mm autoloader in that is has a 4″ barrel, which is the standard barrel length for the 9mm Luger cartridge. For folks with a 1911 pistol view of the world, it is about Commander size. The Security-9 is approved for standard and +P 9mm Luger ammunition as approved by NATO, CIP and SAAMI specifications. The Ruger Security-9 is not for use with +P+ which is not a standard, but rather a figment of the imagination employed when marketing to… people who are desperate for attention.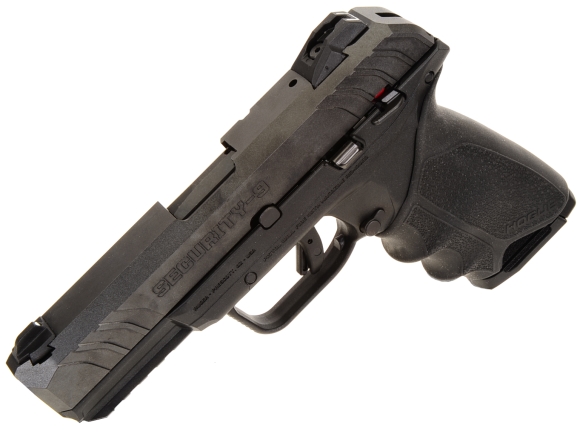 The left side of the Security-9 is arrayed with the usual suspects; trigger with trigger safety to prevent accidental discharge, slide stop to hold the slide back after discharging the last round and thumb safety as a further deterrent to accidental discharge as this is a single action, hammer fired pistol. There is some bizarre anti safety posture in social media that lambastes safeties on handguns, but there are fewer each day.

The front dot and rear outline sights work well. For folks that prefer Tritium, fiber optic, or outlined rear and dot front in a variety of colors, they are available on the Ruger site and they are easy to change with no sight pusher required. The front sight is poly with a tension pin securing it in place. These are tapped out, light effort, with a punch. The rear is secured with a hex head fastener and tapped out with a soft head hammer. The rear sight is adjustable for windage in the manner previously indicated. The barrel hood has a loaded chamber check port.
This particular configuration of the Security-9, there are twelve combining Ruger catalogue and distributor exclusives, featured a soft Hogue® Beavertail™ HandALL® grip this fits the pistol and its probable application well. The slight palm swells and finger groups give the Security-9 a good feel and, in my opinion, fills out the grip with a better feel than the standard grip frame. Also visible is the underside accessory rail.
The pistol is sold with the understanding that accessories are useful. In that regard, the Ruger Store lists 10 round and 15 round magazines and magazine speed loaders. There are 6 types of sight sets, poly and steel. There are 69 types of holsters and magazine holder. There are 5 types of grips and a slide rack assist. My point is that this is not an all too common situation where you buy a firearm and can't find the rest of the items necessary to put it to use.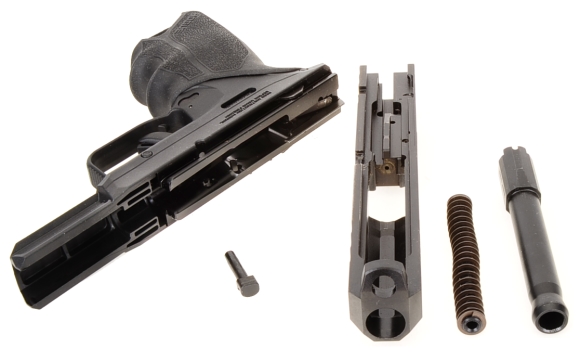 Easy to field strip and clean; bushingless slide, captive recoil spring, ramped allow steel barrel.The grip holds a precision machined and hard anodized aluminum alloy chassis with full length guide rails to assure a proper relationship between frame and slide.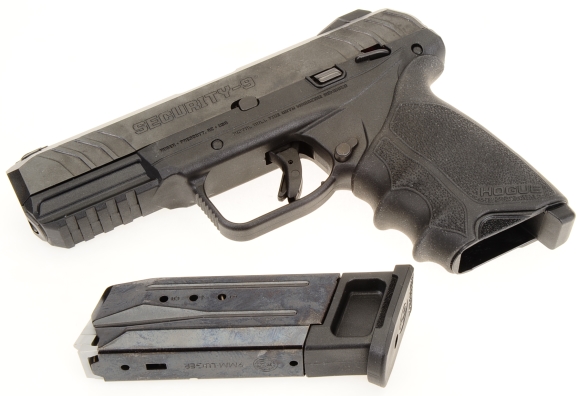 The squared front of the trigger guard has no slip striations. I do not know what theory of the day is for using this in a two hand hold, but I like it for this purpose. Gripping it with the left index finger asserts pressure closer more parallel to the bore centerline than a conventional Weaver stance, something I find very steadying. This configuration is supplied with two 10 round magazines, however, 15 round magazines are also available.
And it works well with ammo, also…
An assortment of ammo types was tried, ammo I frequently use, in bullet weights from 115 grains to 147 grains. Seven of the 136 widely available factory loads. Yes, I am aware of fragmenting super duper sonic ammo that flies out of a gun's barrel and then deploys in 5 to 15 parts. However, as I see this a pistol from self defense, I'd rather rely on what works well in gel block and medium size mammals and save the conversation pieces for the range. I'm old, don't judge me.
Ammunition

Type

Bullet




Type

Bullet




Grains

Rated




MV FPS

Recorded




MV FPS

Remington HTP

+P

JHP

115

1250

1120

American Eagle

Std

TSJ

115

1050

1081

Remington UMC

Std

FMJ

124

1100

987

Black Hills

+P

JHP

124

1200

1135

Gold Dot

+P

GDHP

124

1220

1148

Remington UD

Std

BJHP

124

1120

1074

Grizzly

+P

JHP

147

1050

1001
What does it all mean? Let me think for a minute….
I see the Ruger Security-9 as a defensive weapon. Subsequently, splitting hairs at twenty five yard accuracy is not a prime criteria, neither is a feather light trigger pull. At 10 yards, the Security-9 could comfortably put five shots into a playing card size target with any of the ammo above, which is excellent for the application. Trigger pull measured 5 lbs 11 oz., which is appropriate for use under stressful conditions as is the pistol's ease of operation.
Since my wife and I often share defensive firearms, it is important that she can easily manage firearms we use for that purpose. I watched her load magazines, change them and rack the slide without difficulty. One of her biggest complaints with compact and subcompact pistols has been excessive effort to rack slides, but the Ruger Security-9 posed no such problem. She was able to shoot the Ruger Security-9 comfortably in terms of weight, sighting, recoil, and surety of grip, besting me with the playing card target.
For me, the pistol had a familiar feel that made achieving proficiency a quick process. It isn't a show piece. There are no exotic hardwood grip panels to buy, nor is there a need to drop $150 on adjustable sights. The Security-9 does not need to be locked in a crystal case every evening. Showing it at the range will garner moderate interest from fellow shooters, but only because there is nothing outlandish, including price tag to grab attention.
What it could do well is provide protection for self, family and friend and so do without fuss. Good defensive firearm.