The American Rifle Ranch has proven to be an excellent bolt action platform for cartridges that might have otherwise been limited to semi-auto duty. Instead, championed by the inclusion in the American Rifle Ranch package, cartridges like the 300 Blackout, 7.62×39 and 450 Bushmaster can also serve the bolt action carbine contingency for woodland hunting. Additionally, some chambers provide alternatives for folks who hunt in states like Michigan, Ohio, Iowa and Indiana where straight wall, limited capacity metallic cartridges may apply.
As an example, the state of Iowa describes metallic cartridges legal for hunting as "Center-fired straight-walled rimless cartridges chambered for handgun use with bullets from 0.357″ to .500″ diameter and a case length from 0.850″ to 1.800" Center-fired straight-walled rimmed cartridges chambered for handgun use with bullets from 0.357″ to 0.500″ diameter with a case length from 1.285″ to 1.800″ ". The 450 Bushmaster chambered Ruger American Rifle Ranch was the first of the Ranch series that qualified, the 350 Legend version is the second.


The 350 Legend shares a rim diameter with the 223 Remington, however, where the 223 Remington's rim and casehead diameter are essentially the same, the 350 Legend's casehead is 0.012″ larger than its rim, which makes the rim slightly rebated. The 350 Legend case is 0.050″ shorter than the 223 Remington and 0.014″ larger in diameter just forward of the extractor groove. The 223 Remington is not considered a parent cartridge to the 350 Legend by Winchester, the developer of the cartridge.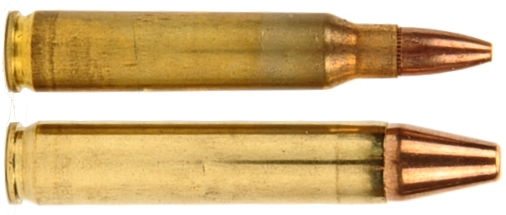 Ruger American Rifle Ranch – Compact


Company
Ruger
Model Designation
26985
Point of Manufacture
Newport, NH, USA
Type of Action
Bolt Action 3 Lug 70º Lift
Caliber
350 Legend

Magazine Capacity
5
Magazine Type
AR Style
Barrel Length
16.38″
Rifling Twist Rate
1:16″ RH 5 Groove
Muzzle Threads

1/2″-28 x 0.4″

Barreled Action
Alloy Steel – Blued
Stock Type
Flat Dark Earth Synthetic
Length of Pull
12.50″
Drop at comb
5/8″
Drop at heel
3/4″
Metallic Sights

None
Scope Mounting
Receiver Top Rail
Trigger Pull
3 To 5 Lbs
Weight of Firearm
6.0 Lbs
Overall Length
34.75″
Safety
Tang
MSRP
$549
Ruger's approach to the 350 Legend is straightforward. As of 04/09/2019, The Small Arms and Ammunition Manufactures Institute, SAAMI, established the test barrel length used for rating factory ammunition velocity as 16″ and initial factory ammunition as 145 grain bullet @ 2,250 fps. Ruger's Ranch rifle has a 16.38″ barrel and clocks 2,293 fps muzzle velocity, which generates 1,693 ft.lbs of muzzle energy with 145 grain factory ammunition. Why is the test barrel length so short? Speculation – It is a good match for powder capacity and the cartridge will  probably see this type of barrel length in modern sporting rifle applications, so the 16″ barrel is more representative of real world expectations. There are currently five announced Winchester factory loads –
Ammunition

Bullet




Type

Bullet




Grains

MV




FPS

ME




Ft.Lbs.

Win USA

FMJ

145

2350

1778

Win XP

Poly Tip

150

2325

1800

Win Bonded

HP

160

2225

1759

Win Super X

SP

180

2100

1762

Win Suppressed

SP

265

1060

661
Winchester Ammunition took a different tact when rating their ammunition. In drawing performance comparisons with the 30-30 WCF cartridge, they used a 20″ test barrel, 4″ longer than standard, for the 350 Legend and a 20″ test barrel for the 30-30 WCF, which is 4″ shorter than the 30-30 WCF standard test barrel Sounds like voodoo marketing, but the reality is that there are 20″ barrel 350 Legends and most 30-30 WCF rifles have 20″ or shorter barrels, which makes the adjustments to barrel length for the sake of comparison reasonable. In any event, the cartridge can easily stand on its own as defined by SAAMI.
In the hands of young shooters. In the hands of old shooters
The subject rifle is the compact version of the 350 Legend American Rifle Ranch. The standard version of the same differs only in length of pull and weight; 13.75″ LOP for the standard versus 12.50″ LOP for the compact and the standard weighs one-tenth of a pound more. They are both lightweights, but for those of less than prodigious size who want a comfortable stock to facilitate proper form in shooting positions and stance, the difference in LOP is of consequence.
For those young shooters who outgrow a short length of pull stock, the Ranch rifle's action is the same for both, so a compact stock could be replaced with a standard stock at a future date. I would be temped to have both stocks, the standard for moderate weather and the compact for when the temps are running sub zero and I am dressed in the form of the Michelin Man. In either case the 6 pound/6.1 pound weight is appreciated and the modest recoil of the 350 Legend allows this without penalty.
Salient features, in no particular order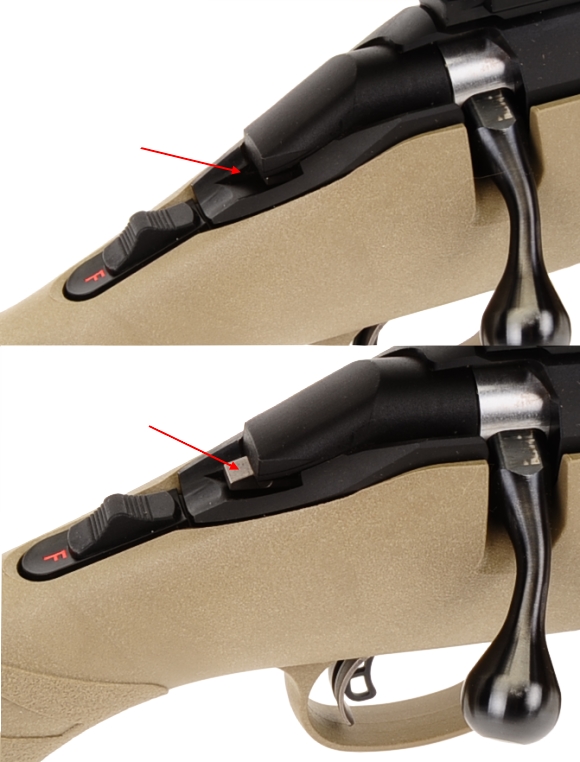 The Ranch rifle has an optimally placed tang safety. It is quiet, but positive in engagement and right there at thumb reach when the rifle is gripped for shooting. The cocking piece is extended and visible when the action is cocked.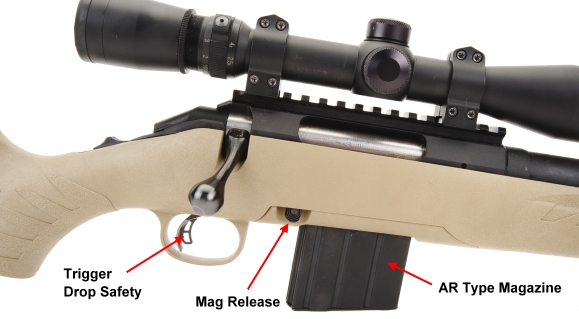 The Ranch rifle's hinged trigger release that passes through the face of the trigger, blocks trigger movement until it is depressed with a finger on the trigger. It is a nice way to prevent an accidental discharge from a dropped or roughly handled firearm. The AR Type magazine inserts and releases like an AR, but the feed lips are modified to accommodate the 350 Legend cartridge. The rail is removable and not integrated as part of the receiver.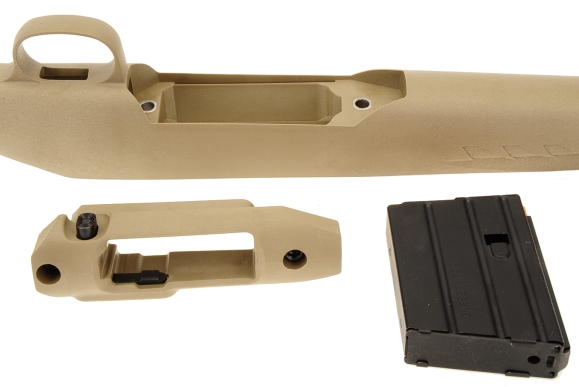 The feed system on the Ruger American Rifle Ranch is modular, which allows the rifle to be adapted to a variety of cartridges and feed systems. In the case of the 350 Legend, the magazine well houses the magazine release and retention system. Bedding blocks pass through the stock to provide a close fit for the action screws and extend to the top side as bedding blocks that keep the stock and action tightly interlocked.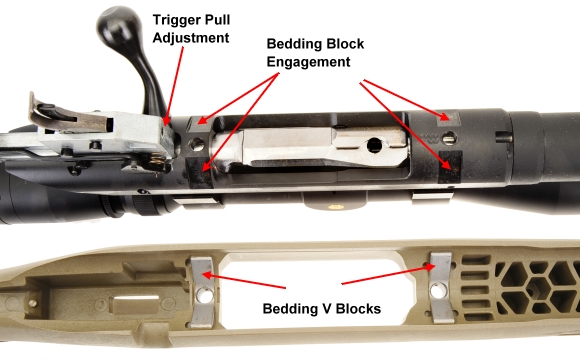 The Ruger Power bedding system utilizes the stability of the rifle's synthetic stock to prevent rotational and longitudinal movement between the barreled action and stock. It is a solid approach toward achieving shot to shot point of impact consistency and exceptional accuracy. Must be good as Ruger makes a commitment to sub one MOA accuracy for this configuration. Trigger pull weight is adjustable in a range of three to five pounds, adjustment is made with the stock removed.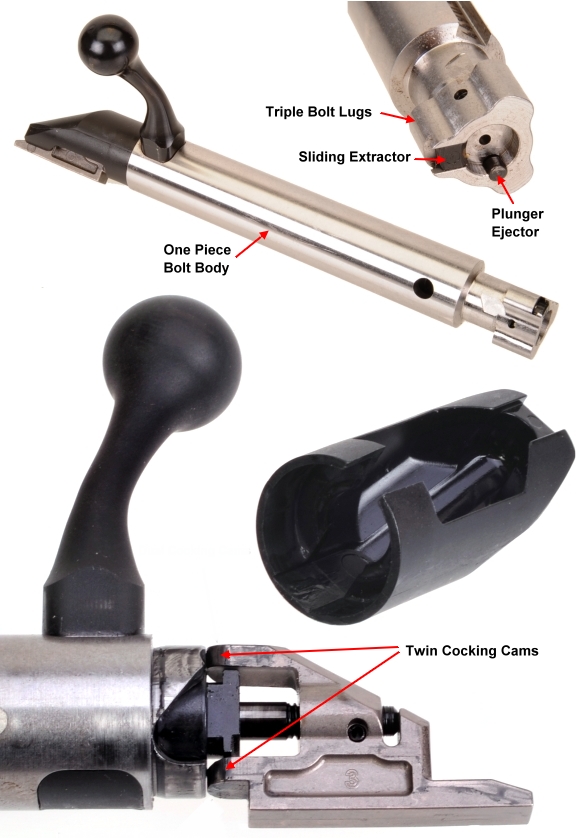 The American Rifle's three lug bolt with recessed bolt face accomplishes several things: bolt lift it a low 70° for reduced bolt throw and increased scope clearance, provides additional support around a cartridge casehead and assures clean extraction and ejection. The full bolt body provides smoother travel and additional strength. The dual cocking cams split cocking load between two bearing surfaces reducing cocking effort.
How well does the cartridge / rifle combination work?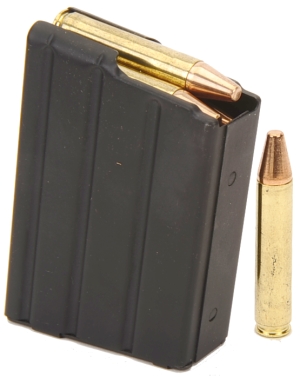 With only 145 grain Winchester USA ammunition available, and with a variety of ammo and Part II coming, only two groups were shot for measurement.  The group on the left represents the second, third and fourth shots fired through the rifle. The group on the right represents the fifth through six.
Ruger promotes the Ranch in 350 Legend as an MOA firearm. Both groups measured 1 1/8″ center to center. No experience with the combination, shooting at large square sight-in targets after only laser bore sighting and with probably not the most accurate of production ammo types… I believe the rifle can wear the MOA label comfortably. I'm looking forward to getting in some more range time with a variety of ammunition for Part II.
Without getting hung up on details prematurely, let's examine what type of performance the American Rifle Ranch delivered. Looking at the Winchester trajectory data, at their listed muzzle velocity and hitting reverse on my calculator suggests this recreational target ammo has a 145 grain bullet with a ballistic coefficient of approximately 0.183 or about the same as a Nosler 158 grain 0.357″ JHP Sport Handgun bullet and similar to a Hornady XTP 158 grain JHP.
Adjusted to the chronographed velocity, external ballistics look something like this…
Ruger American Rife Ranch – 145 grain 350 Legend – Chronograph Data


Yards

0

50

100

150

200

250

300

Velocity – fps

2293

2077

1873

1682

1508

1354

1224

Energy – ft.-lbs.

1693

1388

1129

910

732

590

482

Path – in.

-1.50

0.26

-0.00

-2.75

-8.58

-18.25

-32.67
The difference between the 16.38″ barrel Ruger American and the published 20″ barrel Winchester example is inconsequential where the difference in velocity means roughly a quarter of an inch drop difference at 200 yards. So where does the Ruger American Rifle Ranch chambered for the 350 Legend fit in?
No longer tethered to a desk or conventional office, the more time I spend outdoors, the more I appreciate lightweight firearms, especially compact firearms. They don't get tangled in brush, they don't bog me down in ascending and descending rolling hills and they keep my hands free to carry other gear. With swivel studs mounted from the factory, I can attach a shooting sling that keeps the rifle on my back and out of the way and provides steadying support when shooting in the absence of a shooting bench. The Ruger American Rifle Ranch in standard or compact version is an easy carry.
The 350 Legend, in combination with the Ruger, is well mannered; low recoil, moderate report and significantly more accurate in a rifle than most of the cartridges that appear on the restricted cartridge states' approved list. Yes the 45-70 Gov't and 444 Marlin have more stopping power, but they also bring what some might consider harsh recoil and muzzle blast and they might be considered on the heavy side for deer. There are some areas I'd like to explore, so I will hold further comment until I've completed that effort.