No rock-a-billy, no 60's rock, no Neil Young, no Jackson Browne… not even the Eagles. Today it is all Commodores and singing along with front man Lionel Richie. Great voice, mellow fellow and I can actually understand the words to his songs. Anyway…
The Ruger 77 Series rifles: 77/44, 77/357, 77/22, 77/17 represent the useful side of firearms, as there is something in that mix for just about everyone. Available in a number of configuration, with a variety of barrel lengths and in broad selection of chambers. I sense a table coming on…
Model #

Caliber

Material

Barrel




Length

Barrel




Type

Stock




Type

Sights*

7212

17 Hornet

Stainless

24.00

Heavy

Laminate

None

7217

17 WSM

Alloy Steel

20.00

Sporter

Walnut

None

7218

17 WSM

Stainless

18.50

Heavy

Laminate

None

7201

22 Hornet

Alloy Steel

20.00

Sporter

Walnut

None

7204

22 Hornet

Stainless

24

Heavy

Laminate

None

7405

357 Mag

Stainless

18.50

Sporter

Synthetic

Adjustable

7401

44 Mag

Alloy Steel

18.50

Sporter

Walnut

Adjustable

7402

44 Mag

Stainless

18.50

Sporter

Synthetic

Adjustable

7403

44 Mag

Alloy Steel

18.50

Sporter

Synthetic

Adjustable

*All models include Ruger scope rings for Ruger mount system
All Model 77/22 and derivatives share a common design, short throw, short actions with 90° bolt lift. Sporter weight barrel guns weigh 5 – 5.7 lbs, heavy barrel models from 7 – 7.5 lbs. They all have the same length of pull and drop at comb and heel. Subsequently, moving from one caliber to another, any experience in one, plays out in all others. i.e. training invested with rimfire models or varmint rifles, will serve medium size game hunters with heavier calibers.
With a bit more specificity…
The Ruger Model 77/22, as is the case with all Ruger firearms, 100% manufactured in the United States. It is not one of those products with "Made in the U.S." hang tags, but are actually assembled in the U.S. from all foreign made parts. So in addition to a high quality product, there is the bonus of lots of American jobs and lots of very nice people who share our interest in firearms.
The Ruger Model 77/22 rifle, chambered for the 22 Long Rifle cartridge became a concept for a high grade rimfire rifle in 1982; a discussion between Roy Melcher and Bill Ruger. The design was completed in 1983 and the product was introduced in 1984.
Jay Jarvis modified the 77/22's design by elongating the rifle's action, trigger guard, magazine aperture, and magazine to accommodate the 22 Winchester Magnum Rimfire cartridge for a 1990 introduction. The 22 Hornet version of the Model 77/22 was another Jay Jarvis effort, with another iteration of elongated pieces, plus a change to a threaded barrel shank. This model was introduced in 1994 and proved to be a very popular combination of rifle and cartridge. 1)
Ruger 77/22®



Manufacturer
Ruger –

Newport, New Hampshire



Model #
7204
Type
Bolt Action
Caliber
22 Hornet

Mag Capacity
6
Barrel Length
24″
Rifling
1:14″ RH 6 Groove

Weight
7.0 Lbs 8 Oz

Overall Length
43.25″
Stock
Green Mountain Laminate

Hardware
Stainless Steel

Length of Pull
13.5″
Drop at comb
0.5″
Drop at heel
1.0″
Sights
None
Scope
Ruger Rings Included

Trigger

4.5 Lbs

Safety
Thumb 3 Position

MSRP
$1,069
 
The long barrel, 22 Hornet version was selected as the subject firearm because it suits both novice and experienced firearm enthusiasts. The combination is a solid choice for recreational target shooting and for varmint and small game hunting. It is virtually recoil free and produces a relatively low level of report. Beyond these characteristics and the combination's accuracy and reliability, it is inexpensive to shoot with factory ammunition and the Hornet is an easy and inexpensive cartridge to handload.
Now that's different…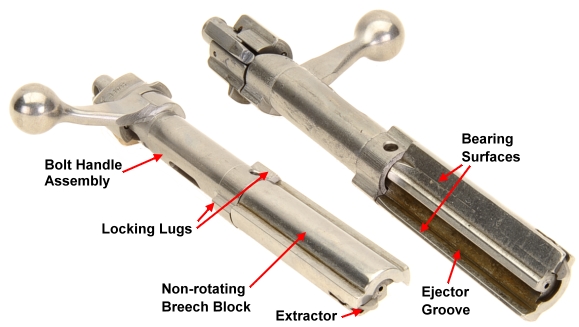 Nomenclature as defined in the Model 77/22 parts diagram and parts lists. The Model 77/22's locking lugs are at the front of the bolt handle assembly, midway into the receiver, which makes for a very rigid assembly. Pushing ahead of the bolt handle assembly is a long, non-rotating breach block that glides in the receiver and makes for very smooth bolt travel behind a cartridge. Neither the bolt handle assembly or Breech Block share a cross cartridge common part number.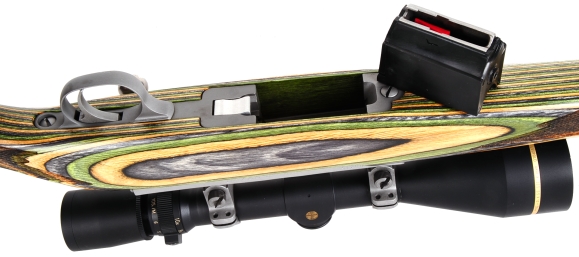 The bottom side of the 77/22 is flat, making for a steady hold when shooting from the standing position and a good surface when shooting from a rest. The familiar Ruger rotary magazine sits flush with the stock, holding 6 rounds of 22 Hornet. The stock is a dyed, hardwood laminate that is colorful, but actually it is an effective camouflage outdoors as they are all colors of woodland nature. Bottom metal is all stainless steel.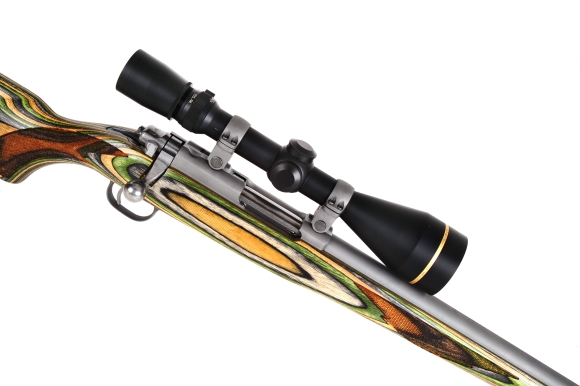 In view, the 3 position thumb safety just aft of the bolt handle; fire, safe with free bolt motion, safe with bolt locked in battery. The Ruger proprietary scope mounting system provides three scalloped clamping surfaces to accommodate short and long tube scopes. The rings clamp on with cross bolt fasteners and have a horizontal nub that keys to the receiver top to prevent any longitudinal shift. The rings are available in low, medium and high, 1″ and 30mm scope tube size, stainless and blued alloy steel. In this case, medium high rings supplied with the rifle provided credit card thickness clearance for a scope with a 50mm objective lens.
The 22 Hornet

L-R 22 Hornet, 223 Remington. You would think, because of its diminutive size, the 22 Hornet is a very young cartridge but, in fact, it is not. The 22 Hornet was developed from the 22 WCF in the late nineteen twenties at Springfield Armory. By 1930, commercial ammunition was available and it quickly became popular world over. In Europe the 22 Hornet is known as the 5.6x35Rmm, and a Quarter Pounder with cheese in France is called a Royale with cheese… which mostly proves I've read portions of Cartridges of the World and I've seen all of the movie Pulp Fiction, several times.
Cartridge
Bullet
Grains
Muzzle
FPS

100
FPS

200
FPS

300
FPS

22 LR CCI
36
1260
1003

874

–

22 Win Mag CCI
35
2100
1561
1031
–
22 Hornet Hornady
35
3100
2271
1590
1126
223 Remington
35
4000
3354
2795
2299
Compared to the 22 LR the 22 Hornet, like the 22 Mag, has jacketed bullets for a better BC and controlled expansion on game. The Hornet also offers 146% greater velocity than the 22 LR and 48% greater velocity than the 22 Mag. K versions? It is a lot of work to make a modest velocity cartridge ever so slightly less modest. Adding a half grain to the Hornet's capacity and improve case life. I've never had an issue with standard Hornet case life, and I have never seen the K version add velocity to measurable degree without the handloader bumped up pressure above the standard Hornet  49,000 PSI SAAMI MAP. The Hornet will never be a 223 Remington as it was never designed or intended for that level of performance.
The 22 Hornet is a terrific transitional cartridge for folks moving up from rimfire to centerfire firearms, it is a terrific cartridge for those with a developing interest in handloading. For the experienced shooter, the 22 Hornet represents inexpensive recreational target shooting, pest patrol and small game hunting comfortably at 100 to 150 yards, no recoil and ear friendly low report. For the experienced handloader, the 22 Hornet promises hours of low cost, high reward, handloading projects. The trick to appreciating the 22 Hornet is to recognize its superiority to the 22 Long Rife and magnum rimfires and its performance as subordinate to the 223 Remington.
We're going to take a break here and collect some fresh live fire data and see if we can't develop some new handloads.
1). R.L. Wilson, 1996 "Ruger & His Guns – The History of the Man, The Company and Their Firearms"