03/28/2020
One of the benefits of living in a rural area is being able to shoot without public interaction. We may store our propane in large gray above ground tanks, we may have septic systems and are devoid of sidewalks… we may get our water from a well. And, sure, it may be a thirty mile round trip to the food store and post office… You are missing the point, which is I can get up in the morning, drag the latest artillery piece in for review out back and blast away.
Some people see an inability to frequent public places and socialize with throngs of people and shop a dire circumstance. Around here we tend to think of it as any day of the week. Around here, outside influence is limited to mail and package delivery and intrusive government regulations.
Before you begin asking about front porches and banjo music, I would say that the umbilical cords of high speed internet, online shopping, digital books, social media, and fake news keep up abreast of what YOU people are up to, which just affirms our choice of rural living. Anyway, a place to shoot and ammunition yields…
Thank God! Ruger puts an end to lock down boredom…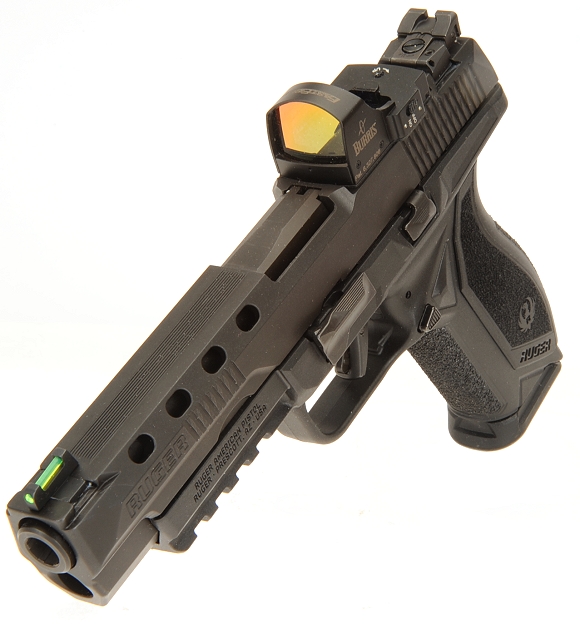 The Ruger American Pistol Competition

Model
8672
Manufacturer
Sturm, Ruger & Co., Inc.
Point of Origin
Prescott, Arizona
Type
SA Pre-Tensioned Striker
Caliber
9mm Luger (+P)
Magazine Capacity
17
Barrel
5.0″
Rifling
1:16″
Overall Length
8.31″
Overall Height
5.60″
Slide Width
1.05″
Weight Oz.
34.1 Oz.
Sight Radius
7.30″
Trigger Pull – Actual
5 Lbs 12 Oz.
Sights – Rear

Adjustable Target

Sights – Front

Fiber Optic

Optical Sight

Slide Drilled and Tapped

Slide Material
Stainless Steel – Black Nitrided
Grip Frame

Glass filled Nylon

Frame Chassis

Stainless Chassis
Grip Backstraps

Small, Medium, Large Inserts
Thumb Safety
No
Key Lock
No
Chamber View Port
Yes
Magazine Disconnect
No
CA approved
No
MA Approved
No
MSRP
$579
The Ruger American Pistol is produced in three major types; Duty, Compact and Competition. Under each type are multiple configurations to meet shooter aesthetic and control preferences, as well as state, local and agency requirements.
There are eleven configurations of the Duty version, twelve configurations of the Compact version and this first, single version of the Competition. Duty and Compact versions are available in 45 Automatic and 9mm Luger. The initial Competition model is available in 9mm Luger.
Overall varying features are predominately: dimensional envelop, barrel length, caliber, sight types and optical sight accommodation, finish, presence or absence of manual safeties, and presence or absence of magazine disconnect.
Yes, I do realize my overview is nebulous. Fortunately, Ruger has done an excellent job of organizing and detailing the specifics of each model on the Ruger site and I can get on with the Competition subject pistol.
Striker, not Stryker…
All Ruger American Pistols are striker fired, magazine fed, auto loading, and recoil operated. They all are a tilting barrel design, where the barrel and slide are locked together at discharge and the striker is cocked by the closing slide.
The trigger is two stage and contains a trigger safety in its face. The first stage of trigger pull disengages the internal trigger safety and releases the internal striker block, the second stage releases the striker from the pistol's sear. What does this all look like in use? You pull the trigger and everything else comes along for the ride.
Some external features that differentiate the Competition from other model Ruger American Pistols… At 5″, the Competition model has a longer barrel than other versions of the American Pistol, for enhanced ballistics and longer sight radius. Rifling twist is slowed from 1:10″ on other American Pistols to 1:16″ for optimal performance with lighter weight bullets used in competition.
The Competition's stainless steel slide is extended to accommodate the longer barrel length, while slide (not barrel) porting keeps slide weight and reciprocating forces down.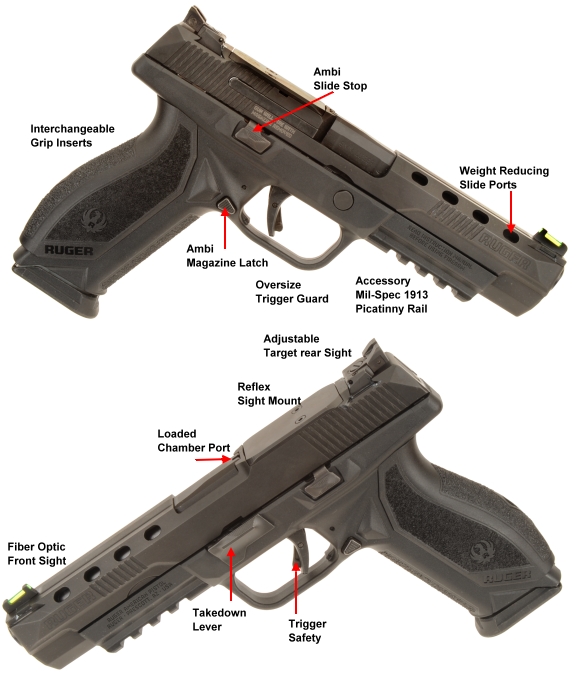 The Competition is the only Ruger American Pistol that is supplied with micro adjustable target sights at the rear and high visibility fiber optic sight up front. Additionally, the slide top is milled, drilled and tapped to accommodate a reflex sight. Examples of drop in sights are Vortex®, Burris®, Sightmark®, Docter®, MeoRed®, MRDS and similar optics using #6-48 mounting screws.

The open top slide design minimizes opportunities for jamming  and provides access for manual clearing in the event of a malfunction. The matte black finish, raised rib striations kill glare and distracting reflections. The optic mount cover plate is secured with two fasteners and maintains a single plane sight surface when a reflex sight is not installed.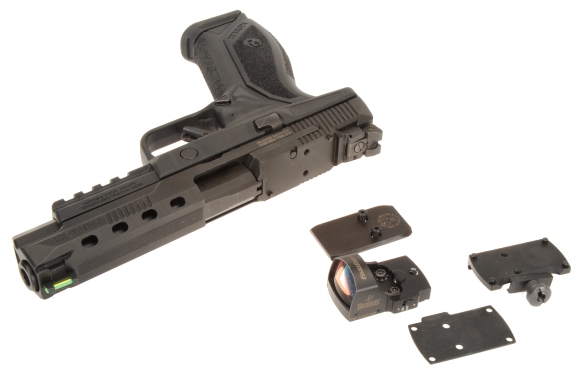 My Burris FastFire II with 4 MOA dot was installed by removing the Picatinny rail mount, reinstalling the bottom gasket and plopping it on the Ruger. OK, more precise than plopping and two #6-48 mounting screws come into play. I was just suggesting the process was easy. Why a FastFire II? Because it is small, has a bright 4 MOA dot and because I can't kill it. I've had it on some absolutely artillery like recoiling firearms and it has seen a lot of use, but it makes for accurate shooting and it does not shoot loose; mount or adjustment.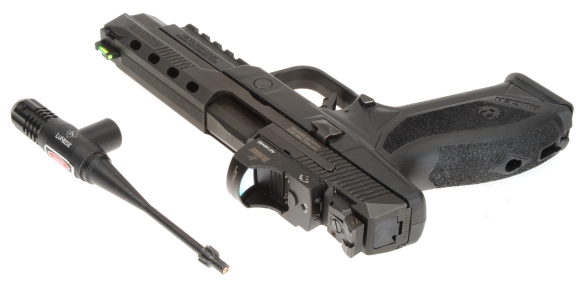 The FastFire II has an indexed adjustment wheel that sticks on a screwdriver. Rather than install the sight and then burn through $7,623.47 in ammo to get on target, I now just use a $29 laser boresighter and adjust the reflex dot to overlap the bore sight laser dot at 25 yards and call it done. The boresight actually puts its stub in the pistol's chamber, but it centers just fine.
Takedown is simple and requires no tools; pull magazine, clear and lock open, rotate takedown lever downward, control release of side and slide off frame. No barrel bushing, captive dual recoil spring, ramped match quality stainless steel barrel, stainless steel slide. The barrel cam timing extends the force of recoil over a longer period of time to reduce felt recoil.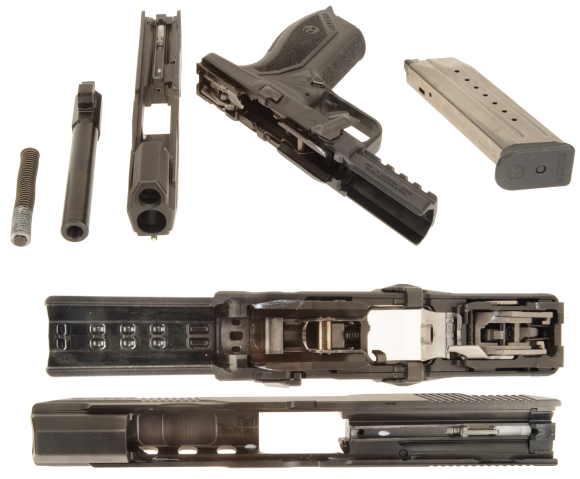 The grip frame is glass fiber filled Nylon. All load producing parts are secured in an internal stainless steel chassis that also forms the frame rails. The pre-tensioned striker system provides positive ignition without a heavy trigger pull. Two 17 round nickel-Teflon plated magazines are included with the pistol.
Backstrap interchangeable grips are quick to change and they are handy. With small, medium and large inserts included with the Ruger American Pistol competition there is one that will fit virtually all hand sizes. Once selected, there is probably no future need to change for the same shooter.
Handling personality and performance

Control actuation was positive, magazine changes quick without fumbling.Reach to trigger and short pull make for a comfortable and confident high grip. Racking the slide to fill the chamber takes a firm hold and a little exertion, but the gripping surfaces are good and slide release is clean. Grip form naturally brings the pistol up, or down, on a target level.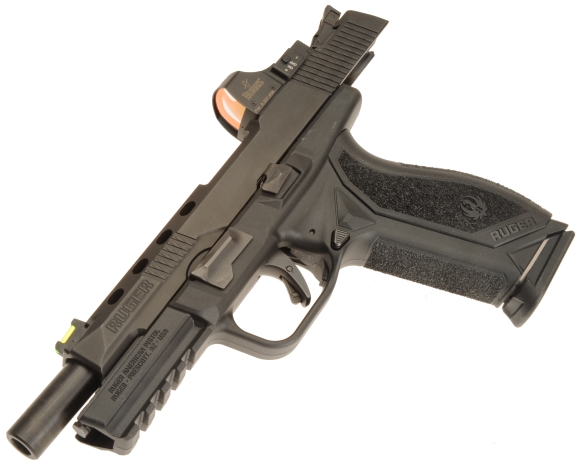 The Ruger American Pistol Competition is hand filling, slightly nose heavy and soft recoiling. Using long radius target sights or reflex sights the balance is right for tracking to a moving target and for holding steady over a bullseye. The trigger is a little heavy in comparison to a 1911, but not at all heavy as strikers go. For a pistol intended competitive shooting or as a carry pistol, it is a safe handling trigger. The ambidextrous magazine release and slide stop may not be a big feature for me, but I can see where they would be for some shooters and in some applications.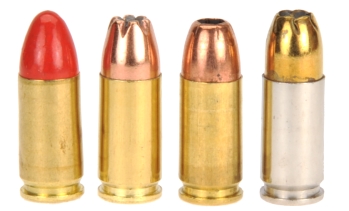 Cartridge

Bullet




Type

Bullet




Weight

Rated




FPS

Actual




FPS

American Eagle Syntech

TSJ

115

1130

1187

IMI Systems

JHP

115

1150

1288

Remington HTP +P

JHP

115

1255

1217

Remington Ultimate Defense

BJHP

124

1100

1200
Ammunition, with the exception of 124 Grain Remington Ultimate Defense, was not shot for critical accuracy. My check for adequate performance is five shots from a rest into a 2.5″x3.5″ playing card at 25 yards; Inexpensive targets, a bunch can be posted on a relatively small surface. Because of the slower than typical Ruger twist rates, I did shoot the heavier 124 grain ammunition using a more conventional target at 25 yards.
Other than a shift in point of impact from the 115 grain IMI Systems ammo that was used for sighting in, 124 grain bullet stability was not a problem. This 25 yard group measured just under 1″, center to center, widest spread holes.
Final thoughts…
In the 1970s and 1980, there was a 1911 pistol type renaissance. Anyone with a milling machine and lathe was going into the business of making $2,000 worth of modifications to make a $200 1911 shoot accurately and reliably and with a good trigger. Ejection ports opened, ejectors extended, slide fit tightened, bushings tightened, spring juggling, triggers lightened to under 3 lbs, etc. etc. Some of it worked, much of it did not, mostly because of sloppy work and poor execution.
So when I needed a high reliable and accurate pistol with a terrific trigger, I skipped the hot rodding and bought a Colt Series 70 National Match where all of the finesse work was done and the performance was delivered with every hand fit and assembled pistol. I practiced with 175 grain target ammo and changed out the recoil spring and kept it loaded with 230 grain JHP ammo as a house gun.
The Competition was introduced for competitive shooting and there are many enthusiasts that participate. However, there are many more who don't compete, but need a good house gun or carry gun. My conclusion is that the Ruger American Pistol Competition offers a similar opportunity to exploit that I found with that Colt Series 70 National Match. I mean, what would be the down side, "Sorry, that Ruger pistol is just too accurate and too reliable for self defense". Good price, well made, good performer.