Selective hunting appears to play a very specific role in how animals elect to locate themselves on an expanse of wooded acreage. As an example, deer graze on our lawn in the middle of the day and routinely pose while my wife is taking their pictures for the grandkids. Wild turkeys occupy our driveway to the density and frequency of a 1960's student sit in and not even the close proximity of truck tires or a blaring horn will cause them to budge. Curiously, coyote, crows and ground squirrels stay greater than .22 Hornet distance away, which is why fast 0.224″ guns serve a useful purpose.
The idea of bullets traveling faster than an SR-71, with the ability to reach way, way… way out there to tag a varmint that is thumbing its nose at me is appealing. Some 0.224″ guns are extreme. Hot handloads for my .220 Swift's sometimes produce rolling thunder and, possibly, some rainfall in addition to ultra high velocity. The gun has a near mandatory barrel change after every ten rounds and it does weigh something on the order of a hundred to two hundred pounds, empty. The Predator, chambered for the .22-250 Remington is, by comparison, an ultra light that can come within six yards of the Swift in point blank range.
Ruger Model 77 Hawkeye Predator

Manufacturer

Sturm, Ruger & Company. Inc.

Model

HKM77R-Z – 17121

Caliber

.22-250 Remington

Magazine Capacity

4

Stock

Laminated Birch

Hardware

Stainless Steel

Barrel Length

24″

Twist Rate

1:14″ RH

Weight

*8 lbs 4 oz.

Overall Length

*44″

Pull

*13 1/2″

Drop at comb

*5/8″

Drop at heel

*1″

Non-optical sights

None – Scope Rings Included

Target Trigger Adj.

*2 lbs. 3 oz.

MSRP

$963

RealGuns Store

Retail $794 Member's Price $754

* Actual weights and measures
Tables are good for numerically defining a rifle, but tables aren't well suited to expressing the character of a rifle. It is often a blend of subtle tangibles, and more subjective factors, that combine to produce a favorite firearm. What does that mean, Joe? All I'm saying is that if I need to rid the little house on the prairie of prairie dog infestation, I could accomplish that task with a Savage Edge, a gun I could buy for under $300. But I don't think I would wrap up a long week at work, excited about spending a Saturday at the range with the same gun, or showing it off to friends. I'm not a snob, I'm just not under twenty five years of age and raising a growing family anymore. So, while I may still not buy extravagant firearms, I do buy guns that are a bit more nicely finished, offer some unique features and have a more distinctive appearance. I think this is where the Predator fits well.
Two different paths to a similar result…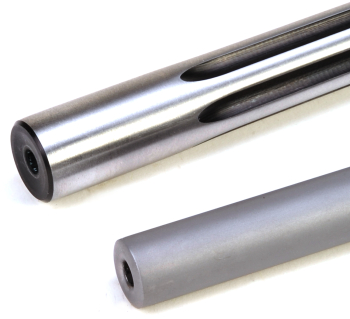 I could have just as easily used a Ruger Mark II Target rifle as the Remington VS SF II… if I had one handy, to illustrate the difference between the Predator and the more traditional look of a varmint rifle.
The Remington is a bit heavier, it has a two inch longer barrel and the barrel's muzzle diameter is considerably larger at 0.810″ compared to 0.625″. The Predator has a sporter like stock cut slender at the forend 1.625″and grip area 1.265″, where the Remington has a broad 2.240″ forend and a palm swelled 2.025″ grip. The heavy barrel shank of the Remington is 1.240″ compared to 1.160″ for the Ruger, the muzzles measure 0.815″ and 0.625″ respectively.
Again, the intent of the prior comparison is to delineate the differences between a heavy barrel target/varmint rig and moderately heavy barrel sporter, the Predator. From a performance standpoint, I don't believe these two types of guns are separated by much and group sizes between these two types of factory guns would be very similar under field conditions. My personal take on the Predator is that it combines varmint/target rifle like performance with sporter rifle like handling. Neat.
Since I had a screw driver handy…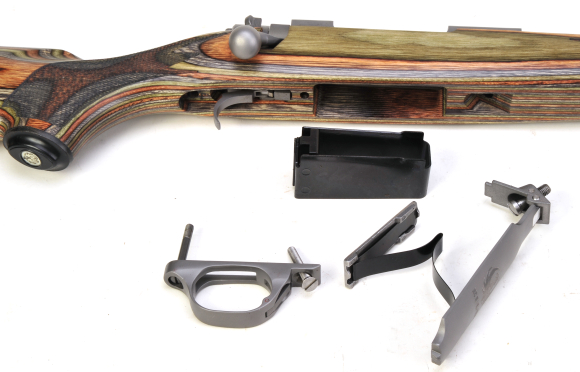 Inside or out, the Ruger utilizes high quality castings and machined parts. No plastic to be found. The laminated stock fits the action and barrel like a glove. The bottom of the barrel channel is cut to assure no barrel contact other than at the forearm tip where the last inch or so makes full metal to wood contact. The sides of the barrel channel do make full length contact with the barrel and apply pressure uniformly. The action inletting on this example is very clean with the exception of just a bit of… wood fuzz in a non-contact area, This cleaned up with a thumb nail scrap.
The magazine box has an aft spacer to bring the nose of each cartridge to the proximity of the feed ramp while still allowing maximum cartridge length loads. The floor plate release is embedded in the front of trigger guard; handy but still protected.
As seen in the picture, left, the Predator comes with a fully adjustable two stage trigger, which is quite a departure from historical Ruger hardware. Ruger's description: Two stage, light, crisp, with no overtravel is solidly appropriate.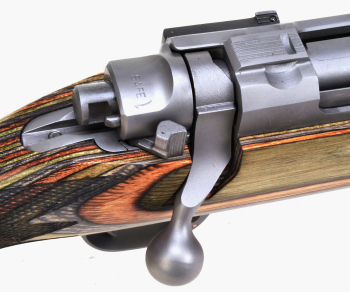 The Ruger M77 Hawkeye Predator… has a really long name. Beyond that it has a three position safety; on bolt locked, on bolt unlocked and fire.
The Predator utilizes Ruger's proprietary scope mounting system that secures scope rings directly to the rifle's receiver. Rings are clamped and keyed to positively locate even the largest optics. Aftermarket suppliers also offer ring sets for the Ruger.
As is the case with all Model 77 Hawkeye models, the bolt handle is scalloped to clear oversize scope eyepiece's without requiring the use of very high scope rings.
The Ruger has a non-rotating extractor and features controlled round feed. During the time I spent with the rifle, feed was positive and reliable. Bolt rotation is 90
° as is the case with most two opposing lug locking systems.
For all of the times I've worked with this system, small centerfire or .416 Ruger, they all feel the same, smooth, substantial and solid lock up.
The Ruger M77 Hawkeye Predator is an interesting combination of stainless and laminate that most people would think of as attention grabbing, yet it is somehow a very conservative looking firearm. Might be the muted tones of the bead blasted stainless and satin finished multi-colored stock. The Predator has the heft of varmint rifle, but handles like a sporter. The gun's balance makes it comfortable to carry and hold on a target. The trigger is a big plus, very clean and thankfully adjustable. It will be interesting to see how all of this comes together during live fire – Part II… which is not yet another U.S. tour by the Rolling Stones, but rather one man's attempt to alienate his distant mountain dwelling neighbors.
While I was finishing up the photo shoot for this part of the Ruger review, I got to wondering what happened to all of the wild turkeys today. Not one showed its homely face. Just about then, a good sized red fox came trotting up the driveway, broke into the tree line and followed the exact path the turkeys normally follow every morning. Smart fox. Smarter turkeys.
The Ruger M77 Hawkeye Predator Part I
The Ruger M77 Hawkeye Predator Part II