Wow! Liar, liar pants on fire on that forecast of a near end of winter thaw. The shop's roof is sagging under the weight of accumulated glacier-like ice formations and it appears to not be going anywhere, anytime soon. Snow drifts are still topping the nearby fruit trees and I can only see pavement showing through in small areas.  With all of the mess out there, I do feel bad for customers coming into the shop to buy guns. However, in our defense we do leave a snow shovel and a bag of rock salt at the end of the walkway and we will pull them out with a truck if they fall in a drift and can't get out.
I've handled a good number of Ruger firearms over the years, rifle and handguns, rim and center fire. I've honestly not encountered a bad one in the bunch. That's not saying I haven't liked some more than others, but most of that is bias originating from my personal preferences in firearms.
Ruger Model 77 Hawkeye rifles have an air of century-old hunting rifle tradition. However, they are actually made with very modern manufacturing processes, using very modern materials and finishes. The Model 77 Hawkeye is chambered for all of the popular standard cartridges, as well as a slew of new proprietary cartridges. This model translates well into a variety of chambers from the varmint shooting 204 Ruger right on up to the big 416 Ruger.
As for the things we can put into boxes…
Ruger Model 77 Hawkeye Standard

Model

37116

Type

Bolt Action

Chamber

.204 Ruger

Weight

7.25 lbs

Barrel Length

24″

Twist

12″ RH

Magazine Capacity

5 Rounds

Hardware

Blued Alloy Steel

Trigger Type

LC6 Non Adjustable

Trigger Pull

4 Lbs 2 Oz

Safety

3 Position

Stock

Walnut

Overall Length

44.00″

Stock – Pull

13.5″

Stock – Drop at Comb

3/4″

MSRP

$843

Discount Retail

$651
And some things that are too big to fit…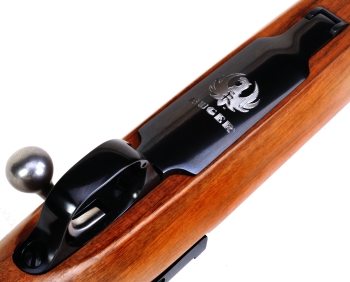 Most other Ruger M77 Hawkeyes I've handled have a matte black metal finish. This model has an attractive deep black gloss finish from barrel to bottom metal. It didn't seem to mar or scuff in use and it cleans up easily with a quick cloth wipe. The bolt is stainless, as is the case with all Ruger bolt action models. The satin finished walnut used on Ruger stocks these days is not as plain as it once was. There is just enough contrast and figure in grain to set off the clean checkering and patterns and to give the rifle a touch of character.

Nice… thoughtful touches. I usually don't like logos on products, but I like the presence of the Ruger Eagle, perhaps because of its tone of heraldry. Ruger's idea of a cost effective plastic grip cap compared to FN's execution of the same on a current Model 70 Winchester is pictured above. The Ruger piece is matte finished with a screw head covering insert and perfectly mated to the form of the stock. The Winchester's shiny and ill fitting piece of injection molded plastic cheapens the appearance of an otherwise attractive satin finished stock.
A couple of more finesse touches provided by Ruger. There is the integral scope mount system that is keyed side to side and fore and aft. Ruger includes a set of solid steel rings with every rifle, which is worth at least $40 – $60 if purchased separately. The ring set supplied with the rifle is medium height, however, Ruger will exchange them for low or high sets free of charge. Rings are finished to match rifles as shipped; blued or stainless.
The Ruger chambered for the 204 Ruger has a little "speed bump" cast into the feed ramp that is not present on rifles with larger cartridge chambers. The small 204 Ruger casings alternate in position against the follower and are guided to the chamber through the notches on either side of the bump. The approach makes for very reliable feed.
So what's with the 204 Ruger?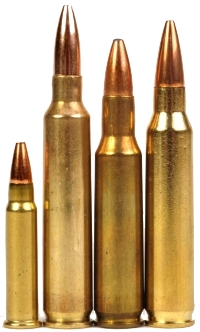 Pictured L-R, for the sake of context and visual connection 17 HMR, 204 Ruger, 222 Remington, and 223 Remington.
The 204 Ruger has been around since 2004. Sorry, I've been busy for the past seven years and missed the initial coverage. The 204 Ruger is not a pipsqueak cartridge by any means. The 204 Ruger is essentially a .222 Remington Magnum, blown out to maximize case capacity, shoulders sharpened from 23° to 30° for the same reason, then necked down to accommodate a 0.204″ diameter bullet. For those of you born within the past fifty years and don't know or care about what happened in 1958 and the 222 Remington Magnum, the 204 Ruger is about a tenth inch longer than a .223 Remington and the Ruger has about two grains great capacity. Like I said, it isn't a wimp round.
The Real Guns Barrel Burner Index for this cartridge is only 8.8… incredibly mild, which is consistent with Ruger and experienced shooters assertion that the 204 Ruger is easy on barrels. Might not mean much to a deer hunter, but for a varmint hunter or for shooting targets, barrel life list ranks high on the list for favorable cartridge attributes.
The other big deal with the 204 Ruger round is caliber performance. 0.204″ bullets can achieve what can be defined as stunning velocity levels and a very high relative ballistic coefficient keeps them hanging on the velocity and energy even at exceptionally long ranges with bullet weights as high as 45 grains. They are about 25% more streamlined than a comparable weight 0.224″ bullet. Both brass and bullets for handloaders are inexpensive and bullets are often available in bulk for varmint hunters.
Is this all going somewhere… or can I take a nap now?
Yes it is and yes you can. Right after this. I've got dies and components lined up and a 30x scope mounted on the Ruger. I'm going to wait a few days for the winter wind to die down a bit, then I'm going to get myself out there in this 20°F weather and see how many holes the gun with put in other holes. Pretty spiffy looking rifle… Hope it generates some heat.
Ruger's Model 77 Hawkeye in 204 Ruger Part I
Ruger's Model 77 Hawkeye in 204 Ruger Part II