In 1958, when Winchester introduced its .338 Winchester Magnum, it was a well thought out North American heavy hitter. Based on the .458 Winchester Magnum, necked down to .338 and chambered in a rifle with a .30-06 Springfield length action, it was considered by many hunters as too heavy of a cartridge for North America and too heavy in recoil. Eventually, with acceptance from writers like Elmer Keith and Jim Carmichael and successful use on everything from deer to cape buffalo, the cartridge found its stride.
Unfortunately, the Internet is a vast jungle where animals have supernatural strength and each new cartridge release obsoletes the prior. The .338 Winchester Magnum became too underpowered for folks who hunt with their keyboards and the round dropped out of conversation. I personally skipped the 338 Winchester Magnum, and went directly to the 338-378 Weatherby Magnum, not because of the .338 Winchester Magnum's deficiencies, but rather because of its superior qualities. I wanted the high sectional density, low coefficient of drag properties and high retained velocity of the 0.338″ bullet, but at extreme ranges and for no practical hunting purpose.
The M77 Hawkeye African rifle, chambered for the .338 Winchester Magnum, came at the conclusion of a search for a superior, practical, hard hitting and reliable hunting rifle. It is the perfect selection for an important fall big game hunt that warrants a touch of tradition and perhaps a sense of nostalgia.
M77 Hawkeye African Rifle

Manufacturer

Ruger Firearms

Model

HM77RS 37152

Type

Bolt Action

Caliber

338 Winchester Magnum

Magazine Capacity

3

Barrel Length

23

"

Rifling

1:10″ 6 Groove

Weight

*8 lbs 1 oz.

Overall Length

43 3/8

"

Stock

Walnut… nice

Hardware

Blued Gloss

Length of Pull

*13 1/2″

Drop at comb

*3/8″

Drop at heel

*3/4″

Sights

50 yd preset, drift adjustable

Scope

Drilled & Tapped

Trigger Pull

*5 lbs. 9 oz. LC6™

Safety

3 Position Thumb Safety

MSRP

$1095
Discount Retail
$819

* Actual weights and measures
Yes, it does really look this nice…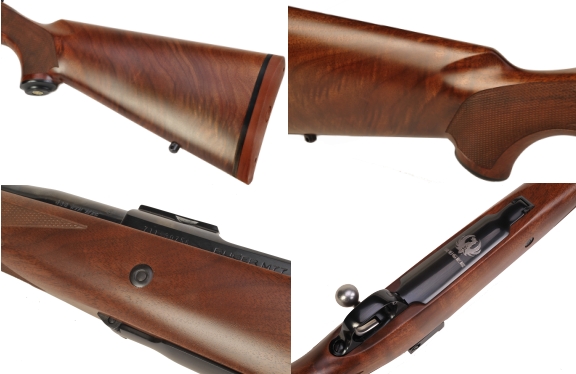 Most rifles have a good and bad profile, one patch of wood looks while another goes Plain Jane. Not here. The grain is nicely and subtly figured and uniform in wood density and color with the exception of the tiger tail. The cross bolt is a nice functional touch, the checkering is crisp and clean and the inletting is tight around the steel bottom metal and hinged floorplate. Bottom left panel also shows Ruger's proprietary scope mount system. Medium height rings are included with the rifle. Listening to Joe Cocker's rendition of "Ain't No Sunshine". Man, that guy can sing. And now a little "Unchain My Heart"…..
Hey, look over there!
I like the whole concept of the African version of the M77 Hawkeye right down to the metallic sights and barrel band front sling mount. The rear sight elevation adjustment is factory set at 50 yards and not adjustable, but it is adjustable for windage. Hmm… Smith, "The Weight" or The Band, "The Weight"… Listening while I'm thinking about these Ruger sights. Definitely, The Band. Gayle McCormick hardly sang on "The Weight", but she was outstanding on "Baby It's You".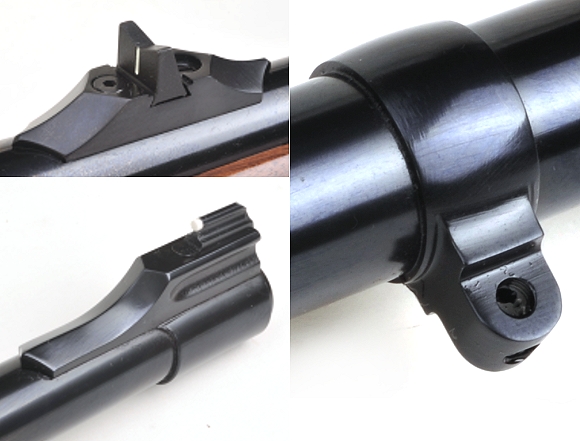 The factory sights are appropriate for the M77 Hawkeye African. The 338 Winchester Magnum, with good handloads or performance factory ammunition and a 200 yard zero, rises no more than 1 1/2″, nor falls more than 6″ over the span of 300 yards. Basically, 300 yards is point blank range and there is not an inch of trajectory separating 185 through 225 grain bullets over this distance. This rifle deserves a good scope so its potential can be tapped, particularly now that good scopes have such a wide magnification range; 12X without giving up 2X.
The heart of this hunter…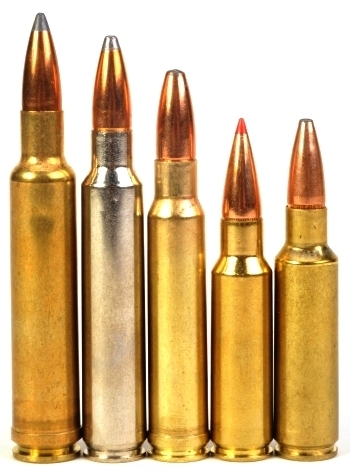 The .338 Winchester is an original short magnum, based on a reduced length 375 H&H case. Members of this cartridge family require only a 30-06 Springfield length action.
(Left to Right 338-378 Weatherby Magnum, 338 Remington Ultra Mag, .338 Winchester Magnum, .338 Ruger Compact Magnum, and 325 WSM which is actually an 8mm Magnum, but relevant for this purpose. )
Cartridge

Capacity
Grains
Case
Length "
Overall
Length "

338-378 WM

137

2.910

3.750

338 UM

110

2.760

3.600

338 Win Mag

86

2.500

3.340

338 RCM

71

2.000

2.800

325 WSM

82

2.090

2.860
Cartridge

MV

ME

300 Yard
Drop*

338-378 WM**

3380

5075

-5.1

338 UM

3150

4406

-6.0

338 Win Mag

3075

4200

-6.3

338 RCM

2950

3866

-7.0

325 WSM

2900

3734

-7.5

*200 Yard Zero 200 Grain Bullet
Labeling this M77 Hawkeye "African" is not a misnomer. Before one-upmanship and under driven libido determined cartridge selection, skilled and experienced hunters used the .338 Winchester Magnum to hunt lion and leopard, large African plains game and even cape buffalo where legal. These days, hunters like to elevate the simplest game taking to an Indiana Jones extravaganza, a death defying experience. "I shot it straight though the heart. I thought it was down, but I poked it with a pointed stick and it jumped up and charged straight at me. I had no other choice but to shoot again, and quickly to put it down. That 500 grain solid took one of his ears right off and it fell not two feet from me. Biggest damn bunny I've ever seen". (i.e. Please see – The Killer Rabbit of Caerbannog).
Galileo, Galileo…Newton, Newton
Unlike global warming and an animal's right to vote, there is more scientific substantiation of the .338 Winchester Magnum's desirable attributes. So bear with me while I plod through my layman's interpretation and feel free to email me with corrections if you are left as an angry high school physics teacher trying to pass yourself off as a ballistician.

In the absence of an opposing force, falling objects have the same rate of acceleration. A feather or a brick will fall the same distance, taking the same amount of time. A .22 caliber bullet traveling 3,000 fps, fired from a rifle bore that is parallel to and three feet above the ground, will strike the ground at the exact same moment as a person dropping a bullet from a height of three feet, or as a .308 caliber bullet fired from a rifle in the same configuration as the .22 caliber rifle. Diversity of outcome in the real world comes from the influence of opposing forces… like air resistance induced frictional drag and from the mass and resulting momentum of the moving object.
A 0.338″ bullet of typical weight for the .338 Winchester Magnum has greater sectional density and is typically more streamlined than bore diameters just above and below its diameter. Subsequently, it meets less opposing force, air resistance, and it has greater momentum than comparable 0.308″ or 0.366″ or 0.375″ bullets. When launched with a common velocity, a .338″ bullet has a higher average speed over any given distance and this difference is amplified as range increases.
Hornady's Superformance 225 grain .338 Winchester Magnum ammo is rated at 2940 fps and 4318 ft/lbs at the muzzle. At 500 yards, those numbers are 1950 fps and 1899 ft/lbs. Hornady's Superformance 270 grain .375 H&H Magnum ammo is rated at 2,800 fps of velocity and 4,749 ft/lbs at the muzzle. At 500 yards, those numbers are reduced to 1,749 fps of velocity and 1,833 ft/lbs of energy. The .338 Winchester Magnum 225 grain produces higher average velocity, drops less at any given range, hits with greater kinetic energy, and penetrates more deeply as a function of increased momentum than the hottest 375 H&H 270 grain factory ammo. The 338 Winchester Magnum can also be loaded heavy, like the 275 Grain Swift A Frame pictured.
Maybe I've missed something. I've been listening to Gary "U.S." Bonds perform "Quarter to Three" while thinking through this statement and now it's "After the Gold Rush". I liked Neil Young a lot more before I had to accept that he was a whining Canadian.
In the words of Leo Gorcey's Muggs, "So in contusion…"
I like what Ruger has done in extending the M77 Hawkeye African lineup to include the 300 Winchester Magnum, 338 Winchester Magnum, 9.3x62mm Mauser and the 375 Ruger. In doing do they made the rifle, in appearance, function and chamber such a classic the African model could deemed… noble. In addition to the overall configuration of the product in terms of the selection of materials and finish, the production quality is excellent. Functionally, this is a terrific big game and big and dangerous game rifle.
The 23″ barrel is an good choice, even if a bit European. Long enough to get real steam from these hefty magnums, but not so long at to powder burn an elk on a 200 yard shot. The pull length is very good, the forearm is the right width for a good hold and the muzzle tracks to where ever I am looking. Recoil comes straight back for maximum absorption. I would like to see a 416 Ruger version of this rifle. The cartridge is as good a performer as the 375 Ruger. which is saying a lot, and it would make the rifle fit where hunting laws require, and hunters prefer, a larger bore. An adjustable trigger would be a thoughtful feature. Mechanically, the L6 is nice work, but I would like to apply the finesse to the setting myself.
Handloading has begun. As a long term .338 caliber handloader, the shop already had lots of good components and dies on hand. Coverage will appear in Part II. And closing it out with Bonnie Raitt's "Wild for you Baby". Trisha Yearwood isn't even close…
Ruger's M77 Hawkeye African Series Part 1
Ruger's M77 Hawkeye African Series Part 2