African hunting during the early part of the 20th century, the type of game and methods of hunting applied, pretty much defined early express rifles. Big, nearly 4″ long cartridges like the .505 Gibbs or 500 Jeffery, with 160 – 180 grain charges of smokeless powder and 600+ grains of slow moving bullet required long actions, long barrels and lots of heft to keep recoil in check. Additionally, large and dangerous game like elephant were hunted close up, which tended to fill up the objective lens of even a low magnification scope, so folding leaf express sights were the norm. And only very calm people with British accents were allowed to shoot them.
These days, thanks to Obama care, the back breaking cost of federal government and ever shrinking middle class private sector paychecks, hunting elephant, rhino or even cape buffalo represents an expense few can afford. In its stead, special big game hunting trips have turned with greater frequency to African plains game, elk, moose, and brown bear where hard hitting and flat shooting firearms are better suited.
M77 Hawkeye African Rifle

Manufacturer

Ruger Firearms

Model

HM77RS 37113

Type

Bolt Action

Caliber

9.3x62mm

Magazine Capacity

4

Barrel Length

23

"

Rifling

1:10″ 6 Groove

Weight

*8 lbs 0 oz.

Overall Length

43 3/8

"

Stock

Walnut… nice

Hardware

Blued Gloss

Length of Pull

*13 1/2″

Drop at comb

*3/8″

Drop at heel

*3/4″

Sights

50 yd preset, drift adjustable

Scope

Ruger Integral Base

Trigger Pull

*5 lbs. 2 oz. LC6™

Safety

3 Position Thumb Safety

MSRP

$1095
Discount Retail
$819

* Actual weights and measures
My exposure to the Ruger M77 Hawkeye African has been very positive; the first chambered for the 375 Ruger and the more recent chambered for the 338 Winchester Magnum. They are a new generation express rifle. Replacing the guppy bellied, eleven pound wonders of the past, the African is a well- behaved, precisely accurate, eight pound sporter. While honoring the tradition of up close shooting with windage adjustable metallic sights, Ruger's integral mount system makes scope installation and removal a snap. Well thought- out stock geometry gives the African a natural point and manages recoil down to…. manageable levels.
If there is one thing more I would like to see from Ruger, it would be a 416 Ruger version of this model. The 416 Ruger is an excellent heavy round and brings a lot to the party even in the shorter barrel Alaskan version. That said, the addition of a 9.3x62mm chamber was an excellent addition to this model as the Hawkeye suits the cartridge.
Otto's 1905 9.3x62mm is not a Mauser by this… or any other name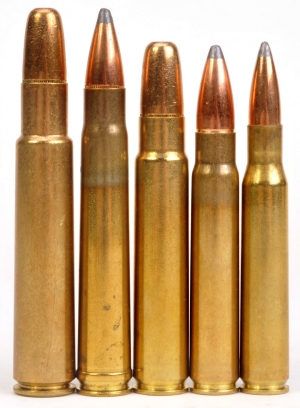 The 9.3x62mm cartridge is extensively covered in: Cartridges of the World, The Handloaders Manual of Cartridge Conversion, Any Shot You Want, etc…. particularly etc. I did run across a curious entry in the current Hornady 8th Edition manual. Hornady's narrative began with, "To most Americans, the 9.3x62mm is a novelty. Until very recently, very few hunters had ever heard of this round….". That would probably come as a surprise to most people who are firearms enthusiasts to the extent that they are handloaders… or maybe I just hang around with an odd crowd.
The 9.3x62mm was developed by gunsmith Otto Brock in 1905. His intention was to convert inexpensive surplus military Model 98 Mausers into powerful medium bore firearms for use by German farmers settling Africa. That's the only association the round has with Mauser and since that time many brands of commercial firearms, bolt action, doubles and drillings have been chambered for the round. Such guns have been successful in hunting everything from cape buffalo to chipmunks.
For the sake of dimensional comparison, above left to right: 416 Rigby, 375 H&H, 375 Ruger, 9.3x62mm, and .30-06 Springfield. If brass is not available for the 9.3x62mm, although I have not encountered that problem, it can be fabricated from 30-06 Springfield brass by neck expanding and fire forming to reduce body taper and to move the case's shoulder forward. All of the massaging and resizing results in 78 grains of capacity, approximately 10 more grains than the .30-06 Springfield.
Cartridge

Bullet
Weight
Muzzle
Velocity
Muzzle
Energy

35 Whelen

250

2600

3754

9.3x62mm

250

2625

3826

338 Win Mag

250

2750

4200

375 H&H

260

2900

4857
The 9.3x62mm is an excellent round that is, unfortunately, sometimes spoken of in hushed tones, overstated ballistics and with an excessive amount of reverence. Within a framework of reality, the 9.3x62mm performs in the comparative power range of the 35 Whelen or 338-06, but it does so at a relatively low maximum pressure, 56, 565 PSI in comparison to 60,000 PSI for the 30-06 Springfield based cartridges indicated.
Factory ammunition is readily available, thirteen loads from four manufacturers at last count, and ammunition does not have to be expensive; $92 for Federal Cape Shok, but perfectly acceptable $26 286 grain soft point Prvi Partizan ammo and a number in between in price. We custom load the cartridge at Real Guns with everything from Barnes Banded Solids to more generic soft points, in weights from 250 grains to 320 grains. Brass and bullets are readily available, as are reloading dies and other related tools an equipment.
A few more looks at the Ruger M77 Hawkeye African…

The Ruger's rear sights are windage adjustable and preset for 50 yards POI elevation. This may seem at first a bit arbitrary… and possibly capricious, but it covers the shooter with a 100-150 yard point blank range, depending on loads and most anything farther pretty much invites the assistance of a scope. With a 6″ kill zone the 9.3x62mm will shoot 235 yards point blank, with 300 yards an easy deal for any shooter who can remember a couple entries from a drop table… or who tapes them to their stock. The front bead is white "ivory" and very visible. The African series does have a traditional barrel band sling mount.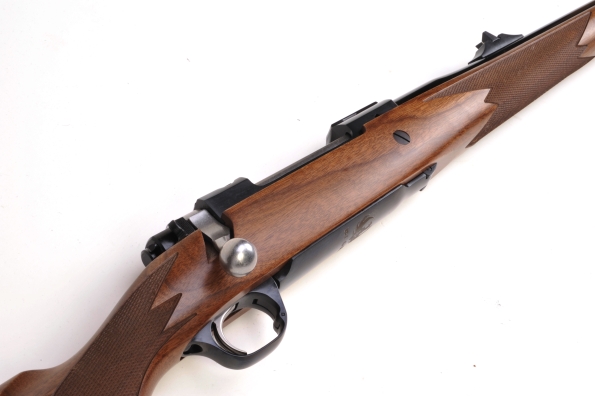 Ruger has put a lot into the aesthetics of their products. Wood is cleanly finished and sealed with the appearance of an oil finish… a very traditional look. The bond of metal and wood is very good, inletting and barrel channels fit uniformly well. Actions cycle smoothly, cartridges chamber and eject without rough spots or binding. Controls; the safety, bolt and magazine release function positively but require little effort. So with a lot of custom handloads and some factory ammo, the Ruger M77 Hawkeye African 9.3x62mm is going for a spin…
Ruger M77 Hawkeye African 9.3x62mm Part I
Ruger M77 Hawkeye African 9.3x62mm Part II