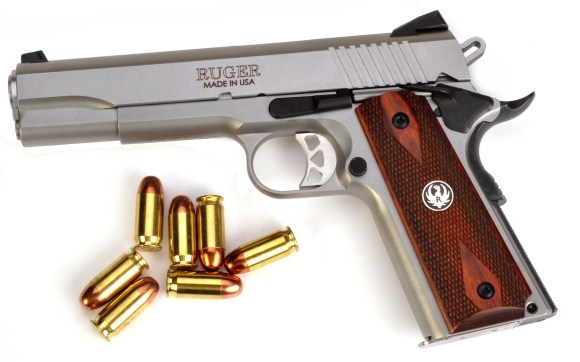 The 1911 45 ACP is my favorite handgun type. It has a perfect grip size, shape and angle, perfect balance with a five inch barrel and its power instills confidence in any shooter. Simple in design, rugged and reliable in operation, they are as much fun to shoot and modify as an AR 15. Unfortunately, some manufacturers put too much of a spin on Browning's design in an effort to gain recognition in a crowded market place and, in doing so, lose the best qualities of this type of gun. Clearly this is not the case with the SR1911.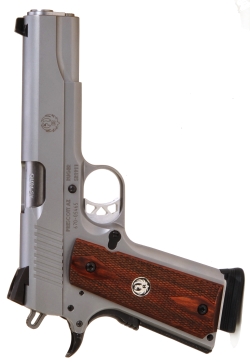 Ruger avoided all of the common pitfalls like barrels that are too short and shed too much velocity, double stacked frames that are too large to comfortably handle, too much downsizing that makes them difficult to control, and poly frames make them way too… Euro. With Ruger's new introduction, the SR1911, it's like it says on the slide, "Ruger. Made in the USA" and there is no mistaking this gun for anything but a conservative implementation of a traditional 1911 type firearm.
I am not suggesting that the SR1911 is a throwback. In addition to exceptional quality materials and Ruger's advanced manufacturing processes, Ruger has incorporated all of the finesse design enhancements that have proven their worth over time and under critical conditions: lightweight skeletonized hammer, dovetail mounted adjustable sights, lowered election port, extended ejector, lightweight trigger and overtravel adjustment, extended thumb safety, extended magazine release, and checkered backstrap. Additionally, the SR1911 is supplied with two magazines, one seven and one eight shot; the latter includes a magazine bump pad.
Steel 1911 inside as well as out…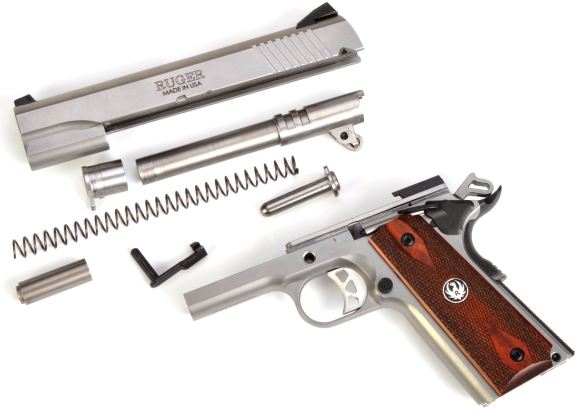 Field stripping the SR1911 yields a familiar collection of parts from the solid precision barrel bushing to the radial locking lugs on the barrel. Cast and/or CNC machined, Ruger makes clean parts and assemblies. The finish, inside and out, is fine bead blasted stainless. The Cocobolo grips are traditionally checkered with diamond panels at the fasteners. The hammer, thumb safety, slide stop, magazine release, grip safety and mainspring housing are contrasting matte black. Makes sense for the controls as it highlights their position, but the contrast also makes for interesting aesthetics. Magazines are chrome plated steel.
Hi, so glad to not see you…

The SR 1911 is a Series 70 type gun, meaning there is no afterthought trigger to firing pin block linkage to destroy an excellent trigger pull. The SR1911 does have both a thumb and grip safety to facilitate carrying the gun cocked and locked and to prevent unintentional discharge.
Ruger SR1911

Manufacturer

Sturm, Ruger & Co.

Model

SR1911 #6700

Material Slide & Frame

Stainless Low Glare

Grips

Cocobolo – Checkered

Sights

Novak LoMount 3 Dot

Action

Locking Breech Semi Auto

Caliber

45 ACP

Magazine Capacity

7 & 8 +1

Barrel Length

5″

Rifling

1:16″ RH 6 Groove

Overall Length

8.67″

Overall Height

5.45″

Trigger Pull

*4 lbs 14 oz

Weight Empty

*2 lbs 7 oz.

MSRP

$799

Includes: Soft case, one 7 and one 8 shot magazine,
bushing wrench and documentation. Not California
or MA legal. *As measured
In handling, the SR 1911 feels like a full-size Colt Model 1911. In fact, the Ruger and my Series 70 National Match both weigh an identical 2 pounds seven ounces with an empty magazine. The densely checkered mainspring housing is comfortable, as is the memory grooved beavertail grip safety.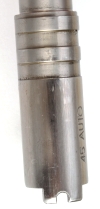 The parts are tight… close tolerance, from bushing to slide. Missing is the slide death rattle of my old Colts and Kimbers. I would attribute this to manufacturing processes that keep parts to a very narrow dimensional spread.
The Ruger's finish is very uniform and, after shooting the front of the gun to a carbon over stainless state, a quick wipe with a soft cloth cleaned it right up. A notch in the barrel hood, pictured above left, permits loaded chamber checking without opening the slide. The sight dovetails, front and rear, are modern Colt 1911 standard with a 0.125″ rear dovetail width. The three dot system is the best for general application sights and the Novak LoMount sights stand out well against virtually any background where there is enough light to see a target.

Functional…
Ruger makes it a point to state that the SR 1911 is compatible with all factory ammo loaded to U.S. industry standards, and that there are no problems with ammunition loaded to NATO, U.S., SAAMI or CIP standards, including high velocity and hollow points loaded in brass, aluminum or steel casings. The SR 1911 was shot with very mild 230 grain ball Remington UMC ammo and with Cor-Bon high velocity 185 grain jacketed hollow point ammunition. The Ruger digested all without protest while producing advertised velocity; 850.4 fps average for the former and 1,157 fps for the latter. I had one stove pipe with the UMC practice ammo, the third round fired, a condition that did not repeat for the balance of the testing and was attributed to "Aren't new guns really tight" syndrome.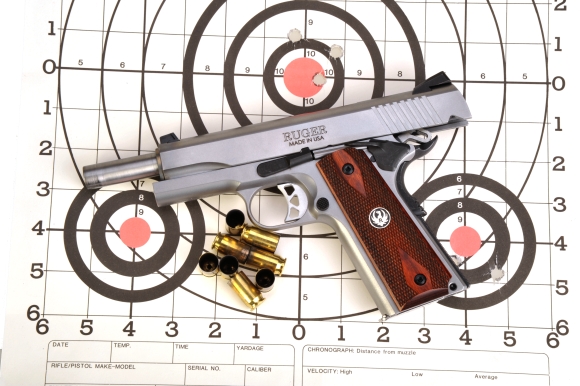 The Ruger SR 1911 is a relatively easy gun to shoot well. At seven yards, from a modified two hand Weaver, overhead valve, inverted triangulated isosceles stance I was able to shoot 1 3/8″ to 2 1/4″ groups, with the tighter groups belonging to the high velocity 185 grain loads and the larger to the lazy 230 grain ball ammo. My wife did better, but I don't think that is important to explore at this moment. I don't know how the gun would perform from a Ransom Rest, but then I hardly ever carry a Ransom Rest with me for self defense.
In retrospect.. ification. I love to make up words…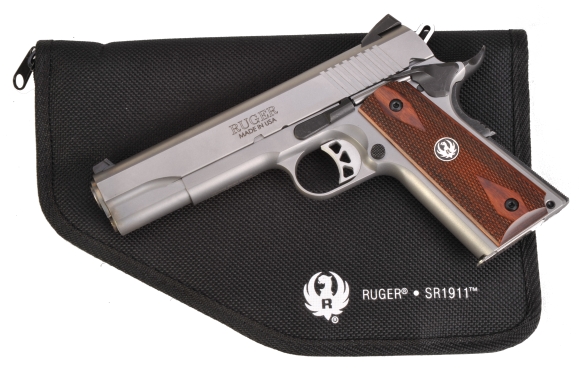 The Ruger SR 1911 represents an excellent value. At discount retail, it is priced near models other U.S. based manufacturers try to slip into the market under their brand name, but are actually made elsewhere… like the Philippines or Tuvalu perhaps. The Ruger can serve any defensive application as is, including recreational time at the range, or for trying out developing handloads. The SR 1911 could also serve as a basic gun for future modification for more specialized applications. Personally, I would stop building guns based on inexpensive imports and switch to the Ruger, because the SR 1911 would be a much safer and long lived gun. Anyone who has built from an import, I'm sure, has experienced inconsistent frame and slide hardness, sloppy tolerances and parts that wear and peen at an accelerated rate. The SR 1911 would eliminate those types of problems and it would be worth the investment. Ruger is doing an excellent job on product and price and they should be commended for the effort.