I don't like people under the age of forty five and, for the most part, they don't like me. They don't like rock and roll, improved gas mileage excites them more than horsepower, they think the word "biker" refers to a Lycra wearing dork with a finned helmet, and they want to befriend most of the things I eat. Good Lord, take me now, before I'm caught standing in a public place with my hand over my heart, singing the Star Spangled Banner.
I was born at a time when good guys wore white hats, the bad guys wore black and the good guy's guns in western movies never ran out of bullets. There was no guessing who the hero was and people treated one another a lot nicer than they do today. Evolved society, my ass.
Meanwhile, back on earth…
Whoever is responsible for this rendition of Ruger's single action rimfire deserves a ticker tape parade… or at least a lunch at the company's expense. For those cowboys in white hats out there, the Single Ten may not let you shoot forever without reloading, but it sure seems that way. The Single Ten puts ten round capacity in a cylinder diameter that is virtually the same as their Single Six 22 LR and 22 Magnum, 1.417″ for the Ten, 1.404″ for both the Sixes, giving the Ten the capacity of a 22 LR autoloader. Then they topped the gun with an excellent set of fiber optic sights and lost one ounce of weight in the process. It is as it appears, a very spiffy single action revolver.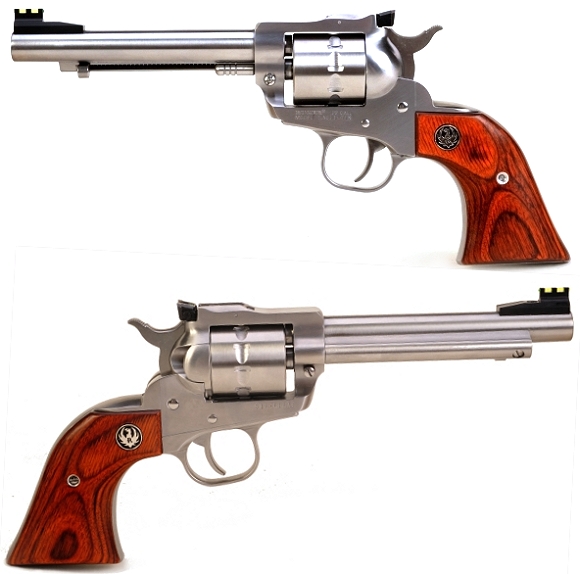 Two obvious distinguishing features of the Single Ten are its compact size and light weight. It is hand filling to the point it is easy to control and operate, but small in comparisons to guns like S&W's ten shot behemoth 617 that weighs a full half pound more.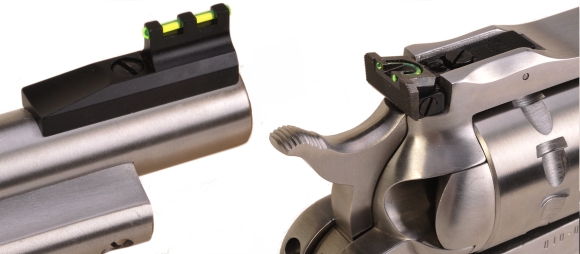 Another excellent feature of the Single Ten is the Williams' FireSight front and rear sight set. I've installed these on my double action revolvers as well as on most autoloaders and open sight rifles. In any light that would permit shooting, they are bright, easy to see against any background and easy to bring into alignment. I have a couple of guns with combo Tritium and light pipe. While technically interesting, I don't think they offer more as a practical matter. In addition to sights, there are a number of other parts the Single Ten does not share with the current model Single Six; the frame, cylinder and pawl as well as thin hardwood "gun fighter" grips and associated hardware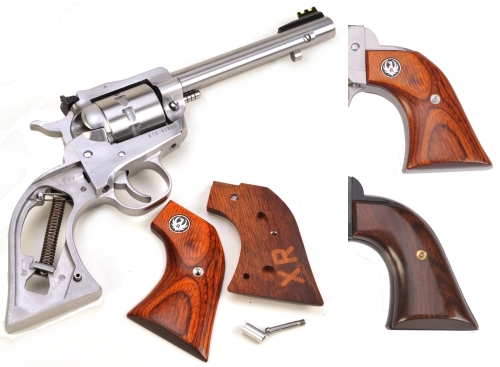 Appreciatively missing is the super secret, hidden under the grip frame, key actuated hammer lock. The stainless steel grip frame gives the Ruger a nice balanced feel, which is a substantial contribution to the gun's shooting personality. For the sake of comparison, the Single Ten grip over a New Model Blackhawk. As you can see… there are no differences. Really. Measured them at every point and curve. They are, as the Blackhawk, a comfortable handful.
Shooting… a lot
Ruger Single Ten™

Manufacturer

Sturm, Ruger & Company, Inc.

Model #

8100 – Catalog #KNR-5-10

Type

Single Action Revolver

Caliber

.22 LR

Capacity

10

Barrel Length

5.50″

Twist Rate

1:14″

Weight

*2 lbs 2 oz.

Overall Length

11.00″

Overall Height

5.12″
Grips

Hardwood Gunfighter

Hardware

Stainless Steel

Sights

Williams Adjustable Fiber Optic

Sight Radius

6.75″

Trigger Pull

*4 lbs. 11 oz. Average

Safety

Transfer Bar

MSRP

$619
Discount Retail
$450

* Actual weights and measures
I went out back to the range with a Winchester Super X box of fifty , then unfortunately, asked my lovely wife if she would like to take a few shots. Right. Ten boxes and a smoked stainless finish later, the gun, not me, I was still waiting my turn. The group pictured above measures about 1⅛" and was shot at 10 yards from a two fisted, under handed, rebated Weaver mono-stance. In fact, it could have been a mono-e-mono stance, but I can't say for certain. What does this mean? It means the Ruger Single Ten can shoot like… really good. Shooting from a barrel and grip supported rest, the gun shot about 2″- 2½" at 25 yards.
Lasting, as opposed to comedic impressions…
The Single Ten feels like the first Single Six I owned and shot forty three years ago… intuitive in handling. It is a balanced gun with just enough heft for a steady hold. The Williams sights do a lot for the gun to make it even easier to shoot. After we got done punching holes in paper, my wife and I spent the morning popping steel spinner targets, laughing and having a good time. Enough gun for legitimate bragging rights challenge, but not too much to leave us with a headache or a sore wrist after hundreds of round of ammo.

I do not know if the Single Ten will replace the Single Six as a standalone 22 LR rimfire. I only see the Six currently offered as a convertible; 22 LR and 22 Mag, but things change. I do hope, if the Ten replaces the Single Six, that Ruger expands to include the carbon steel and various barrel length models. Better still, perhaps Ruger will be able to blacken stainless steel revolvers so they only have to make on version, but we will still have a choice. The Single Ten is a workhorse and I honestly can't think of another single action revolver on the market that can provide this level of quality, accuracy and reliability within any price range.