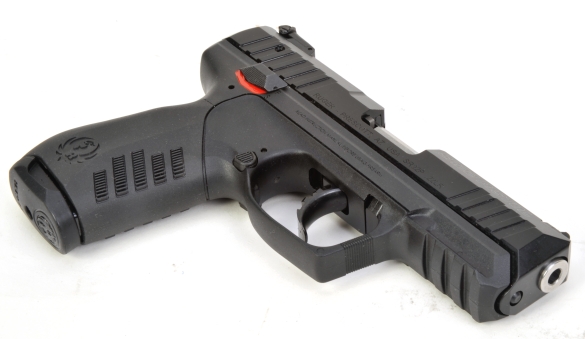 Model

Ruger SR22

Caliber

.22 LR

Capacity

10

Barrel Length

3.50

"

Twist

1:16″ RH

Sights

Adjustable

Frame

Black

Polymer

Slide
Black Anodized

Grips

Interchangeable

Double Action Pull

10.6 Oz

Single Action Pull

5.6 Lbs

Overall Length

6.40

"

Height

4.90

"

Width

1.29″

Weight

17.50 oz

MSRP

$399
I was in the middle of writing an article about shotguns… very nice shotguns, but shotguns none the less. Shotguns in comparison to cartridge firearms, in my little universe, are like soccer to American football, short pants to jeans, burritos without hot sauce, Marilyn without Monroe. Fortunately, UPS dropped off a handgun size package. So I wrapped up my shotgun article with what I thought was a very clever line, "The End", and my life took an eventful turn. The instant I took the SR22 from its box, I became taller, smarter and, yes, a lot better looking too. No, not really… except for that last part.
Ruger positions the SR22 as a do-it-all pistol; plinking, target shooting and small game hunting. The SR22 is an all around handgun with lots of features that allow it to be optimized for numerous applications. Ambidextrous controls, interchangeable grips, a reversible sight blade, and a Picatinny Rail with multiple cross slots for accessories.
To put size into context…
The SR22 is very compact pistol. Hand filling by grip design but compact none the less, compared to the Ruger Mark III Target pistol with a 5.5″ barrel, the SR22 is very small, very light and convenient to carry along on a field outing. The pistol's frame is made from fiber filled polymer, which is tough, resilient material. The slide is anodized aircraft aluminum, which means lightweight, 4.2 Oz, hard bearing surfaces and lots of strength. Unlike many other 22 rimfire autoloaders, the SR22's slide is big enough to grip and easily actuate.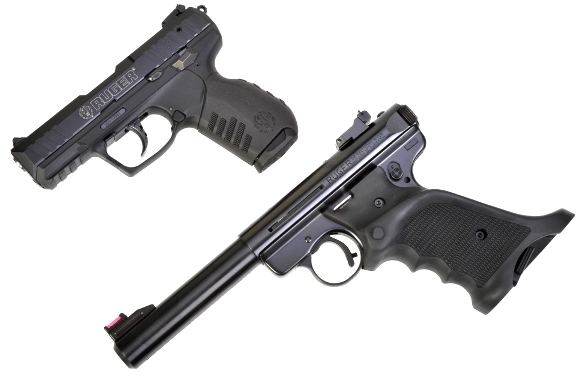 Traditional double, single action autoloader
The SR22 is not a preset action firearm. It has traditional double/single action trigger functions and a decocking function that permits the gun to be carried safely with a round in the chamber.

Pictured above, left, cocked, loaded chamber and ready to go with the safety in the "Fire" position. In the second photo, right, the safety has been switched to the "Safe" position, which causes the hammer to fall against the gun's firing pin blocker and the trigger function to be disconnected. Moving the safety to the "Off" position, the trigger can now be pulled to draw the hammer back until released. Subsequent rounds are fired single action until the gun is empty or placed on "Safe". The SR22 is both loaded and unloaded with the safety in the "On" position and a disconnector prevents the gun from being discharged with the magazine removed.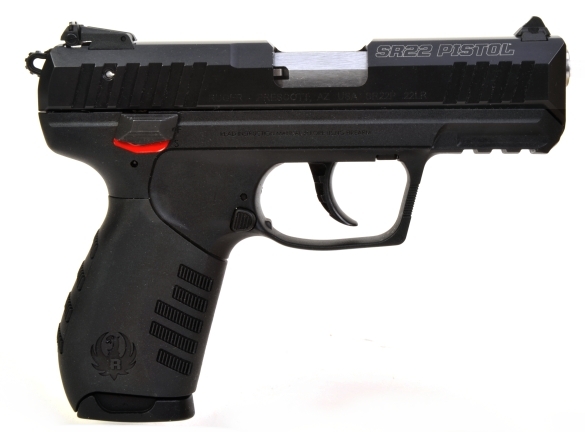 The SR22's single action trigger pull is clean, if a little heavy at five pounds. Double action trigger pull requires about twice the effort and, as is the case with any double action revolver or pistol, longish. Unlike a revolver, however, there is no double "rollercoaster" pressure to contend with. The resistance builds progressively, making it easier to manage a sight picture.
The top surface of the slide has a low reflective finish. The loaded chamber indicator, circled, is a round visual inspection port formed by a radius cut in the rear of the barrel and in the aft end of the slide's ejection port. Even though maturity has carried me from the eyes of an eagle to the eyes of a beagle, I could clearly see a case rim through the view port when the gun was loaded.
Rear sights are micro adjustable for windage and elevation and the two dot rear sight can be flipped for a plain black presentation. The front sight is mounted in a dovetail and is drift or sight mover adjustable if required. A very good sighting system.
One of the easiest autoloaders to clean
Remove magazine, check for empty, safety on, rotate take down lever fully downward. Grasp the rear of the slide, rack the slide full back and raise upward, then ease it forward and off.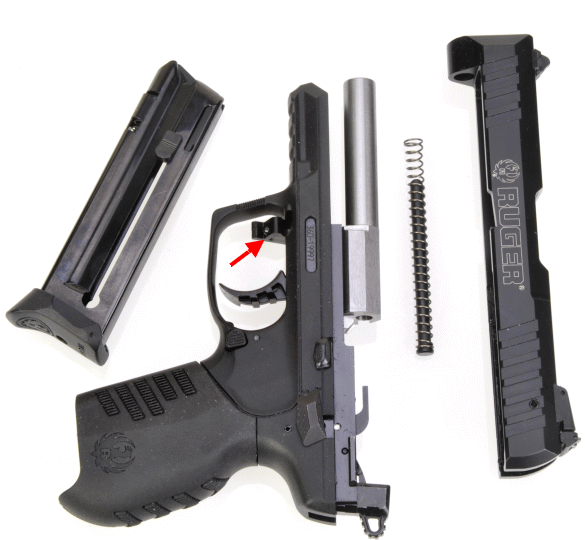 The gun's manual indicates that threaded barrels are available from Ruger. The barrel is retained by one Allen type fastener and a locating pin. The Allen is accessed inside the gun's trigger guard.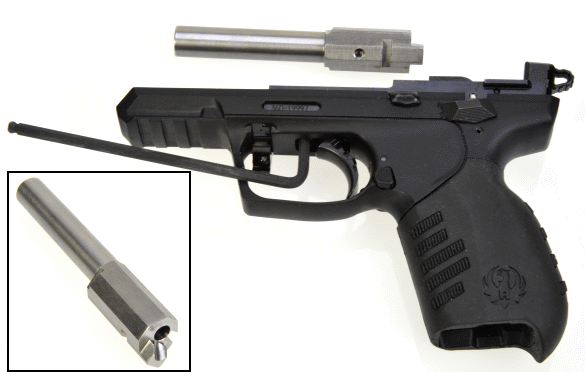 For as light as the SR22 is as an overall package, the barrel is stout with a wall thickness of approximately 0.130″ at the muzzle and greater than 0.600″ across the flats on the breech end. Should make for a very rigid barrel. The integral feed ramp had no problem feeding any ammunition put through it, round nose, truncated or hollow point.
"…will run reliably with a wide variety of ammunition (not just high-velocity)."
The above is a passage from the Ruger website product overview which, of course, sent me out to the range behind the shop with a bunch of ammo and a chronograph.
Cartridge

Bullet
Weight
Grains
Rated
Velocity
FPS
Actual
Velocity
FPS
Winchester X
40
1300
922
Remington YJ
33
1500
1060
CCI Mini Mag
40
1235
997
Eley Target
40
1085
856
Winchester X TIN
26
1650
1188
Federal GS
40
1260
982
Remington Subsonic
38
1050
645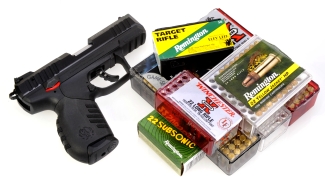 The rated velocity is from a long rifle barrel and not from a truncated 3.50″ barrel. The actual was anticipated and very good in comparison to similar firearms, or about 80 – 80 fps less than a 5.5″ barrel handgun. I think Ruger made a credible statement regarding the gun's ability to digest and function with a wide variety of ammunition. Across the selection noted within the table above, chambered, fired and ejected without a hitch.
I did encounter two anomalies during the live portion of my entertainment and both were in concert with the low velocity Subsonic ammo. There was not enough steam behind the cartridge to drive the slide to full open and lock the slide on empty, however, the SR 22 did cycle through several magazines full of the stuff without malfunction. I loaded up one magazine with alternating Winchester X TIN loads and Subsonic loads and got one "misfeed" when a fired Subsonic did not open the gun's slide wide enough to pick up the rim of the next Winchester round in the magazine. Intended for special applications, mostly involving a suppressor, any guns I have set up for this round have been altered for this specific purpose and are not used with high velocity ammo.
Gripping drama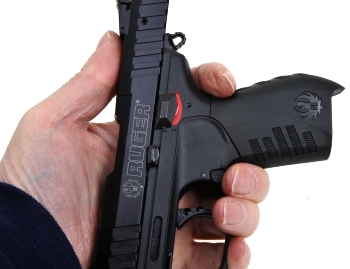 Ruger did to the SR 22 what they have done to virtually all of their revolvers; a reduced size frame extension to secure a variety of grips. The SR 22 comes with two interchangeable grip sleeves… craftily named "Small" & "Large". I'll be a renegade of sorts here and fly in the face of the manual's instruction to remove them by grasping the gun over the trigger guard and tugging until your angry and swearing at the gun. Moving one finger over to the backstrap puts force in line and the grip pops right off.
All throughout the range day, the gun was easy to load, aim and shoot. No special tending and no noticeable learning curve to gain accuracy.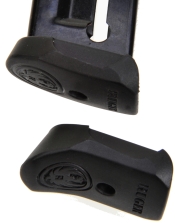 In addition to interchangeable grips, the SR 22 is supplied with a lock, spiffy soft case, two magazines with interchangeable magazine floorplate; plain and with finger support. For me, the gun shot as well with either grip and with either floorplate. I do have to say the magazines have long Slinky like springs that can launch a floorplate gently into geocentric orbit so a little care is required when changing them out.
The gun stayed clean. Usually, after a few hundred rounds of 22 rimfire ammo, autoloaders are gunk covered and in need of serious cleaning. The SR 22 surfaces wiped off with a range rag and there seemed to be no serious build up in interior areas. Nothing shot loose after shooting sessions. Not rattles developed and no sights shot loose or out of adjustment.
Consummation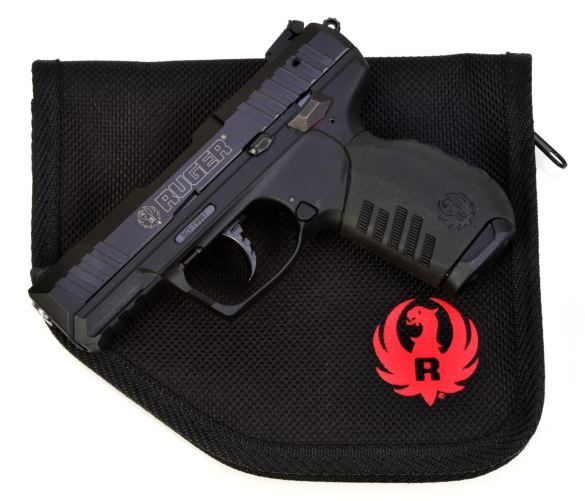 Nice gun. easy to shoot, easy to clean. Good materials, quality assembly and Ruger warranty backing. My wife, an experienced shooter. posted the best fifty foot performance with routine inch to inch and one half three and five shot groups while shooting from a rest. High and standard velocity both did well. My wife particularly liked having the full width of the slide to grab when it was time to load the gun and chamber a round.
I like the gun's balance, natural point and the fact it is just fun to shoot. I also like the fact it answered the question, "What the heck and I going to get my wife for Valentine's day this year?"