When I get a firearm like the Ruger 22/45 LITE in front of me I always wish I were a lot younger, not so grumpy and I had a more expansive vocabulary, because the 22/45 LITE deserves to be reviewed with youthful enthusiasm and lots of exciting descriptive adjectives. The Ruger 22/45 LITE is a hotrod of a 22 rimfire pistol, just waiting to be customized and personalized.
Model

Ruger 22/45 LITE

Caliber

.22 LR

Action

Semi-Auto

Hardware

Gold Anodized Aluminum
Grip Frame

Zytel® Polymer

Mag Capacity

10

Barrel

4.40″

Twist Rate

1:16″ RH

Rear Sights

Adjustable W&E

Front Sight

Ramped Front

Scope Mounting

Weaver Base

Weight

23 Ounces

Overall length

8.50″

MSRP

$469

Typical

$369

Price includes scope base, two Magazines,
lock and manual.
At just twenty-three ounces, the Ruger 22/45 LITE weighs a full ten ounces less than the standard Model 22/45 and is approximately half the weight of a Mark III target model. Ruger got to that light weight by fitting an aircraft aluminum receiver to the Model 22/45's Zytel® Polymer frame. The muzzle end of the LITE has 1/2-28 threads to accommodate suppressors, compensators and brakes.
Weight reducing aluminum receivers are a popular modification to Ruger and other brand rimfire autoloaders. By packaging the Model 22/45 product in this manner, for less than a $39 increase over the standard steel version of the threaded barrel gun, Ruger saves Model 22/45 customers the $250 – $350 expense of purchasing an aftermarket aluminum receiver and the hassle of an ATF controlled purchase. With Ruger doing the assembly, there is the further assurance of a good fitting assembly rather than an aftermarket part's more generic fit.
A hotrod to customize and personalize…
The 22/45 LITE, when set up with a Fast Fire Red Dot Reflect sight and Pac-Lite Compensator, weighs an even thirty-two (32) ounces. Without optical sites, the 22/45 LITE has a non-reflective ramped front sight and a fully adjustable rear sight.
Below – The Ruger 22/44, with the addition a Bushnell 2-6x32mm Elite handgun scope and Pac-Lite Compensator, weighs only thirty-five ounces. And, no, I didn't singe the scope's objective lens. I may have smoked it, but just a little.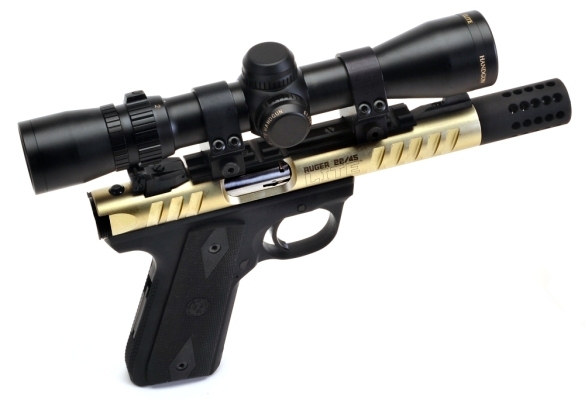 Bang, bang…
OK, so I got a little distracted here. In fact, I got so wrapped up shooting the gun and adding shooting accessories I missed my deadline. Not that you guys aren't important, but…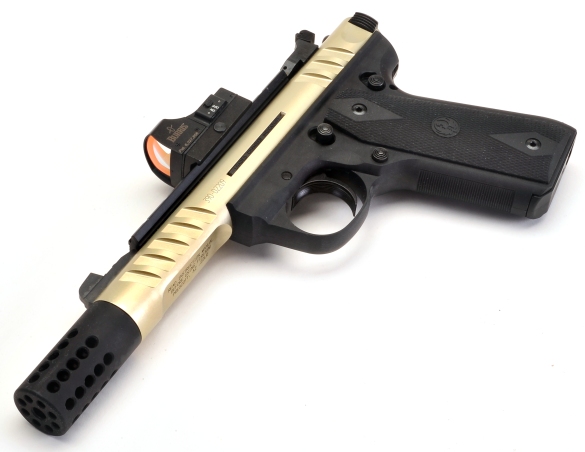 I played around with open sights, red dot sights and a scope, finally settling on the scope so I could shoot twenty five yard groups. Yeah, I know, "But Joe, I can shoot two hundred yard sub MOA groups with open sights". We'll good for you, shooterscooter465, but the fact of the matter is, a 0.135″ wide front sight covers a space approximately eight inches wide at twenty-five yards, or about four times the anticipated group size and the red dot is still approximately half that size.
I made no attempt to zero each ammunition type, so point of impact shifted with velocity and bullet weight as would always be the case. I apologize for the mixed targets. I shot the first groups, didn't like the target layout and finished with the other.
Winchester X 40 Grain Standard Velocity

Multiple Federal and Remington Eley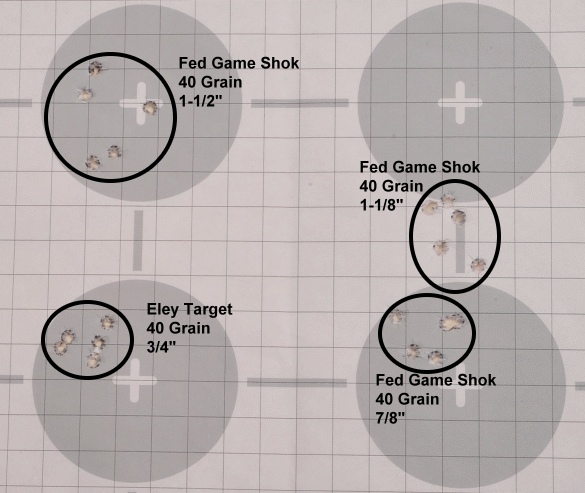 Mixed Winchester and Federal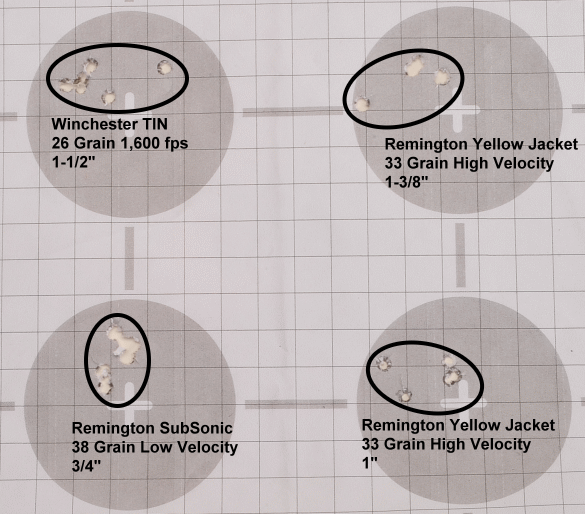 Conclusion? Sure, why not…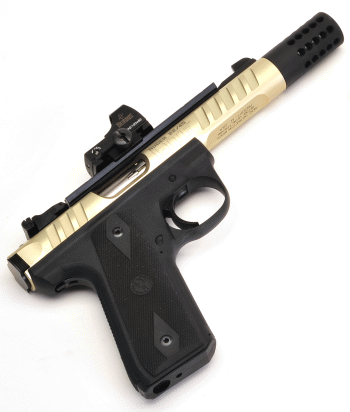 The Ruger 22/45 LITE is an accurate handgun. Great for vegetable patch guard duty and lots of recreational target shooting.
The gun loaded and cycled cleanly with all ammunition shot, with the exception of a couple of rounds of SubSonic that is actually intended for pistols specifically modified for its use.
The LITE is cost effective, especially for folks who like to tinker and refine with sight systems, compensators, etc. as well as for the growing popularity of suppressed gun applications.
I give Ruger a lot of credit for getting so many good guns out on the market, clearly products of people who pay attention to their customers.
Most important, it is a good looking firearm, low in cost and more than a lot of fun to shoot.