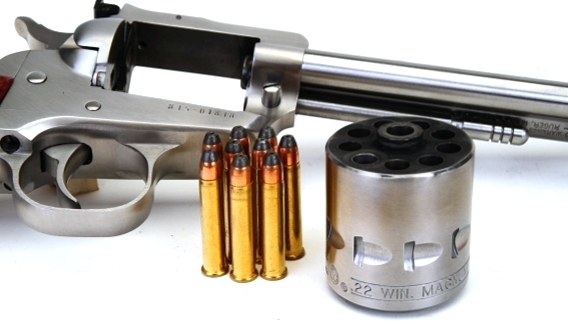 Press releases for new firearms are always welcome reading, but firearms don't really register with me until I can actually hold one in my hands, shoot it and form an experienced based opinion. Examining the Ruger Single-Nine™ got me to thinking back to the old days of Saturday matinee westerns and guns that never ran out of ammo. Not quite the same thing, but extra capacity, particularly with a rim fire where lots of shots will be fired, is definitely better.
Do not discharge from this position…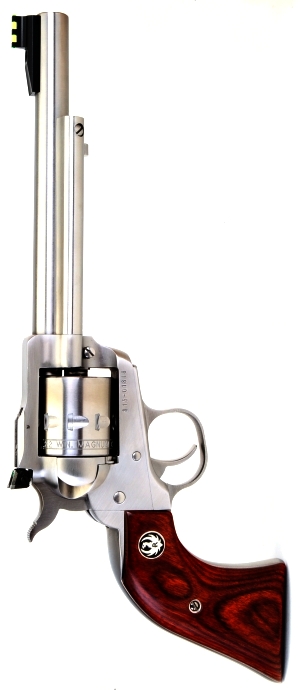 Ruger Single-Nine™

Manufacturer

Sturm, Ruger & Company, Inc.

Model #

8150 – Catalog #KNR-6-9M

Type

Single Action Revolver

Caliber

.22 WMRF

Capacity

9

Barrel Length

6

.50″

Twist Rate

1:14″

Weight

2 lbs 4 oz.

Overall Length

12.00″

Overall Height

5.12″
Grips

Hardwood Gunfighter

Hardware

Stainless Steel

Sights

Williams Adjustable Fiber Optic

Sight Radius

7

.75″

Trigger Pull

4 lbs. 6 oz. Average

Safety

Transfer Bar

MSRP

$629
Discount Retail
$495
While the Single-Nine™ has a longish 6.5″ barrel, the gun feels very balanced in an extended hand and the sights settle very steadily on target. In terms of actual weight, the Single-Nine™ weighs only once ounce more than the Single-Ten™ 22 Long Rifle pistol, even with the Nine's extra inch of barrel.
The 22 Magnum can be shot without distraction. There is enough report to remind you you're shooting a handgun with power, but there is no heavy muzzle blast and no appreciable recoil. Great for long recreational target shooting sessions, great for training young shooters and not bad at all for ridding the garden of pests.
The Single-Nine™ comes packed in a Ruger hard case with a lock, a manual and fired case for states where required. The finish is a uniform satin that contrasts nicely with the hardwood Gunfighter grips. No matter how you look at it, the Single-Nine is a quality gun.
An excellent outlook on life…
The Williams Adjustable Fiber Optic Sights are a very good choice for this application. They pick up and transmit ambient light well and the bright green stands out in contrast to just about any target. They are small enough in diameter to not obscure a twenty-five yard target and the micro elevation and windage adjustments are positive and uniform.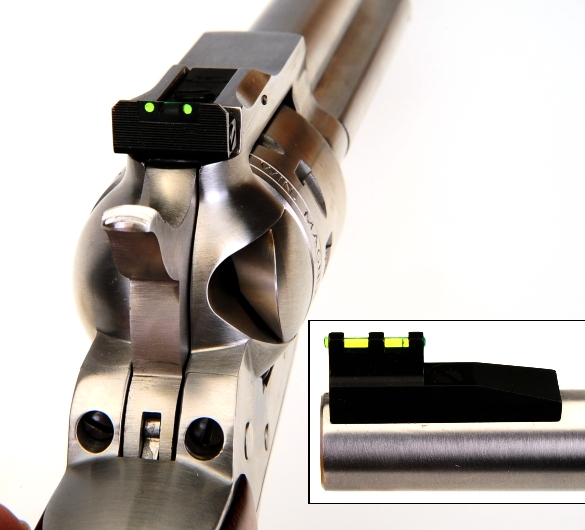 This Ruger Single-Nine revolver has exceptional fit and finish. Look at the seam at the loading gate where it meets the frame and at the ears on the grip frame where they meet the cylinder frame; perfect alignment, square and flush. No odd finishing marks, no munged screws or pins.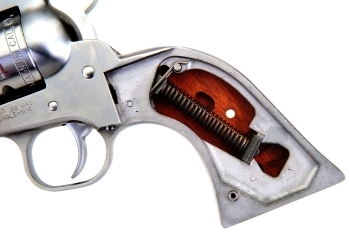 Under the grips is the familiar Ruger coil mainspring and non-internal lock mainspring seat. There are only eight pieces that separate the Single-Nine from the Single-Six:
Cylinder, Pawl, Frame, Grip Panels, Grip Screw, Grip Spacer, Front Sight and Rear Sight.
While the parts count is minimal, the parts differences are obviously not minor, but this does suggest that the Single-Nine is based on the tried and true design of the Single-Six.
Bang, bang… and bang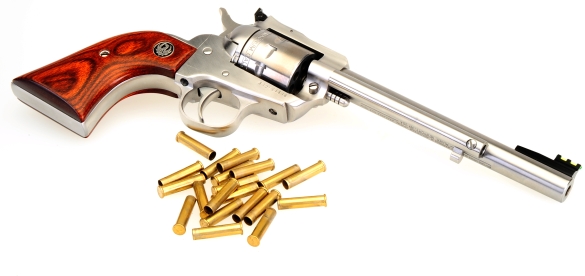 Based on a couple hundred rounds of ammo, the Ruger is a fun gun to shoot and a tough one to put down. I did not do any shooting from a rest. The Single-Nine obviously has greater mechanical accuracy than I could deliver and I wanted to see how easy or difficult it would be to build proficiency. This represents the progression of the first five 10 yard targets that were shot from a two hand hold. I apologize for the cut and paste lack of consistent scale. The measurements were taken from the actual target. Winchester Super X 40 grain JHP ammo @ 1,407 fps over the chronograph.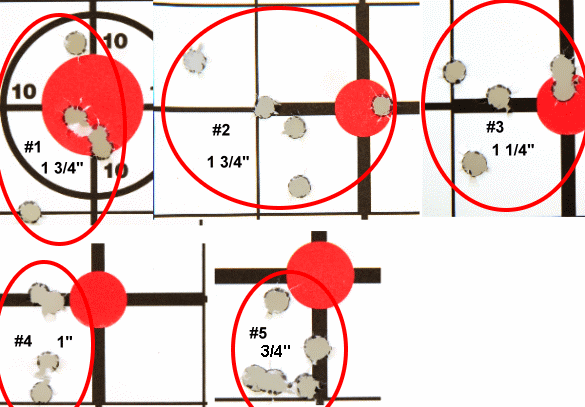 Conclusions
For those of us who have owned and shot Ruger single action revolvers over the long haul, the Single-Nine is a reassurance that Ruger continues to manufacture high quality, reliable firearms at a time when competitors keep sacrificing quality in an effort to lower costs. I'm glad Ruger is continuing to make firearms for firearm enthusiasts.


The Ruger Single-Nine™ is a solid extension to the Single-Six® lineup. Rim fire magnum power, 50% greater capacity and virtually no weight penalty. The gun's longish sight radius makes the gun easy to shoot and easy to get on target. A terrific classic single action revolver at an affordable price. For further details stop by the Ruger site.