Ruger's 77/17® 17 Hornet is a perfect example of what Ruger does best – produces firearms with a purpose that will see a lot of use. In this case, a varmint rifle with an effective range of 200 – 250 yards, a range that is useful to 90% of the folks who don't live at the edge of a prairie and can often hear the sounds of residential and business development off in the distance.
The Ruger 17 Hornet report is low db, which makes it neighbor friendly. It generates virtually no recoil, making it a great cartridge for young shooters and those of us who can handle a day of not being batted around by a magnum. The rifle is light, even with a heavy profile barrel, especially in comparison to my 220 Swift, a rifle I recently wheel and trunnion mounted.
Ruger® 77/17® Rotary Magazine Rifle

Manufacturer

Sturm, Ruger & Co., Inc.

Cat # K77/17-VHZ
031536229

Type

Bolt Action

Caliber

.17 Hornet

Detachable Magazine

6 shot

Barrel Length

24″ Heavy Profile
Rifling

1:9″

Weight

7.5 Lbs

Overall Length

43.25

Stocks

Green Mountain Laminate

Hardware

Stainless Steel

Length of Pull

13.50″

Drop at comb

1

"

Drop at heel

1.25″

Sights

Clean

Scope Mount

Ruger Proprietary – Rings Included

Trigger Pull – Non Adj.

4 Lbs. 4 Oz.

Safety

Thumb – Three Position

MSRP

$929

Nominal Weights & Measures
A little elaboration…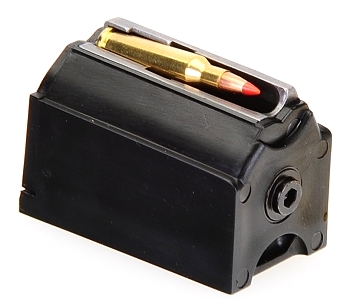 The Ruger 77/17 17 Hornet has a detachable rotary magazine just like the balance of the rifles within this product line that are chambered for the: .17 HMR, 22 LR, 22 WMR, 22 Hornet, 357 Magnum, and 44 Magnum. The 17 Hornet version holds six rounds and inserts flush with the rifle stock. Nice to keep a couple preloaded and tucked away in a jacket pocket… preferably the one you are wearing when you go hunting.

The Ruger 77/17 features integral bases, three positions and equal height, and is supplied with a stainless 1″ ring set. There are some subtle differences in receivers within this group. As an example, this model shares an ejection port shape with the 22 Hornet model. The 357 Mag and 44 mag models are cut straight at the back of the port and squared at the front. Why is this important? Because it is an indication of Ruger's commitment to cartridge and application optimized designs.
What would life be without an arrowed illustration? Giant pictures to follow…
I know, gun geek information territory, but I wanted to cover some of the attributes that make the Ruger rotary magazine rifles unique. The Ruger 77/17 has a particularly smooth action with a short throw… not lift or rotation, but "throw" which is the aggregate motion required to move a bolt from forward and locked to open and back. Bolt lift is a traditional two lug 90°.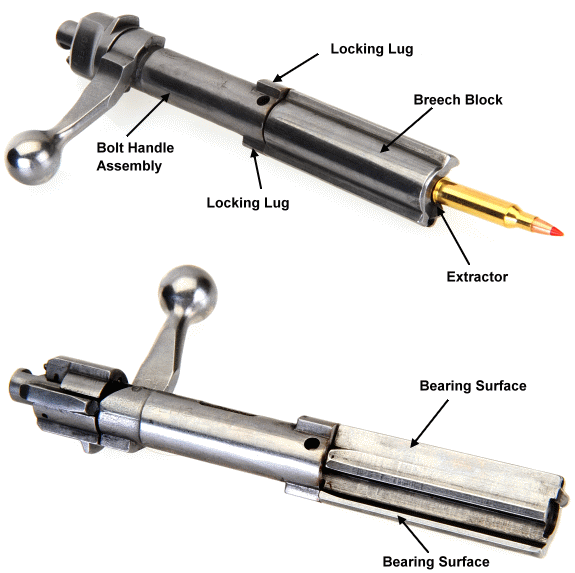 Ruger M77 rotary magazine firearms have a non-rotating breech block, the equivalent of an extended bolt head, that rides atop rails machined into the rifle's receiver. When the bolt handle is rotated closed, the beech block is pressed up against cartridge, securing it in the rifle's chamber. The twin locking lugs are aft of the breech block and rotate with the bolt handle when the action is closed, cam locking its lugs into the aft receiver ring. The Model 77/17 17 Hornet utilizes a single hook extractor and a fixed ejector.
The bracket at the front of the trigger guard that supports the back of the rotary magazine is also home to a large and, yes, even ominous ejector that rides smoothly in the groove on the flip side of the bolt. Wonder how many people no longer understand a "flip side" reference? I like this trigger guard assembly a lot because it smacks of "transformerism"… I made that one up.
Hardware and stock are locked together…
The Ruger 77/17 had an extremely stabile hardwood laminate stock, approximately 2″ of vertically stacked 0.060″ dyed birch hardwood layers, bonded with epoxy that is impervious to moisture and common solvents. As illustrated below, the action has a flat bottom with large perpendicular and parallel  contact surfaces to unite the action with the stock. The two are clamped together with the aid of the trigger guard assembly with more support than a typical bolt action rifle.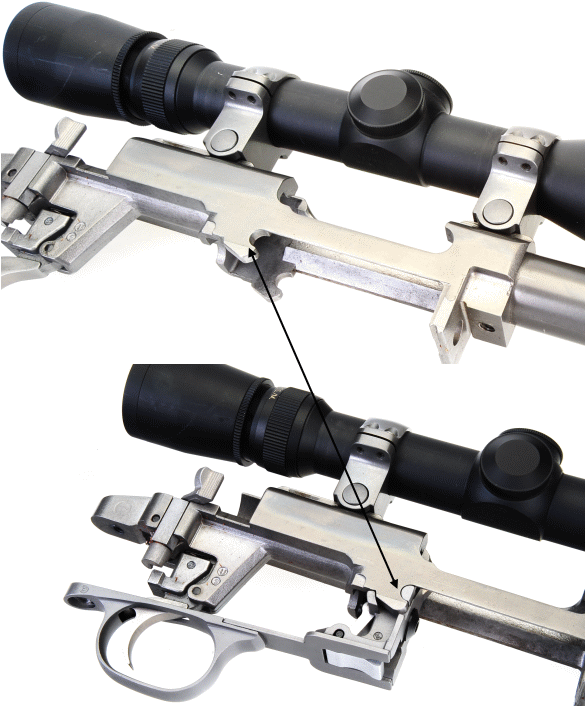 The stock is secured to the action with a forward screw that passes through the magazine well liner, through the stock and into the boss beneath the front receiver ring. The after magazine support, that is mounted to the rifle's trigger guard interlocks with hooks that are integral to the bottom side of the action. Combined they form a hinge. The trigger guard is rotated up into inletting in the stock where it is anchored with a fastener at the aft trigger guard. The result is a very tight assembly of the action, stock and trigger guard that is not going to move around in use. The barrel floats to the very end of the forearm where there is a small support rise that forms a contact pad.
The 17 Hornet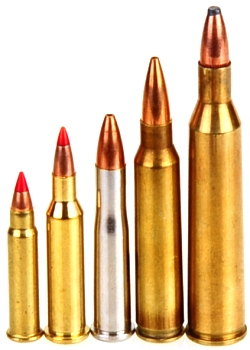 I've been a P.O. Ackley fan for decades, which is not synonymous with being a P.O. Ackley groupie who attributes everything with sharp shoulders to Ackley. In Ackley's 1959 edition of Handbook for Shooters and Reloaders, he specifically states numerous versions of the .17 Hornet predated his 17 Ackley Hornet, or .17/22 Hornet Improved as it is labeled in Donnelly's The Handloader's Manual of Cartridge Conversions.
The original wildcat, the .17-22 Hornet, retained the long sloping 11° 16′ shoulders of the .22 Hornet, but extended them until they closed to a neck diameter appropriate for a 0.172″ bullet. Ackley's improved version, and others like the 17 K Hornet, straightened the case, sharpened the shoulders and lengthened the neck.
In approximate comparison to the 17 Ackley Hornet, the Hornady release has a shorter neck by approximately 0.025″, larger diameter shoulders by approximately 0.010″ and shorter in overall case length by approximately 0.040″. Capacity is approximately 2 grain greater and a Pmax pressure is 4,000 – 5000 psi higher.
Pictured above, left to right, 17 HMR, 17 Hornet, 22 Hornet, 223 Remington, and 220 Swift which represents the long and short of varmint round… no disrespect to the many other 17's an 22's that could have been included.
Cartridge
Bullet
Grains
MV
FPS
$'s Per
Round
17 HMR
20
2375

.

24
17 Hornet
20
3650

.76

22 Hornet
35
3100

.68

223 Remington
53
3465

.85

220 Swift
40
4250

1.20

Factory Ammo 24″ Barrels

Edited – Originally this passage referred to a cost comparison between the 17 HMR  and 17 Hornet. Unfortunately, it was based on a cost typo for the HMR and, apparently, my brain getting stuck in neutral. It would be fair to say that the 17 Hornet is reloadable, components are under the control of the reloader and cost would be approximately 35 cents per round based upon a 10x brass life. The 17 Hornet provides approximately 50% greater muzzle velocity. My apologies for missing the error.
How DOES the Ruger 77/17 shoot?
Factory ammo is rated at 3,650 fps in concert with a 24″ barrel. The Ruger 77/17 shot consistent 3662 fps over a chronograph. More to come in Part 2, but that is a good benchmark and validation of advertised performance. We have a bad storm front coming in, so I only had a short time available for live fire with factory ammo. The worst 100 yard three shot group, getting settled in with the rifle, was 1.1″. The best was a 0.40″… ish.
Hornady 20 Grain factory Ammo – 200 Yard Zero

Range -yds

0

50

100

150

200

250

300

350

400

450

500

Velocity – ft./sec.

3650

3353

3077

2818

2572

2340

2121

1914

1721

1543

1384

Energy – ft.-lbs.

592

499

420

352

294

243

200

163

131

106

85

Path – in.

-1.5

0.2

1.1

1.1

0.0

-2.4

-6.4

-12.4

-20.7

-32.0

-46.9

Time of flight – sec.

0.0

0.0

0.1

0.1

0.2

0.3

0.3

0.4

0.5

0.6

0.7
Above, a little down range view of the cartridge's performance. Shifting this to a 261 yard zero and a 3″ inch maximum ordinate yields a 301 yard point blank range.
How did the rifle feel?
The trigger felt good. Crisp, breaking cleanly. No creep but, perhaps, I might have liked a half pound less pull. Not critical, just habitual. The report is really low in comparison to a centerfire 0.224″ caliber cartridge. It is a rifle that can be shot very accurately in the absence of ear slapping muzzle blast or recoil. If I get some time I will post a db meter and see if I can better quantify the noise levels.
The barrel is a tiny bit muzzle heavy, but steadying and still well balanced. The action, feed and eject, are just slick. The bolt moved like it is on ball bearings and the rounds strip cleanly from the rotary magazine. The straight comb is good. Excellent line of sight alignment with a 50mm Objective scope.
Up next, more live fire with 20 and 25 grain loads, Ruger's 77/17® 17 Hornet Part 2
For further information on the Ruger 77/17 Rotating Magazine rifle, check it out on the Ruger site.
Ruger's 77/17® 17 Hornet Part 1
Ruger's 77/17® 17 Hornet Part 2