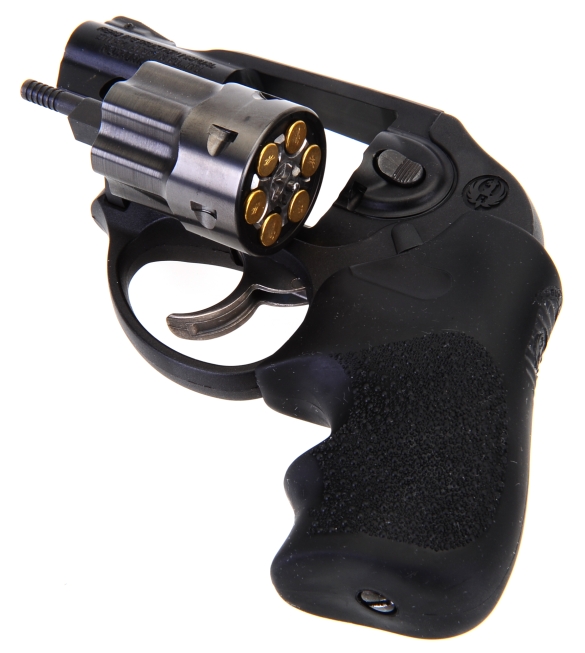 I usually abstain from looking at defensive firearms chambered for a 22 rimfire, magnum or non-magnum, but only because I am set in my codger-like ways and open carry a 45 Colt chambered Ruger Redhawk. Why do I open carry a cannon? Because the holster holds up the sweat pants I wear to work, an assignment I would not hesitate to claim as a vital community service. Other people, theoretically smarter people, who spend more time out and about, take concealment and weight into consideration when selecting firearms and this is where the 22 Mag Ruger LCR is an interesting fit.
Ruger LCR 22 WMR

Manufacturer

Sturm, Ruger & Co.

Item #

5414

Country of Origin

Newport, NH

U.S.A.

Type

Double Action
Actuation
Trigger – Hammerless

Caliber

22

Winchester Magnum

Capacity

6

Barrel Length

1.875″

Rifling

1:9″ RH

Weight

14.9 Oz

Overall Length

6.5″

Grips

Hogue® Tamer™ Monogrip®

Frame Material

Series 7000 Aluminum

Barrel Material

17-4 PH Stainless Steel

Cylinder Material

Series 400 Stainless Steel

Grip Frame Material

Glass Filled Poly

Rear Sight

U Notch Integral

Front Sight

Ramped Pinned Blade

Trigger Pull

7 lbs

MSRP

$529

Nominal Weights & Measures
Ruger offers the LCR is several chambers: 22 Long Rifle, 22 Magnum, 38 Special and 357 Magnum. Several years ago we did a two part review the 38 Special version and were favorably impressed. However, at a shade over 13 ounces it was a bit of a hand stinger with +P loads and the 357 Mag version at 17 ounces wasn't optimal for hours of target practice. Still, both very accurate for practical self-defense distances, both very concealable and both very well made.
While I am sure the release of a 22 Long Rifle version was widely appreciated, that was not one that fit my applications. I do like 22 LR autoloaders and target type revolvers, but after lots of chronograph recording and penetration testing, I don't see them as a self-defense option for me. The 22 Mag version, on the other hand, is something quite different. The 22 Magnum, with good bullet selection, will out perform a 380 ACP on penetration and wound channel and do so at a much lower cost. The overall design amongst all versions is actually very similar.
Whatever you do… Don't do this
The gun was halfway to this condition when I got to the part in the manual that said, disassembly is not required and should only be accomplished by a factory trained technician. Oops! But since I am here, there is no reason to not make the best of an unfortunate situation.
As illustrated above, the LCR (Lightweight Compact Revolver) is a very modern, modular design. The use of aluminum and long-fiber, glass-filled poly makes for very light weight, 15.2 ounces) and high durability firearm. The heavily fluted stainless cylinder is lightweight, but also very strong. The poly grip frame dampens recoil and mounts all fire control pieces within the same frame for a more concise parts fit. The pieces went back together again fairly easily.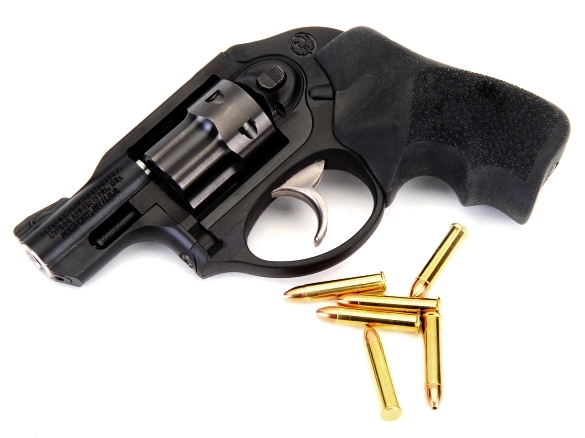 The aluminum frame is coated with what is described by Ruger as a black synergistic hard coat… which they were kind enough to more clearly define as a Type 3 hard coat anodize with infused polymer. The combination gives the benefits of anodization with additional resistance to chemicals. The cylinder is protected by DiamondBlack DLC (Diamond Like Coating), which is essentially an ionized carbon coating applied to the stainless steel part in a closely controlled environment. It is very hard, has exceptional wear resistance and does not alter the properties of the material beneath.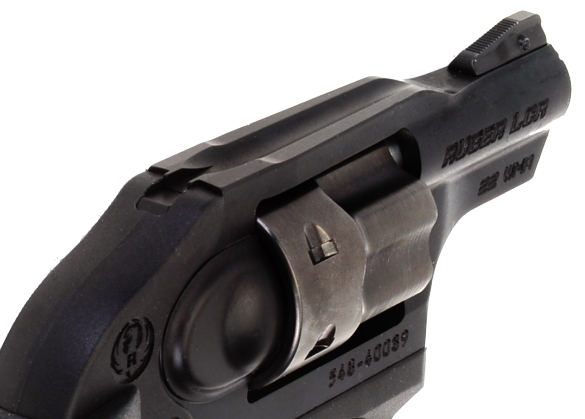 The sights on the LCR are perfectly appropriate for a close in defense weapon and not only point and shoot. Unlike the old S&W Chief Specials with a thin groove and thinner blade front sight, The LCR's rear sight is a clean square cut "U", a good non-reflective ramp and a substantial blade front sight. They are fast on target and show well. The Ruger Shop offers three types of replacement fiber optic front sights and two types of Tritium front sights for folks who would like options.
Oh yeah… how does it shoot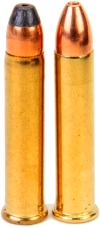 The Ruger LCR was checked out with two relatively standard types of ammunition, Winchester Super-X Ammunition 22 WMR 40 Grain Jacketed Hollow Point rated at 1910 fps MV and CCI Maxi-Mag 22 WMR 30 Grain Speer TNT Green Hollow Point rated at 2050 fps MV. They chronographed 1089 fps and 1092 fps respectively which is a comparison between a closed breech 24″ test barrel and a 1.875″ barrel ahead of a cylinder gap.
Recoil was very light, muzzle flash was… notably bright. Holding on target was not a chore, nor was emptying the cylinder into a target 7 yards away, quickly, into a 2.5″ – 3″ group. The double action trigger pull is longish and heavy… but not the usually uneven rollercoaster ride that is a part of most double action revolvers. The grip feels larger than it is… hand filling, comfortable, no slipping. Overall, the revolver is very slab sided and compact. Easy to palm. Finally, the Ruger LCR was as tight when I finished shooting as it was when I began.
The Ruger LCR is a lot of gun in a very compact package and an effective concealed carry revolver as a primary or secondary. It is an… impressive small revolver.