I started this piece a number of times, getting as far as halfway through the process before deleting the words and images after coming to the realization they had little to do with my thoughts. Sometimes it is a lot of work to be casual and spontaneous.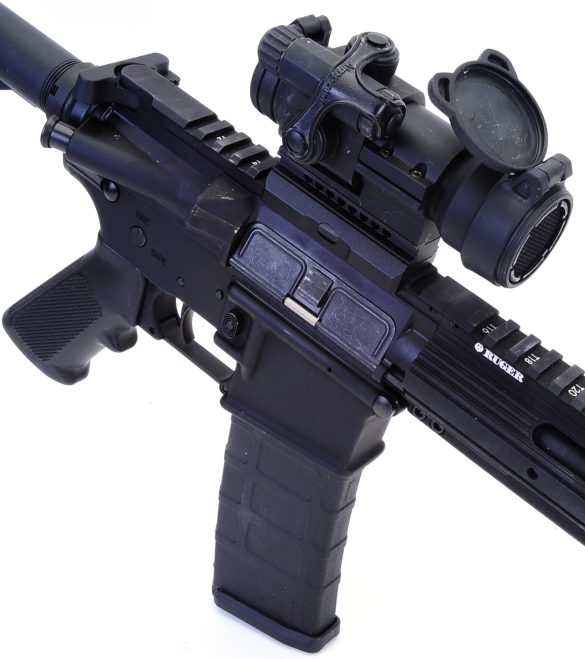 Machines are an art form; three dimensional and functional projections of man's creative ability. Unlike a painting on a wall, images on a screen or words in a book that can provide only cerebral gratification, a machine can be interesting, intricate, affecting through geometric form and color and used to construct shelter, harvest crops, provide transportation, heal the sick, and defend a person, a family, or a nation. Firearms, in a very artful way, represent our freedom, our intellect and our individuality.
Ruger's SR556E
We've covered other Ruger SR556s on Real Guns®, both 5.56 NATO and 6.8 SPC… all available for you to read by just clicking the hyperlinked terms. This variation is the "E" model, the "E" standing for "Essentials". So many quotes, so "little" time.
Ruger SR556E (Essentials)

Manufacturer

Sturm, Ruger & Co.

Model#

5912

Type

gas-operated, piston

Caliber

5.56 NATO

Mag Capacity

30

Barrel Length

16.12″
Rifling

1:9″

Weight

7.36 Lbs

Overall Length

32.75″ – 36″

Stock

Collapsible

Hardware

Aircraft Aluminum – Steel

Length of Pull

10.25″ – 13.50″

Sights

Rapid Deploy – Folding
Accessory Mount
Picatinny Rail

Trigger Pull

5 Lbs. 1 Oz.

Safety

Rotating Select

MSRP

$1,375

Nominal Weights & Measures
The Ruger SR556E (Essentials) represents a ready to go firearm, devoid of costly accessories that might be considered application specific and subjective in selection. The resulting lower cost allows the buyer to select their own preferences in advanced aiming devices, specialty rails, custom grips. etc.
The SR556E has a single top Picatinny rail rather than the quad rail present on non-E models. The "E" handguard is drilled and tapped on 2″ centers at 3:00, 6:00, and 9:00 positions to facilitate mounting additional rails that Ruger sells separately
The SR556E is supplied with lightweight, folding, rapid deploy sights as opposed to iron folding sights supplied with the VT and non E models. A set of folding, quick detach aftermarket A2 type sights were installed on the SR556E, pictured left, for the purpose of live fire assessment.
The SR556E has a non-fluted Mil-Spec 41V45 alloy barrel; 4150 chrome moly with the addition of Vanadium for increased tensile strength. All other model SR556 firearms, with the exception of the VT utilize the same. The varmint rifle SR556VT's barrel is made from a slightly harder 410 stainless alloy. All model barrels, except E and VT series are chrome lined. All E series guns have a black oxide finished bolt carrier group, all other are chrome-plated.
Ruger has an excellent matrix chart that illustrates all SR556 Model differences. The SR556E has an MSRP of $1,375, the non-E models have an MSRP of $1,995.
Personality… besides mine
After taking the minute or two to thrown on a set of quick detachable sights, the SR-556 was shot at 50 and 100 yards, ammunition types noted in the table below. Velocity drop off with the 16″ barrel was not as significant as anticipated, considering the rated velocity for the ammunition listed is based on a 24″ test barrel.
Ammunition

Bullet
Weight
Grains
Rated
Velocity
FPS
Actual
Velocity
FPS

Federal Power Shok

55

3240

2961

Hornady Custom

75

2790

2610

Remington Express

55

3240

2945
Popping away at 50 yards, using the sights small aperture, ended up with mostly 1.5″ to 2″ 3 shot groups. I flipped to the large aperture and shot… 1.5″ to 2″ 3 shot groups. Wasn't that exciting? 100 yard groups opened up to 4″ +/-. The combination of eyesight and iron sights resulted in groups not worthy of, and certainly not the cause of, the SR556.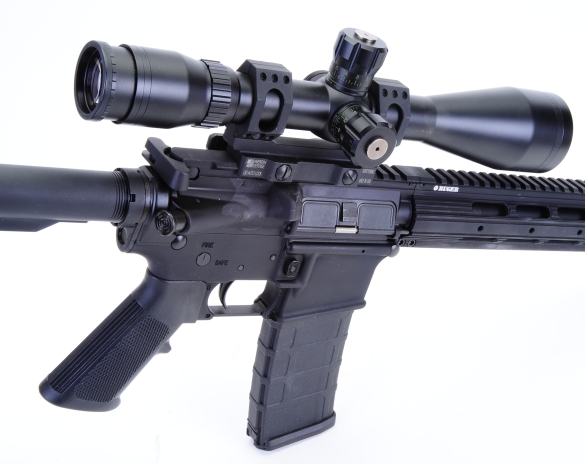 The easiest way to separate a shooter's eyesight limitations from a rifle's mechanical capability is to install a lot of glass. In this case, a Bushnell's Elite 6500 4.5-30 x 50mm scope on a American Defense Picatinny rail quick detach mount. The Federal shot just over 1″, 3 shot 100 yards, the Remington went 0.80″ and the Hornady shot under .75″. The problem was that I had this compact, fast handling, accurate little rifle handicapped by either a large scope or ineffective iron sights. Again, not the hardware, but rather getting something that would work for me.
Aimpoint® CompML3
Due to my…. fiscally responsible approach to technology, my first experience with matching a red dot sight to an AR was not with an Aimpoint product. Things did not go well, even though I could change colors and LED patterns from red to green and its purchase price resulted in change from a $100 bill. The faint dot was a target obscuring 6 MOA, there was so much parallax error it had to be critically aimed like a scope and the batteries lasted about half an hour. I think it took two of those big square lantern batteries.
I sifted through lots of red dot sight specs, read lots of manufacturers' product information to better understand the importance of certain features that were being promoted by manufacturers and ended up with an Aimpoint 2 MOA Dot Micro H-1 for a Ruger target pistol and eventually successfully tried it on one of my AR 15 rifles. Small dot, variable intensity, incredibly long battery life, no parallax, unlimited field of view, compact, and light weight. Within a short period of time, and after some practice, I was shooting with both eyes open, accurately and quickly. The Micro H-1 worked so well I tried the Aimpoint Hunter H34S on a tactical shotgun and then on one of my favorite small lever guns.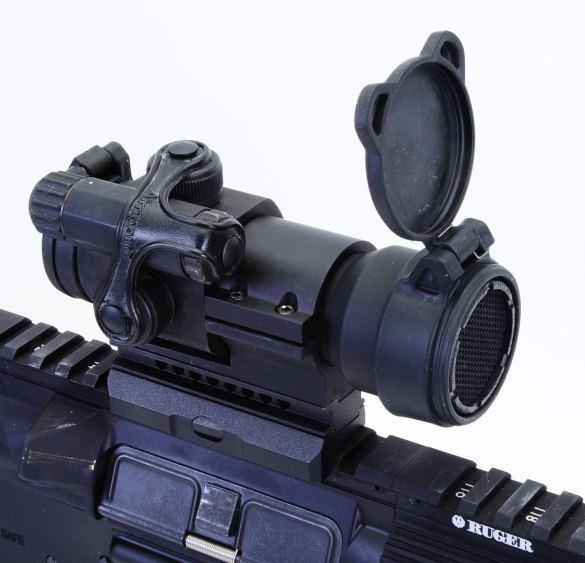 Pictured above, the Aimpoint CompML3 red dot sight, 30mm single ring mount, riser and quick detachable base on the rifle's Picatinny rail. A KillFlash filter and flip up covers are installed. Ultimately, the CompML3 was selected because of its wider selection of mounting hardware best suited to the SR556, because there are numerous useful accessories and because the CompML3 operates over a slightly broader temperature range.
Aimpoint® CompML3

Reflex collimator sight – Red Dot

LED (Light Emitting Diode)

Multi-layer objective lens

50 000 (5 years continuous use)

Extruded

high

strength

aluminum

Hard

Anodized,

Matte

Black

Typical Retail
$526 (Brownells)
Installing the Aimpoint ComML3 on the Ruger was like putting the last piece of a jigsaw puzzle in place. For me, it brought another dimension to the SR556. With the Aimpoint in place, the Ruger would shoot well inside of 1″ at 50 yards and under 1.5″ at 100 yards just by covering the center of the bullseye with the red dot.
The both eyes open shooting technique, combined with an absence of parallax, is such an asset when it comes to acquiring a target and following a moving target. If the dot is on it, the target will get hit and it is so much easier without the confines of a scope tube or an optical field of view. Double tapping a Folgers 32 ounce plastic coffee can at 30 – 40 yards was easy with the combination of Ruger SR556 and Aimpoint CompML3.
Price Vs. Value
Neither the Ruger SR556 nor the Aimpoint CompML3 are cheap, as determined by function and quality of products. Considering the purpose they are intended to serve, they are a bargain. No $700 AR 15 is going to compete with the Ruger's performance and reliability and there is no $100 bargain priced red dot that will do "almost" the same thing as the Aimpoint unit. A terrific combination.