Ruger American Compact

Manufacturer

Sturm Ruger – USA
Item #
6908

Type

Bolt Action

Caliber

243 Winchester

Mag Capacity

4

Barrel Length

18″
Rifling

1:9″

Weight

5 Lbs 15 Oz

Overall Length

36.75″

Stock

Synthetic

Hardware

Steel – Black Oxide

Length of Pull

12.5

"

Drop at comb

0.75″

Drop at heel*

0.75″

Sights

Clean

Scope

D&T Bases Included

Trigger Pull

3 lbs 9 Oz – Adjustable

Safety

Tang Slide

MSRP

$449

Weights and measure actual
Pictured, right, is an ideal deer rifle for a young hunter, less the ingredients of pretentiousness and ego. At 5 lbs 15 oz, 6 lbs 14 oz with Leupold scope in place, the little Ruger American Compact has a tough synthetic stock and finish that is nearly impervious to inclement weather. Its light weight make it an easy carry and its 18″ barrel shaves nothing of consequence from muzzle velocity.
Ruger picked two excellent chambers for this stubby rifle, the 7mm-08 Remington and the 243 Winchester. I don't believe I would select either cartridge for use on Alaskan moose or big bear, however, the former is actually a 308 Winchester hot rod derivative that works well for anything less and the latter for anything deer size with conviction. I've dropped lots of deer with the 243 Winchester and only once was a second shot required as a result of my poor shot placement. The 243 Winchester is also a cartridge that encourages target practice and off season varmint hunting.
The rifle is inexpensive at $339, typical discount retail, and so is the ammunition. Yes, there is $50/box ammo for folks who like to pose with their ammunition, but there is also $13/box ammo I wouldn't hesitate to take deer hunting. Federal, Remington and Winchester brands offer premium ammo for just a few dollars more. Handloads are a $6/box proposition and bulk bullets are available for varmint hunters.
Detachable magazine loading is easy and spares can be carried. Rounds can be loaded directly into chamber and the magazine can be topped off top through the ejection port, but not easily. I juggled scope rings around and concluded with medium height. The bolt handle will clear a large scope eyepiece and a 40mm objective scope will clear the American's barrel with low rings, but medium is better for natural eye alignment with a scope. The recoil pad is of good quality, but the little 243 Winchester's recoil is negligible and the report is typical centerfire.
In a little greater detail…
The Ruger American Rifle is black, stock and hardware. Sometimes photographic lighting can make it hard to distinguish black from gray. Or at least with my photographic lighting.
The American Rifle is supplied with #46 Weaver type bases front and rear. It is a popular standard used by Kimber, Marlin, a variety of FN Mauser based firearms, Savage, Stevens, and Winchester; some for front and rear, some for just front. I checked Brownells and found lots of #46 Weaver type bases in steel and aluminum, matte and gloss, low, medium, high, and extra high.
The American's bolt is removed by depressing the aft portion of the bolt stop and pulling the open bolt strait back. The cocking piece, as shown, served as a cocked indicator. The tang safety is a two position type, positive and handy in actuation.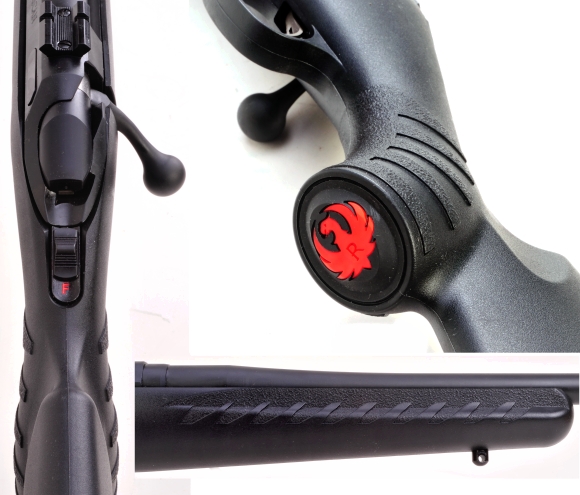 Very comfortable contour and geometry. The grip surface serrations are comfortable and look much better than when a manufacturer attempts to mould in checkering. I'd like to see the front serrations drop down a little lower onto the surface of the forearm to improve cold weather grip. The American Rifle respectfully wears the brilliant Red Eagle designed by Alex Sturm in 19491.
The bolt handle is slender and formed at a good angle, far enough from the stock so winter gloves won't be a problem. I have handled a lot of guns over the years, but I have to say that this is the slickest action I've ever encountered in a factory rifle. The bolt body diameter is large, but the assembly is light, so maybe a large bearing surface contributes to the feel. In fact, it took a couple of magazines worth of cycling before I stopped checking to make sure a round fed. It always had, it was just that the cartridge was stripped from the rotary magazine with such low effort.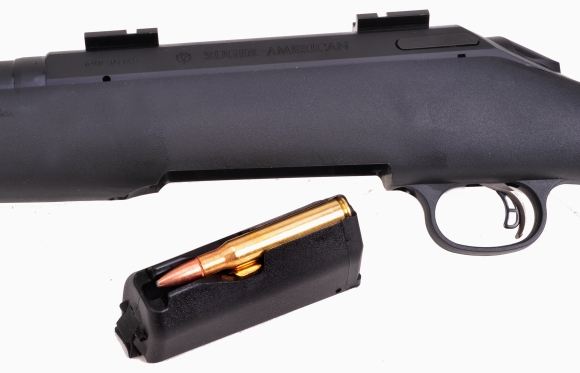 The detachable magazine is a rotary type so instead of a vertically compressed follower, there is a magazine blade that is rotated downward incrementally as each cartridge is loaded to a capacity of four. The result is very reliable and smooth feed and a magazine that pops out when desired and allows loaded spare magazines to be carried in a jacket pocket.
Push feed…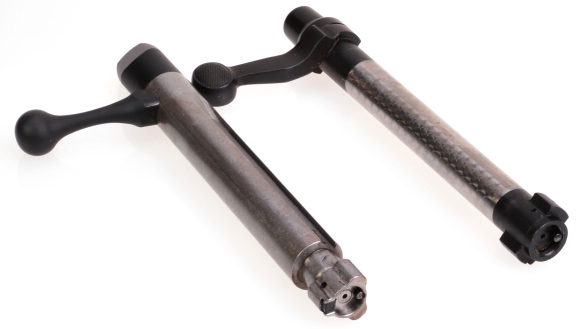 The Ruger American Rifle is push feed which is not a problem for me. I understand there may be an associated risk when attempting to discharge the firearm from an upside down and underwater position, but under any other circumstance "push" makes for a very slick and reliable feed. For the sake of a comparison from a lazy guy… The American Rifle's bolt body is full diameter, which means it is larger in diameter than the span of the three locking lugs. Subsequently, the surface inside of the receiver that supports the bolt body is a full bearing surface, unbroken by locking lug key ways. The Ruger bolt body diameter is 0.850″, the diameter formed by the three locking lugs is approximately the same. A Remington Model 700 bolt diameter is 0.696″ and the two lug span is 0.993″. Both use a plunger type ejector and a claw type extractor.
I believe Ruger is sending mixed signals in the gun's manual. Under bolt disassembly instructions they refer to a "bolt shroud", then they get all Mauser..y and refer to it as a "bolt sleeve." Ruger isn't very casual with their documentation, so I'll bet they would say it is only a bolt shroud when functioning in that capacity, but a bolt sleeve when it is removed as a piece part.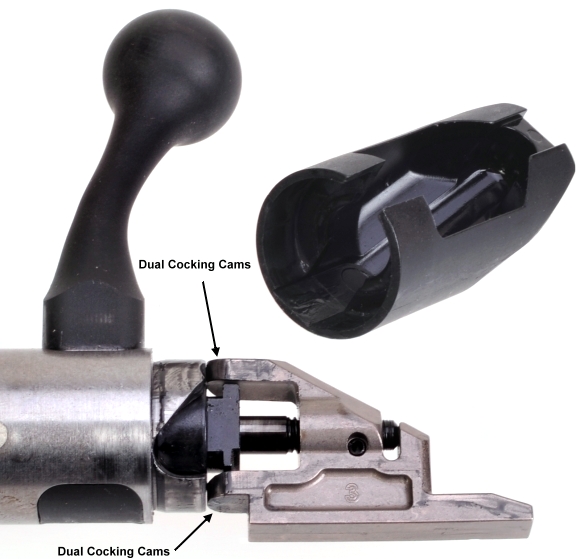 The American has two cocking cams which should reduce the effort required to cock the assembly through increased bearing surface area, greater mechanical advantage and balanced loading on adjacent contact surfaces. No, I have no idea what that means either, but the use of the term "adjacent contact surfaces" is pretty exciting. Substance is greatly overrated.
The American Rifle trigger, foreground, is adjustable for pull weight and is not the same adjustable trigger found on the Target and Predator models. The American Rifle's trigger is adjustable from three to five pounds in half turn increments, over six complete turns. Additionally, a trigger release lever, hinged into the face of the trigger, effectively blocks the trigger unless the shooter has completely depressed the release lever.
Ruger's Power Bedding™ System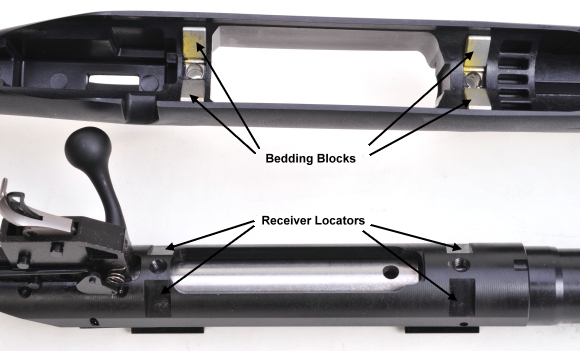 It's like peeling an onion, uncovering a mystery, solving a Rubik's Cube… OK, I got a little carried away. But I am a mechanical geek. Some people look at a Ferrari and talk about its sleek body panels. Some people pull up the carpets and remove access panels to see how the body is bonded to the frame. I thought this was interesting, round bottom receiver, rather than the traditional flat bottom… but is it really, because the inserts bonded into the stock are "V" blocks and the locators on the receiver are "V" locators and the barrel is floating on air? The inside of the stock is reinforced with some radial ribbing and egg crate making the whole assembly very rigid.
There are two hex head fasteners, fore and aft of the magazine, that secure the stock to the barreled action, or at least the bedding blocks to the locator slots in the receiver with 60 – 80 in-lbs of torque. Even and equal force may be the primary goal here as an educated wrist seem to yield the same accuracy as the torque set to 70 in-lbs. But I was so excited about knocking dust off the in-lb torque wrench, that I actually torqued the rings when I installed the scope.
Oh yes, the bang, bang… bang part of our programming…
There are always three or four 243 Winchester chambered rifles in the project inventory and/or in my personal safe, with barrel lengths from 16.5″ to 24″, however, 18″ and 22″ are more the typical long and short. The barrel length used to rate the Hornady Superformance ammunition is 24″, which is long for the cartridge, but perfectly legitimate as a test barrel standard. The handloads are basically the same I have assembled since before South Dakota days when hunting was comprised of driving an ATV from a parking lot to a tree stand and ordering up a pizza for lunch.
Brand

Type

Bullet
Grains

Bullet Type

22″
FPS
18″
FPS
3 Shot
Group "

Hornady

Superformance

80

GMX

3425

3116

1.2″
Handload
–

80

Speer SP

3280

3038

0.7
Handload
–

100

Sierra SP

3053

2914

0.9
Shooting the Ruger American was a welcome break from 8 pound magnums and getting punched on the shoulder all day at the range. Concentration on aim is so much easier and a bullseye is just as rewarding. For a young shooter, it means concentrating on developing shooting and hunting skills rather than worrying about bracing themselves for what will follow a trigger pull. For an old duffer, the American makes for a nice say of target practice.
Indices

100 Grain 243 Winchester

Yards

0

50

100

150

200

250

300

Velocity ft./sec.

2914

2805

2698

2594

2492

2393

2296

Energy ft.-lbs.

1885

1746

1616

1494

1379

1271

1170

Trajectory

-1.5

1.1

2.6

3.0

2.0

-0.4

-4.3
The table is not to suggest that range is limited to 300 yards, but I will go out on a limb here and say that there are ever fewer places to hunt that afford 300+ yard opportunities. With a maximum ordinate of 3″, best zero point blank range is 286 yards which diminishes the effect of still developing range estimating skills.
Worth waiting for…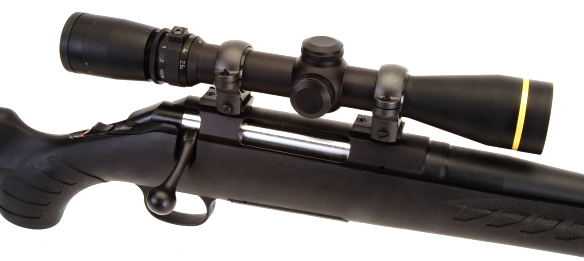 Rifles of any type are at peak demand and, actually, peak supply. Still, these days good rifles like this are in and out of shops within hours. Still, it is worth the effort and/or wait to get a good rifle that will last four years and maybe start the next generation off on a life time of hunting. Is the rifle only for youngsters? Not at all. I found the short pull made the rifle quick handling and light rifles are always appreciated. For further information, check the Ruger site.