Just because I admit to hearing Joe Cocker's "You are so beautiful" every time I pick up this this little rifle does not mean I cannot be objective in writing about its distinct, uniquely positive attributes. Honestly, if a person has any sense of aesthetics, history, tradition and craft skills, how could they not like this rifle?
The first production Ruger No.1 rifles shipped in September of 19661). Sturm, Ruger & Co. Inc. promoted the rifle as being efficient; the short action is approximately 4.5″ shorter than a bolt action rifle which means a longer barrel at comparable length bolt action firearms. A Ruger No. 1 Tropical 375 H&H with a 24″ barrel is 40.50″ in overall length while the same chamber in a Model 70 Winchester with a 24″ barrel is 44.75″ in overall length. The International, with a 20″ barrel and 36.50″ overall length is 3″ shorter than my very compact 20″ barrel Remington Model Seven and almost 1.5″ shorter than my lever action 30-30WCF with 20″ barrel.
The second proposition offered by Ruger marketing in 1966 was that the single shot configuration challenged the skills and marksmanship of the hunter. I believe that is a fair statement. For folks with experience hunting and shooting with the Ruger No.1, and who have enough presence of mind to take considered shots and reload competently, the No.1 presents a valid and useful test of skills.
For folks who come down with buck fever, or require a laundry change at the thought of an encounter with something big and dangerous, a repeater might instill greater confidence and calm. For folks who think that a single shot is not a valid hunting firearm, they might ponder what hunters, trapper and soldiers successfully used prior to 1862 and the appearance of Spencer and Henry repeating rifles.
A rifle with historical underpinnings…
The Ruger No.1 is described by Ruger as an under-lever, falling block, single shot rifle. Early examples of hammerless, under-lever falling block rifles are the 1871 Martini-Henry and the 1872 Farquharson-Metford. Falling block rifles were routinely chambered for small bore and large bore nitro express cartridges and used extensively as firearms of choice on safari. In fact, the first big game rifle Walter Bell used in Africa was a .303 British Farquharson and later a .350 Rigby chambered Greener Farquharson2).
The Ruger No.1 is patterned after the Farquharson, right down to the sweeping flourish of the under-lever and the raised stock panels aft of the receiver. The Farquharson, in turn, is patterned after the earlier exposed hammer Alexander Henry. Both Bill Ruger and contributing gunsmith-stock maker Lenard M. Brownell openly designed the No.1 to emulate these early European firearms in the hope of creating a modern classic. Additionally, the team improved the falling block design to eliminate the few weaknesses associated with some of the early guns of this type, in particular, enhancing extractor and ejector functions to the extent they are selectable and adjustable.
The under-lever falling block design is characterized as inherently strong, slick in operation and very reliable. Ruger's use of the most modern materials and manufacturing process have only enhanced those qualities. In fact at Real Guns®, beyond typical hunting and shooting applications, we also tend to use the Ruger No.1 for heavy lifting within projects. Some Ruger No.1s are wired with strain gauges for use in handload development and we frequently use the No. 1 for wildcat cartridge development. The first of these was our 60 rounds to the pound of smokeless 358-378 RG, the 378 Weatherby necked down to 0.358″. All and all, I'd say our shop Ruger No.1 took the news gracefully and was one of the best mannered… cannons we've produced.
A quick look at some of the Ruger No.1 International's standard features
Lower left, with the lever latch depressed, it is released from the No.1's trigger guard which allows the lever and falling block lowered. Lower right, the No.1 has a two position tang located slide safety.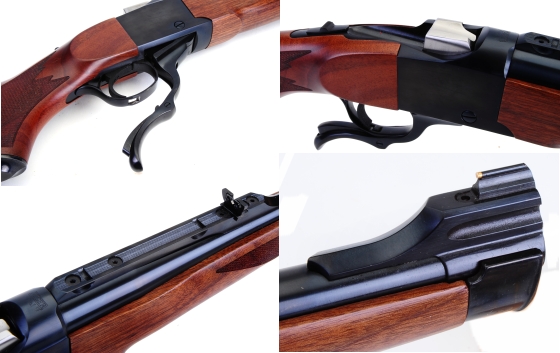 The attractive quarter ramp sight, above left, mounts the No.1's folding leaf sight and serves as the integral base for Ruger's proprietary scope mounting system. Rings, 1″, are included with each firearm. The No.1 also has a brass beaded, stylized ramped front sight and a cap that ties the full length stock, barrel and front sight together. Another classic hardware touch. More specific Ruger No.1, images and description, as a standard model and as a component of a Real Guns project.
More to the point of the subject rifle…
Ruger No.1 International

Manufacturer

Sturm, Ruger & Co., Inc.

Model

1364

Type

Under Lever Falling Block

Caliber

7x57mm

Capacity

1

Barrel Length

20

"

Rifling

1:8.75″ RH 6 Groove

Weight

*7 lbs 2 oz

Overall Length

36.50

"

Stock

American Walnut

Hardware

Blued

Length of Pull

13.50″

Drop at comb

0.50″

Drop at heel

0.75″

Rear Sight

Folding Leaf on Quarter Rib

Front Sight

Ramped – Brass bead

Scope

Ruger Integral Base

Trigger Pull

*4 lbs.1 oz.

Safety

2 Position Thumb Safety

MSRP

$1399
Origin
Made in USA

* Actual
2013 marks the first year for a new limited production approach to No.1 at Ruger. Each year, each model: Light Sporter, Varminter, Tropical, Medium Sporter, and International will be manufactured in a single chamber. The following year, each model will receive a different cartridge and the prior year's cartridge will be discontinued. In short, if you see one you like in then current production, grab it because there is no telling how long it will be before another comes around. For the year 2013, the No.1 International is chambered for the 7×57 Mauser.
Not too long ago, there were many firearms chambered for the round. Then, quite abruptly is seemed, there were none… or at least only one. A great cartridge with appeal, initially popularized by huge numbers of inexpensive military surplus firearms and cheap surplus ammunition. Now, those surplus guns have become a rarity and prices have soared. Ammo is newly manufactured and sold at civilian ammo prices. Subsequently, the financial source of motivation to shoot or hunt with this cartridge is pretty much gone. The 7x57mm now has to stand on its ballistic ability and do so with a performance handicap that a person selecting the cartridge must accept or creatively overcome.
There is some irony within the context of the Ruger No.1 falling block and the 7×57 Mauser. When Walter Bell's choice of firearms changed with time, and he went from falling block to fast double, then onto magazine rifles like the Mauser, the cartridge he used as an ivory hunter most often was the 275 Rigby, the British designation for the 7x57mm.
Seven is a mm Americans apparently like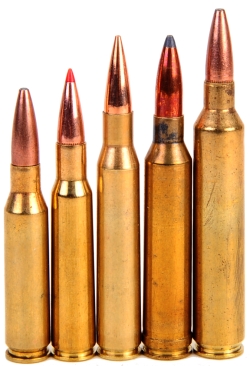 The data indicated within the table below was sourced from factory ammo published specifications… all of the same brand, all of the same product type.
Cartridge

PSI
K
Capacity
Grains
140 grain
MV FPS
140 Grain
ME Ft-Lbs

7mm-08 Remington

60.2

55
2860
2542

7x57mm Mauser

51.0
60
2660
2199

280 Remington

58.7

68
3000
2797

7mm Remington Magnum

61.0
82
3175
3133

7mm Remington Ultra Mag

63.8
112
3425
3646
While the 7x57mm has greater capacity than the 7mm-08 Remington, its performance is rated lower. The result of being a cartridge saddled with an 1892 pressure limitation, intended to safeguard the mechanical integrity of a Model 1892 military Mauser.
The 7×57 Mauser aficionado has a number of options when it comes to ammunition. There are seven manufacturers producing 13 types of SAAMI or CIP standard pressure ammunition in bullet weights from 139 grains to 175 grains.
Hornady's Superformance ammunition gives a velocity boost to 7×57 Mauser rifles with a 139 grain SST or GMX load at 2760 fps and 2740 fps respectively. It does so with the burn characteristics of its Superformance powder and without exceeding industry standard pressure specifications.
Baseline for the Ruger No.1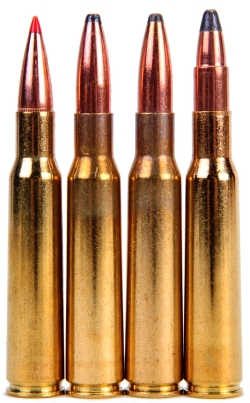 For folks with an interest primarily in using factory ammunition, those listed within the table below is compliant with industry standards, CIP or SAAMI, and is available in a variety of bullet weights and types popular for the 7x57mm Mauser cartridge.
Cartridge

Bullet
Grains
Rated
MV FPS
Recorded
MV FPS
Hornady Superformance SST

139

2760

2672

Prvi Partizan

139

2657

2628

Prvi Partizan Thunder

158

2460

2395

Seller & Bellot

173

2379

2409
All ammunition is factory rated with a 24″ barrel, but chronographed, "recorded", with the No.1's 20″ barrel. The oddly stepped Seller & Bellot SPCE bullet (soft point cutting edge) is designed to penetrate and to cut a large clean wound channel. Not sure how effective it is, but it is guaranteed to make you the center of attention.
Cartridge

Bullet
Grains
MV
FPS
ME
Ft-Lbs
Hornady Superformance SST

139

2672

2204

Prvi Partizan

139

2628

2132

Prvi Partizan Thunder

158

2395

2013

Seller & Bellot

173

2409

2230
A 7mm bullet tends to have a high sectional density and a good ballistic coefficient. Subsequently, the 7×57 Mauser cartridge, with it's modest velocity, modest recoil, lightweight firearms and bullet persistence in flight, tends to deliver substantial downrange performance. Generated the Real Guns Ballistic Calculator…
Hornady Superformance 139 Grain SST

Near-Zero – Yards

24

Midrange –

Yards

126

Far-Zero – Yards

223

Max Ordinate – Inches

+3.0

Point-Blank – Yards

262

–
| | | | | | | | | | | | |
| --- | --- | --- | --- | --- | --- | --- | --- | --- | --- | --- | --- |
| Yards | 0 | 50 | 100 | 150 | 200 | 250 | 300 | 350 | 400 | 450 | 500 |
| MV FPS | 2672 | 2562 | 2455 | 2351 | 2250 | 2151 | 2055 | 1961 | 1870 | 1782 | 1696 |
| ME Ft.-Lbs. | 2203 | 2026 | 1860 | 1706 | 1562 | 1428 | 1303 | 1187 | 1079 | 980 | 888 |
| Path " | -1.5 | 1.3 | 2.8 | 2.8 | 1.3 | -2.0 | -7.1 | -14.3 | -23.7 | -35.7 | -50.4 |
For folks who hunt deer, hogs, black bear and similar size and types of game, the compact Ruger No.1 has a point blank range of 262 yards. A hold over of just 7″ will take the round out to a distance equal to three football fields. At 400 yards, the 7×57 Mauser is still putting out half a ton of kinetic energy. Keep in mind, only 51 kpsi of chamber pressure, minimal bolt thrust due to pressure and narrow case design. Easy on shooters and on firearms.
Current thinking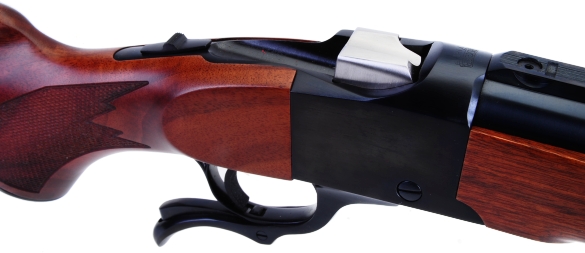 The Ruger No.1 delivered what I expected; good hunting rifle performance in a lightweight and well done firearm. Fit and finish is of excellent quality, mechanical function was flawless. The rifle's shooting personality is solid; enough recoil to remind the shooter this is a big game rifle, minimal muzzle rise and a substantial bark to go with the bite.
It is possible to tinker with the No.1 to improve accuracy, rifle and handloads, but the effort isn't really essential. For a hunting rifle, 1″ to 1 1/2″ @ 100 yards is excellent. The No.1 is comfortable in hold, eye to open sight or scope alignment is accomplished with a natural head position and good stock support. Yes, the Ruger No.1 is very nice traditional firearm that would last a very long time.
1) Ruger and His Guns – R.L. Wilson 2) Classic Sporting Rifles – Austyn
Ruger's No.1 International in 7x57mm Part 1
Ruger's No.1 International in 7x57mm Part 2