We've always found the Ruger SR-556® to be a standout; excellent fit and finish, demonstrating a high degree of accuracy and the 2 stage piston driven operating system has been rock solid reliable and clean running. Ruger has taken all of the excellent qualities found in the SR-556 and applied them to a product with greater range, and a lot more thump – in the form of the new Ruger SR-762.
Ruger SR-762

Manufacturer

Sturm, Ruger & Co.
Model#
5601

Type

gas-operated, piston

Caliber

308 Winchester / 7.62 NATO

Mag Capacity

20 rounds

Barrel Length

16.125″
Rifling

1:10″

Weight

8.6 Lbs

Overall Length

34.75″ – 38″

Stock

Collapsible
Receivers
Aircraft Aluminum

Receiver Finish

Hard Anodized

Barrel & Gas Block

Parkerized

Length of Pull

11.50″ – 14.75″

Sights

Rapid Deploy – Folding (Samson)
Accessory Mount
Picatinny Rail

Trigger Pull

8 Lbs. 1 Oz. Single Stage

Safety

Rotating

MSRP

$2,195

Actual Weights and Measures
Includes 3×20 round magazines, sight adjusting
tool, 2 x accessory rails, rail guards and soft case
308 Winchester power
With this introduction, Ruger extended its SR autoloading rifle line to a firearm suitable for hunting moose, elk, and black bear. Longer range shots at deer and antelope grazing on the plains power, big black bear dropping power. Why the 308 Winchester? Why not just chamber the SR-556 for one of the higher power cartridges designed for the AR-15 platform? Despite some of the more… ferocious names, AR-15 compatible cartridges are limited in size by the system's short cycling stroke and small bolt face. Subsequently, their ballistics pale in comparison to those of the .308 Winchester.
Cartridge

Bullet
Grains
MV
FPS
ME
Ft-Lbs
300 Yd
FPS
300 Yd
Ft-Lbs
300 Yd
Drop

223 Remington

62

3100

1323

2147

635

-7.1

6.5 Grendel

123

2580

1818

2090

1193

-9.2

6.8 SPC

115

2775

1966

1996
1117
-9.0

300 AAC Blackout

125

2215

1360

1441

576

-16.5

30 Remington AR

125

2800

2176

1887

988

-9.6

450 Bushmaster

260

2180

2743

1140

751

-23.0

458 SOCOM

300

1750

2040

1033

7

11
-32.5

50 Beowulf

325

1800

2339

945

644

-37.6

308 Winchester

168

2840

3008

2270
1921
-7.5

All cartridges with 200 yard zero
The 308 Winchester hangs onto velocity longer than any of the rounds listed on the table above, which means it also has higher kinetic energy and bullets stay in the good graces of gravity over a longer distance. The 223 Remington is an exception in that is has minutely flatter trajectory, however, the 308 Winchester carries 3 time the energy at 300 yards. Do the same numerical assessments have tactical, law enforcement and personal security implications? I am sure they do, however, I'll leave those assessment for someone more qualified in those areas.
The SR-762 is compact…
In the world of ARs, anything chambered for the 308 Winchester or a 308 Winchester derivative cartridge, generally is a lot more hefty than an AR-15 type. The action and related subsystems have to be scaled to accommodate the larger cartridge, which means it would require what an old Air Force buddy of mine used to refer to as "mo' metal". In the case of the Ruger SR-762, apparently the design resulted in a need for minimal mo' metal. In terms of overall size, with the stock fully extended, the SR-762 is only 2″ longer than the comparably barreled SR-556 and only 8 ounces heavier.

In terms of weight? Rather than running for the plastic molded parts in an effort to reduce weight, Ruger stuck with steel and aluminum where, and in the amounts, required in a quality firearm. Some weight was saved with the lightweight adjustable stock assembly on one end and through the use of a 16.125″ cold hammer forged 41V45 alloy steel barrel on the other. Fluted and manganese phosphate Parkerized on the outside, both the barrel's bore and chamber are chrome lined.
Smart to leave some things alone…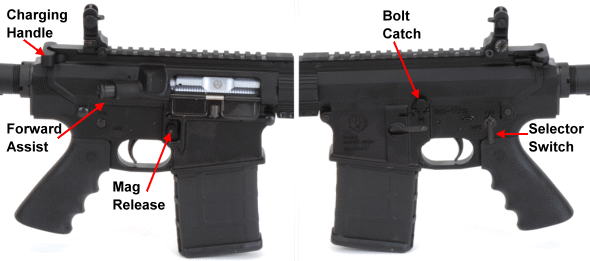 OK, let's pretend the photographs are clear enough for everyone to see the arrowed objects. The important point is that all of the controls are in the same location as they would be on a MilSpec AR. So regardless which AR wilderness you've wandered through to get here, all of those tactile memories will apply… neurocognitively and haptically speaking. No, I do not know what I just said but, no doubt, it is important. Google it.
Double flippin' rapid deploy sights…
The Ruger SR-762 is supplied with Samson flip up sights that speak to the quality of every other aspect of this rifle. Front and rear, lock in both up and down position. Unlike a lot of brands that have gone to some form of poly, the Samson sights are made of 6061 aluminum, hard coat anodized for durability and held in place with steel hardware. I put a similar set on one of my house built ARs and the price tag made me weep… but just a little. Good rifles need good sights.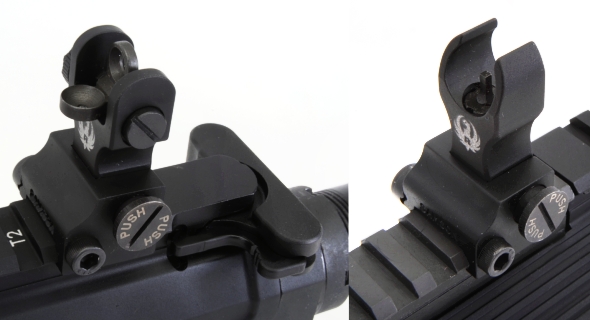 The rear sight is adjustable for windage, 1/2 MOA click and the front is adjustable for elevation with the tool included with the SR-762, however, increment of adjustment varies with distance between front and rear sights. The rear sight has rocker selectable apertures, deployed with the large aperture (0.176″) in alignment, a flick of the thumb substitutes a small aperture (0.069″). The front sight has an H&K type brush guard. For those wanting more visibility, there are user installable Tritium and Fiber Optic replacement front posts.
Psst… The operating system.
Ruger's description of the SR-762 as a gas-operated, piston driven, box magazine fed, autoloading rifle… which tells everyone that it is NOT an AR-15 type direct impingement type firearm that pumps hot gases and powder residue out of a small port, down a tube the length of the barrel and into a bolt carrier key that sits atop the bolt carrier. The SR-762 bleeds gas from the barrel, but uses it to drive a piston that actuates a transfer rod that mechanically drives the rifle's bolt carrier. Subsequently, there is only a flat contact pad on the bolt carrier and no bolt carrier key… and a very clean assembly.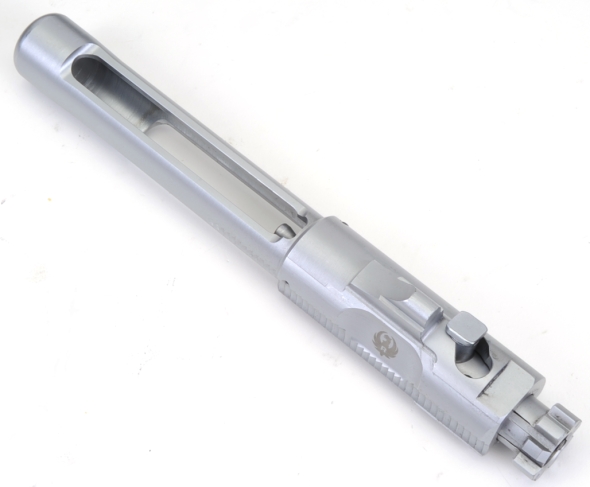 The Ruger's SR autoloading rifle gas blocks are a bit different than a conventional AR-15 gas blocks, even those that are adjustable. Pictured assembled, that knurled knob on the end, the regulator, can be turned to vary the size of the orifice that presents itself to the gas port leading to the barrel's bore. Removed from the rifle, the assembly, top to bottom is regulator with regulator detent and, below it, the piston.
The regulator has 4 positions numbered 0 – 3. Position "0" is no gas flow and the rifle will function as a single shot with no gas flow to cycle the rifle's action. Each successive number allow a freer flow of gas from the barrel to the piston. Terrific for folks who change brands and types of ammunition or who handload. Gas can be limited to the minimum required to reliably cycle the firearm and save a lot of wear and tear from overly aggressive cycling. Neat!
A few other details… Can't help it, interesting firearm.
If you are familiar with an AR-10, or one of its derivatives, the SR-762 will have a familiar feel. The upper is hinged and locked down to its lower in the same fashion. The charging handle and bolt carrier are removed in the same manner.
While the core of the SR-762 is an original design and not a compilation of commodity parts, as is the case with many AR type firearms, there is a good deal of accessory compatibility. The SR-762 can use aftermarket buttstock assemblies, hand grips, trigger assemblies, charging handles, magazines, and compensators/flash hiders. A single, position marked, Picatinny rail runs from receiver top to gas block. The floating handguard is drilled and tapped to mount for accessory rails and accessories.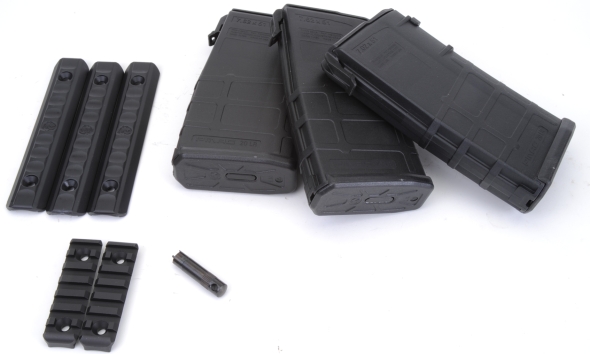 The SR-762 is supplied with 3 handguard grip panels, 2 accessory rails and all necessary hardware. Also included are a sight adjusting tool, 3 PMAG 20 round magazines and a really nice soft case that holds both firearm and accessories.
It's resting. It had a pretty busy day…
Today was cursory shooting, factory ammunition day, but it was informative. As an example, I made the comment that the rifle's bore volume, coupled with the 308 Winchesters moderate case capacity, was sufficient to minimize the negative effect the 16.125″ barrel would have on velocity. I shot both Remington Express 150 grain ammo and similarly rated Hornady 150 grain ammo. Spec velocity is 2820 fps for the Remington ammo from a 24″ test barrel. The same load chronographed 2,742 fps from the AR-762's 16.125″ barrel, only a 78 fps difference with approximately 8″ less barrel. The Hornady ammo closed that difference to 71 fps.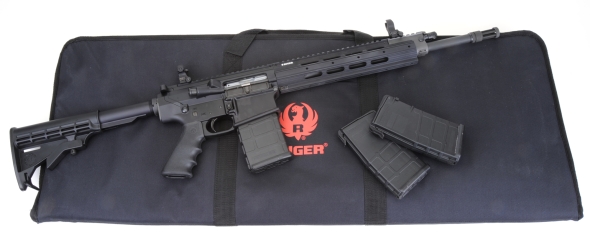 The SR-762 is probably the softest shooting 308 Winchester I've worked with. Keeping the regulator cranked down to the lowest reliably cycling setting, there only minimal recoil. Double tapping rounds and keeping shots close together was actually pretty easy with a bit of concentration to brush off the report. I tried stock position in and out, and it was comfortable shooting from either position. As far as accuracy goes, the Ruger SR-762 is definitely a sub MOA rifle, short barrel and all. Part 2 covers reliability of operation and live fire performance, including chronograph and accuracy data.