At some point in my life, when I was devoid of common sense, and not paying proper respect for my coming mature years, I concurrently owned two very fast, hard cornering, Japanese street racing motorcycles. One was named Chuck, the other Ralph, which pretty much defined what they did to passengers. All worthwhile machines deserve a name, so in deference to its chamber and heritage, we have dubbed this Ruger M77 "Bob".
I realize that Ruger serves the broad spectrum of firearm enthusiast, but they also take the time to produce for us gun geeks who always look for the history in firearms, the great stories and the interesting cartridges. As an example, at this moment, they are the only manufacturer producing a standard firearm chambered for the 257 Roberts… Along with a myriad of other chambers.
Ruger M77 Hawkeye Standard

Manufacturer

Ruger Firearms

Model

Cat.# HM77R Mod.# 37115

Type

Bolt Action

Caliber

257 Roberts

Magazine Capacity

4

Barrel Length

22

"

Rifling

1:10″ 6 Groove RH

Weight

8.25 Lbs

Overall Length

42.75

"

Stock

Walnut

Hardware

Blued Gloss

Length of Pull

13.50″

Drop at comb

0.50″

Drop at heel

0.75″

Rear Sight

Clean

Front Sight

Clean

Scope

Ruger Integral Mounts

Rings

1″ Included

Trigger

LC6™ Non-Adjustable

Trigger Pull

4

lbs. 5 oz.

Safety

3 Position Thumb

MSRP

$899
Online Retail
$644

Also available in: 204 Ruger, 223 Rem, 22-250 Rem, 243 Win, 25-06 Rem, 270 Win, 6.5 Creedmoor, 7mm-08 Rem, 7mm Rem Mag, 308 Win, 30-06 Springfield, 300 Win Mag, 338 Win Mag.
I have a theory that Ruger rifles are made by elves in a New Hampshire tree… a big tree, but none the less an elf occupied tree. I have no other explanation for how they can make so many quality firearms with such uniform appearance and performance. Sure, there's the alternative, "They work hard, do their own casting and heat treating, machining, and assembly in America" theory, but that seems so far fetched. I'll stick with elves.
This particular example is no exception. The walnut stock is tight grained for strength and stability. Checkering is clean, decorative, but functional. Bluing is dark and bright and durable. Metal pieces are steel, not aluminum stand-ins or plastic made to look like metal. Bolts and bolt handles are all stainless steel. The recoil pad is thin, as it should be for this moderate cartridge. The Ruger M77 is a hunter's rifle, as long as the hunter likes modern renditions of traditional firearms, likes pride of ownership and does not expect video game like firearm imagery.
In my case, blah, blah, blah… a picture is worth 10,000 words
Taking it from the top, Ruger proprietary rings are included within the rifle purchase. They are steel, 1″, medium height. The rings cross clamp to the rifle's receiver and they are tab keyed to prevent longitudinal movement. If plans for your new Ruger include a 30mm tube scope or a large objective lens, customer service has a rings swap out program to accommodate your needs.
The stainless steel bolt has a dog leg handle. With today's large ocular lens enclosures, the scallop in the bolt handle assures scope clearance with the lowest possible ring set. Also pictured is the very accessible, positive three position wing safety; on – safety on – bolt lock, safety on – bolt will open and fire. The floorplate push to release button is embedded in the front of the trigger guard.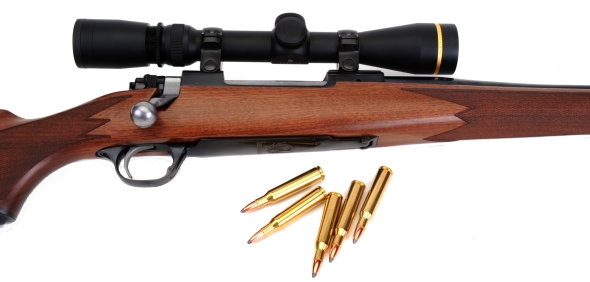 The Ruger M77 Standard is an appropriately slender rifle, even so, the capacity with the 257 Roberts is 4+1. The size and form of the grip and forearm makes the rifle feel balanced and steady in any hold. The checkering does not feel like a cheese grater, which is unfortunately the case with a number of manufacturer's products that also have machine cut checkering, but it does provide lots of traction.
I understand in Italy it is the 257 Roberto

The Handloader's Manual of Cartridge Conversions lists the 257 Roberts as designed a wildcat by Ned Roberts and homologated by Remington in 1934.
Produced by necking down the 7×57 Mauser to accommodate a 0.257″ bullet, both pictured left, the
Roberts' case nominally holds 52.4 grains of H
2
O.
In relative terms, within the context of some other popular cartridges, the Roberts is a bit of a pipsqueak, even if an efficient pipsqueak.
Cartridge
Capacity
Grains
PSI
COL "

BBI

257 Roberts +P

52.4

58000

2.775

11.8

25-06 Remington

65.8

65267

3.250

16.7

257 Weatherby

84.0

63817

3.170

20.9
Powder consumption is moderate, pressure is soft and barrel wear and tear is modest. In terms of muzzle velocity/muzzle energy, in order of appearance on the table above: 2945/2253, 3110/2512, 3380/2697. The Weatherby numbers reflect a 24″barrels as is the case with the other cartridges noted. In terms of downrange performance… With a 3″ maximum ordinate, point blank range is, left to right, 225 yards, 237 yards and 256 yards. At 300 yards, only 3.2″ of drop separates the Roberts from the Weatherby.
At one point in time, the cost differential between Roberts and Weatherby would have been huge. These days, with multiple sources for supply, the price of loaded ammo is about the same. There are savings to be had by handloading the Roberts based upon less consumption of powder and longer case life. Other benefits to the 257 Roberts shooter; light recoil, moderate report, compact firearms. Good place to take a break and prep for live fire assessments.
A Ruger M77 Hawkeye in 257 Roberts Part 1
A Ruger M77 Hawkeye in 257 Roberts Part 2