The Real Guns shop is my sanctuary, my fortress of solitude, my garage without a car, my club house, my tree house. It is where I relax, work and spend my time fiddling with firearms, running machines and assembling the material the accompanies me to the range. No, it is not a "man cave". Women invented that term as an intrusion… a feminization of man's last stand against the color pink and all things floral.
In any event, and more to the point, my wife and female coworker entered into a discussion, that resulted in the front door being left open for an inordinate period of time. This allowed a California Condor size hornet to fly though the open door and up to the shop's open loft where it disappeared amidst assorted boxes and firearm related paraphernalia. They say the incursion was an accident, but I know a conspiracy when I imagine one. And these two women always find excuses to enter my work area to borrow tools, or to wander about, clearly just to impose a feminist presence in what is my domain.
The truth of the matter is I don't like bees or wasps or hornets because they tend to sting me. If I were standing ion a crowd of thousands, and there was one hornet, it would seek me out and sting me. They find me outside, they find me in the house or shop. So far the kill score is Joe 1,637 – Bees, Wasps, Hornet 0, but a toll is always extracted. So the shop, for now, is deserted and I am working in the garage on a lap top computer, constructing a plan to reclaim what is mine and trying to enjoy this Ruger No.1 Light Sport and the 222 Remington cartridge.
A rifle with historical underpinnings…
The Ruger No.1 is described by Ruger as an under-lever, falling block, single shot rifle. Early examples of hammerless, under-lever falling block rifles are the 1871 Martini-Henry and the 1872 Farquharson-Metford. Falling block rifles were routinely chambered for small bore and large bore nitro express cartridges and used extensively as firearms of choice on safari. In fact, the first big game rifle Walter Bell used in Africa was a .303 British Farquharson and later a .350 Rigby chambered Greener Farquharson2).
The Ruger No.1 is patterned after the Farquharson, right down to the sweeping flourish of the under-lever and the stock's raised side panels aft of the receiver. The Farquharson, in turn, is patterned after the earlier exposed hammer Alexander Henry. Both Bill Ruger and contributing gunsmith-stock maker Lenard M. Brownell openly designed the No.1 to emulate these early European firearms in the hope of creating a modern classic. Additionally, the team improved the falling block design to eliminate the few weaknesses associated with some of the early guns of this type, in particular, enhancing extractor and ejector functions to the extent they are selectable and adjustable.
The under-lever falling block design is characterized as inherently strong, slick in operation and very reliable. Ruger's use of the most modern materials and manufacturing process have only enhanced those qualities. In fact at Real Guns®, beyond typical hunting and shooting applications, we also tend to use the Ruger No.1 for heavy lifting within projects. Some Ruger No.1s are wired with strain gauges for use in handload development and we frequently use the No. 1 for wildcat cartridge development. The first of these was our "60 rounds to the pound" of smokeless 358-378 RG, the 378 Weatherby necked down to 0.358″. All and all, I'd say our shop Ruger No.1 took the news graciously and was one of the best mannered… cannons we've produced.
The limited production Ruger No.1
For 2013, Ruger retained the five basic configurations, but dispensed with the chamber options within each type. Now, each configuration is produced in one chamber each year. In subsequent years, the prior chamber selections are dropped and new selections are offered. For context, the 2013 selections:
Type

Model

Chamber

Weight
Pounds
Barrel
Length"

Twist "

Pull
Length "
Overall
Length "

Hardware

Wood
MSRP

Light Sporter

11377

222 Rem

7.25 Lbs

22.00″

1:9″

13.50″

38.50″

Blued

Walnut

$1349

Varminter

11378
6.5-284
8.50 Lbs
26.00″
1:8″
13.50″
42.50″

Blued

Walnut

$1349

Medium Sporter

1327
45-70 Gov't
7.25 Lbs
22.00″
1:20″
13.50″
38.50″

Blued

Walnut

$1349

Tropical

1320
375 H&H
9.25 Lbs
24.00″
1:12″
13.50″
40.50″
Blued
Walnut
$1349

International

1364
7x57mm
7.00 Lbs
20.00″
1:8.75″
13.50″
36.50″
Blued
Walnut
$1399

The Varminter has scope mount blocks that take Ruger type rings.
All other models include adjustable open sights and integrated bases for rings.
Some of the unique aspects of the No.1
The design of a falling block rifle means the breech face moves up and down when loading rather than front to back. Subsequently, the action is 3.50″ shorter than a short action, bolt action and the rifle's overall length follows; 38.50″ for a Ruger No.1 with a 22″ barrel compared to 42.00″ for the bolt gun.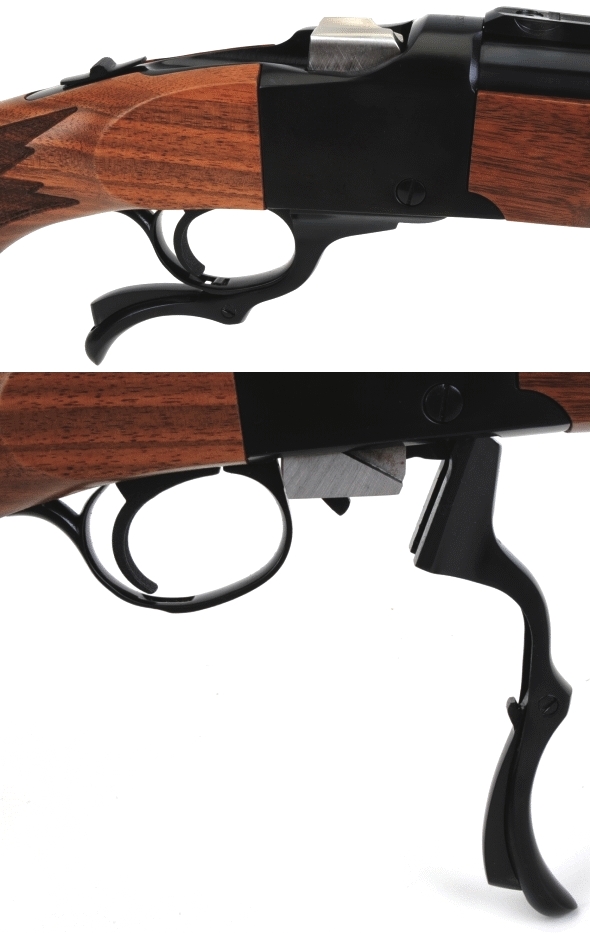 The No.1's breech block is huge from top to bottom and the breech block is backed and surrounded by a hefty steel receiver. Without having to worry about bolt stroke and action length, the No.1 is a very versatile action, accommodating cartridges from the very long to the very short.
Sight systems
With the exception of the Varminter, which is fitted with scope mount blocks only, Ruger No.1 rifles are fitted with a folding rear leaf sight and ramped front bead. The rear sight is mounted on the rifle's quarter rib and is adjustable for windage and elevation. The quarter rib also serves as a scope mount base, notched to receive Ruger's proprietary rings. The front notch is visible in the photo below, located just aft of the rear sight.

A set of 1″ rings are supplied with each Ruger No.1, Rings of various heights and diameters are available from both Ruger and other scope mount hardware manufacturers. Ruger also has a no charge ring swap out program where a customer can exchange unused rings from a recently purchased rifle for rings of a different size.
The mystery of the Alexander Henry forearm… It's a bottle opener
The Alexander Henry style forearm is frequently a topic of discussion – specifically the groove just aft of the forend. No, it is not a schnabel, as often seen on German and Austrian firearms. James Barsness did a great job covering the subject of schnabelism in the May/June 2011 issue of Sports Afield, so I know a schnabel when I see one. Ruger defines the forearm as an Alexander Henry nineteenth century design and their company support group indicates that the groove neither serves, or served, a functional purpose.
My sense is that European nuance work almost always serves a purpose to the extent that functional purpose is often buried within ornate design. My sense is not that the groove was not used for shooting sticks; the angle would be wrong. I believe the groove was used as a tie down point, a surface that would not allow a rope of sorts to slip forward and off. While absolutely no foundation for this thought exists, it's my theory and I'm sticking with it.
Would you like to walk out or be tossed out?
Hunting with a single shot requires practice and developing a feel for hesitation free reloading of the weapon. Some folks like their firearm to forcefully eject and empty so that the chamber is cleared and there is no brass in the way. Other like to have the brass extracted, but not tossed, especially when valuable brass is in play. Ruger's No.1 gives the shooter a choice. The Ruger No.1 can be configured to extract or eject and for greater or lesser ejection force.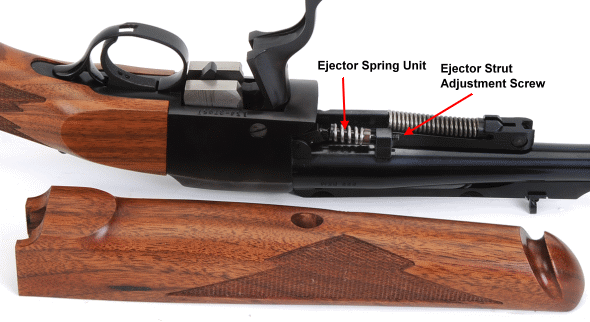 To convert the Ruger No.1 to extract only rather than extract and eject, the Ejector Strut Adjustment Screw is backed out until the Ejector Strut Spring is no longer preloaded and the Ejector Spring Unit is free and can be removed. With the unit in place, the Ejector Strut Adjustment Screw can be turned out or in to decrease or increase, respectively, the Ejector Spring preload. Caution. Too much preload will bind the action so, regardless the changes made, a full lever stoke ops check is essential. Before attempting any of this, read the manual… yeah, that little white booklet that is packaged with every firearm sold.
Don-don-don–dahhh! The… 222 Remington
The 222 Remington is a product of Remington's Mike Walker. Introduced in 1950 for Remington's Model 722 bolt action rifle, it is an original cartridge often referred to as a scaled down 30-06 Springfield. Of course they say the 50 BMG is a scaled up 30-06 Springfield and some crazed Nagant owner will suggest the 222 Remington is a 7.62x54R derivative. Isn't everything?
Pictured next to a 308 Winchester, the 222 Remington is… diminutive, often described as a solid 200 yard terror to prairie dogs and an excellent cartridge for competitive target shooting… particularly when paired with a firearm. That said, it may be a highly underrated cartridge as I have known a number of skilled hunters who swear by the 222 Rem as an ideal cartridge for deer. I've never tried. My threshold deer hunting cartridge has been the 243 Winchester, but I am open to forward experience with cartridge.
Many years ago, my brother-in-law and I fashioned a 3'x3′ basement bullet trap out of 3/8″ mild steel. Framed in 2×6″ lumber, the steel was angled forward at 45º, anchored by a sand trap built into its base. That trap saw constant use with both 45 ACP and 357 Mag handguns. Once day I decided to try my 10″ barrel, 222 Rem chambered T/C Contender. The bullet went through the plate and into the block wall beyond. End of trap, end of basement shooting. Still, nice hole.
What isn't to like about the 222 Remington and a light rifle like the Ruger No.1? Recreational target shooting ammo runs about $10/20. The round is easy on brass, recreational range or bulk bullets run as low as 9 cents each, 22 to 24 grain charges for 6 cents worth of powder, and whatever the going rate is today for a small rifle primer… $3 – $4 for 20 rounds.
The 222 Remington PMAX is under 54,000 PSI, 50 grain muzzle velocity is easy to place in the 3,100 to 3,200 fps range and it is hard to find a specimen rifle that isn't accurate. No recoil, low report, a meaningful upward increment between the 22 Hornet and the 22-250 Rem.
We'll take a break, throw a scope on the rifle, assemble some handloads and be back shortly with Part 2 and live fire results.
Ruger's No.1 Light Sporter Part 1
Ruger's No.1 Light Sporter Part 2