Range testing a current example of the Ruger LCP, I got to thinking about how a firearm's reputation is establish very early on and how it remains so static in the face of continual design and process refinements. When notice of this article is posted on Face Book, I guarantee that within a few seconds, it will be greeted with a handful of people parroting Internet LCP clichés who have never actually seen the firearm and didn't actually read this information. Hopefully, most folks will take anonymous comments with a grain of salt and see the product that is constantly sold out at retailers.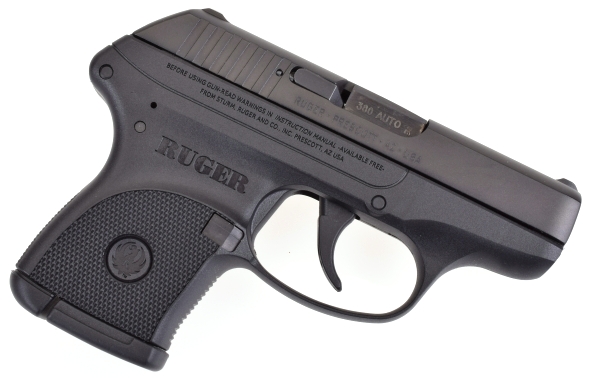 We are apparently in the midst of an amateur parts upgrade renaissance, driven by message board collaboration. Here, someone unfamiliar with the details of a firearm's design discover a "malady" and then immediately cobble together a cure. One of my favorites is the cure for what is described as the "well known LCP trigger pinch" in the form of a $40+ replacement aluminum trigger. Alternative approach? Learn how to correctly position a trigger finger. I have been shooting the LCP since it was released and I never even heard of "LCP trigger pinch" until I read the ad for the part. As explained by the seller, the trigger does not improve travel, pull or take up, it just avoids… non-existent pinch. Some things work best when kept simple and as designed.
LCP Trigger pull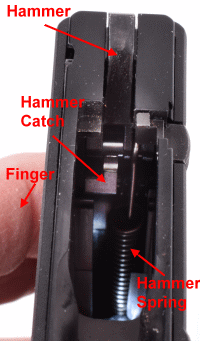 The LCP is listed as a single strike double action. I think a couple of years ago this type of firearm was defined as a preset hammer striker. In Joe World, double action means a person can pull a firearm's trigger and it will cock and fire at the whim of the person's trigger finger. In an autoloader, in the event of a misfire, double action generally means you can pull the trigger again as a second chance at a useful primer strike. If that fails, the slide can be manually cycled to clear the chamber and feed a fresh round. This is not the case with the LCP.
In regard to the LCP, manually cycling the slide or normal cycling after discharge parks the hammer spring retainer pin atop the groove in the hammer catch… "hammer catch" is Ruger for sear, in the half cocked position. Pulling the trigger moves the gun's trigger bar aft, which carries the hammer to full cock and beyond until the trigger bar unceremoniously releases the hammer and allows it to fall and strike the firing pin. Unlike a crisp, clean single action trigger pull as might be found on a single action 1911, where the trigger has only to convince the sear to pop out of a 0.020″ to 0.040″ hammer notch, the LCP single strike double action system is also cocking the hammer against the resistance of the gun's hammer spring.
On a positive note, since its inception Ruger has improved the LCP's resistance to accidental drop discharge by modifying the geometry of the hammer, sear and trigger bar. They have also improved the trigger function by significantly shortening the active trigger pull and reducing the resistance of the hammer spring. The result is a much improved trigger and a pistol with a more solid feel.
LCP sights
In response to early criticism of the LCP's sights being too small to be effective, LCP sights have grown in size and definition as can be seen below, current production top, 2010 vintage bottom. The new sights are 0.090″ high and with a no snag form.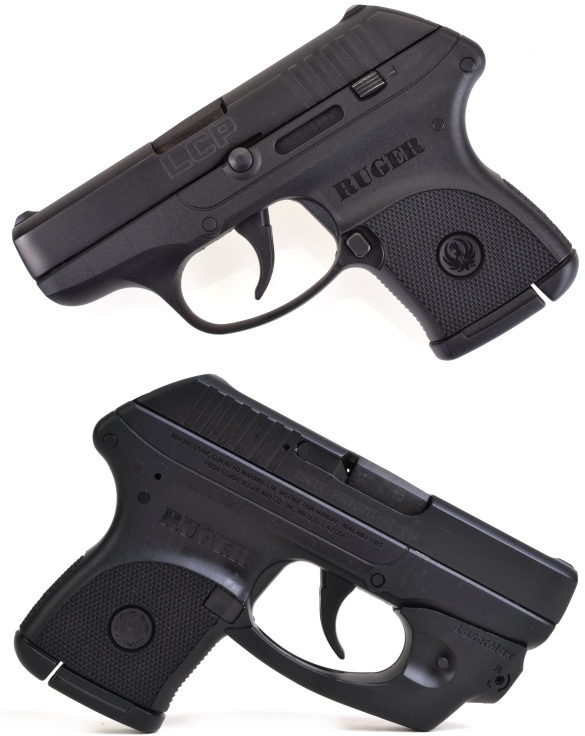 Grip size…
I always find the comment, "The grip is too small to support my entire grip". No kidding. It isn't designed to fill a shooters hand, just like a mini revolver or derringer will not fill a shooter's hand. However, the Ruger can be gripped securely and steadily as long as the shooter has a modicum of manual dexterity.
After experimenting with many approaches to gripping the LCP, including one unfortunate point shooting exercise where the trigger was pulled with the middle finger… which actually works with some more full grip firearms, I arrived at the grip pictured above. Only one finger is actually on the grip, the ring finger grips just under the nose of the standard magazine floorplate. The grip makes for a natural point and puts my trigger finger straight across the face of the trigger.
An alternatives to my approach is the extended magazine floorplate that is supplied with each LCP. For me, it gets in the way by sitting uncomfortably under my ring finger. In short, as long as a shooter's finger fits in the large trigger guard, you'll find a grip that works.
Slide Peening
I have seen Internet conversation regarding LCP frame peening at the point of contact with the barrel locking lug's forward surface. This example firearm has been shot a bit and the most I've seen is a little bluing rub away which is normal. There is no excessive play between the two surface or strike or wear marks on the top forward face of the ejection port.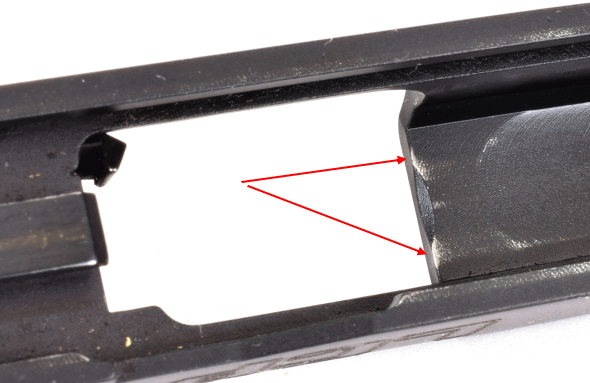 The LCP is not a +P pistol and perhaps use of this type of ammo was at the heart of this early production problem. That said, a heat treat process was added to the manufacturing process to increase hardness as further resistance to wear. For folks who like to tune autoloader recoil springs to specific ammo selections, the factory piece is 9 lbs. Wolff springs offers a pack with 11, 12, and 13 lbs springs, Brownells # 969-000-226WB LCP Recoil Calibration Pak. All I do is increase spring rates until cycling is less than 100% reliable, then I back up one step lighter.
LCP accuracy…
The LCP is not designed as a target pistol, or for shooting over extended distance, not by cartridge type and not by physical packaging of the firearm. The LCP is designed for close encounters of the difficult kind, but it is still unfortunate to read where someone has condemned the pistol as inaccurate or suggest it is meant only to point and shoot at a distance of a few feet. The LCP, like most other firearms, requires practice to master. Anyone relying on a firearm to protect themselves and/or family and friends should have enough respect assignment to take the time to master their firearm of choice.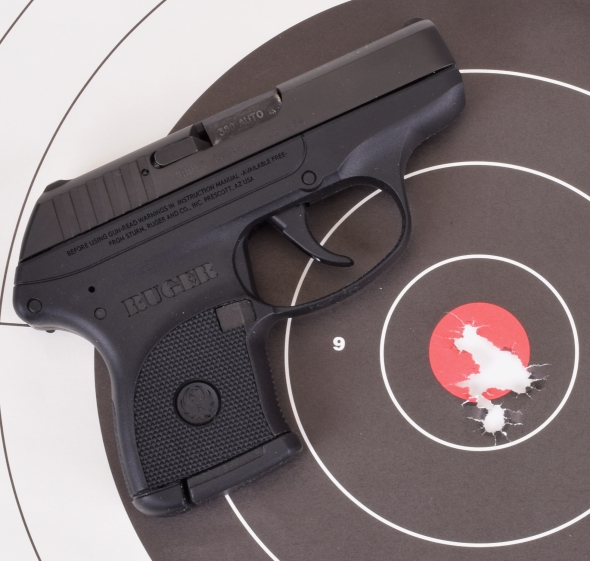 Ruger LCP

Manufacturer

Ruger

Origin

USA

Caliber

.380 ACP

Magazine Capacity

6 Rounds

Slide

Alloy Steel

Frame

Nylon & Aluminum

Type
Semi Auto – Recoil

Weight

9.6 oz.

Barrel Length

2.75″

Length

5 ⅛"

Height

3 ½"

Width

¾"

Trigger pull

6 lbs 8 oz.

Sights

Fixed
Above, a 7 yard, 6 shots group that measures slightly less than an inch. It was shot, one hand extended with my forearm steadied against a door jam. I'll take it. This one was PMC Bronze, but all three ammo types shot about the same. I would feel confident with this as a self defense weapon.
Cartridge

Bullet
Weight
Grains
Rated
FPS
Actual
FPS
6 Shot
Group"

Hornady Critical Defense FTX

90

1000

979

1.3

PMC Bronze FMJ

90

961

826

0.9

Remington Golden Saber HPJ

102

940

786

1.1
About 1000 rounds of 380 Auto ago with the original LCP, the best I could do with this combination was paper plate size groups. Not the LCP's fault, just my lack of proficiency. As anticipated, with practice things got better. No jams with any of the above factory loads, but then I hold onto an autoloader when I shoot as too light of a grip will dampen slide momentum and can cause jams or a failure to feed.
The current LCP is nicely refined, accurate and reliable. Thanks in part to the core design, thanks in part to ongoing refinements. If you've not had experience with the LCP, or only experience with early production, you might want to take a few minutes to check one out. If you own an LCP and can't his the proverbial barn door, or you have constant jams with a pistol that has been given a clean bill of health… practice, practice, practice. The LCP is supplied with a soft case, magazine, grip extender, and instruction manual. A good little gun.