If it weren't for Ruger's penchant for introducing innovative new firearms, life would not be nearly as exciting. About the time I find myself tethered to my desk, "working" or "interacting with people", Ruger introduces a new product like this American Predator Rifle and I get to toss the rifle and gear into the truck, put some country music on the radio and head out to the range… which tends to confuse my coworkers as the range is only 50′ away from the shop. I just like that whole firearms and pickup truck thing.
Ruger American Predator

Manufacturer

Sturm, Ruger & Co., Inc.

Model

Ruger American Predator

™

Model #
6944
Country of Origin
U.S.A.

Caliber

.223 Remington

Magazine Capacity

5

Stock

Moss Green Composite

Hardware

Black Oxide – Alloy Steel

Barrel Length

22″

Twist Rate

1:8

"

Weight

6.62 lbs

Overall Length

42.00″

Length of Pull

13.75″

Sights

None – Scope Rail Included

Trigger Type

Ruger Marksman Adjustable

MSRP

$449

Nominal weights and measures
Predator features highlights
The rifle's hammer forged, heavier profile barrel has a tight 8″ twist. The result is a stiffened barrel that stabilizes both light and heavy 0.224″ bullets and extends the usefulness of the .223 Remington cartridge. Even with this heavier profile barrel, the Predator still weighs only 6.62 pounds; varmint rifle like accuracy without the need for a hand truck or wheeled bipod.
The Predator's threaded muzzle accommodates a myriad of brakes and suppressors. There are currently 32 states that permit the use of sound suppressors when hunting and a greater number that allows suppressed target shooting.
The scope rail is compatible with any of the 4,009 and 1/2 Weaver and Picatinny mount ring sets I already own. More importantly, it provides wide latitude for taking into consideration a scope's eye relief and the shooter's physical comfort when mounting a scope.
The Predator isn't a poke in the eye with a sharp stick
The new Predator is the nicest looking Ruger American to date. The matte black hardware and moss green composite stock make the Predator not only aesthetically pleasing, but the color combination and non-reflective surfaces make for very effective camouflage without going to oak leaf pattern crazy.
Like all Ruger American Rifles, the stock geometry is effective. Pull length, one-quarter inch longer than other full size bolt action Ruger rifles, is very comfortable to shoulder. The shallow pistol grip radius and contoured forearm grip area contribute substantially to shooting comfort and are steadying when shooting from the bench or standing.
From direct experience, I can say that the gripping surface serrations are non-slip in dry, wet and subzero blowing snow conditions. The recoil pad is resilient even in winter temps and does an excellent job of dampening recoil. Perhaps not essential for the .223 Remington version of the Ruger American Predator, but a distinct benefit for the very lightweight 6.5 Creedmoor and 308 Winchester chambered versions. The subject firearm is the .223 Remington version, which is available now. Other versions indicated below will follow quickly.
Ruger American Predator

Caliber

.204
Ruger
.223
Rem
.22-250
Rem
.243
Win

6.5 Creedmoor

308
Win
Barrel Threads
1/2-28
1/2-28
1/2-28
5/8-24
5/8-24
5/8-24

Capacity

5

5

4

4

4

4

Barrel Length

22″

22″

22″

22″

22″

18″

Twist Rate

1:12″

1:8″

1:10″

1:9″

1:8″

1:10″

Weight – Pounds

6.62

6.62

6.62

6.62

6.62

6.25

Overall Length

42″

42″

42″

42″

42″

38″

Nominal weights and measures
And, some other… stuff
The Ruger American Predator Rifle's hammer forged barrel tapers to 0.665″ compared to the standard Ruger American Rifle with a nominal muzzle diameter of 0.573″. The increase of a bit over 0.090″ to the barrel's profile doesn't add noticeable weight, but its placement stiffens the barrel substantially.

The 1:8″ twist is what happens when thoughtful rather than habitual engineering recognizes a long established trend to heavy, high B.C. 0.224″ bullets. It's been there for the MSR guys for a very long time so it is nice to see it on a bolt action sporting rifle. Finally, the American rifle utilizes a low profile barrel nut. That always leaves me with the hope that some day… some day, I'll be able to break out a torque wrench of sorts to change barrels on my Ruger rifles rather than the traditional lathe, ball-peen hammer and TIG welder. Yes, sarcasm. Until then, the method is an excellent was for Ruger to assure exacting headspace right off the production line.

The composite stock is heavily ribbed and reinforced, but the poly still tends to dampen recoil. Key to the Ruger American Predator's accuracy is the Ruger Power Bedding® system and bedding blocks (arrows). The block locate the action securely at four points keeping it centered and preventing longitudinal movement between the stock and the barreled action. The barrel floats.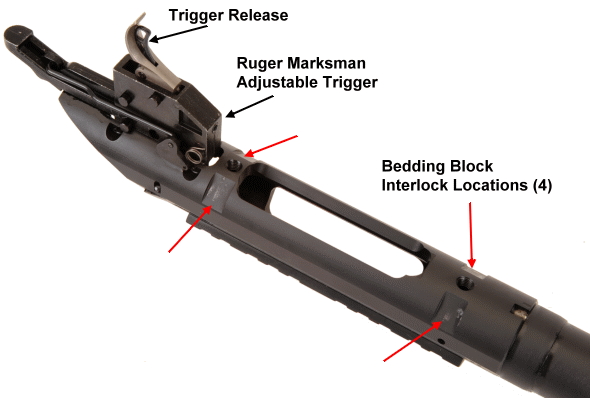 The Ruger Marksman Trigger is pull adjustable between 3 and 5 pounds. Throughout the live fire sessions it remained creep-free and crisp on release. Overtravel was virtually non-existent. The trigger release provides an additional margin of safety in the event the firearm is dropped or slammed around in a fall… Like when you are out hunting and hurrying down a hill and you slip and roll a quarter mile to the bottom. Sort of like those giant boulders in Raiders of the Lost Ark… and you take out all of your hunting buddies along the way as you pick up speed.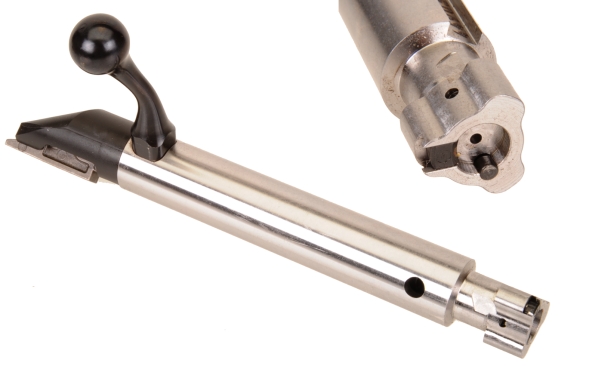 The bolt is a full body type where the outside diameter of the body is approximately the same as the circumference of the three locking lugs. The result is a smooth bolt stroke and increased strength. A plunger ejector is embedded in the bolt face, the extractor is a spring loaded slide type, both high reliability approaches.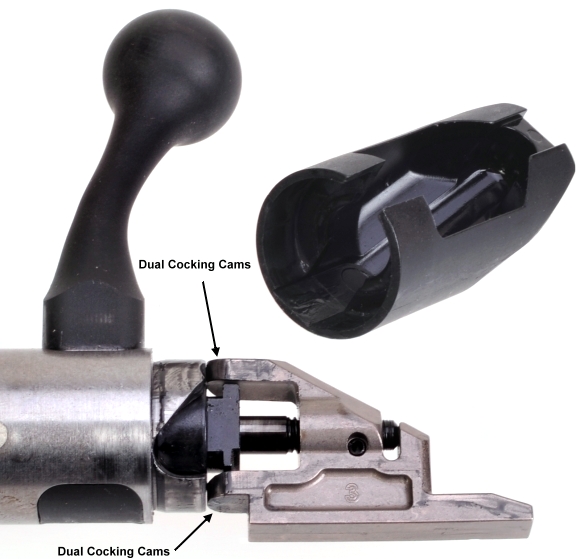 Bolt lift is 70º which keeps the handle low for scope clearance. Ruger American Rifles have dual cocking cams to reduce cocking effort through increased mechanical advantage.
Growing up hunting with sporterized Mausers and later commercial rifles with hinged floor plates caused me to discount rifles with detachable magazines. As a practical matter, however, the ability to quickly empty and load a rifle and to conveniently carry additional ammo won me over. I still don't care for steel magazines for rifles as they tend to wear out faster and feed unreliably. The Ruger rotary magazines are made of fiber-filled poly and they are very durable.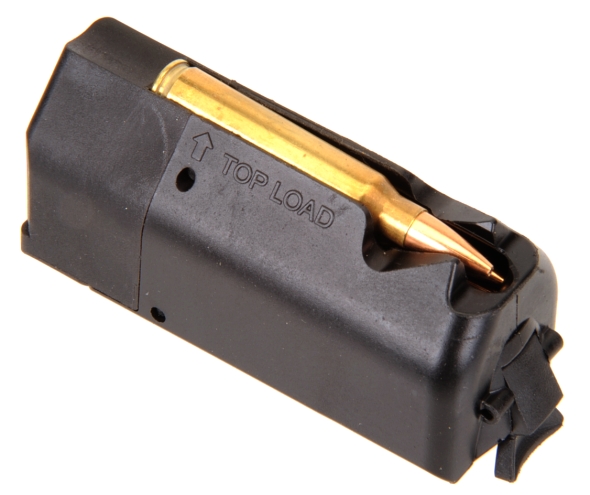 The Ruger Rotary magazine is not as big as pictured and, in fact, it is compact enough to fit flush with the Predator's underside while still providing 5 round capacity. Cartridges are centered for reliable feed and the magazine can be top loaded. Spare magazines are available for folks who like to carry additional or various types of ammunition.
The magazine release is located at the front of the magazine, recessed in a relief in the stock. It is out of the way of hands under normal use, but accessible even with gloved hands when desired.
Safety considerations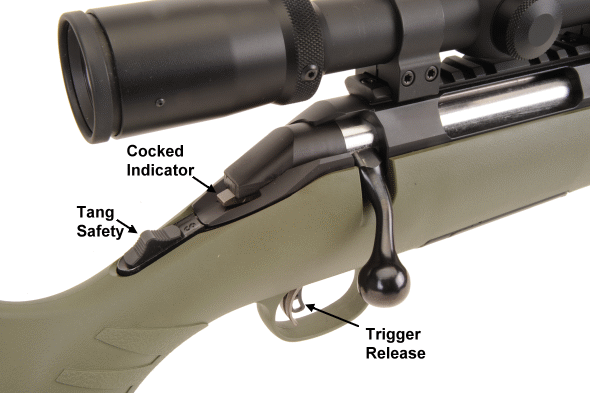 Three significant safety features; a two position tang safety, a visual or tactile cocked indicator and a trigger release that blocks rearward trigger movement unless the release is depressed.
This was more fun…
Only factory ammunition was fired during evaluation. I'm sure handloads can be fine tuned in the form of a favorite component combination, but it makes a lot of sense to see how the rifle performs with generally available, low to mid range priced factory ammunition.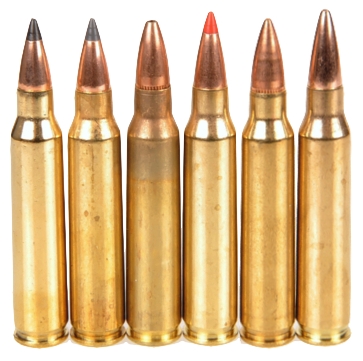 Type

Bullet
Weight
Grains
Rated
Velocity
FPS 24″
Recorded
Velocity
FPS 22″
100 Yard
3Shot
Groups"

Winchester Varmint X

40

3700

3547

0.5

American Eagle

50

3350

3222

0.

7

Remington UMC

50

3425

3296

0.6

Hornady Superformance

53

3465

3295

0.9

American Eagle

62

3020

2938

1.1

Hornady Superformance

75

2930

2853

0.

8
A tight rifling twist once meant optimal performance with heavy for bore bullets and more modest performance with light for bore bullets. Heavy, long bullets would stabilize and exceptionally high rotational speed of light bullets would tend to show imperfections in bullet balance or aerodynamics. Bullet quality has improved so much over the years that lighter bullets tend to perform well also, even with the higher rotational speed.

Above, some of the targets shot from a new barrel without break in. I can't help but think the two center group strays were my fault. The groups were shot at the end of a couple of long days and they might reflect a break in concentration. In any event, none of the groups would qualify as a disappointment and this is typical for the Ruger American Rifle with Ruger's Power Bedding® System.
Wrap up…
The Ruger American Predator is definitely an inexpensive rifle, but it is clearly not a cheap rifle. Fit and finish is very good, as are the materials used in its manufacture. Good shooting, the trigger was great just as received and it is a good looking hunting rifle.

Some folks will get their backs up over the modern materials and designs, forgetting that this is a purposeful rifle intended for hunting. It was designed to function in bad weather, require low maintenance, remain accurate under changing and even extreme environmental conditions, and not break the bank with a sky high purchase price. I think Ruger met all of their objectives. Looking forward to giving a 6.5 Creedmoor version a workout.