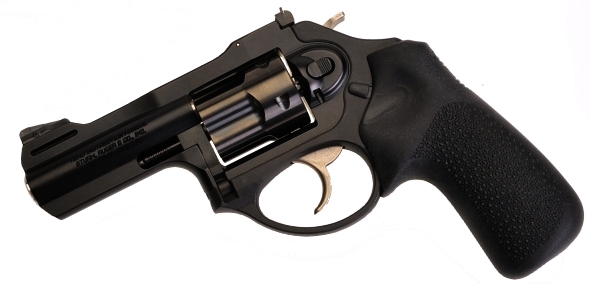 I was pleasantly surprised to find that Ruger did not follow the current direction of many firearm companies with its introduction of the 38 Special +P, 3″ barrel LCRx-3. Instead, Ruger designed a revolver that can be used frequently, in many applications, by pragmatic decision makers. No 10 shot cylinder, no 12 gauge compatibility, no vertical fore grip, no collapsible buttstock, no place to mount a bayonet. Additionally, the LCRx-3 is not available in Aqua Velva Blue or Nacho Cheese Camo, just basic black.
The Ruger LCRx-3 is a rugged, compact and lightweight, small frame revolver. It has a 5 shot cylinder, adjustable sights and it is chambered for the venerable 38 Special. Trail gun, recreational target shooting, small game getter, defense of home, concealed carry; the LCRx-3 can substantially fill many roles. For the slight loss of concealment that comes with the 1″ longer barrel and longer grip, the LCRx-3 provides an increase in velocity, greater control and a longer sight radius.
What might that look like compared to the short barrel LCRx?
Ruger LCRx – LCRx-3 Comparison

Manufacturer

Sturm, Ruger & Co.

Model #

5430

05431

Country of Origin

Newport, NH

U.S.A.

Type

Double / Single Action
Actuation
Trigger – External Hammer

Caliber

38 Special +P

Capacity

5

Barrel Length

1.875″

3.000″

Rifling

1:16″ RH

Weight

13.5 Oz

15.7 Oz

Overall Length

6.50″

7.50″

Height

4.50″

5.75

Width

1.28″

1.28″

Grips

Hogue® Tamer™ Monogrip®

Cylinder Frame Material

Series 7000 Aluminum

Cylinder Frame Finish

Synergistic Hard Coat

Barrel Material

17-4 PH Stainless Steel

Cylinder Material

Series 400 Stainless Steel

Cylinder Finish

Ion Bond Diamondblack™

Grip Frame Material

Glass Filled Poly

Rear Sight

U Notch Integral

Adjustable W/E

Front Sight

Ramped Pinned Blade

Trigger Pull DA/SA

10.9 lbs / 6.5 Lbs

10.1 / 4.5

MSRP

$529

$569

Nominal Weights & Measures
For those who find pictures faster than words….
Pictures above a short barrel LCRx, the LCRx-3's considerable differences are easy to spot. The top of the aluminum frame has been thickened to serve as a mount for the adjustable rear sight and it extends into a rib, a bridge, to the front sight. The pinned front sight sight is ramped.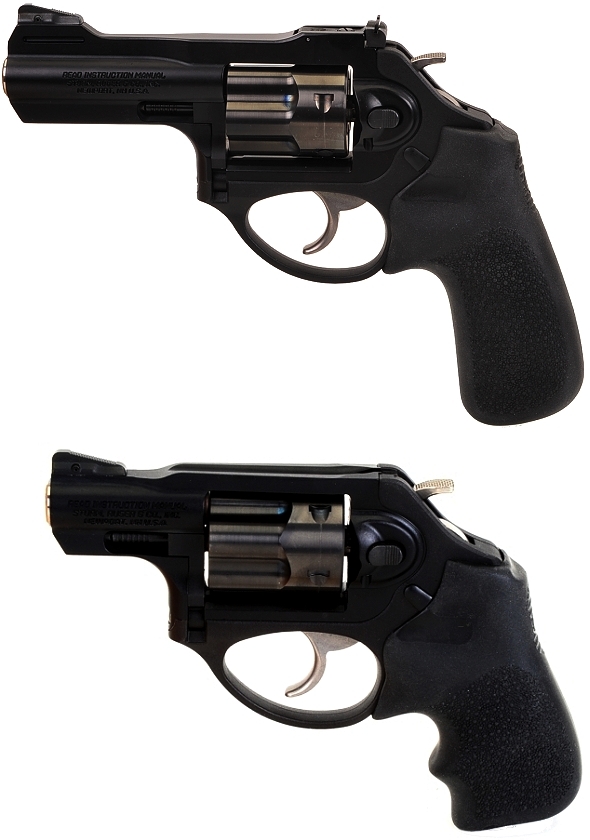 The LCRx-3 grip frame, like the exposed hammer LCRx, is extended upward, higher than other LCR models and downward over an inch greater than all other LCR models. For most folks that means no more dangling pinky while trying to track or hold on a target.

From the bottom side both the short barrel and long barrel versions are the same with a maximum width of 1.28″ at the cylinder or grip swell. It is a slender revolver, but the grip is still hand filling.
The sight set up is appropriate for a multipurpose revolver of this type. The sight picture is clear; flat finish on rear sights and serrations on the front sight eliminate glare. The front sight blade is changed by driving out the pin that holds it in place. A variety of front sights are available at the Ruger Store.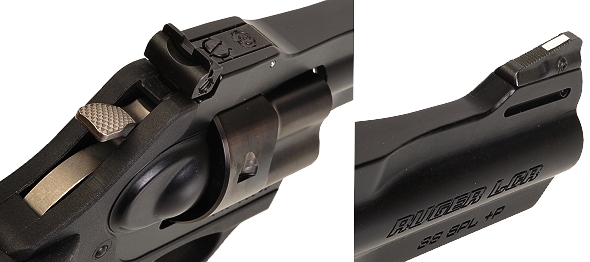 With a vertical shift in point of impact within the ammo we shot, 110 +P and standard velocity 158 grain, of approximately 5″, the sights had substantially more adjustment than needed to zero. The sight increment of adjustment, both windage and elevation vertical, are 3/4″ at 25 yards.
While the grip frames differ slightly on contour where they meet the cylinder frame, the portion that holds the hammer spring and grip are the same across the LCR product line. The early internal hammer lock is gone and grip length is determined my the grip itself. Which suggests even the 3″ barrel LCRx-3 would accept the short LCRx grip.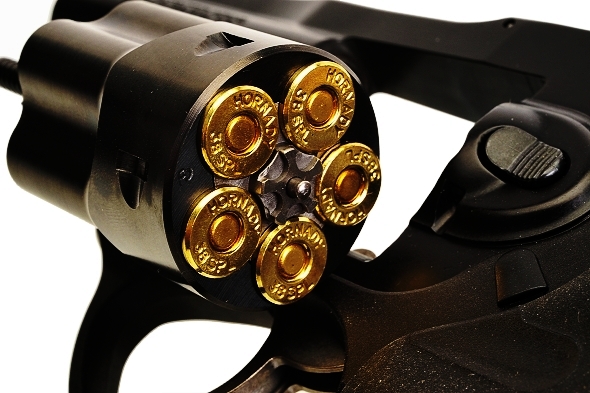 The small scalloped cylinder locks up securely and indexes precisely as verified with a match grade range rod. The large 38 Special case rims make for easy and positive ejection.
A note on finish…
The Ruger LCRx-3 is not a cheaply made gun, even in the selection of finishes. The stainless steel cylinder is finished in Ionbond's Diamondblack™, applied as a plasma assisted chemical vapor deposition process. In short form, the metal parts are placed in a vacuum and a diamond like carbon substance is vaporized from a solid or interim gaseous stage, which then uniformly bonds to the parts in thicknesses of typically 2 micrometers. The resulting coating have a coefficient of friction as low as 0.01 (more typically 0.1), high lubricity and some forms of tetrahedral amorphous carbon are harder than diamonds. The finish provides a hardness not possible with heat treating and the parts are not exposed to temperatures above 200ºC. 1) 2)
The synergistic coating used on the aluminum parts is the product of a multistep process that combines the benefits of anodizing with the controlled infusion of low friction polymers and/or dry lubricants. Not a surface coating, the finish becomes an integral part of the base metal. The surface is stronger than the base material, harder than steel and it is self lubricating. 3)
Shooting personality?
Muzzle rise and recoil are moderate, even 38 Special +P loads. I really don't like the term "muzzle flip". I think it could have been invented by an engineer with delicate sensibilities, from a unrelated discipline, who was not familiar with firearm vernacular. Whenever I hear the term, I think of a guy who can't hold onto a handgun under recoil or a handgun jumping into the air and doing a 360.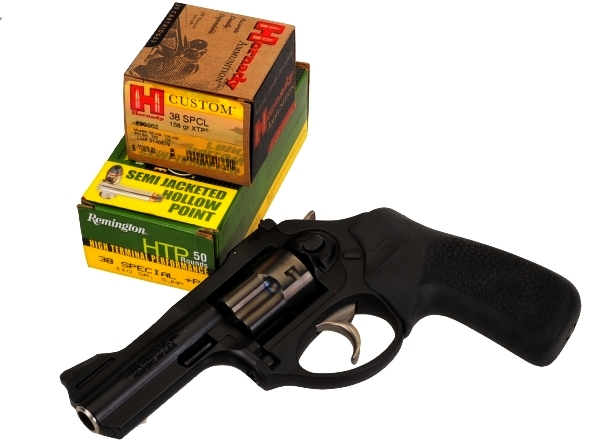 While the Ruger is very light, it feels hand filling and stable, which makes it easy to hold on target. The longer than typical LCR sight radius doesn't hurt either. I have been shooting the LCRs at 7 to 10 yards, a standard for a short barrel gun, but I thought the extra barrel length would suggest at least 50 feet… which is the distance the LCRx-3 targets were placed.
Hornady Custom XTP 158 grain grouped 2 5/8″ to 2 3/4″ consistently and generated on the average 780 fps. Remington HTP +P 110 grain group very consistently 3/4″ to 1″ producing an average muzzle velocity of 1001 fps. Selection of ammo, as is almost always the case, is something to walk though when taking possession of a new firearm.
3″ barrel versus 2″ barrel performance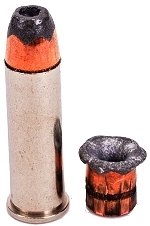 Pictured left, a Remington High Terminal Performance 38 Special +P 110 grain round. The bullet beside it was shot from a 2″ barrel revolver and recovered from 240A certified ballistic gel. The bullet expanded to 0.455″ and penetration was 12″. MV from the 2″ gun was 873 fps.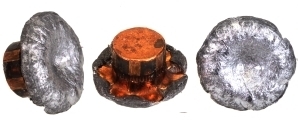 Above, the additional 1″ of barrel length on the Ruger LCRx-3 pushed the average velocity up to to 1001 fps. Penetration dropped to 10″, however, the bullet expanded to a huge 0.622″ and shed only one tenth of a grain in bullet weight. Pushing bullet velocity led to greater expansion, which

often comes as a trade off to maximum penetration simply because the larger frontal area of an expanded bullet meets with greater penetration resistance.
As a point of reference, pictured right, the Hornady Custom 158 Grain XTP ammo fired from the Ruger LCRx-3 picked up approximately 50 fps over a 2″ barrel revolver. Penetration increased to 17.5″ over the 110 grain load, however, expansion was minimal. A bullet better suited to 357 Magnum levels of velocity for expansion, it is a good penetration round for the 38 Special. Probably of greater consequence, there are many types from which to select to get the most from the LCRx-3's longer barrel.
If you got this far, we probably share similar concerns and considerations…
I am too far along in life to appreciate a firearm solely on its entertainment value or appearance, but I am not so far along in life as to not to appreciate good ideas. The Ruger LCRx-3 is an extension of a lot of good ideas. The look is good, the price is good and the performance in the form of am all purpose revolver is exceptional. For more information, check out the Ruger site.