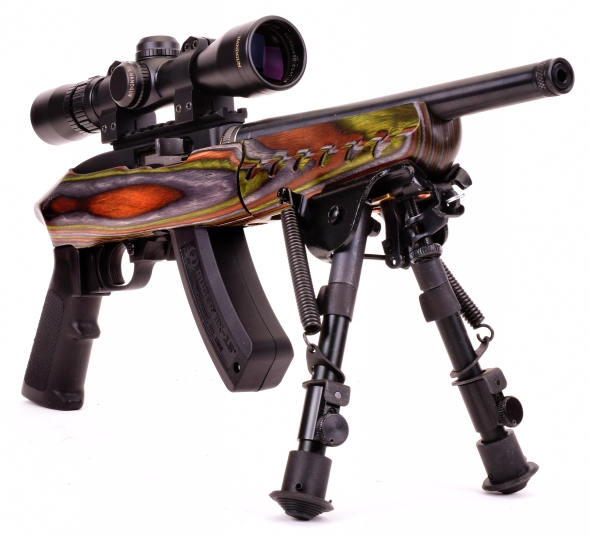 Promotional ad copy and scripted commercials are generally the product of a writer's imagination; dancing mops and personality altering candy bars. Writing an entertaining, but objective product review, places constraints on the writer's use of imagination and places a heavier demand on product induced inspiration. Examples? Sure. A commercial for a starchy tuber might feature a 360º camera pan of a dramatically lit, sensually shaped, reclining potato with a seductive rendition of "I Only Have Eyes For You" playing in the background. An objective review of the same potato might leave a writer trying to find excitement within a melatonin releasing list of the seven potato categories: russet, red, white, yellow, blue/purple, fingerling and petite. Drip, drip, drip…drip.
The Ruger 22 Charger reminds me of a friend I've known most of my life. He is the kind of guy who shows up every few years to take you out for a beer, and then two days later you wake in a South American beach shack with a way too graphic illustration of "Popeye loves Olive Oyl" tattooed on your forearm and an ID card in your wallet that suggests you've legally changed your name to "Harry Butts". The Charger is nearly that much fun, but without the ancillary travel and ink expenses or the humbling apologies and awkward explanations to the wife and kids. However, despite the Charger's extraverted presence and personality, its is also a serious firearm, both accurate and highly reliable.
Causing firearm enthusiasts to double take since 2007
The Ruger 22 Charger pistol was announced in December of 2007, a Ruger 10/22 derivative. In addition to recreational target shooting and varmint/small game hunting applications, both the original and current Charger fit well into special local and unlimited rimfire pistol silhouette competition where shooting distances may extend beyond 200 meters. The original Charger remained in production for approximately five years, before being discontinued in early 2013.
Setting aside a good deal of speculation and explanation regarding the reasons behind the Charger's withdrawal from production, I'll go out on a limb and suggest that the normal ebb and flow of market demand, a need for product and process cost reduction and refinement of design based on five years of customer experience and feedback were probably at the heart of that decision.
Below, first run Charger, top, current production take-down model bottom left, standard model, bottom right. There are a number of differences between the two generations, some more modest in scope than others.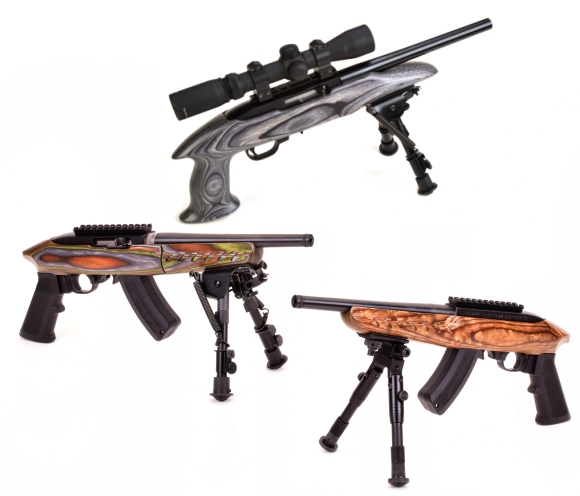 The original was only available in a fixed barrel configuration, the current is offered in both fixed barrel and take-down form.

The original included a Weaver type scope base, the current has a Picatinny type rail.

The original had a plain muzzle, the current has 1/2×28 muzzle threads. Both have cold hammer forged rifling.

The original had a one piece stock with integral grip, the current incorporates a detachable A-2 standard pistol grip that can be replaced with accessory grips of the same type.

The original was supplied with a 10 round, flush fitting BX-1 magazine, the current is supplied with a BX-15 15 round magazine.
The current take-down version has a supplemental parts list and exploded view that identifies 27 items as different from the fixed barrel version. In checking part numbers, some of these on the list, like the grip, grip lug, thread protector, and Picatinny rail and hardware, are actually the same part number for both models although they do have different drawing key numbers. While fixed barrel version comes of course assembled and packed in a traditional cardboard display box with a very nice soft case included, the takedown is supplied in its major take down components, inside of a form fitting compartmentalized hard case as pictured below.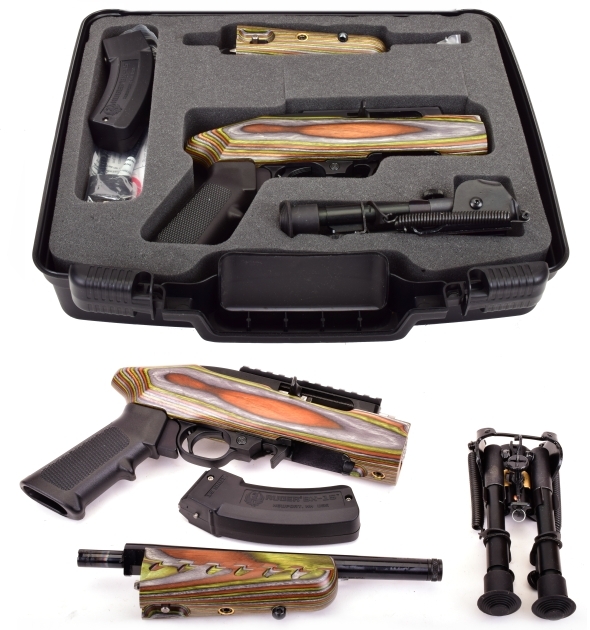 These early units were received with two different bi-pod types, one like the original product, the other with a UTG bi-pod and a different mounting system. All current production versions ship with the same UTG bi-pod version and mounting system.

The UTG setup is more stable that the early swivel stud clamping variety. In this configuration, the stud mount is plopped into place, the adapter is pinned to the swivel stud and the large locking ring clamps all of the pieces together against the stock. The swivel stud mount is actually a stub rail that provides a clamping surface for the bi-pod. The Charger does not have to be shot with the bi-pod in place. In fact, it can be adapted to many shooting position, a good number common in various forms of silhouette shooting.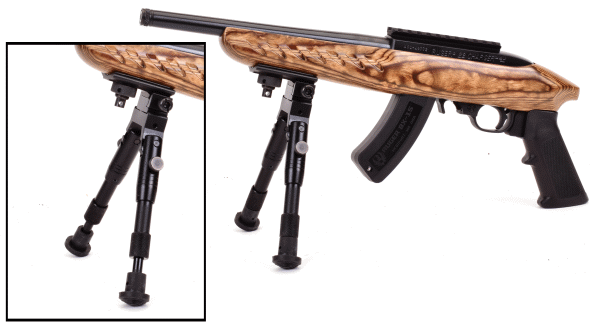 The early bi-pod (below, left) is adjustable in height from 6 3/8″ to 8 3/4″, while the new UTG setup has a height range of 7″ to 7 1/2″. The design of the UTG makes for a more stable setup and offers enough extension to level the legs on an uneven surface. Theoretically it would have been better if the early bi-pod's range of adjustment were retained. I say theoretically because it is too cold and too snowy for me to get out in the woods and flop around on the ground with this particular firearm to see if there is a practical difference to consider.
Bi-pods are useful tools for folks who are not old, set and their ways and generally grouchy… or so I've been told. Over the years I have grown used to using my forearm arm, a rolled jacket, rocks, tree branches and stumps, and a shooting sling to steady a shot. In a more stationary shooting setting, at the range when I don't feel like hauling a cast iron rest or posting at the edge of a field, I have used them with good success.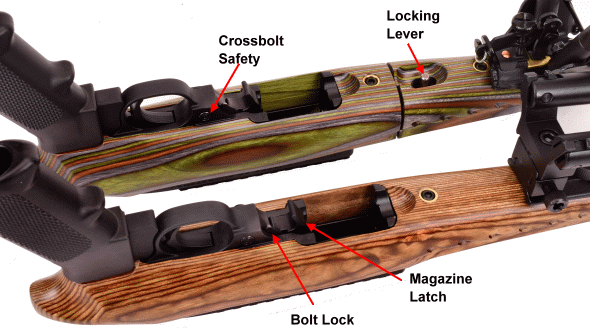 Controls for both firearms are pretty much the same with only the addition of a locking lever and barrel adjusting knob to facilitate take down.
The take-down system shares part numbers with the Ruger 10/22 take down rifle and in use it is the same. To install: bolt locked open, adjusting knob rotated back toward the receiver, barrel/forearm assembly is rotated counterclockwise approximately 45º and inserted into the spacer with pressure toward the receiver, the barrel assembly is then twisted into position which locks the lock plunger to the clamp, then the adjusting knob is rotated counter clockwise to tighten up the assembly. Two minutes to write about 15 seconds worth of effort. This is a good take-down system that does not wear or work loose or cause point of impact to shift.
In the words of Guitar Shorty, "A little less conversation, a little more action…"

Ruger 22 Charger Pistol

Manufactured

fill in the blanks

Model Number

4918 (TD) & 4917

Type Action

Semiauto

Caliber

22 Long Rifle

Capacity

15*

Stock Material

Laminated Birch

Receiver Material

Aluminum

Trigger Pull

3 Lbs 14 Oz.

Barrel Length

10″

Rifling

1:16″ RH

Scope Mount

Picatinny Rail

Overall Length

19.25″

Type Safety

Cross Bolt

Weight

3.13 Lbs

MSRP

$409 (TD) & $309

*All capacity 10/22 magazines fit
The Chargers were initially shot from a bi-pod, arms out, with a pistol scope. There are actually many more comfortable shooting position, in the absence of recoil, that work better with a red dot or a rifle scope, both which were also tried. Shooting the Charger isn't all that different from shooting a T/C. Contender.
The Charger is well balances with a lot of gripping surface and weight isn't particularly heavy. Feed and cycling was very reliable with no instances of failure to feed or eject with any of the many ammunition types cycled through the pistol. Nice trigger. Light pull, crisp break and adjusted to zero over travel.
At the moment, I am waiting to see if I can stop shoveling snow long enough to shoot the take-down and standard model so I can compare accuracy, both initial and after heavy use. If this take down is anything like the 10/22 version, there should be no problem.
Ruger's 22 Charger Pistol… Take Down or Not Part 1
Ruger's 22 Charger Pistol… Take Down or Not Part 2