Every once in a while, a different tact is taken with a photograph rather than resorting to the usual basic white background with minimal shadows. In this case, a single cross light was set up with a 30º honeycomb reflector insert and the above was the result; white, but more contrast and darker shadows for a more dramatic effect. Unfortunately, the cynical people I work with think they know me well so the only response to this image was, "Too lazy to get up on the ladder and set up the other lights for the shot?". Working with friends is highly overrated…
Not quite the controversy of 1948 – Background
The Colt Commander design came about in 1948. A developmental project with the Aluminum Corporation of America (ALCOA) resulted in Colt producing a lightweight and compact version of the 1911. The frame was made of aluminum alloy, the overall length was shortened from 7 3/8″ to 6 5/8″ and the barrel was proportionally reduced in length from 5″ to 4 1/4″. Prototype pistols, serial numbers 001 – 0065 were produced in .30 Luger, 9mm, 38 Super, and 45 ACP, with all but the .30 Luger making it into production in 1951 for sale into civilian markets. Few changes were made the Commander over the years, at least until 1971 when Colt began manufacturing an all steel version 4).
There is a statement made regarding the Commander that appears in many places, including in NRA publications and on numerous 1911 theme websites specializing in the history of the 1911, and statement is quite unsupportable. The Commander design was completed in 1948, which means the design objective specification was completed prior to 1947. Remember, the Commander required the development of a new aluminum alloy and extensive testing of that material. The Aberdeen military trials, submissions for a new 9mm pistol for the Army, weren't defined until 1950 and testing and evaluations were conducted from 1951 – 1955 2).
Until a credible document can explain the gap of several years, I will go with the belief that the Commander was planned as a commercial product with hopes of drawing military procurement interest. It was then opportunistically submitted to the Aberdeen program 3) 4). Why does any of this matter? Because outside of the government bureaucracy and under the auspices of critical and selective consumers with lots of choices, the Lightweight Commander flourished as a positive progression for the 1911. The Commander proved to be lighter, more compact and just as effective as a full size 1911 pistol.
The military did adapt a Commander like 1911, the all steel M15 General Officer's Pistol. Chambered for the 45 Auto, it was issued to officers as a replacement for then existing Colt Model 1903 32 Auto. Approximately 1,000 were produced by the government's Rock Island Arsenal between 1972 and 1984, made by modifying government 1911A1 pistols with 14 different part changes or modifications ranging from frame and slide to barrel and sights 1).
Ruger's SR1911 Lightweight Commander
The Ruger SR1911 Lightweight Commander builds on the 75 years the Commander length firearm's proven service and added further refinements. This model weighs approximately one half pound less than Ruger's SR1911 Commander all stainless steel version. Already compact, the SR1911 is supplied with thin grip panels (Lower pistol below) while retaining full grip length, so it fits even larger hands, but carries flatter concealed. For me, the straighter line from trigger finger the thumb web and palm makes for a better grip that can facilitate accurate follow up shots.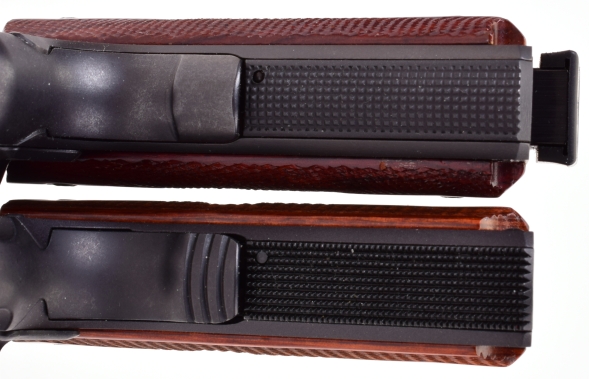 A wear problem associated with aluminum frame pistols of any manufacture is the frame ramp that initially guides the bullet to the barrel as it is stripped from the magazine. Ruger addressed the issue by incorporating a titanium insert blended into the frame to take the hit from the bullet contact. Subsequently, even large cavity hollow point ammo feed and cycle is not a problem.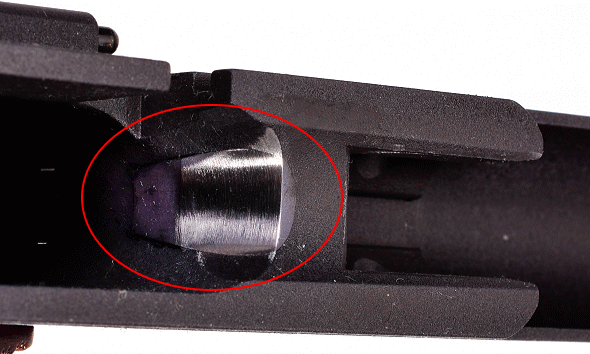 The Ruger SR1911 Lightweight Commander style pistol is supplied with Novak LoMount Carry 3-dot sights. Good set. The rear sight is windage adjustable by loosening the central set screw and appropriately shifting it left or right. They are fast tracking, easy to see and smooth surfaced to reduce the potential for snagging.
Gratuitous pretty pictures to follow…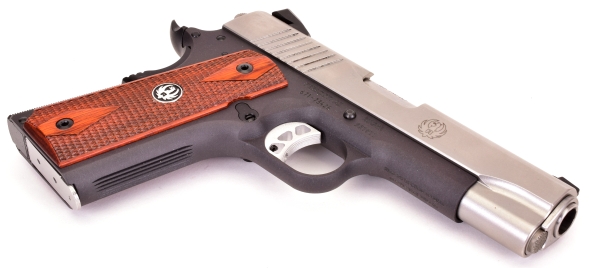 I am not typically a fan of two toned guns. I am old, so they confuse me… Is it a stainless gun? Is it a blued gun? Is it aluminum? The expenditure of energy can drive me straight through to nap time. In this case, the very attractively black anodized frame looks very nice with the gray stainless slide to the extent that I might take a few more pictures and turn it into a calendar.
And it shoots good…der too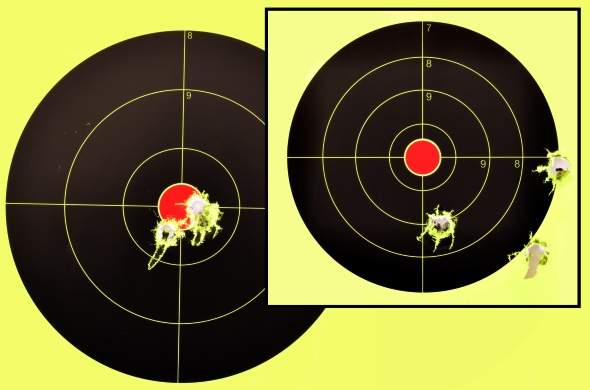 Model

Manufactured

Prescott, Arizona

Model Number

6711

Type Action

Semiauto Single Action

Caliber

45 Auto

Capacity

7+1

Slide Material

Stainless Steel

Frame Material

Anodized Aluminum

Trigger Pull

4 Lbs 2 Oz

Barrel Length

4.25″

Rifling

1:16″ RH

Sights

Novak LoMount Carry 3-dot

Sight Radius

6.80″

Type Safety

Thumb, Grip

Overall Length

7.75″

Overall Height

5.45″

Grip Thickness

1.34″

Weight

29.30 Oz.

MSRP

$899
Target above left, a 5/8″ 3 shot 10 yard group. Target right, a 1 7/8″ 3 shot 25 yard group. The Ruger SR1911 Lightweight Commander is an easy gun to shoot. I have no idea why the loss of half a pound make it… less pleasant to shoot than an all steel gun. My hunch is that the reciprocating mass is all steel, so it feels like a steel gun under recoil… tame.
It might be easy to skip over many of the smaller, but very important enhancements to be found on the SR1911 Lightweight. However, that would not due justice to the pistol or be respectful of folks who might have an interest. So I will mention the lowered ejection ort, titanium firing pin, oversized grip safety, extended magazine release, compatibility with all 1911 standard parts and accessories. My only point is that this is a premium product with all of the good pieces.
The SR1911 is a 70 Series; no trigger safety linkage to influence trigger pull, which is probably why that fact, and overtravel adjustment makes for a very clean, crisp breaking trigger.
In retrospect….
After spending days carrying and shooting the Ruger SR1911 Lightweight, my own steel Commander felt like a boat anchor. The Ruger's balance is much better as a short barrel gun. Usually weight on a shorter barrel gun seems to settle in the grip, making it more of an effort to remain settled on a target. In this case, the pistol is slightly muzzle heavy and still quick handling. A very good 1911.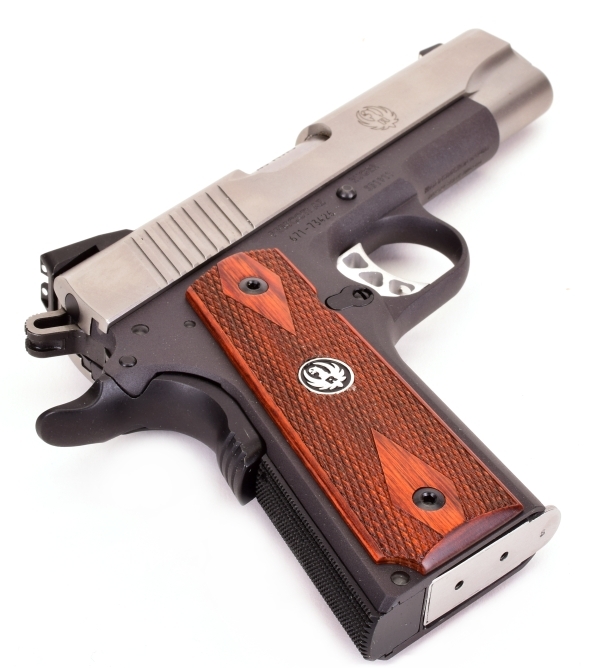 1) The U.S. M1911/1911A1 Pistols & Commercial M1911 type pistols, Kuhnhausen
2) Modern Combat Pistols, Popenker
3) The History of browning Firearms, Miller
4) Colt – An American Legend, Wilson