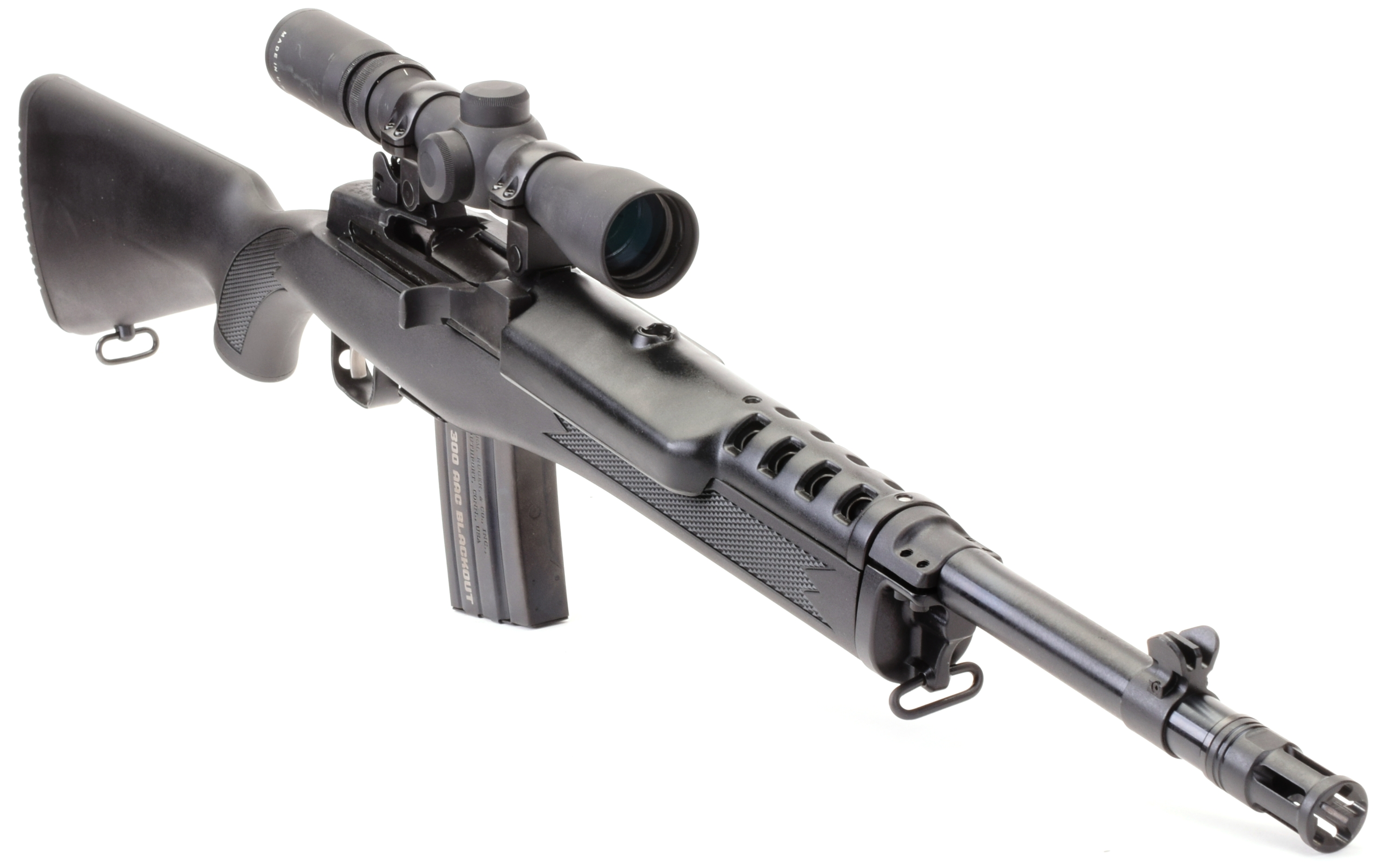 This is perhaps the sixth or seventh Mini 14 or Mini Thirty we've gone through at Real Guns® over the years. What began as an initial project with skepticism, soon became projects with excellent results; the most recent containing the core elements that make firearms interesting. Minis can be tuned and carefully fed to make accurate as a factory stock firearm and Minis can be modified to enhance their performance and alter their configuration to suit many applications. The addition of the 300 Blackout cartridge to the Mini 14 lineup further expands that utility.
Where the 7.62x39mm Mini Thirty provides 30-30 WCF like performance, the cartridge is optimal at supersonic performance levels. The Mini 14 300 Blackout can approximate 7.62x39mm supersonic performance and perform well in subsonic, suppressed applications. The .308 caliber 300 Blackout offers considerably more bullet weight choices in factory ammo and as handloading components, from 90 grains to 240 grains. The Ruger Mini 14 300 Blackout moves easily between supersonic and subsonic suppressed configuration for folks with these requirements.
You know what they call a Quarter Pounder with Cheese in Paris?
All Ruger Minis are similar in appearance, down to subassemblies, however, in piece part detail they vary. As an example, these are the parts that differentiate the Mini 14 300 Blackout from the standard Mini 14 Tactical:
Barrel 0M8026

Receiver MS00120

Front Sight MS04424

Front Sight Cross Pin MA07201

Gas Pipe KMS03601

Gas Port Bushing KMS02505

Slide Assembly MS23711

Stock Assembly, Plastic MS30426

Sling Swivel, Rear MS07601

Magazine, 20-rd MS02708A

Butt Pad D06315

Butt Pad Screw B-91

Pistol Grip Cap D-80SB

Pistol Grip Cap Screw C-96SM

Pistol Grip Cap Medallion D-82

Flash Suppressor B13407
More than a few with much of the work going into balancing gas pressure/volume and reciprocating mass to assure reliable use of supersonic and suppressed subsonic ammunition. The 300 Blackout has one of the widest ranges of bullet weights, types, cartridge pressure, and performance to manage of all rounds used in commercial semiauto rifles. In more general terms –
Easy take down…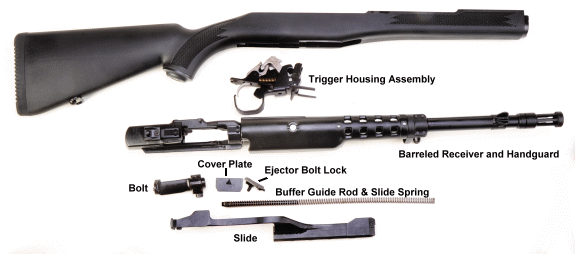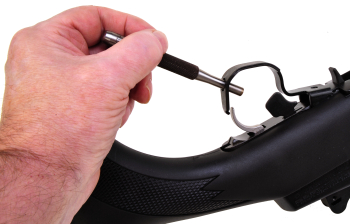 I like firearms that are easy to disassemble to a meaningful degree. I'm not that bright so the last thing I need is an endless stream of firearms that have their own.. combination locks to figure out. I need a gun that is easy to take apart or it will never be cleaned and it will eventually be rendered inoperative by an overabundance of carbon deposits.
With the exception of popping the trigger guard with anything that has a blunt tip and is ¼" in diameter, disassembly of the Mini is easy and requires no tools. Ruger indicates that a bullet is not to be used to perform this task. I concur, but I bet there are a lot of guys who would look at the hole in the guard, look at the tip of a 300 Blackout cartridge and think "Hey!". Bent and lose bullets are not advantageous to safety or accuracy.
The trigger assembly is… robust and logical in design. There is the trigger hooked to the underside of the hammer with a secondary sear on the opposite side of the hammer. The secondary sear catches the hammer as the Mini's bolt moves rearward after discharge. The primary sear on the trigger locks into the sear hook on the hammer as the trigger is released and allowed to move forward.
This Mini example is typical of the product; a little heavy in pull and with some amount of creep. Not enough to impact function, but it could be a little more crisp and a little bit lighter. It is an area that can always stand improvement, but not an area to play around in without appropriate training. Reworking the hammer, sear and secondary sear means managing metal removal and surface finishing. Done correctly, the result is a slick 3 – 3.5lb trigger. Done incorrectly, the gun will double, it won't get repaired under warranty and you will need a fresh supply of trigger parts.
Pull my finger…

The gas system of the Ruger is much simpler than an AR's system. No long gas pipe or combustion gases make their way to the gun's bolt. The short gas pipe, left inset, channels gas pressure to the front of the slide to cycle the gun. The forearm has a steel liner that protects the stock and shooter from any gas or gas born residue. When they put this type of set up on an AR, manufacturers call it a gas pistol setup and tack $400 onto the price of the firearm.
No, the word is "peep", not "peek"….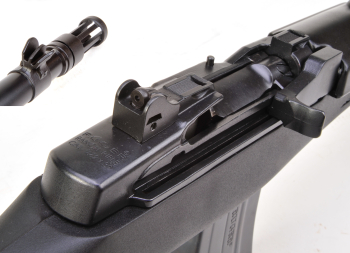 There is a tendency, these days, for mass produced firearms to have less than exciting sight systems. Manufacturers install just about anything to meet the perceived obligation, avoiding the cost of good sights and assuming the customer will find something more personally suitable. Ruger took a different route. They put a good set of sights on the Mini, very much appropriate for the rifle's typical application.
The rear aperture sight is fully adjustable for both windage and elevation. Each full turn of the windage adjustment results in a 5″ shift at 100 yards. Each half turn of the elevation adjustment, the aperture, results in a 1.25″ shift at 100 yards. Adjustments are locked in place with a lock screw. Adjustment requires the use of a 5/64″ hex wrench. Adjustments are precise and settings remain in place under recoil. In use they worked well and were very fast in getting on target. Both front and rear sights are well shielded with brush guards.
In addition to metallic sights, the Mini 14 300 Blackout includes proprietary Ruger rings and a Picatinny rail adapter that locks into the Mini 14's Ruger ring system recesses.
Another way to put a Ruger Mini 14 in a box…
Manufacturer

Ruger

Model

5864

Hardware Finish

Blued Carbon Steel

Stock

Black Synthetic

Action Type

Fixed Piston Gas – Semi Auto

Caliber

300 Blackout

Magazine Capacity

20 Rounds

Barrel Length

16.12″

Twist Rate

1:7″

Adjustable Sights

Aperture Rear

– Blade Front

Scope Mounting

Integral Mounts – Rings Included

Overall Length

36.25″

Length of Pull

13″

Weight

6 lbs 12 oz

Trigger Pull

6 lbs 2 oz

MSRP

$1019.00
Initial impressions…
Ruger references the M14 and the M1 Garand in presentation of the Mini 14. For me the feel is more like an M1 Carbine, only with a useful cartridge line up. The Mini 14 is fast handling, light to carry and easy to shoot from any position that does not require the agility of a contortionist. The open sights work effectively and scope mounting is easy. Trigger pull takes some adjustment and that comes with use. I've worked with some Minis that smoothed out considerably in use.
In Part I checkout, two types of ammo were used; Jamison 125 grain JHP that clocked 2,039 fps and Remington 220 grain Open Tip Match at 1,114 fps. The Mini 14 300 Blackout's gas system is calibrated for supersonic and subsonic when fitted with a suppressor. The Jamison ammo functioned without hesitation or fault, the subsonic ammo occasionally short stroked without a suppressor in place, as the Ruger manual indicates it will.
We took a look at the 300 Blackout handload data we have recently compiled, found a couple of other bullet types we wanted to try and assembled handloads for Part 2.
Ruger's Mini 14 in Basic 300 Blackout Part I
Ruger's Mini 14 in Basic 300 Blackout Part 2