The Ruger Precision Rifle is one of those firearms that you remove from its carton, ask yourself, "What the heck?!" and then nod your head in acknowledgement as each form – function relationship becomes apparent. The Precision Rifle is what happens when accuracy is the objective and the superfluous is stripped away.
Ruger Precision Rifle

Manufacturer

Ruger, New Hampshire

Model #

18005

Type

Bolt Action MSR

Caliber*

6.5 Creedmoor

Mag Capacity As Supplied

2×10 Round

Barrel Length*

24.0″

Rifling

1:8 5R

Receiver Material

4140 CM

Lower Magazine Halves

7075-T6 Type III Anodized

Weight – Nominal

10.6 Lbs

Height Grip Bottom To Rail

7.3″

Width Receiver – Bolt Handle
3.3″

Overall Length

42.25″ – 45.75″

Folded Length

34.6″

Stock

Folding, Adj. Comb & Pull

Comb Height Adjustment

+0.75

Comb Fore/Aft Adjustment

3.5″

Length of pull

12″ to 15.5″

Sights

None

Scope Mount

20 MOA Picatinny Rail

Trigger – Ruger Marksman

Adj. 2.25 to 5.0 Lbs

Safety

Reversible, Rotating – 2 Position

MSRP

$1399
l
The subject firearm is a 6.5 Creedmoor, however, the Ruger Precision Rifle is available in other configurations with differences as noted on the table below:
| | | | |
| --- | --- | --- | --- |
| Model | 18001 | 18005 | 18010 |
| Cartridge | 308 Win | 6.5 Crdmr | 243 Win |
| Barrel Length | 20″ | 24″ | 26″ |
| Twist | 1:10 | 1:8 | 1:7.7 |
| Weight Lbs. | 9.7 | 10.6 | 11 |
| Folded Length | 30.6″ | 34.6″ | 36.6″ |
| Extended Min | 38.25″ | 42.25″ | 44.25″ |
| Extended Max | 41.75″ | 45.75″ | 47.75″ |
A unique facet of the Ruger Precision Rifle's design is that the buttstock is attached to the rifle's receiver in direct alignment with the rifle's bore centerline. The approach eliminates movement that is present with a traditional friction clamped bedding systems and the muzzle climb associated with stock or chassis systems that are located below bore centerline. The Precision Rifle's mount permits the use of an AR compliant stock and the mount is hinged to permit folding any stock installed forward and flat against the rifle
Below the receiver are precision machined magazine halves made of Type III hard coat anodized 7075-T6 aluminum. They extend downward to accept an AR compliant grip and a rotating AR type reversible selector as well as M110, SR25, DPMS, Magpul, and AICS magazines. Two 10 round Magpul PMags are included. The trigger is affixed to the rifle's receiver, not the magazine halves.
The Ruger Precision Rifle's barrel screws into the rifle's receiver. Position/headspace is controlled with a barrel nut that locks the barrel's position in the receiver and also mounts the rifle's floating handguard. While Ruger is not currently offering accessory barrels, changing one would be easy for someone with AR barrel changing expertise; a barrel, headspace gauge, a smooth jawed bench vise and an AR standard barrel nut wrench would get the job done. Lots of potential. Below, a little better illustration of the straight line design with handguard and receiver top rail removed.
The Ruger Precision Rifle is a quality long range shooter, supported by a good selection of chambers. The Precision Rifle can also be hauled up to the range on a free day, providing the relaxation that comes only from putting multiple shots into very small holes, it could be configured for class competition shooting and it could pop game as a very long distance. Finally, the Precision Rifle's design is a natural for us gear heads who need to change parts and accessories to suit personal taste and preference, without cutting barrel threads and chambers on a lathe.
Before I go wandering through the Ruger Precision Rifle….
The mechanical design and features are too interesting and too extensive to not look at in greater detail, and that is exactly what we are going to attempt. However, recognizing that while screw hex head size and hinges are very exciting to some, the same can cause others to fall into tedium induced sleep and go nose over on their respective desks. So we'll start with how the Ruger Precision Rifle performed and then follow on to mechanical detail.
A Leupold Mark 6 3-18x44mm scope with CMR-W 7.62 reticle was installed on the Precision Rifle with a Leupold Mark 6 34mm Integral Mount. With the rifle's comb cranked up a bit, the scope's placement was ideal, forming a natural line of sight through the scope's centerline and providing plenty of support. Based on clarity, brightness and contrast of image, the Mark 6 is truly an exceptional scope in a very compact package, an excellent match with the Ruger Precision Rifle.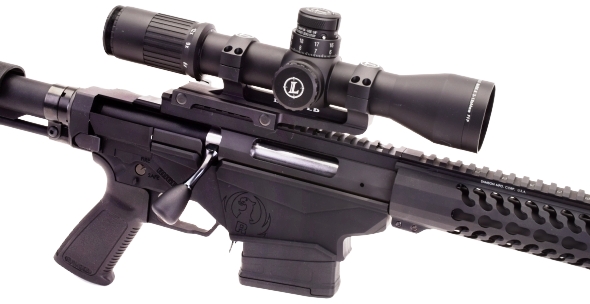 I setup for 100 yards, loaded up the Ruger with Hornady Match Ammo 6.5 Creedmoor 120gr A-Max, plopped it in a steady rest and shot multiple 3/4″ to 1″ three shot groups. Very good sporting rifle accuracy, but the results sent me off on an effort to separate the rifle's performance potential from the ammunition's potential performance.
As a handloader, it is a routine task to work up handloads to accommodate each firearm and to exercise as much of the firearm's accuracy potential as possible. It is a nice alternative to buying a truck load of factory ammo to find one or a few types that work well. That said, I did step up and tried Winchester Match 6.5 Creedmoor, with 140 Grain Sierra MatchKing HPBT bullets. This factory ammo consistently shot between 1/2″ and 3/4″ 3 shot groups
Six bullet types were selected out of approximately one hundred ten bullets produced in 6.5mm for handload, only because I've had good luck with them when loading for the 260 Remington and 6.5×55 Swede.
Bullet

Type

Application

Weight

Length

HandloadCOL

Sierra Varminter 1710

HP

Varmint

100

0.931

2.585

Nosler Partition 16320

SP

MediumGame

125

1.180

2.800

Lapua Scenar-L 4PL6019

HP

Target

136

1.355

2.825

Hornady SST 26302

PT

MediumGame

140

1.395

2.700

Nosler Custom Comp 26725

HP

Target

140

1.310

2.780

Berger Long Range 26409

HP

Target

140

1.400

2.800

All of the above cleared rifling
Warning: Bullet selections are specific, and loads are not valid with substitutions of different bullets of the same weight. Variations in bullet material and length will alter net case capacity, pressure and velocity results. Primer selection is specific and primer types are not interchangeable. These data represents maximum loads in our firearms and test equipment and may easily be excessive in other applications. All loads should be reduced by 5%, and developed following safe handloading practices as represented in established reloading manuals produced by component manufacturers. Presentation of these loads does not constitute a solicitation for their use, nor a recommendation.


Cartridge: 6.5 Creedmoor

Firearm: Ruger

Min – Max COL: 2.700″ – 2.825″

Bullet Diameter: 0.264″

Primer: Remington 9 1/2

Barrel: 24″

Reloading Dies: Hornady

Max case length: 1.920″

Groups: 3 Shots – 100 Yards

COL and Capacity





Load Data & Performance

Bullet


Type

Bullet
Weight

C.O.L.
Inches

Net
Grains
Water





Powder

Charge
Grains

Muzzle
Chrono
FPS

Muzzle
Energy Ft/Lbs.

100 Yard
Group
Size "

Sierra Varminter

HP

100

2.585

49.8




Norma 203B

44.0

3235

2324

1/4

Nosler Partition

SP

125

2.800

49.3





Superformance

48.5

3048

2579

7/8

Lapua Scenar-L

HP

136

2.800

47.4





Re17

44.0

2948

2625

3/8

Hornady SST

PT

140

2.700

45.2





Hybrid 100V

42.0

2758

2365

3/8

Nosler CustomComp

HP

140

2.760

47.2




Norma URP

43.0

2734

2324

1/2

Berger Long Range

HP

140

2.800

46.9





Norma 204

45.0

2778

2400

3/8



Powders that are popular, readily available and applicable to as many cartridge types as possible are usually the most useful. Up top, whichever powder performed best in terms of accuracy was selected, even if not commonly used for anything else. Examples would be Superformance powder and Hybrid 100V. It was not lost on me that the 29¢ outperformed the 50¢ bullet. Getting a better feel for the types of bullets that performed well, three additional bullets with more common powder types were added to the handload list to place more emphasis on hunting.
COL and Capacity

Load Data & Performance

Bullet




Type

Bullet
Weight
C.O.L.
Inches
Net Grains
Water

Powder

Charge
Grains
Muzzle
Chrono
FPS
Muzzle
Energy Ft/Lbs
100 Yard
Group
Size "



Sierra ProHunter 1720

SPFB

120

2.650

48.4

H414

46.5

3096

2554

3/8″




Hornady InterLock 2620

SPFB

129

2.720

48.1

IMR 4350

45.0

2920

2442

7/8″




Prvi PPB264SP

SPBT

139

2.765

38.5

Re 19

46.7

2888

2575

5/8″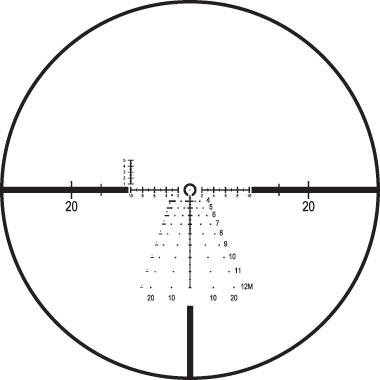 Shooting through the Leupold's Front Focal CMR-W 7.62 reticle was… fun. Bright, bright image, sharp, good contrast and it was difficult not to shoot to the 0.5 MOA dot in the center of the 5 MOA circle. The Ruger was easy to adapt to circumstance. Moving from the bench to standing, kneeing, sitting, and prone, changes to length of pull and comb height and position were quick and easy to make.
Having the rifle in my possession for an extended period of time, I did play around with 200 and 300 yard shooting distances with the scope magnification cranked up and after appropriate adjustment. Both the Lapua Scenar-L and Berger Long Range shot well inside 1″ at 200 yards and well inside 2″ at 300 yards, shooting prone off of a shooting bag. I did not spend a lot of time at these ranges and I did not haul the bench out to duplicate the 100 yard set up. My long range shooting spot is a run with trees on either side and a decent shift in elevation. Some days it is dead still, while others bring wind howling up the side of the mountain making it hardly a place to define the long range accuracy of a firearm. I do feel comfortable saying that the rifle is at least as capable as noted and probably, in the hands of the right person and with a more controlled shooting environment, considerably better. For me, this is an accurate firearm and it can deliver that accuracy consistently.
Handling
The Ruger Precision Rifle feels and balances not unlike an AR 15 or AR 10 set up for competitive long range shooting, to the extent there would be a carryover of shooting proficiency. Ruger's nomenclature for the rifle's magazine halves are "short lowers" and they are just that, short and compact. While they provide an excellent forward gripping surface and a good point to steady against a barricade, they do not extend forward to get in the way of the handguard system. I am a guy who has gone on record as rejecting pistol grips on anything other than an AR, however, I will humbly eat my words on this one. It seems the adjustable comb, stock pull and trigger hand position, in hold make the shooter a part of the firearm's structure with one stabilizing the other.
The dual cam bolt cocking is light in lift and lift is only 70º. The oversize bolt knob is comfortable, and it is threaded so it can be tailored to the individual. The mag is easy to drop and insert, positive in engagement. Bolt throw is reasonably short, feed and ejection are positive. Magazine filling and swapping are like an AR and the poly magazines are durable.
Thanks to a bit of heft and a soft recoil pad, and perhaps because the buttstock mounts in direct alignment with the rifle's bore, recoil is modest and not a distraction when shooting. The handguard is hand filling and cool running, no mirages out in front of the scope, no hot potato in hand. A few hundred rounds and nothing shot loose and accuracy remained excellent.
A little more detail, buttstock to muzzle… In no particular, but not chaotic, order
Folding the stock to facilitate transport or to pull the bolt is easy; pull mag, chamber check empty, close bolt, safety on, press stock release button and the stock folds left.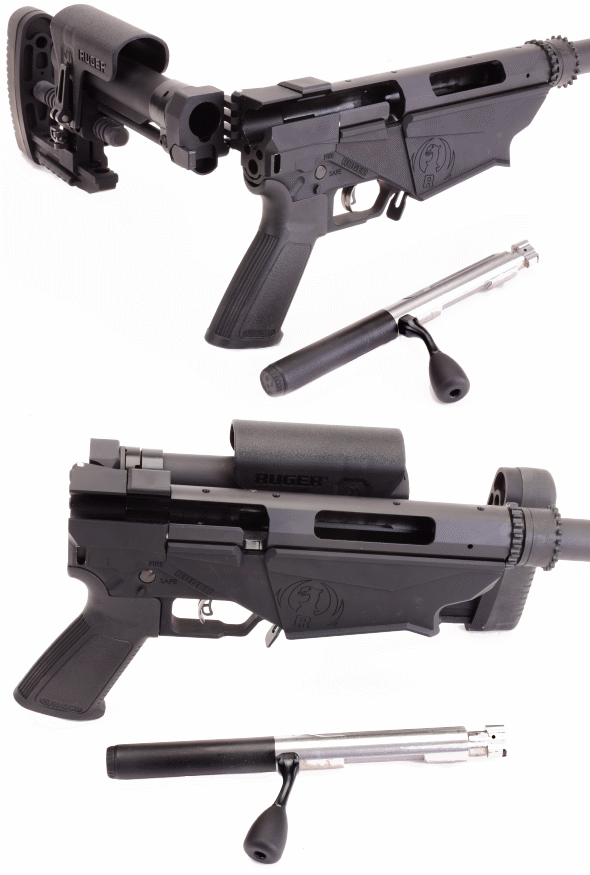 The hinge design is unique enough to literally warrant patents. The hinge assembly is heavily champed to the rifle's receiver. The mount clamping fasteners pass through two slots cut into the receiver which prevents the stock from rotating or moving fore and aft. The receiver is pre hardened 4140 chrome moly steel and the mount is very thick walled aircraft grade aluminum.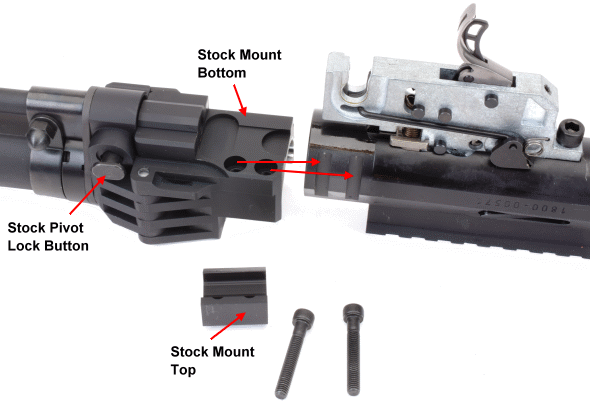 Beyond the convenience of a folding stock, the stock's buffer tube is at bore centerline for optimal recoil management. The Ruger Precision Rifle will accept and AR standard stock. The Ruger Marksman Trigger pictured above is externally adjustable.
Arrow whacky – Still, a better illustration of a unique system intended to keep all load bearing points aligned from muzzle to shoulder. The stock mount clamps around the receiver, precision contour cut to trap the receiver and prevent rotation. This is stability is further assisted by the two cap screws that pass through channels cut in the receiver and secure the upper mount to the lower mount.
The back of the receiver contour cut is a solid wall that prevents any rearward movement of the receiver in relationship to the buttstock under recoil. No rotation, no longitudinal movement, no rise caused by a stock located below bore centerline.
Pull and comb height and position are adjustable by lifting up on the quick release cams and sliding to position of preference. No, "Cant Adj" is not the same as "Can't Adj". The pad is recoil absorbing dampening and it can be canted, rotated, left or right 9º. All of the camming latches and QD attachment points can be swapped to the opposite side to suit preference.
The receiver…
The Ruger Precision Rifle's receiver in the center of the rifle's mechanical universe. It mounts the stock, the top rail, the short lowers, holds the trigger assembly, accepts the screw in barrel/barrel nut assembly and handguard nut that secures the floating handguard assembly.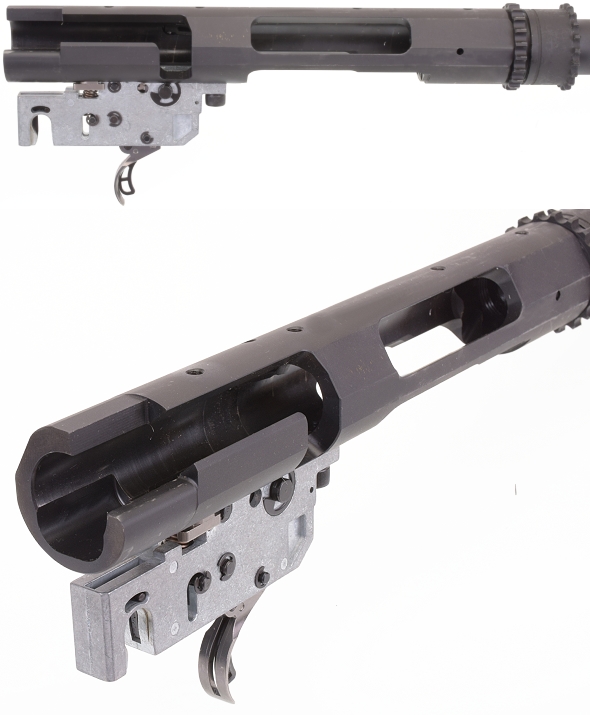 The receiver is CNC machined from pre-hardened 4140 Chrome Moly steel to assure precise final dimensions and it is a beefy piece with 0.250″ major wall thickness. The Ruger Marksman Trigger is externally adjustable within a 2.25 to 5.0 pound pull range; hex wrench included and stowed.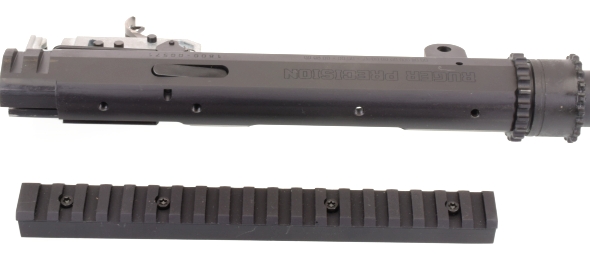 The top of the receiver is formed in a radius and drilled and tapped to accept the included and mounted 20 MOA Picatinny standard rail. The purpose of the rail is to give a rifle scope a 20 MOA bump in elevation adjustment for longer range, 300 yards+, shooting. In use, the rail did not pose a problem with close in scope range of adjustment and at longer distances the 20 MOA rail did keep elevation adjustment closer to optical centerline of the scope. It is my understanding that Ruger will be offering a non-compensated rail for folks with that preference.
The bolt… with secret compartment…
The Ruger Precision rifle's bolt is a push feed design with three locking lugs and a 70º lift. The bolt body is one piece and, like the rifle's receiver, CNC from pre-hardened 4140 Chrome Moly steel. The bolt handle has industry standard 5/16″x24 threads, permitting the use of any from a broad selection of aftermarket tactical bolt handles.
The dual cocking cams provide additional mechanical advantage which reduces cocking effort on bolt lift. The body is full diameter, the same as the circumference of the lugs, for added strength.
Assembled, the shroud cap blends in so well I had to poke around for a moment before I realized it was removable. I kept hearing Tommy Chong saying, "They're playing head games with us… man".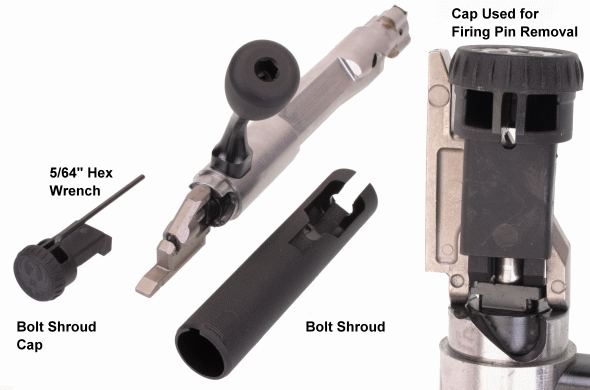 The bolt shroud's removable cap serves a couple of purposes. As noted, it holds the hex wrench used to adjust the Ruger Marksman trigger pull and the cap serves as a tool for keeping the striker spring compressed for bolt disassembly. While not indicated in the manual or other Ruger literature, I am quite sure there is room in the shroud for a spare pair of socks, albeit very small socks.
The short lowers…
While not a recoil load bearing or bedding structure within the Ruger design, the short lowers are secures longitudinally at the rear and across at the front with significant size cap screws to solidly mount the handgrip and to hold magazines. Precision machined from 7075 T-6 aluminum, the lower is type III hard coat anodized. It permits the use of any standard AR pistol grip and multiple magazine types. The rifle is supplied with two 10 round Magpul PMags, but it is also compatible with M110, SR25, DPMS, Magpul, and AICS magazines. The safety selector can be swapped to either side and it is an AR standard piece so aftermarket single and ambidextrous pieces can be substituted.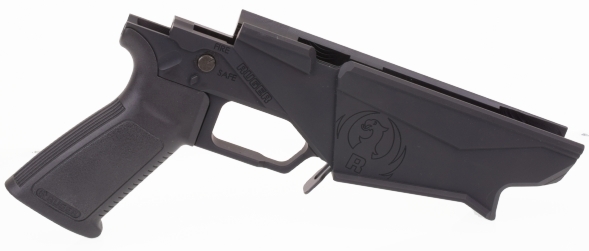 The front of the lower is truncated and formed to provide a hold or rest point of support. Since the Ruger design makes other provisions for mounting the buttstock and floating handguard, the lower could be simplified, as well as size and weight reduced.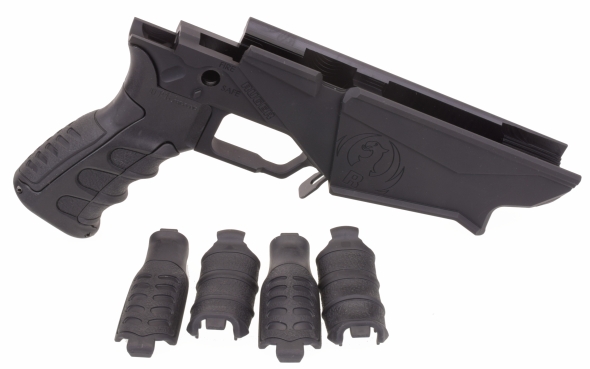 Yes, of course I buy goofy versions of AR grips and yet even they fit on the Precision Rifle. I just never know when aliens will attack and cause my body to morph in a way that changes my hand size and shape as well as my aesthetic sensibilities. This one is actually a good feeling grip.
A terrific group of design elements… Quick change barrels in the near future?
The Ruger Precision Rifle's 4140 Chrome Moly barrel is a cold hammer forged, 5R rifled optimized with minimum bore and groove dimensions, minimum headspaced and a centralized chamber. Minimum spec headspace and chambers are always good as they minimize pressure dampening as factory brass expands to fill the chamber and case stretch as the cartridge case stretches to fill the headspace gap. For handloaders, minimal stretch extends brass life by minimizing cold resizing.
The barrel is medium contour, 3/4″ at the muzzle and 5/8″x24 threaded and capped which opens the door to hanging all sorts of things on the end of the barrel; brakes, flash hiders, suppressors. The 5R type rifling offers a number of benefits. Some stated result end up in food fights, so I will stick with those generally receiving concurrence. The sides of the lands are sloped rather than cut perpendicular to the grooves and lands are positioned across from grooves so there are never two opposing lands. The results are reduced bore wear, reduced bore fouling and greater accuracy resulting from reduced bullet and bullet jacket deformation.

A handguard nut screws onto the barrel nut to provide a mounting point for the rifle's floating handguard. The handguard is a 6061 T6 aluminum, Type III anodized piece made by Samson Manufacturing as their Keymod Evolution Series 15. It attaches to the Precision Rifle's handguard nut with splined thermal bushings.
The position of the barrel nut, the handguard nut, the split thermal bushings and the handguard are all timed to one another affecting a very secure fit for the floating handguard.
The Ruger us supplied with components to take advantage of the Samson Keymod feature. Slotted feet on each piece slip into the keyholes of choice in the handguard and are tightened with a hex wrench to secure. Below is a short rail. A conventional sling swivel can be substituted for one of the fasteners to create an attach point on the rail.
A QD sling point is also included that fits the handguard the same way as the accessory rail. There are lots of aftermarket accessories available for this handguard system from hand shields to hand stop/barricade devices. I don't know why this type of hardware interest me so much, but it does. Probably because it adds an element of finesse fitting to firearms and allows me to make changes that would seem minor to others, but would make a big difference to me in use.
Done with Part I and on to Part II…
The Ruger Precision Rifle is all business and not a hardware version of a video game being pushed ahead of " Bro' " marketing. Within a few days, every feature and accessory was put to use with frequency. The Ruger Precision Rifle held up well to handling, required little more than a wipe down and a bore patch to keep it going even after extensive use. The rifle's accuracy made good use of the Creedmoor's potential.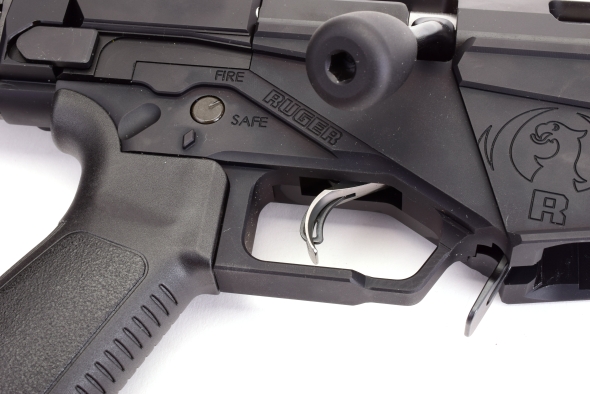 I need to pause and reflect on what I've done to this firearm. Unlike as suggested by this closing image, the Ruger Precision Rifle is laying in piece parts on my bench. Curiosity sometimes get the better of me. I will be back in Part II, fingers crossed, to report how the Ruger Precision Rifle performed with a barrel change and reincarnated as a 243 Winchester. Nifty firearm… and one more time with scope in place.