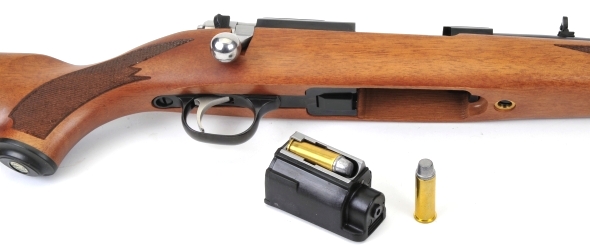 One of the nice things about having a chronograph that functions with an LCD light source is that neither snow nor rain nor heat nor gloom of night prevent clocking bullets… even if the mailman occasionally misses the ride up the mountain road that leads up from the flatlanders. The chronograph needs no other source of light. In fact, the chronograph will even work outside in the rain if I just drape a piece of thin clear plastic over the light diffusers that is long enough to keep water off the sensors and then shoot right through the clear plastic.
The short but interesting story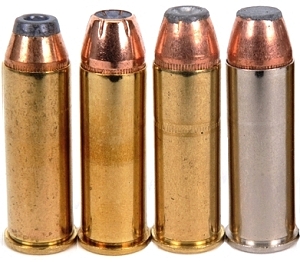 Left: Federal Classic 180 grain, Hornady Custom 180 grain, Federal Fusion 240 grain, Speer Gold Dot 270 grain. Chronographed performance with the Ruger 77/44 alongside a Super Blackhawk with a 4.62″ barrel for comparison.
Ammo

Bullet Weight
Grains
Muzzle
Velocity
FPS 4.6″
Muzzle
Velocity
FPS 18.5″

Δ

Federal Classic

180

1482

2110

628

Hornady Custom

180

1535

2254

719

Federal Fusion

240

1333

1820

487

Speer Gold Dot

270

1227

1593

366
Chambered for the venerable 44 Magnum, there are lots of choices when it comes to factory ammo. There are currently approximately 70 44 Remington Magnum loads produced from a group of 20 manufacturers. Bullet weights range from 180 to 340 grains with cast lead, jacketed and solid copper construction. Some of this ammo focuses on reduced recoil, some top 2,000 ft-lbs of kinetic energy at the muzzle, some penetrate to incredible depths. The extra barrel length really plays to the performance qualities and potential of this ammo, moving the 44 Magnum up a class as a cartridge.
Live fire and handling notes…
It would be very difficult not to like this rifle, especially for someone who likes traditionally styled firearms. It is compact, fast handling, lots of bark, and a bit of recoil to bounce the shooter around to make sure he or she doesn't fall asleep. The model 77/44 is a slick cycling firearm and it never skipped a beat feeding or ejecting. regardless the bullet type leading the cartridge. Changing mags is quick and positive.
I did not mount a scope. The blade front and fold over rear notch are more than sufficient for 100 yard deer hunting and really fast for closer in. Over a rest, at 50 yards even my eyes could keep three shots in an inch or close to it and it was fun. I couldn't help but think what a terrific hog gun this would make if I can ever get my kid in Texas to take a day or two out of his young man's work schedule to go hunting. Good man but he works too hard.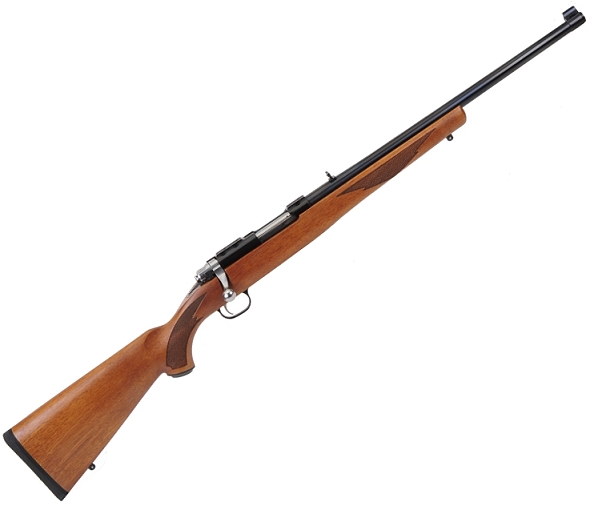 I just sold a bunch of personal firearms that had fallen out of use. I don't really collect, and I am working on a short list of new firearms that will keep me busy and serve my purposes. This Ruger will be on the list because… it is a heck of a firearms… and it has a walnut stock… and its blued… and it shoots the same ammo as my Super Blackhawk.
Ruger's 77/44 Rotary Magazine Carbine Part I
Ruger's 77/44 Rotary Magazine Carbine Part I2