It is midnight and "Into the Badlands" is on TV; not much progress in writing since 7 PM when I was watching the news spin the Republican Presidential Candidate Debate or from 6 AM when I was sucking up coffee in positive anticipation of my eyelids opening. After several range sessions with a 9mm Luger chambered Ruger American Pistol Pro, I am not sure where to jump in, so bear with me while I sort through this. The Ruger American Pro's design is significantly different from other autoloaders, including those made by Ruger, in ways that matter.
The subject pistol is the 9mm 17 round capacity version, however, it is easy enough to include Ruger's nominal specifications for both the 10 round 9mm Luger and 10 round 45 Auto versions as well and follow with more of the subject gun specifics.
The Ruger American Pistol Pro

Model

8605 / 8607
8615

Manufacturer

Sturm, Ruger & Co., Inc.

Point of Origin
Prescott, Arizona

Type

SA Pre-Tensioned Striker

Caliber

9mm Luger

45 Auto

Magazine Capacity

17+1 / 10+1
10+1

Barrel

4.2″
4.5″
Rifling

1:10″

1:16″
Overall Length
7.5″
8.0″
Overall Height
5.6″
5.7″

Overall Width

1.40″

1.40″
Weight Oz.
30.0 Oz.
31.5 Oz.
Sight Radius
6.4″
6.9″

Trigger Pull – Actual

6 Lbs 2

Oz.

NA
Sights
Novak LoMount 3 Dot
Slide Material
Stainless Steel – Black Nitrided
Frame Material
Glass filled Nylon – Stainless Chassis

Grips

S,M,L Inserts Inc.
M & L Inserts Inc.

Thumb Safety

No
No

Key Lock

No
No

Chamber View Port

Yes
Yes

Magazine Disconnect

No
No

MSRP

$

579

–
The Ruger American Pistol design is touted by Ruger as the culmination of interactions with military and law enforcement trainers, firearms experts, distributors and retailer. Participation, came in the form of input, feedback and testing to determine form, functions and features. The product's manual states that the full size Pro version is intended for advanced firearm users as it has an internal striker blocker and passive trigger safety, but no manual thumb safety or magazine disconnect. No doubt, there are additional models to follow in a variety of configurations and calibers.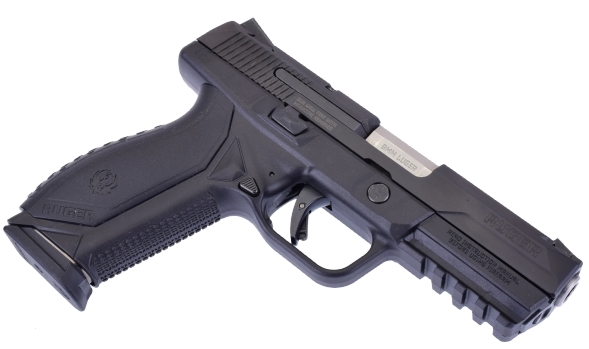 The Ruger American Pistol is not a typical striker in that it is pretensioned rather than preset. Generally, striker actions use slide movement to partially cock the striker and then a long heavy trigger pull is required to finish compression and cocking of the striker before sear release. The American's slide movement fully cocks the striker. Subsequently, the trigger does not play a role in cocking the striker, it only facilitates sear release. As a result, the American Pistol's two stage trigger pull is light; 2 1/2 lbs for the first stage and a crisp 6 1/4 lbs at let off. Trigger pull is short; approximately 0.120″ take up and 0.105″ for the second stage before the trigger comes to rest at an overtravel stop that is integral to the trigger guard. The American Pistol has an exceptional trigger.
Small part, big role requires a big picture
The subject Ruger American Pistol was shot with many types of ammo including subsonic, standard velocity and +P. Bullet type were FMJ, large cavity hollow points, jacketed soft nose, and cast flat nose. The pistol ingested and cycled in all cases without hesitation and properly locked open on empty; the recoil spring rate is a good selection, the chamber entrance is slightly chamfered and polished as is the barrel's feed ram. The notch in the barrel tang permits checking for a loaded chamber with the pistol in battery.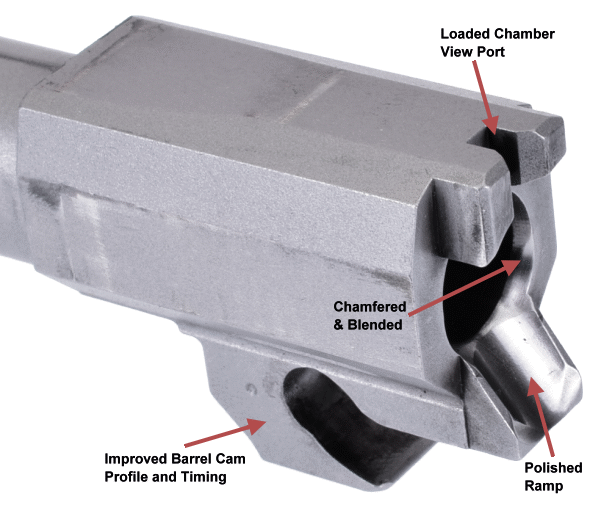 The barrel's cam timing has been significantly improved over other 9mm autoloaders with the results of smoother slide opening and increased duration of the event. Combining this enhanced cam timing with the American's reduced slide mass, low bore axis and reduced slide velocity, the American Pistol has lower felt recoil and less muzzle jump for faster and more accurately placed follow up shots. While I am sure the reductions have been measured with test equipment under controlled conditions, it actually only takes shooting the Ruger American alongside another 9mm autoloader to feel the difference.
Ambidextrous out of the box
With slide stop and magazine latch controls on both sides of the Ruger American, it can be shot either left or right handed. Strategically located raised surfaces on the frame guide the trigger finger to the proper shooting position and away from the mag latch. The latch's springing and frame shielding are more than enough to prevent inadvertent mag release.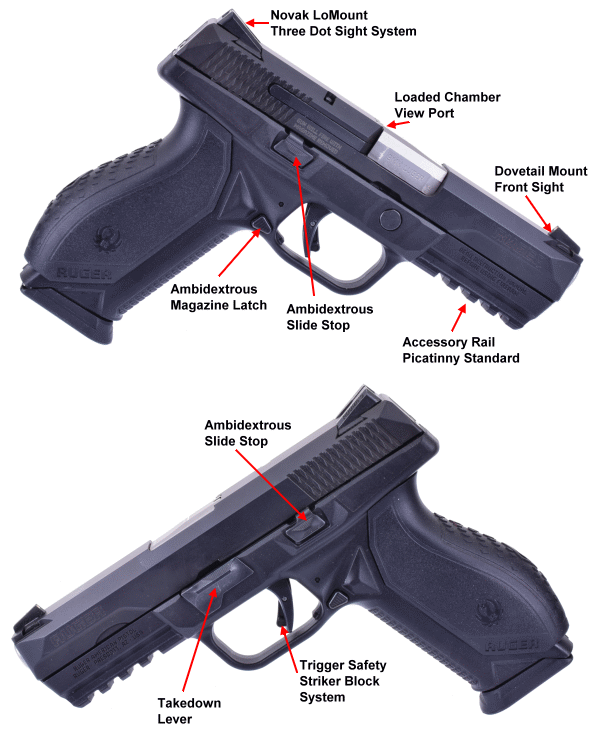 The Ruger American is easy to take down; mag out, slide locked back and chamber checked for empty, the takedown lever is rotated down and the slide is release forward and off. No cocking, no trigger pull, no pins that need a flat punch or special tools for removal.
The Ruger American Pistol's slide is precision machined, black nitrided stainless steel, the barrel is stainless steel and the magazines (2 supplied) are Nickel-Teflon plated steel. The frame is made of glass filled nylon with an internal stainless steel chassis that also forms the frame's slide rails.

The rigid chassis, outlined in red above, is home for modular fire control parts. Accepting that hand sizes vary from shooter to shooter, each American comes with three easy to change grip contours, small, medium and large. Each fills the hand differently and alters trigger reach for optimal fit.
Grip insert change is straight forward. The slide is removed, a fastener accessed through the back of the grip insert is rotated a 1/4 turn with a #10 Torx driver, and the insert unlatches and pops off. The process is reversed for installation. Each spare grip inserts come with a red forming block that remains in place when an insert is not in use to assure the insert will keep proper shape.
.
Above, the exposed frame back with the plastic interlocks that hold the grip insert in place and locking fastener are visible. The other "gunk" appears to be a light silicone based grease. It takes effort to slide the inserts off after they are unlocked and they are very tight when installed. They are tightly seamed and look and feel as they are integral to the frame. The notch at the bottom of the insert is a clearance slot that allows a lanyard to pass through and connect to the frame.
Performance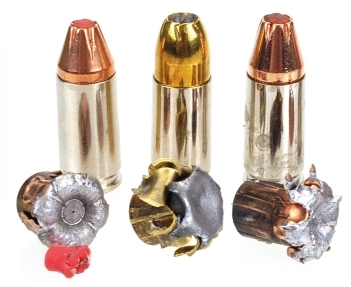 The ammunition appearing on the table below is a good cross section of modern 9mm Luger ammunition. The suppressor ammo was fired just to see if there would be reliable function with mid range bullet weights and relatively low velocity ammunition. The pistol was shot from a steady rest as this is more indicative of the pistol's mechanical accuracy than my influence on the results.
My guess is that if someone still thinks the 9mm Luger is light for self defense, they probably haven't tried some of the current crop of better defensive rounds. Left to right, Hornady Critical Defense, Remington Ultimate Defense and Hornady Critical Duty.
Ammunition Type – 9mm Luger

Pressure
Rated
Bullet
Type
Bullet
Weight
Rated
FPS
4.0″
Actual
FPS
4.2″
50′
3 Shot
Group"

PMC Bronze

Standard

JHP

115

1160

1198

1.2

Hornady Critical Defense

Standard

JHP

115

1140

1181

0.7

American Eagle Suppressor

Standard

FMJ

124

1030

1050

1.0

Remington  Ultimate Defense

Standard

JHP

124

1125

 1171

1.2

Hornady Critical Duty

+P

JHP

135

1115

1132

1.0

Winchester Train & Defend

Standard

JHP

147

950

1011

1.5

All groups shot from a steady rest during the third range session. The Ruger American Pistol is rated for continual use with +P pressure ammunition
Conclusions
The Ruger American Pistol Pro is full size, however, its weight is moderate and the grip that holds a 17 round magazine is not oversized in the least. The Ruger American Pistol feels substantial, almost like an all steel gun in fit and rigidity. The Ruger delivered higher velocity from the same ammo lots and chronograph set up with a 0.050″ shorter barrel. I am not sure if I should attribute that to a better bore finish or the Ruger's unlock timing after discharge.
I believe this new design will prove to be a major step in the right autoloader direction for Ruger. Releasing a Pro version that makes for a good duty weapon is probably a good place to start while tracking market demand for features as the product line evolves. A pistol based upon tons of email receive from readers indicating the features and form desired in an autoloader, would come out looking a whole lot like the Ruger American Pistol. The trigger quality alone is enough to distinguish the Ruger American Pistol from competing products.