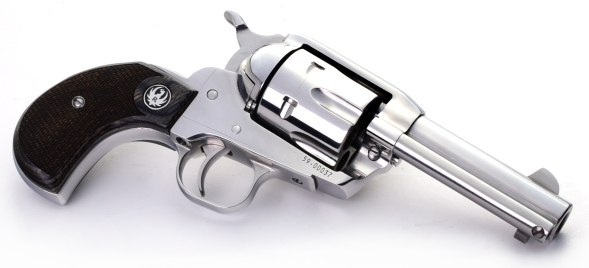 Ruger's 44 Magnum Birdshead Vaquero TALO exclusive is a stout firearm. Built on a large Vaquero frame, this highly polished, precision machined stainless steel revolver does not feed itself, empty itself or cock its own hammer. There are no adjustable sights and its grip frame is curved in a bird's head form to aid in its concealment. Powerful and compact, it is a short barreled handful that takes a skilled, experienced shooter to extract its potential. In short, a terrific firearm.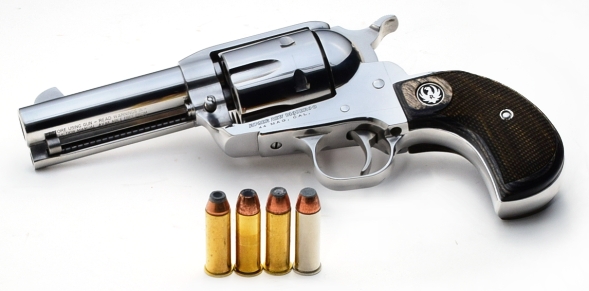 While the 44 Magnum Vaquero is simple in design and operation, it is not primitive. The materials are modern as is the manufacturing technology employed in its production. The major castings are clean, the pieces parts are clean, fit and finish is exceptional and function of moving parts and assemblies is precise. Ruger has been making large bore birdshead revolvers for over fifteen years, so there is a great deal of experience in support of this model, with the 44 magnum version joining a group of distributor exclusive 45 Colts and a 22 LR Bearcat.
Unique Features
Birdshead grips have been around for a very long time. Probably a carry over from walking canes where the grip is intended to place the load on the shaft of the cane. Early flintlock pistols did the same where the crest of the radius put the web of the shooters hand at or above bore centerline. As cartridge breech loading pistols came into place, grips dropped lower from bore centerline to facilitate loading until the primary utilities of a birdshead became concealment and compactness of design. Cities were growing, concealment became of consequence in polite society, birdshead grips had their place where concealment was a priority.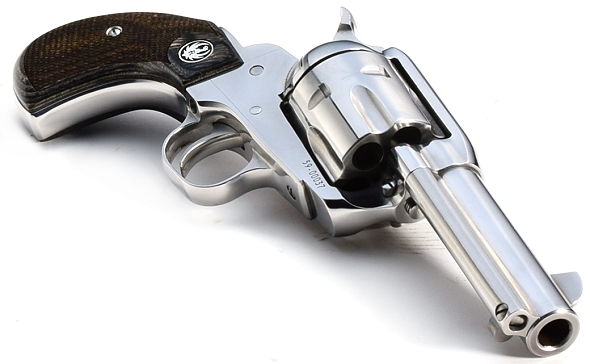 The trade off with small grips is… a small grip and the thought of pulling chronograph and accuracy data with live fire was not without a sense of trepidation. Fortunately, the grip fit proved not to be a problem, however, it did prove to be different. I was able to fit two fingers on the front strap and curl my pinky under the frame for support; to this point not much different than holding a compact pistol. However, the long curve of the backstrap is quite palm filling even if a bit narrow. I found it to be comfortable under recoil, even with heavy loads, coming straight back into the palm and remaining quite level for follow up shots without a shifted grip. Also, lots of finger/trigger guard clearance so no trace of knuckle wrapping.
This Vaquero has a 3.775″ barrel when measured from muzzle to barrel protrusion through the frame. I believe this is Ruger spec'd as a 3.75″ barrel. The portion of the barrel forward of the frame that determines maximum ejector housing length is approximately 3.062″, subsequently a bit of adjustment was required to give the ejector rod enough stroke to pop out empties. The head of the base pin on this model Vaquero is shorter than standard to allow greater ejector rod travel and to arrive at a 2.335″ ejector stroke as seen above, left. Above right, maximum case ejection at full rod travel.
Overall fit and finish
Ruger TALO Birdshead Vaquero

Manufacturer

Sturm, Ruger & Company, Inc.

Model

Birdshead Vaquero

Model# / Catalog #

10596 /

KBNVBH-443
Action
Single Action – Large Frame

Caliber

.44 Magnum

Capacity

6

Barrel Length

3.75

"

Twist Rate

1:20″

Weight

39 Oz.

Overall Length

9.0″
Grips

Black Laminate – Checkered

Hardware

All Stainless Construction

Sights

Integral Rear – Blade Front

Trigger Pull

*4 lbs. 7 oz.

Safety

Transfer Bar

MSRP

$832

* Actual weights and measures
The Ruger 44 Magnum Birdshead Vaquero was found to be tightly assembled. Cylinder gap measured 0.005″, there was no perceptible cylinder end shake and cylinder rotational play in lock up was less than 0.003″. A range rod passed cleanly through the revolver's bore and into each chamber without interference. Throat measurement checked 0.4295″ on all chambers. Trigger pull was smooth, short and with minimal creep. Pull checked 4 lbs 7 oz. The revolver was essentially the same after completion of live fire.
Stainless castings were found to be of good quality with no signs of porosity. Stainless components were polished to an even high gloss without over rounding of edges or screw holes. Small parts were clean without rough parting lines or gate marks and there were no visible tool marks present on any visible surfaces. The action was very crisp.
Live fire…
The Ruger put up very good velocity numbers. Contrary to what is often stated, revolvers do not follow a strict correlation of longer barrel length equaling higher velocity. Cylinder gap has a bearing on velocity as does how long a bullet remains in a barrel to promote gas bleed at the cylinder gap. The revolver was shot from a steady rest to check mechanical accuracy. I was able to shoot the Vaquero accurate from a two hand hold, but I was unable to duplicate the accuracy of the rest due to the revolver's short sight radius and my rhino like vision.
Ammo

Bullet Weight
Grains
MV
Recorded
FPS
ME
Ft. Lbs.
50′
3 Shot
Groups "

Federal Classic

180

1488

885

1.1

Hornady Custom

180

1577

994

1.2

Federal Fusion

240

1319

927

0.9

Speer Gold Dot

270

1141

781

1.3
The combination of high front sight and grooved top strap placed the grip high in my hand with proper wrist alignment. The hold was comfortable aiming and shooting, however, the low grip put my thumb relatively far from the hammer; short, stubby thumbs. The birdshead Vaquero has a low hammer that shortens the required thumb reach over a standard hammer.
Conclusion
Big cartridge, little gun, good shooter. I can't speak for SASS applications and I do not concealed carry a single action revolver. However, in my world this would make a terrific companion firearm for a big game hunter, wilderness hiker or fisherman. The Ruger Birdshead Vaquero is light in a holster and carries out of the way, but it brings a good deal of power when needed. Nicely done by Ruger and certainly a good looking firearm.