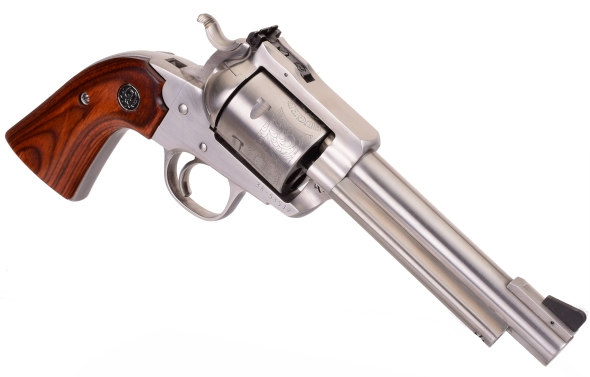 Ruger seems a company that is in hyper drive when it comes to new products and near endless configurations of products. Additionally, Ruger has not shied away from the industry tradition of producing exclusive models for larger distributors. The subject Ruger is from such a distributor exclusive run, AcuSport, and is no longer in production, but available on the used firearm market.
Ruger Bisley Blackhawk

Company

Sturm, Ruger & Co.

Point of Manufacturer

Newport, NH

Type of Action

Single Action Revolver

Caliber

41 Remington Magnum

Capacity

6

Barrel Length

5.5

Construction Material

Stainless Steel

Finish

Satin

Rifling Twist Rate

1:20″ RH

Grips

Rosewood

Front Sight

Ramped – Serrated

Rear Sight

W/E Adjustable

Weight of Firearm

47.6 Ounces

Overall Length

12″

Overall Height

5.75

Width

1.740″ – Cylinder
With a 5.5″ barrel, the Ruger Bisley is hefty, but well balanced. 6″ guns tend to be muzzle heavy, progressively so as more inches are tacked on.
The 41 Magnum's cylinder is the same diameter as the big 454 Casull and 480 Ruger Super Blackhawks, however, a bit shorter at 1.680″ compared to the Super Blackhawk at 1.780″. Where the bigger bore aft chamber outer wall thickness is 0.063″/480 Ruger, 0.076″/454 Casull, the 41 Magnum version is a stout 0.112″. All good points for the handloader.
The Bigger bore versions are made from Carpenter Custom 465® stainless to withstand high pressure against thinner cylinder walls and their cylinder notches are between chambers.
Handling
Over the years, I've come to appreciate the Bisley grip and low profile hammer. The combination of the two allow me to grip with a straight wrist, pull with a nearly straight extended finger and thumb the hammer without shifting the revolver. I've actually come to like the birdshead grip with an accumulation of shooting experience.
This particular Ruger Bisley has been shot a bit. The trigger has virtually no creep, the break is clean and pull is an amazingly consistent 4 Lbs 6 Oz. Cylinder fit, including base pin, is tight. Cylinder gap is approx 0.005″, enough to prevent binding with a little powder residue but tight enough to minimize gas leak. Loading is easy, ejection is easy, the loading gate closes tightly.
The 400 Eimer… really?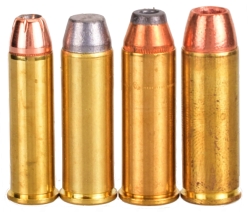 Everyone knows the provenance of the 41 Remington Magnum. Just ask s dozen firearm enthusiasts… and you'll get a dozen different answers. Beginning somewhere around 1924 and 1964 when Smith & Wesson and Remington collaborated to produce the 41 Magnum, the were many 40 caliber performance rounds; 400 Eimer, 401 Herter, 401 Colt Special, the 400 Colt… many.
The 41 Mag fits in well with the single action line up; 357 Mag, 41 Mag, 44 Mag, and 45 Colt. The 41 Mag has significantly more power than the 357 Mag, a certain kill on deer size game and a wilderness defense cartridge, easier shooting than the 44 Mag or full tilt 45 Colt loads.
What kind of music can this combination make?
41 Remington Magnum 180 Grain
Range
0
50
100
150
Velocity – fps
1610
1373
1186
1057
Energy – ft.-lbs.
1036
753
562
447
Momentum – lbs-sec
1.28
1.09
0.94
0.84
Path – in.
-1.5
2.5
1.8
-5.0
There are factory light bullet loads as above, that are sufficient in power for deer size game, out to 150 yards with flat trajectory. Recoil is modest, muzzle jump is manageable and accuracy is excellent. The 41 Mag can be loaded up in bullet weights to 265 gains and 300 grains, shed a little velocity, but can hole punch an oak tree.

The plan is to round up components, crank out some handloads and see what we can make happen.
Ruger's Power House 41 Mag Bisley Blackhawk Part 1
Ruger's Power House 41 Mag Bisley Blackhawk Part 11