Baked breaded chicken thighs are on tonight's dinner menu, so it is already an eight on a scale ten kind of day. Dinner selection is part of breakfast table conversation, which is ironic in that breakfast menu determination is made at the dinner table. Why all of the meal banter? Because my wife and I are on restrictive diets, so we begin each conversation with exotic menus and rich foods, work toward basic Americana or Italiano table fare and end up with a chicken and vegetable substitute for red meat. So chicken it is… then around midnight I grill and devour a juicy rare sirloin burger. It's a process.
A striker with a trigger instead of elastic bands…
After spending a good deal of time shooting the 9mm Luger version of the Ruger American Pistol Pro, I was looking forward to spending time with the 45 Auto version. The Ruger American Pro's design is significantly different from other autoloaders, including those made by Ruger, and in ways that matter.Subsequently and indubitably and in the absence of the 9mm Luger… the 308 Winchester of pistol cartridges, the 45 Auto version could only be the object of positive anticipation. Sorry, my wife and I have been watching Masterpiece Theater on Netflix until Game of Thrones returns.
Both the 9mm Luger and 45 Auto specification appear on the table below for the sake of comparison. The 45 Auto version is slightly larger than the 9mm Luger version, the result of a 0.300″ longer barrel and slide assembly and a 0.100″ increase in overall height to accommodate the larger caliber cartridge. One 9mm Luger model has significantly higher capacity, much of the rest is the same:
The Ruger American Pistol Pro

Model

8605 / 8607
8615

Manufacturer

Sturm, Ruger & Co., Inc.

Point of Origin
Prescott, Arizona

Type

SA Pre-Tensioned Striker

Caliber

9mm Luger

45 Auto

Magazine Capacity

17+1 / 10+1
10+1

Barrel

4.2″
4.5″
Rifling

1:10″

1:16″
Overall Length
7.5″
8.0″
Overall Height
5.6″
5.7″

Overall Width

1.40″

1.40″
Weight Oz.
30.0 Oz.
31.5 Oz.
Sight Radius
6.4″
6.9″

Trigger Pull – Actual

6 Lbs 2

Oz.

5 Lbs 12 Oz.
Sights
Novak LoMount 3 Dot
Slide Material
Stainless Steel – Black Nitride
Frame Material
Glass filled Nylon – Stainless Chassis

Grips

S,M,L Inserts Inc.
M & L Inserts Inc.

Thumb Safety

No
No

Key Lock

No
No

Chamber View Port

Yes
Yes

Magazine Disconnect

No
No
CA Approved
No
No
MA Approved
No
No

MSRP

$

579

–
The Pro version is intended for advanced firearm users as it has an internal striker blocker and passive trigger safety, but no manual thumb safety or magazine disconnect. No doubt, there are additional models to follow in a variety of configurations and calibers. I am thinking that "advanced" user is one who is technically proficient in the use of a firearm and practices safe handling… which should probably be anyone shooting any firearm.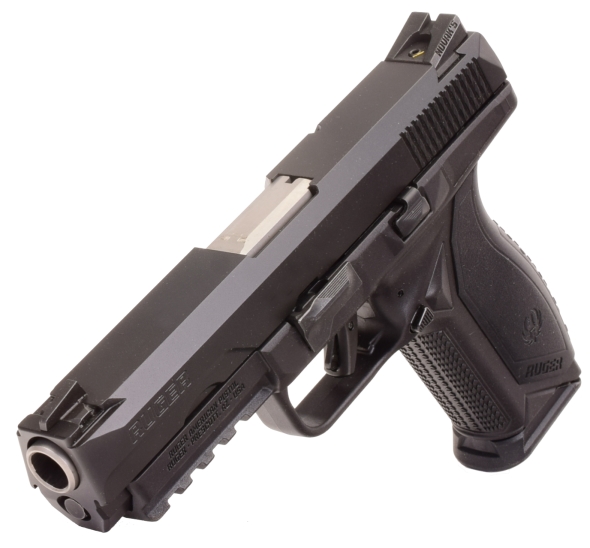 The Ruger American Pistol is not a typical striker in that it is pretensioned rather than preset. Generally, striker actions use slide movement to partially cock the striker and then a long heavy trigger pull, something akin to pinching a sprung clothespin, is required to finish compression of the striker. The American's slide movement fully cocks the striker. Subsequently, the trigger does not play a role in cocking the striker, it only facilitates sear release. As a result, the American Pistol's two stage trigger pull is light; 2 1/2 lbs for the first stage and a crisp 6 1/4 lbs at let off. Trigger pull is short; approximately 0.120″ take up and 0.105″ for the second stage. The trigger feel is exceptional.
Softened recoil and points of reliability
Ruger's manual states that the American Pro is compatible with all factory ammunition of the correct caliber loaded to U.S. Industry Standards, including high-velocity and hollow-point loads, loaded in brass, aluminum, or steel cartridge cases. No ammunition manufactured in accordance with NATO, U.S., SAAMI, or CIP standards is known to be beyond the design limits or known not
to function in these pistols. That is what I would call a statement of well founded confidence.
The Ruger American Pistol digests about anything it is fed. It was shot with many types of ammo including subsonic, standard velocity and +P. Bullet type were FMJ, large cavity hollow points, jacketed soft nose and flat nose cast. The pistol cycled in all cases without hesitation and properly locked open on empty; the recoil spring rate is a good selection, the chamber entrance is slightly chamfered and polished as is the barrel's feed ram. The notch in the barrel tang permits checking for a loaded chamber with the pistol in battery.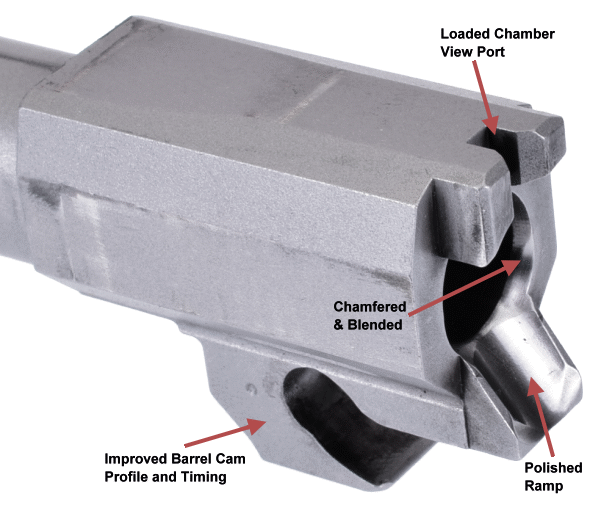 The barrel's cam timing has been significantly improved with the results of smoother slide opening and increased duration of the event. Combining this enhanced cam timing with the American's reduced slide mass, low bore axis and reduced slide velocity, the American Pistol has lower felt recoil and less muzzle jump for faster and more accurately placed follow up shots. It is a soft shooting 45 Auto.

The glass filled nylon grip frame holds a rigid stainless steel chassis, outlined in red above, which is home for modularized fire control parts. Accepting that hand sizes vary from shooter to shooter, each American comes with two easy to change grip contours, small, medium and large. Each fills the hand differently and alters trigger reach for optimal fit.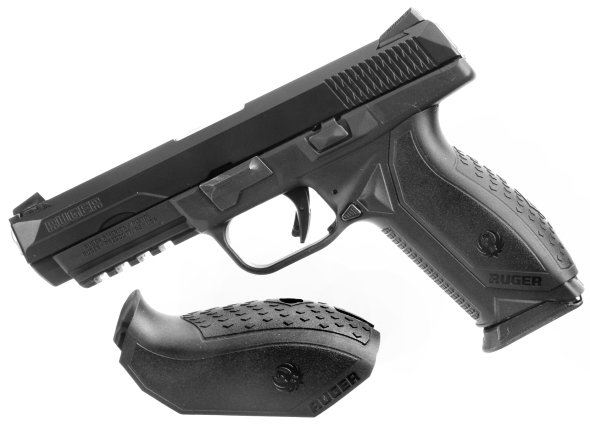 To help the shooter get his or her trigger finger positioned properly and to get a firm grip on the situation, the 45 Auto version comes with medium and large grip inserts, one less than the 9mm version which also gets an additional small insert. My guess is that the 9mm cartridge dimensions permits the use of a smaller grip where the 45 Auto version does not. In any event, one or the other insert contours provides sufficient purchase with the 45 Auto.
Above, the exposed frame back with the plastic interlocks that hold the grip insert in place and locking fastener and a bit of silicone based grease are visible. It takes effort to slide the inserts off after they are unlocked and they are very tight when installed. They are tightly seamed and look and feel as they are integral to the frame. The notch at the bottom of the insert is a clearance slot that allows a lanyard to pass through and connect to the frame.
A short break while waiting for some specific types of defense ammunition to arrive for a wrap up. In the mean time, try listening to these and let you know what you think… Tedeschi Trucks Band The Sky is Crying, Etta James I'd Rather Go Blind or, better yet, Tom Waits Chicago.
The Ruger American Pistol Pro in 45 Auto Part I
The Ruger American Pistol Pro in 45 Auto Part II