It's April in Maine. A few days ago the overnight temperatures were in the 62ºF to 68ºF. Last night that range dropped to 30ºF to 38ºF and in the morning there was snow on the ground. Maine is a pretty state with lots of woodland and mostly interference-free living, but I have to say my wife and I could use a little more sunshine and fewer physically demanding winters. At least in Alaska you can burrow in for the winter and not come out to clear walkways, drives and building for UPS delivery and supermarket access during and after every snowfall. I can almost hear Alaskans correcting my perceptions.
A 22 rimfire rifle is an incredibly useful firearm; marksmanship training, self-defense, food on the table. The fact that rimfire rifles and ammunition are still relatively inexpensive and both are light to carry, only enhances the usefulness of the combination. In fact, in a wilderness setting, sustenance hunting is often 1% brown bear and moose, 20% deer and 79% bunny rabbit, birds and squirrel.
The use of a silencer, where legal for hunting, further extends a 22 rimfire rifle's utility. A silencer in concert with a bolt action rimfire is as close to Hollywood silencing as possible. Situated in dense timber and or brush, it is possible for hunt small game without the first shot driving all surviving animals to seek refuge in the next county. According to the American Suppressor Association, 42 states currently permit citizen ownership of suppressors and 39 of them allow use while hunting.
Ruger, with its application-oriented bent, offers numerous combinations of rimfire pistols and rifles, along with a very effective silencer in combinations to suite many applications. The subject rifle is a Ruger American Compact with threaded barrel and the silencer is the Ruger Silent-SR.
General information before we thin out the herd…
The Ruger American rimfire is priced moderately, accurate rimfire, available in 22 LR, 17 HMR and 22 WMR, in both full size and compact versions and with synthetic and wood stocks. The subject rifle is chambered for the 22 LR, it has a 22″ barrel and the added feature of a suppressor ready 1/2″-28 muzzle threads.
Ruger American Rimfire™ .22 Long Rifle

Manufacturer

Sturm, Ruger & Company. Inc.

Model

08305 Standard

8306 Compact

Caliber

.22 Long Rifle

Magazine Capacity

10

Stock

Molded Synthetic

Hardware

Blued Alloy Steel

Barrel Length

22″

18″

Twist Rate

1:16″ RH 6 Groove RH

Muzzle threaded

1/2″-28

Weight

6 Lbs

5.38 Lbs

Overall Length

41.00″

35.75″

Pull

13.75″

12.50

Drop at comb

1.26 (1.84 high Comb)

Rear Sight
Folding Adjustable "V" slot

Front Sight

Williams Fiber Optic

Scope D&T

3/8″ Grooved and #12 Weaver

Trigger Pull

Adjustable 3

lbs. – 5 Lbs.

MSRP

$389

–2 Interchangeable stock modules included
Stock modules included with the compact model provide a 12.5″ length of pull. The low comb version is 1.26″ high and the high comb version is 1.84″ high; open sights and scope use respectively. For folks who wish to extend pull length, the Ruger Store offers module #90431 for low comb and 13.75″ length of pull, #90432 for the high comb long pull version. The cost for any module is $19.95. Time to swap out is approximately 2 minutes so modules can be changed to suite the shooter and the sight system. And now, Random Facts!
Ruger's Marksman™ Adjustable Trigger
The American Rimfire's trigger pull is adjustable within a range of 3 to 5 pounds. Adjustment is affected by turning the socket screw at the front of the trigger housing appropriately in or out. The trigger pull is smooth crisp and creep free. A very good trigger.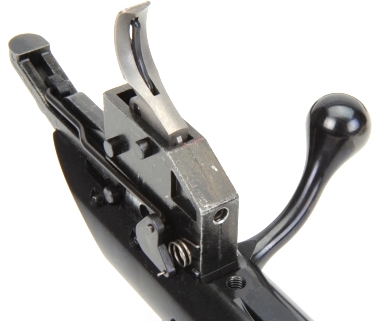 A hinged trigger release lever passes through the face of the trigger. Its job is to block the trigger until the release lever has been depressed by a shooter's trigger finger; a safeguard against dropped firearm induced accidental discharge… Great news for DFIAC sufferers.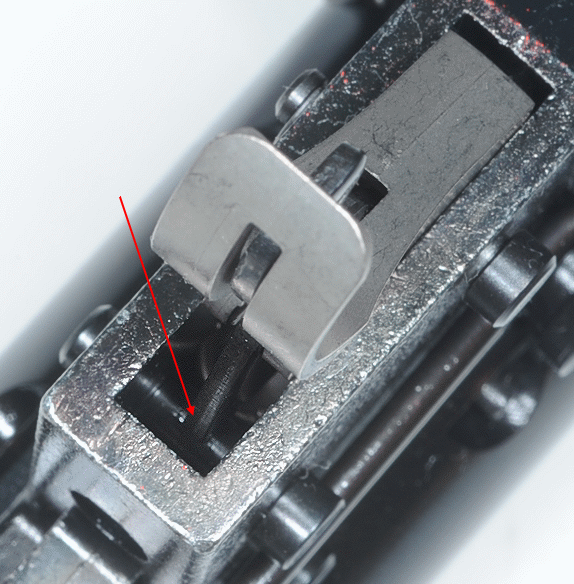 Above, a clean implementation of a safety feature. The lever is hinged to the trigger and spring loaded in an extended position. In this position, the heel of the lever rests on a steel cross pin (arrow), which blocks trigger movement. When the lever is depressed by trigger finger contact, the heel of the lever is pulled forward, away from the cross pin, which allows the trigger to travel rearward. No complex linkage, no interaction with the sear, just a very simple but effective trigger block.
Ruger American Rimfire's version of Ruger Power Bedding®
Anyone who has experience with Ruger American centerfire rifles knows they can demonstrate remarkable accuracy in skilled hands. Ruger accomplished this by going to V block bedding where support is at very specific points on the action and the rest floats, as seen immediately below.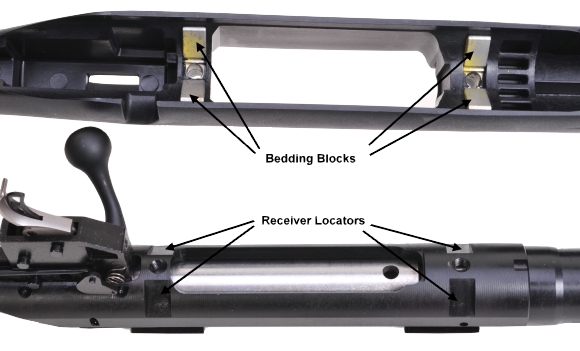 The American Rimfire, below, has a similar system. The front recoil lug provides a V Block system of support for the forward portion of the rifle's action. However, rather than V Blocks, the rear bedding block supports the action at two elongated contact points along the action's radius. The very bottom of the action is formed as a flat and does not contact the bedding block. The effect is about the same as the V Block setup. The rear bedding block also provides support for the rifle's blade ejector.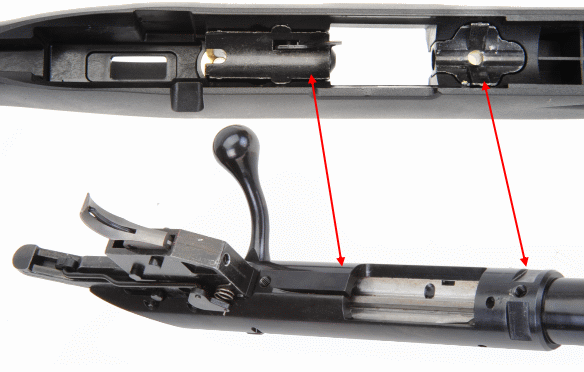 The Ruger American Rimfire's 22″ barrel is a tight press fit and pinned to its receiver. The overall assembly is very rigid. The American's longish sight radius makes precision shooting with open sights relatively easy.
Exciting cites regarding sights… on this site
The American Rimfire is supplied with open sights. The rear folding sight insert has a small 0.070″ "U" shaped aperture and is adjustable for elevation. Windage adjustment may be accomplished by drifting the rear sight.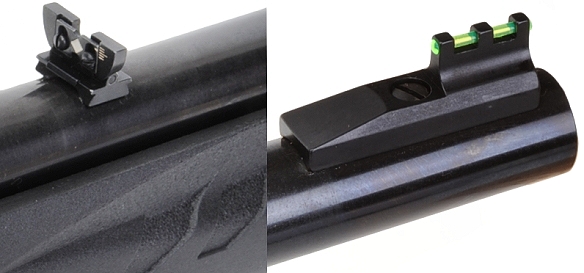 The front sight is a popular Williams fiber optic, a light pipe. It collects ambient light and presents it as a bright green 0.072″ dot that stands out in high contrast against virtually any background. Both the U notch and front light pipe are small enough to not obscure a fifty yard target. But what if you want to take shots at running field mice at 500 yards? Glad you asked…
I fell into a burning ring of fire….
The Ruger American rimfire gives shooters two ways to set up a scope. Probably many more for folks who don't read instructions. The top of the receiver is drilled and tapped to accept centerfire type Weaver #12 bases, however, the receiver is also grooved to accept standard 3/8″ high crown direct mount rings and devices, as pictured below. My preference would be to use Weaver #12 bases as the most secure mount system and because they offer the greatest selection of ring types.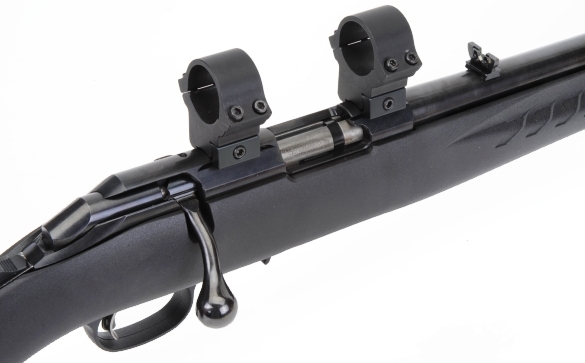 Proper rings for 3/8″ high crown applications are available from quality suppliers. For best fit and scope mount stability, it would be wise to avoid compromise products where 3/8″ high crown, 3/8″ low crown and 11mm air rifle receivers are serviced by the same part number. SAAMI drawing 6-140.03highlights some of the 3/8″ grooved receiver dimensional differences. When in doubt, Ruger customer service and suppliers like Brownells can provide guidance.
The older I get, the less experience I have with combs…
Ruger has always been one of those form-follows-function companies that invests heavily into the nuance of their product. The whole reason for writing the previous sentence was to create an excuse to use the word "nuance". Nuance sounds almost French, which makes me feel almost European, which suggest I might wake up to find I have a different president and I am not a fan of the NY Giants. Which is, of course, code for saying that the Ruger American Rimfire comes with two adaptive stock modules to support your Brobdingnagian noggin. Now I feel Irish.
Interchangeable stock modules are removed by simply unscrewing and removing the rear sling swivel stud and pulling the module from its interlocking recess in the main body of the stock and reinstalled by reversing the process. The standard comb is used with metallic sights and similarly low mounted accessory sights. The standard high comb module is used for more traditionally mounted rifle scopes. Ruger put a lot of thought into this very useful feature and extends its flexibility by offering compact versions of both for reduced pull length where useful. Modules are available from the Ruger Store for folks who want to reconfigure between standard and compact rifle pull length. Yes, I know I eluded to all of this earlier, but this presents a great opportunity to insert a dramatic, tabular table.
Stock Module

Type

Comb
Height
Length
Of Pull
Retail
Price

90431

Low Comb Standard Pull

1.26″

13.75″

$19.95

90432

High Comb Standard Pull

1.84″

13.75″

$19.95

90433

Low Comb Compact Pull

1.26″

12.50″

$19.95

90434

High Comb Compact Pull

1.84″

12.50″

$19.95
Clean lines and rotary magazines…
The Ruger American Rimfire utilizes Ruger's rotary magazine feature as found on its M77 and 10/22 rotary magazine fed firearms. The design is compact, so ten rounds fit without the magazine protruding from the underside of the rifle. The separation of cartridges within the magazine make for reliable feed. The American Rimfire accepts all 10/22 rotary magazines including the BX-1 10 round, BX-25 25 round and BX-25×2 50 round. The 22 Magnum version accepts JMX-1 9 round magazines.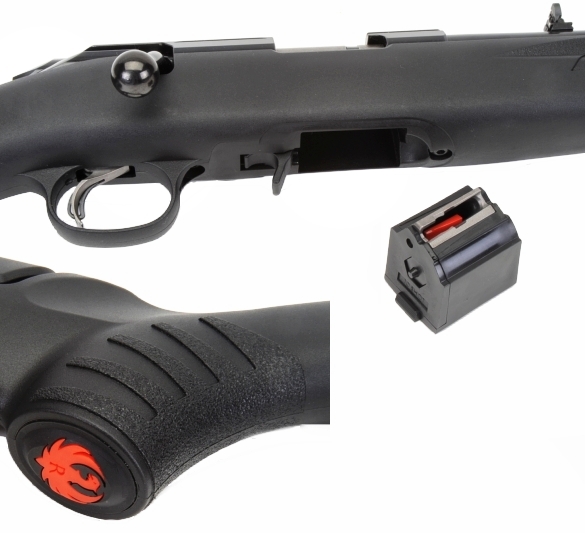 The American's stock has a very nicely done sculptured look. Raised serrations at the grip and forearm replace checkering for a better grip, even under adverse weather conditions. The stock geometry is very good for a rifle that will probably be shot from various shooting positions. The tang safety is a nice touch and easy to use without shifting grip.
I like to write… it's the only place I am assured the last word
Ruger did a good thing with the introduction of the Ruger American Rimfire series. I can't say it made me taller, handsome or fixed my wobbly desk chair, but I can say the American is a quality rimfire rifle for grown up and young shooters; hunting, plinking and recreational target shooting. It is accurate, reliable and an all-around nice rifle. But there is more…much, much more.
Would you like fries with that burger?
Ruger seems to work diligently to extend the reach of their brand. No, no one at Ruger has made that assertion to me, but I noticed they put threads on the end of rimfire pistol and rifles barrels, then they designed and manufactured a silencer to screw onto the threaded barrel. Some say kismet, other's say pish-posh. I say if parts of a system are put in public view, people are going to buy the pieces to build that system. In the case of this Ruger designed and manufacturers silencer, that would be a good move. Why Joe? Why?
Model

Ruger Silent-SR

Model #

19000

Calibers

22 LR, 22 WMR, 17 HMR

Weight

6.3 Oz

Length

5.37″

Tube Diameter

1.06″

Tube Material

Titanium
Front Cap
Stainless Steel

Baffles / Front Cap

Stainless Steel
Rear Cap
Aluminum

Rear Mount

Stainless Steel

Sound Pressure Reduction

Up to 40 dB

MSRP

$

449
The Ruger Silent-SR is a simple assembly, no Nielson type device required. The tool supplied with the silencer, below far left, is used to remove the rear cap, pictured below the tool. Once removed, the baffle system drops out of the back then (front to rear) breaks down into 5 baffles, 1 blast baffle and 1 muzzle mount at the aft end. No tools were required to break this down or reassemble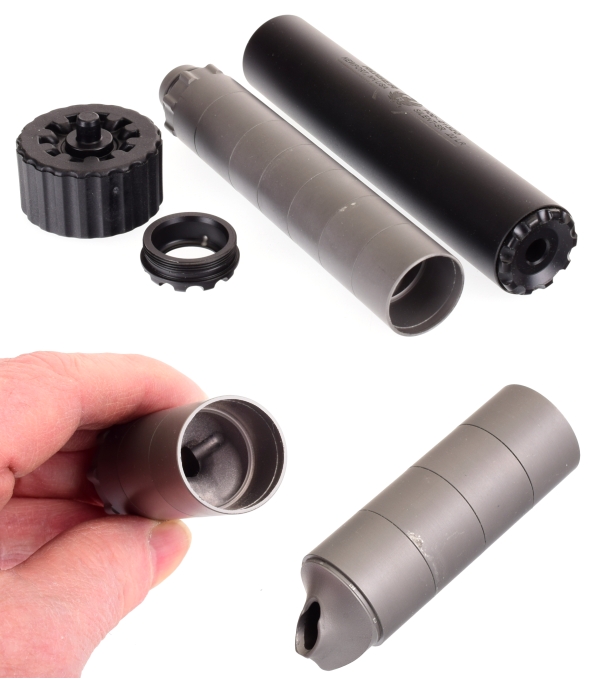 Reassembly is easier than most with baffles interlocking, but not requiring indexing, which makes which greatly simplifies cleaning. Despite its simple design, the Ruger Silence-SR reduces sound pressure by 40 dB, something the Advanced Armament Corps' multicaliber Illusion 9 can't do even wet, and it matches the Aviator 2, a larger and more complex silencer than the Ruger piece. Below, top to bottom: Ruger Silent-SR, Advanced Armament Corp's Aviator 2 and Silencerco's Spectre 22.
There you have it, the Ruger American Rimfire rifle and the Ruger Silent-SR. I apologize for not tap dancing, having head banging background music or presenting this in YouTube narrative. However, I am old and set in my ways and I kind of like the notion of speaking to people on issues of common interest rather than making myself the center of focus of a production. See you soon with Part II which I have titled… Part II.

The Ruger Silent-SR'd American Rimfire Part I
The Ruger Silent-SR'd American Rimfire Part II