Redhawk

Company

Sturm, Ruger & Co. Inc.

Point of Manufacturer

Newport, NH

Model #

5034

5031

Type of Action

Double Action Revolver

Caliber

41 Remington Magnum

Capacity

6

Barrel Length

2.75″

4.20″

Rifling Twist Rate

1:20″ RH

Construction

Stainless Steel

Grips

Hardwood

Front Sight

Ramped – Red Insert

Rear Sight

W&E Adjustable

Weight of Firearm

43.5 Oz.

48.0 Oz.

Overall Length

8.25″

9.50″

Overall Height

5.60

Width

1.780″

Key Lock

No

CA Certified

No

MA Certified

No

MSRP

$1,085

Available to FFL dealers exclusively through Ruger's distributor, Davidson's.
When this project was in process, I made comment about controlling all of the variable as much as possible and using as meaningful a basis for comparison as possible. Someone said, "The only way to do a scientific assessment is to cut back the barrel an inch at a time because no two barrels are alike. The differences in performance would be masked by barrel manufacturing variances, so the same barrel is used for all tests". My thought was, and remains, that those comparisons would only apply to consumers if they all bought long barrel handguns and cut them back an inch at a time.
The most meaningful comparison of long and short barrel revolvers is to use representative examples of what the consumer would see and then plot enough data points to overwhelm the anomalies resulting from minute barrel interior dimensions, throat and forcing cone variations, cylinder gap variations, 3% chronograph reading variances, ammunition performance variances, the ranges of barrel and ambient temperatures, and air density. Even then, conclusions could only be expressed as trends and averages, but useful information none the less.
A few reference dimensions and a note on other shorter/longer barrel differences…
For reference sake and of no significant consequence – Model 5031, 4.2″ barrel cylinder gap measured 0.008″. Model 5034 2 3/4″ barrel cylinder gap measured 0.007″. Model 5031 barrel groove diameter measured 0.4090″, model 5034 barrel groove diameter measured 0.4092″; 41 Rem Mag SAAMI spec is 0.409″ +0.003″/-0.000″.
SAAMI Spec for 41 Rem Mag chamber diameter just aft of the cylinder face is 0.410″ +0.004″/-0.000″. Model 5031 chambers measured: 0.4105″, 0.4105″, 0.4105″, 0.4105″, 0.4105″, 0.4100″. Model 5034 Chambers measured: 0.4105″, 0.4105″, 0.4105″, 0.4105″, 0.4110″, 0.4105″.
The Model 5031 4.2″ gun, like the Model 5034 has a full grip frame, rather than a peg grip like the other Ruger revolver product lines. However, the Model 5031 has a square rather than round butt grip frame. The Monogrip on the 4.2″ gun is lower at the trigger guard than the Super Redhawk and perhaps a little shorter on the front side. Still, it is a good grip and it gives the Redhawk a natural point and a comfortable hold for shooting potent 41 Rem Mag rounds.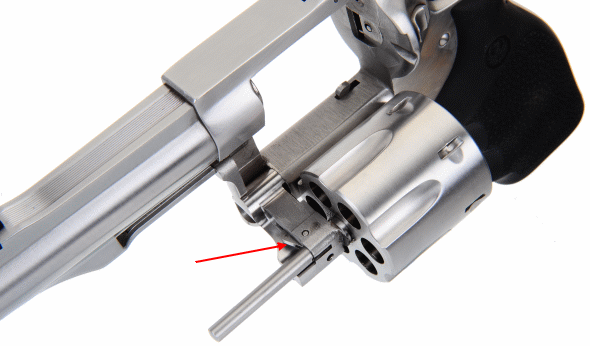 The Ruger Redhawk locks the cylinder at three points, the front is a retracting tab that locks the crane to the frame. Big cylinder, thick chamber walls, very stout frame; all add up to easily handle magnum loads and provide major durability.
Shots fired, no chop saws at work, no drama…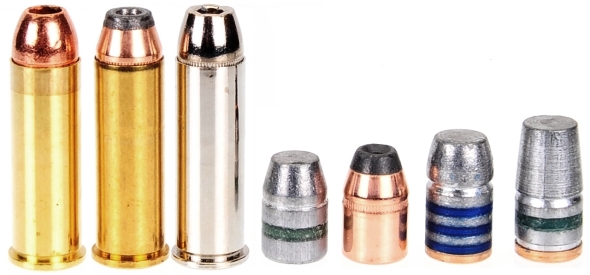 For our purposes, the above were selected as representative of popular factory loads and four popular component bullets for handloading: Left to right – Barnes Vor-TX 180 grain, Federal Power Shok 210 Grain, and Winchester Platinum Tip 240 grain… all are primarily hunting rounds with tough, expanding bullets. Bullets: Hunter's Supply 200 grain, Nosler 210 grain, Cast Performance 250 grain, was True Shot 265 grain… all hard cast and primarily bullets intended for hunting. Handloads were narrowed to what yielded the best performance and most consistent results.
Warning:

Bullet selections are specific, and loads are not valid with substitutions of different bullets of the same weight. Variations in bullet length will alter net case capacity, pressure and velocity. Primer selection is specific and primer types are not interchangeable. These are maximum loads in my firearms and may easily be excessive in others. All loads should be reduced by 5%, and developed following safe handloading practices as represented in established reloading manuals produced by component manufacturers. Presentation of these loads does not constitute a solicitation for their use, nor a recommendation.


Cartridge: 41 Remington Magnum

Firearm: Ruger Redhawk

Max COL: 1.590″ (Exceptions noted)

Bullet Diameter: 0.410″

Primer: CCI 350

Barrel: 2 3/4″ & 4.2″

Reloading Dies: Lee Precision

Max case length: 1.290″

Note: 265 Grain easily clears the Redhawk 1.750″ cylinder length

COL and Capacity

Load Data & Performance

Bullet Type

Bullet
Weight
C.O.L.
Inches
Case
Grains
Water

Powder

Charge
Grains
Muzzle
Velocity
FPS 2.7″
Muzzle
Velocity
FPS 4.2″
∆
FPS
∆
%

Hunters Supply FP

200

1.555

23.3

Lil' Gun

22.5

1313

1441

110

8.4

Nosler HP

210

1.580

22.1

Lil' Gun

21.0

1244

1403

159

12.8

Cast Performance WFNGC

250

1.570

19.3

Lil' Gun

19.0

1213

1318

105

8.6

True Shot WNFPGC

265

1.710

21.4

Lil' Gun

20.0

1177

1311

134

11.4

Factory Ammunition

Barnes Vor-Tx

180

–

–

–

–

1201

1316

115

9.6

Federal Power Shok

210

–

–

–

–

1265

1363

98

7.7

Winchester Platinum Tip

240

–

–

–

–

1049

1140

91

8.7

∆ %

is change from low to higher fps
The chronograph was set 10′ from the muzzle of each gun. A laser was leveled on the bench, then projected forward to targets on the chronograph to make sure the bullet path was parallel to the sensors. Gel blocks were changed after absorbing 4 shots, 10% FBI Clear Ballistics.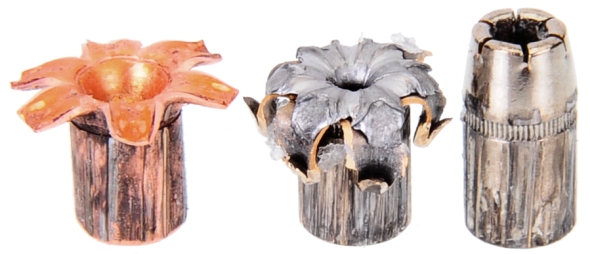 I think the 41 Rem Mag, short barrel or longer barrel Ruger, earns its reputation for a penetrating round, however, ballistic gel penetration results takes a little interpretation and more than casual attention during the data collection process. From the 2 3/4″ barrel Redhawk, the Winchester Platinum Tip, center, penetrated 22″ while nose expanding to 0.741″ from 0.410″. It also retained 239.8 grains of its original 240 grain weight. It is recommended for deer and black bear. The 4.2″ revolver barrel extended penetration with similar expansion and retention to 26″.
Penetration of 22″ may not seem like much; I've had 357 Mag 158 and 180 grain JHP ammo fired from short barrel revolvers penetrate gel blocks 22″. The thing is, none of those bullets expanded, acting more like a full metal jacket or hard cast projectiles. Properly expanding 357 Mag bullets typically penetrate in the 11″ to 16″ range. If penetration and not expansion is the objective, the 41 Rem Mag and the Ruger revolvers can definitely get that job done. All of the hard cast bullet handloads from short and longer barrel Redhawks, blew through 48″ of gel and remain down range at an undisclosed location. The paths through gel were straight and narrow.
The Barnes 180 grain JHP weighed 179.6 grains when recovered, +/- 0.2 grains for all fired, short or longer barrel. The petals opened to 0.833″, about the same for both guns. The short barrel went 26″, the longer barrel 29″. The Nosler, not pictured, went 24″ and 28″ holding 209.5 grains of the original 210 grain weight +/- 0.2 grains and expanded to 0.720″. Both bullets are deer and black bear class.
So what's up with the Winchester Platinum Tip on the right, bullet failure to expand? Nope. Gel blocks are good for approximately 4 shots before they begin to yield too easily to side loads and before bullets get crossed in wound channels. If a bullet crosses over and follow an existing path, the lack of resistance will result in greater penetration and the bullet may not expand… like this one. Ignore it.
I need an intern… an assistant… These things won't clean themselves
Powder burn and stainless steel would make an exceptional combination, if it weren't for the cleaning that surely must follow. The two Rugers performed admirably, reliably and consistently. The 41 Rem Mag cartridge seemed to become easier to shoot, the more it was shot and lots of rounds did not leave me with jangled nerves or sore hands or wrists. Round butt, square butt , the grips are good. They absorb recoil and/or do a good job of spreading it over a large area.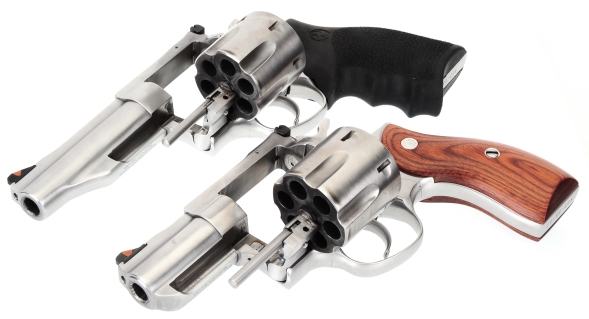 Conclusions? A cylinder full of each round was fired when velocity data was being collected. The numbers on the tables represent mid range for each. If someone asked, I would say that the 4.2″ gun provides a 100 fps to 150 fps edge over the shorter barrel revolver depending on ammo source and bullet type. Penetration wise, the 4.2″ gun tacks on approximately 4″ to an already good number.
If I needed a secondary firearm; trail gun, finishing gun, fishing buddy to go with my Ronco Pocket Fisherman… the short barrel Ruger Redhawk 2 3/4″ gun could get the job done and stay out of the way when performing other tasks. For me, I like the 4.2″ barrel for the same purposes. The little extra size can be neutralized with a decent holster and I like the longer sight radius and square butt grip frame. The pick up in performance is always a plus, but it may be more of a theoretical than practical distinction, so folks opting for more compact carry will still have an excellent performer.
120 Yard Point Blank Range Nosler 210 Grain 2.7″ Barrel

Yards

0

50

100

150

200

Velocity – fps

1244

1130

1046

983

932

Energy – ft.-lbs.

721

595

510

450

405

Momentum – lbs-sec

1.16

1.05

0.97

0.91

0.87

Path – in.

-1.5

2.8

0.3

-10.1

-29.6
131 Yard Point Blank Range Nosler 210 Grain 4.2″ Barrel

Yards

0

50

100

150

200

Velocity – fps

1403

1255

1139

1052

988

Energy – ft.-lbs.

918

735

604

516

455

Momentum –
lbs-sec

1.30

1.17

1.06

0.98

0.92

Path – in.

-1.5

2.7

1.3

-6.8

-22.6
Both Redhawks are Davidson's Gallery of Guns exclusives, which means you can get them through that distributor's dealers or your dealer can order for you through Davidson's. In fact, if you'd like an even longer barrel for extended range hunting and the ability to mount a scope, Davidson's is also the exclusive distributor of the 41 Rem Mag Ruger New Model Super Blackhawk Hunter with a 7.5″ barrel and a couple of other Blackhawks in the same caliber.
Ruger's Redhawk 41 Rem Mag Part I
Ruger's Redhawk 41 Rem Mag Part II
Ruger's Redhawk 41 Rem Mag Part III