My general perception is that firearm product lines and model names are assigned by Sterling Cooper & Partners in a kick around session with a client company. They run them up a flagpole to see if anyone salutes, they throw them up against the wall to see if they stick, but product literature and boxes are printed well before the meeting is held. I believe this is one of those rare moments the marketing guys chose a designation that places the firearm into proper context.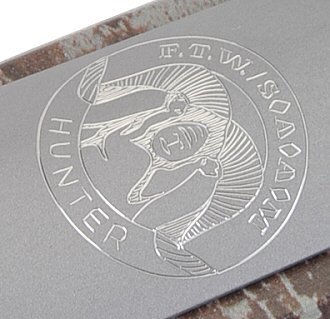 F.T.W. stands for Fallon Training Worldwide and S.A.A.M stands for Sportsman All-Weather, All-Terrain Marksmanship. Both names are the property of FTW Ranch, a hunting and marksmanship training facility located in Barksdale and Rocksprings, Texas.
Training is offered as SAAM Precision Training Courses where participants shooting and hunting skills within a five hundred yard setting are improved. Training is also offered as SAAM Safari Training Course prepare participants for plains game out to three hundred yards and big and dangerous game in close up and charging circumstances.
The Ruger Hawkeye FTW Hunting Rifle configurations are the products of a collaboration between FTW and Ruger; each an optimal combination of hunting and firearms knowhow and experience.
Ruger's Hawkeye FTW Hunter Rifle

Manufacturer

Sturm, Ruger & Co., Inc.

Point of Origin

Newport, NH

Model

47146

Action Type

Bolt – Controlled Round Feed

Caliber

300 Win Mag

Magazine Capacity

3

Barrel Length

24″

Twist Rate

1:10″

Muzzle Threads

1/2″-24

Muzzle Device

Ruger Brake System

Sights
None

Scope Mounting

Ruger Integral

Trigger

LC6 Single Stage

Trigger Pull

4 Lbs 5 Oz

Safety

3 Position Swing

Hardware

Stainless Top / Bottom

Stock

Hardwood Laminate

Overall Length

43.25″ – 44.75″*

Finish

Natural Gear™ Camo

Length Of Pull

12.75″ – 14.25″*

Drop At Comb

3/8″

Drop At Heel

3/4″

Weight

8.2 Lbs

MSRP

$1,269

* With Included Stock Spacers
In addition to the 300 Winchester Magnum chamber of the subject rifle, the Hawkeye FTW is also chambered in: 260 Remington (24″), 6.5 Creedmoor (24″), 7mm Remington Magnum (24″), 308 Winchester (22″), and 30-06 Springfield (24″). Left handed models are available in 6.5 Creedmoor, 300 Winchester Magnum and 375 Ruger.
A spec box narrative…
The Hawkeye FTW, as is the case with other Hawkeye rifles, has a one piece, twin lug bolt for a 90° lift. The bolt handle form provides an easy grab, while also providing maximum scope eyepiece clearance for closer to bore axis mounting, even with large ocular lens scopes.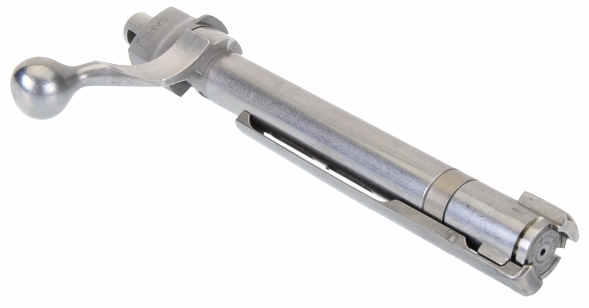 The non-rotating Mauser type controlled round feed extractor assures positive extraction in the harshest hunting environments and a simple bade ejector allows the shooter's effort to determine force of ejection. Out in the field, cycling the bolt tosses empties clear of the shooter, but at the range, easy bolt opening can plop a casing into a hand waiting to play hot potato.
The LC6 trigger, while not adjustable, is refined in material selection and employed manufacturing processes. The result is a creep free, crisp release trigger with little over travel. So while an owner can't sit on a sofa, while watching the outdoor channel, and crank with an Allen wrench until a 2° change in ambient temperature will release the rifle's sear, an owner will get a safe trigger with a more than reasonable pull weight.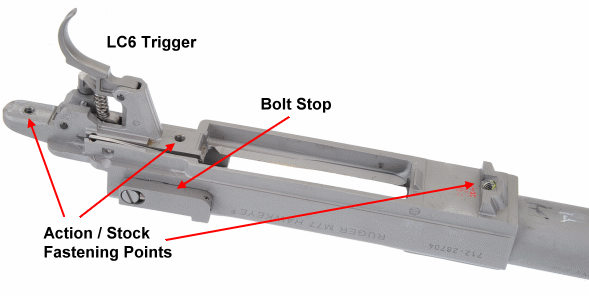 The Hawkeye has an all stainless barreled action. The action is flat bottom and closely bedded to the hardwood laminated stock. It is secured with fasteners at 3 locations. The barrel is cold hammer forged and with a borescope verifiable very slick interior finish. The result is very consistent shot to shot placement that is minimally effected by temperature change and a bore that resists copper and lead fouling. A side note to the three people who keep writing to tell me the Hawkeye is not an M77, please read the inscription on the receiver.
Recoil is a two component force. One is equal and opposite force determined by bullet weight and bullet velocity, weight of firearm. The other is a jet effect that is created by the high pressure gas column following along behind the exiting bullet. A brake redirects gases and rapidly cools them to slow gas velocity. A good brake cuts jet effect recoil, which is the greatest contributor to recoil, by 50%, which puts even normally hard kickers in the acceptable range for many more people. The penalty for this service is elevated noise levels, so a popular use is to training and practice with the brake where the most shooting is done and to remove the brake while hunting where, hopefully, far fewer shots will be fired making recoil tolerable.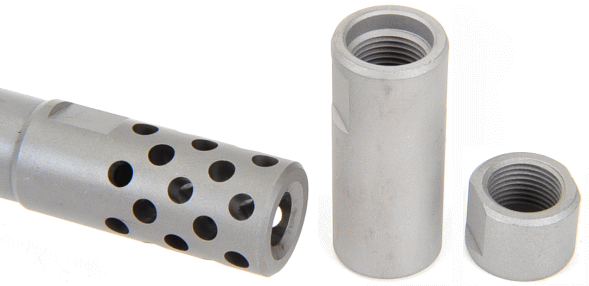 Ruger seems to do more with brake tuning that other manufacturers. A rifle barrel with a given type of ammunition tends to vibrate with a repetitive frequency, removing a protective cap (above right) and installing a brake alters that repetitive frequency, which shifts point of impact. So if a hunter sights in his rifle with the brake installed (above left), then removes the brake when hunting, the rifle will respond with a shift in point of impact. Ruger provides a weight (above center) that acts as a surrogate for the brake, when the brake is removed, by duplicating the brake's weight at the end of the barrel. The barrel's vibrations remain the same, as does point of impact.
The Ruger ring mounts are integral to the top of the receiver. A set of one inch medium height rings are supplied with the FTW, as they are with other Hawkeye models. These may be swapped out for low, high or extra high rings, or 30mm Rings by contacting Ruger customer service before installing them on a newly purchased firearm.
The three position safety is "Off" full forward, "On" in mid position and "On and Bolt Locked" full aft. In the full aft position, the safety lever fits into the notch in the cocking piece, mechanically blocking the firing pin and locking the bolt in the closed and locked position.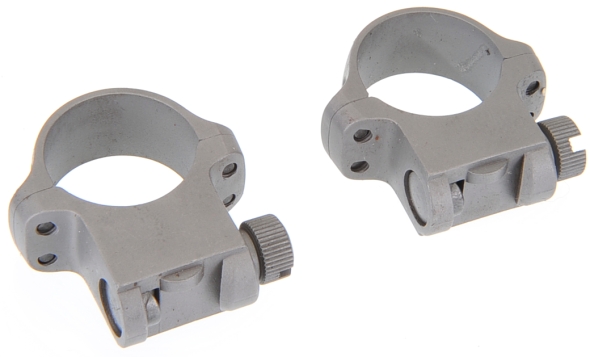 Ruger one inch, medium height stainless rings are supplied with the Hawkeye. On the bottom side, the oversize clamping screw and radiused, longitudinal retention nubs are visible. All are keyed to mating cuts in the rifle's receiver.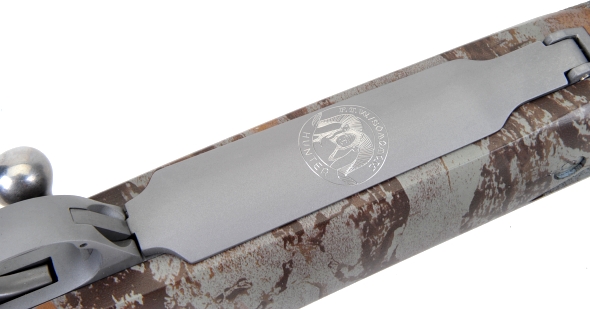 No aluminum, no plastic, all of the bottom metal is stainless steel. Internally, the magazine box and follower are steel. The floorplate release is right there in the front of the trigger guard, flush, guarded, but easily accessible even with a gloved hand.
If you see camo and think composite stock, think again. The Hawkeye FTW stock is a hardwood laminate as used on the Ruger Guide Gun, see below, with a Natural Gear™ Camo finish. The result is a very durable stock with a very nifty and effective camo scheme. Yes, nifty.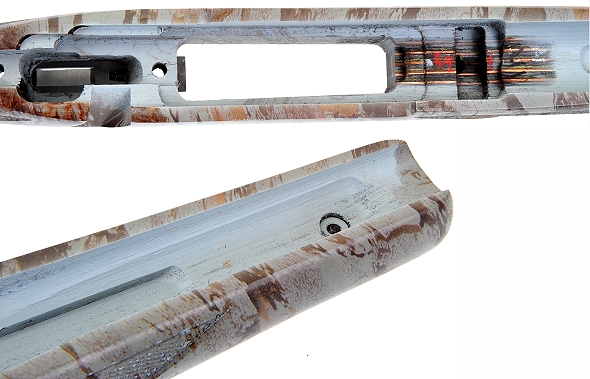 The barrel channel does not contact the barrel right on through to the very end of the forearm… I guess that would be the forend, where it terminates with a small rise, but not a pressure pad. This type of set up works well and is widely used on accurate firearms; action bedded and secured tightly, barrel floated to allow unimpeded vibration the full length of the barrel.
Ruger does an excellent job of anchoring stocks to barreled actions, even more so with the Hawkeye FTW. There are two vertical socket head fasteners fore and aft on the trigger guard and another forward at a 45° angle through the floorplate hinge. Stock fore and aft movement is further curtailed at the action front recoil lug. The FTW, like the Guide Gun, adds two functional cross bolts at areas heavily stressed under recoil. The result is that the hardware will not move in the stock under heavy use and cause accuracy to fall off.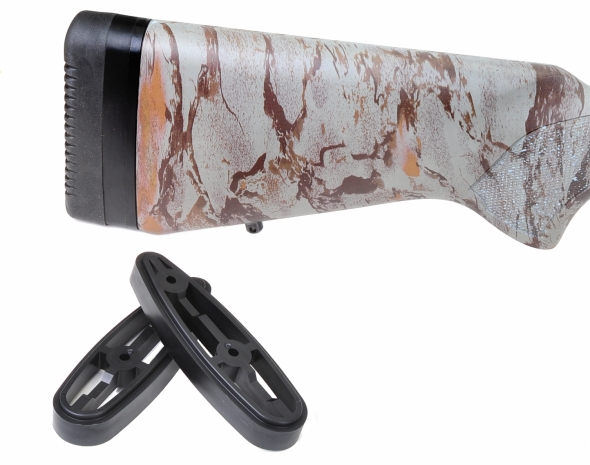 The Ruger Hawkeye FTW Hunter Rifle is supplied with three 1/2″ recoil pad spacers that may be used in any combination to adjust the stock's length of pull from 12.75″ – 14.25″.
Putting food on tables since…
All of the chambers available for the Ruger Hawkeye FTW Hunting Rifle are excellent. The 300 Winchester Magnum was selected

because it is powerful enough for the largest North American game, but it can be loaded with light bullets and high velocity for medium thin skinned game, generating only moderate recoil.
There was a time when the world's popular choices of 308 caliber Magnums included only the 300 H&H, the 300 Weatherby Magnum and the 300 Winchester Magnum. The venerable 300 H&H was clung to by mature traditionalists, the 300 Weatherby was the round of an ostentatious middle class and the 300 Winchester Magnum was the populace choice. All offered/offers a velocity improvement over the 30-06 Springfield.
A favorite of big game hunters, competitive shooters and firearms slated for tactical assignment, the 300 Winchester Magnum was nearly rendered extinct by its company of origin. Products billed as bigger, or smaller, or better, or technologically advanced grab attention and the 300 WSM, for a time, pushed the 300 Winchester Magnum off the front page and got the gun buying public buzzing. Belted cartridge were declared passé and, once they got gun buyers speaking French, there was no telling where it would all end.
Apparently, a large installed base of rifles, knowledgeable shooters and tons of belted magnum reloading components created an immovable mass as buyers continued to opt for the 300 Winchester Magnum. Support for this brash conclusion? New firearm introductions favor the 300 Winchester Magnum and where there are forty popular types of commercial 300 WSM, there are eighty for the 300 Winchester Magnum. For the sake of 30 Caliber magnum context…
Cartridge

Case
Length "
Grains
Capacity
Nominal
180 Grain
MV
Barrel
Length
Std "
MAP
Pressure
KPSI

30-06 Springfield

2.494

68

2

820

24

60

300 Ruger Compact Magnum

2.199
75
3040
20
64

300 Winchester Short Magnum

2.100

81

3010

24

64

300 Holland & Holland

2.850

85

2900

24

62

300 Winchester Magnum

2.620

94

3070

24

62

300 Weatherby Magnum

2.825

98

31

20

24

64

300 Remington Ultra Mag

2.850

112

3

180

24

65

Hornady ammo, except 300 WSM Winchester Supreme
Conclusion…
The article subtitle suggests the Ruger Hawkeye FTW Hunter Rifle might be named the H²R, Heck of a Hunting Rifle. It has the right specs, the right feel, the right chambers, and even accommodations for left handed shooters. The only thing left to do is collect some range data for Part 2 and see if it performs as good as it looks.
Ruger's Hawkeye FTW Hunter Rifle Part 1
Ruger's Hawkeye FTW Hunter Rifle Part 2