Ruger Redhawk 8 shot 357 Magnum

Company

Sturm, Ruger & Company, Inc.

Point of Manufacturer

Newport, NH
Model #
05033

Type of Action

Revolver DA/SA

Caliber

357 Magnum

Capacity

8

Barrel Length

2.75″
Rifling Twist Rate
1:18.75″ 6 Groove RH
Firearm Construction
Stainless Steel

Grip Frame

Round Butt

Grips
Altamont Hardwood

Front Sight

Ramped Red Insert – Quick Change

Rear Sight

White Outline W/E Adjustable

Weight of Firearm

44.5 Oz

Trigger Pull

6.8 Lbs SA / 12.2 Lbs DA

Overall Length

8.25″

Overall Height

5.62″

Width

1.80″

Key Lock

No

CA Approved

Pending

MA Approved

Pending

MSRP

$1079
I have never been to Ruger's facilities. If there really is such a place, I would imagine it is a lot like Willy Wonka's Chocolate Factory, the Gene Wilder version, or perhaps there is a long and winding yellow brick road that leads to Ruger Land, but without flying monkeys. The truth of the matter is, I have not gone for fear of finding it to be more like Fritz Lang's and Thea von Harbou's Metropolis, or worse, there may be no magic at all, just a very modern manufacturing facility and a collection of talented people dedicated to creating and producing excellent firearms.
The reality is that while many other manufacturers have been taken over by non-firearm financial and operating management teams and seem bent on producing the cheapest and some of the homeliest firearms, Ruger keeps producing firearms for enthusiasts that are little works of engineering art, like the subject revolver.
The eight shot, 357 Magnum Redhawk is one of a number of new models introduced by Ruger this year, each good looking and each high performing in its own right. In this case, Ruger struck a balance between chunky and compact to give us an easy to conceal and carry firearm that holds just shy of a case of ammo. For those who insist on reality, feel free to read the specs in the box as they are just as exciting and more factual.
The rear sight is a stout piece, adjustable for windage and elevation. The front sight with red insert is dovetail mounted and quickly change by depressing the spring loaded front sight plunger.

The Redhawk was designed as a 44 Mag. In this case, the 357 mag cylinder diameter at 1.80″ is approximately 0.020″ greater than the 44 Mag version. The outer chamber wall thickness is 0.126″, adjacent chamber wall thickness is 0.065″. At 1.750″ the cylinder length is well beyond 1.590″ maximum cartridge length. Adding cylinder diameter and subtracting holes, the 357 Redhawk weighs only a half ounce more than a 44 mag version with the same 2.75″ barrel.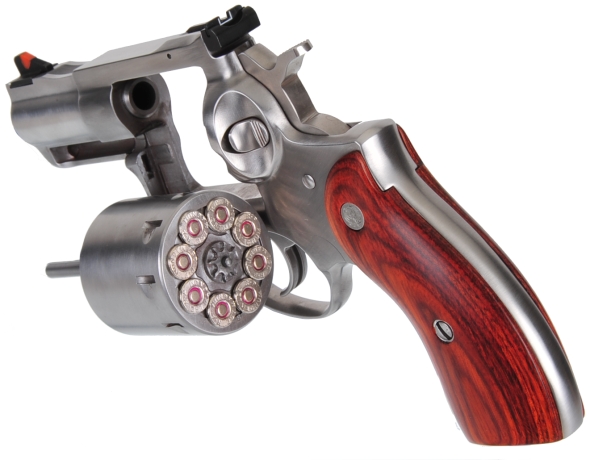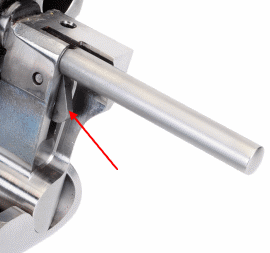 The 357 Mag Redhawk is supplied with two full moon clips, used to expedite reloading. Shooting the revolver with its cylinder filled with mixed ammo types, chambers were single loaded and there were no functional problems; loading, shooting or ejecting.
Some brands of revolvers have a difficult time operating reliably with a high capacity cylinder full and rapid firing. The rotating mass of the cylinder seems to overcome timing and there is an occasional lock up. This was not at all the case with the Ruger Redhawk eight shot. It kept up regardless shooting speed. A range rod check of all chambers showed perfect timing and barrel / chamber alignment.
Like other models within this product line, this Redhawk locks up at three points, and not just with a detent ball at the end of the ejector rod. The cylinder locks at the center pin lock, rear, the cylinder lock, center, and as pictured here, at the cylinder latch hinged on the face of the crane. The overall assembly checked tight with solid lock up, no end shake, no rock, no roll or other forms of movement suggesting anything other than quality piece of machinery. Cylinder gap checked 0.007″ to assure reliable function without having to stop every dozen round to scrape carbon off the face of the cylinder.
Shooting personality…

While the eight shot 357 Mag Redhawk has a short 2.75″ barrel, it doesn't feel like a snub nose in terms of balance or heft. It settles into the hand, center of gravity at the trigger, which really settles the sights, despite the short sight radius. The contour of the round butt grip brings the hand into a high grip and places trigger in easy reach.
Recoil at 44.5 Oz is not of real consequence, even with high performance ammunition. As a result, the Redhawk is a revolver that will be shot frequently for practice and proficiency building without requiring a switch off to 38 Special ammunition, even though that is an option. It is always better to practice with ammunition that is suitable for the intended application.
The Ruger was shot with three types of factory ammo that cover many applications –
Ammunition

Bullet
Type
Bullet
Grains
Rated
FPS
2.75″
FPS
4.2″
FPS
3 Shot
Group"

Remington Golden Saber

BJHP

125

1220

1177

1277

1.5

Hornady Custom

XTP

158

1250

1293

1334

1.7

Remington High Terminal Performance

SJHP

180

1145

1105

1241

1.2

Groups shot at 10 yards – 2.75″ barrel Redhawk
The Ruger eight shot 357 mag Redhawk is a powerful handgun. Accuracy is good and it is easy to shoot. The Golden Saber ammo penetrates approx 16″ of ballistic gel. The other two penetrate between 20″ and 24″ in gel blocks. If I want to hog hunt or fend off a black bear, a cylinder full of cast bullets would get the job done with over 3′ of gel penetration.
For folks who like the strength and reliability of a revolver, but want the extra capacity normally associated with an autoloader, the eight shot Redhawk is a good option and in a Redhawk frame it is one tough firearm.