The rifle standing up on the left is my favorite rifle. It has everything I like in a firearm. As the first rifle introduced by firearm legend, Bill Ruger, it has history and American origins. It is chambered for a proven big bore cartridge. The rifle is fast and abbreviated, wears a full stock well, and it falls naturally into the shoulder and the palm of a supporting hand.
Beyond that, the Ruger 44 Magnum Carbine feels and smells like oiled walnut and steel, it feeds and cycles reliably and it is accurate even with its old time Weaver K 2.5x scope. The three shot 1 3/8″ group below was shot this morning at 100 yards, with factory Federal 180 grain ammo. The bottom hit was from a cold barrel. I put on my prescription glasses and squeezing off the other two shots. Not bad for an 18.25″ barrel rifle, celebrating its 50th birthday. However, It certainly wasn't received in that condition.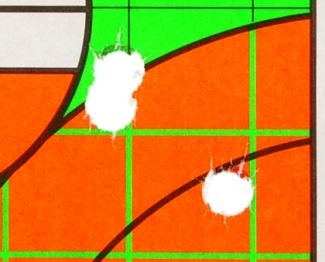 In the beginning….
Ruger 44 Magnum Carbine

Manufacturer
Ruger
Point of Origin
Southport, CT
Action
Gas Operated Short Stroke Piston

Caliber

44 Remington Magnum

Magazine Capacity

4

Barrel / Contour

*18.25″

Twist Rate

1:38″ 12R

Barreled Action
Carbon Steel

Metal Finish

Blued
Scope Mount
D&T

Trigger

Two Stage

Trigger Pull

5 Lbs 9 Oz

Stock

American Walnut

Pull

14″

Drop at comb

1.2″

Drop at heel

1.5″

Weight

5 Lbs 12 Oz

Overall Length

36.75″

Safety

Cross Button

Base Model MSRP

$108 (1966)

* Extended to 18.5″ after SN 102-64701
Approximately 1979
The subject rifle was manufactured in 1966. Subsequently, it has an 18.25″ barrel. The International Model retailed for $128 in 1966, the same price listed in the rifle's 1960 introduction. History shows the carbine to be the result of a Bill Ruger – Harry Sefried collaboration; Ruger's specificity of objectives, Sefried's experiences and exceptional firearm design talents. Two good friends, a lot of mutual respect and both with a genuine appreciation for hunting and firearms.
Clean lines and very compact
The 44 Magnum Carbine has an appearance similar to the 1964 Model 10-22 rimfire rifle, but similarities end with appearance. While the 10-22 is a blow back rimfire with an aluminum receiver, the 44 Mag carbine is a locking breech, gas operated, short stroke piston driven autoloader. Piston travel is only 5/16″. To accommodate the pressures and strains associated with the 44 magnum cartridge, the receiver was machined from a solid chrome moly steel billet.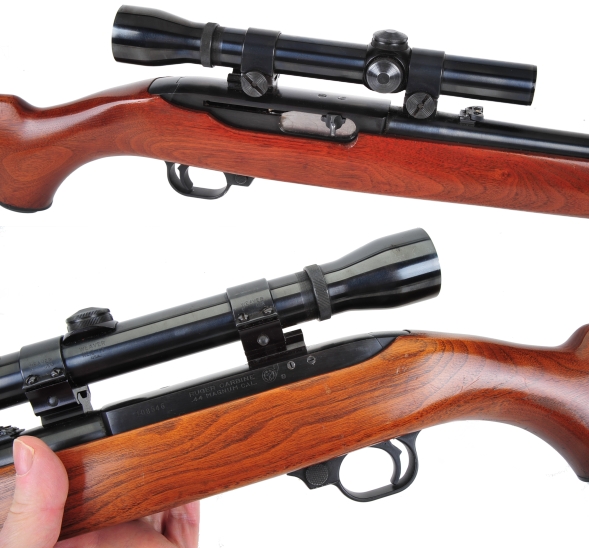 The Ruger mounts a scope top of receiver and top of barrel. This particular rifle can also accommodate two top rings or a peep sight mounted on the side of the receiver. I stuck my thumb in there to give context to the small size of the carbine.
People either like full stocks or not; I do. The forearm of the Ruger stays full to the gripping area, then grows slender as it moves forward. The muzzle cap is quite artful with a small Schnabel formed at the end. The cap slips over the muzzle and secures to the stock, backed by nut.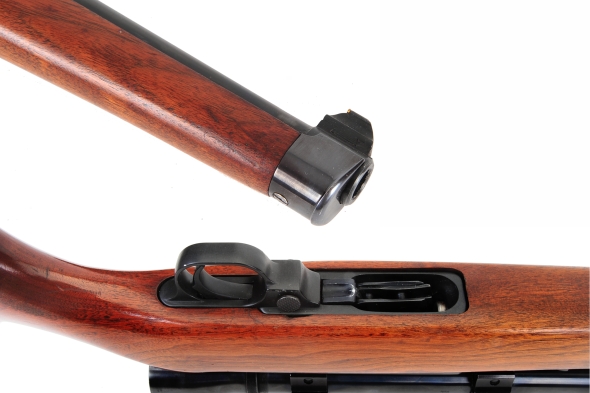 The slide locks open on empty. It is release by depressing the lifter latch just forward of the trigger guard. This is also where the tubular magazine is loaded. The manual accounts for five rounds; one dropped into the ejection port before releasing the slide to load the chamber, then four rounds loaded into the magazine. This rifle is equipped with a magazine button that allows the magazine to be easily emptied without cycling the firearm.
The Gun Broker conundrum
This particular carbine was purchased on Gun Broker by the daughter of a coworker. When received, it looked great, but it would only shoot if loaded through the ejection port and then it would not load a second round. Looking it over, the only fastener that anchors the stock's forearm to the piston block on the underside of the barrel was missing. The gas pistol was frozen in the piston block. The cartridge lifter assembly went up at an angle and it did not come down on its own.
The selling dealer was called, advised of the situation and, good sort that he was, he offered to pay reasonable repair fees or provide a full refund. The owner's decision was to return the firearm out of concerns for future grief, so I offered to buy it, covering all associated costs. Early International carbines are not at all common and I really liked the little rifle.
The long road back
The stock and exterior hardware were clean and the bore checked out to be pristine without even leading, copper fouling or gas port accumulation. Removing the action from the stock and inspecting various parts of the feed system, it appeared that it had been worked on by the Three Stooges Gun Shoppe. The gas piston was frozen because someone in the rifle's history went to work on it with a file, then jammed it back into the gas block. The cartridge lifter's hinge pin was missing and had been replaced with a bent nail. Additionally, the lifter was deformed beyond repair. The lifter dog was worn out. The cross bolt safety had been replaced with a reversed operation oversize aftermarket piece with no detent position. Oddly enough, the rifle exhibited little shooting wear and tear.
Replacement parts, clean salvage and NOS pieces were scrounged, but some key pieces could not be located. There were many running changes during the model's production cycle, enough to warrant a different manual from 1974 on so replacement part selection requires specificity. Fortunately, a very knowledgeable resource with a great deal of experience with the rifle wanted to help get the rifle back in service. Parts were located, talent was applied and the end result was a rifle that looked as good inside as outside and ran without a hitch. There are some truly good gun people out there and they are greatly appreciated.
A lack of sensitivity…
Once cleaned up and tuned, The rifle operated flawlessly; factory ammo, handloaded ammo, light bullets, heavy, solid nose or hollow point. Running a magazine of mixed ammo types caused no hesitation and the rifle always locked open on empty. While a 38″ twist is not supposed to stabilize a heavy bullet, sometimes an absence of rumors and conjecture offers greater expectations.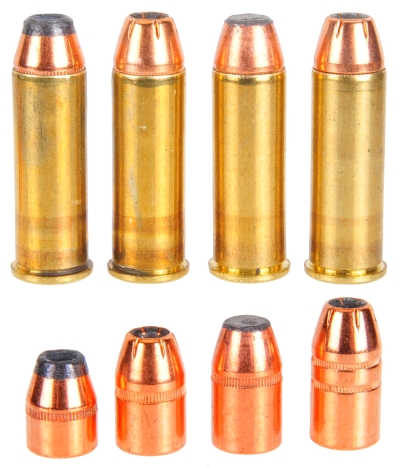 The bullet selection was predicated on common weights and types, I stuck with H110 because it works, it is readily available and its use eliminated powder as a variable. Lil' Gun and Win 296 and Alliant 2400 would probably have worked as well.
Warning:

Bullet selections are specific, and loads are not valid with substitutions of different bullets of the same weight. Variations in bullet length will alter net case capacity, pressure and velocity. Primer selection is specific and primer types are not interchangeable. These are maximum loads in my firearms and may easily be excessive in others. All loads should be reduced by 5%, and developed following safe handloading practices as represented in established reloading manuals produced by component manufacturers. Presentation of these loads does not constitute a solicitation for their use, nor a recommendation.


Cartridge: 44 Remington Magnum

Firearm: Ruger 44 Carbine

COL: 1.610″

Bullet Diameter: 0.430″

Primer: CCI 350

Barrel: 18.25″ (Actual)

Reloading Dies: Lee Precision

Max Case length: 1.285″

Groups: 3 Shots 100 Yards

COL and Capacity

Load Data & Performance

Bullet Type

Bullet
Weight
C.O.L.
Inches

Net


Grains
Water

Powder

Charge
Grains
Muzzle
Velocity
FPS
Muzzle
Energy
Ft/Lbs
100 Yd
Group
Inches

Remington SJHP #23658

180
1.585
29.5

H110

30.0

2159

1864

1.2

Hornady HP/XTP #44200

240

1.600

25.3

H110

24.0

1800

1727

1.4

Speer Gold Dot #4461

270

1.595

22.7

H110

22.0

1650

1633

1.2

Hornady HP/XTP#44280

300

1.600

19.6

H110

19.5

1477

1454

1.5
I think it is important to understand that a good deal of heavy big game has been dropped with the 44 Magnum handgun. Deer is routine and for folks like Elmer Keith, apparently, over the shoulder shots at 400 yards are doable. For as good as the 44 Magnum handgun is, the 18.25″ barrel of the carbine makes it into something substantially more.
180 Grain +3 Ordinate 178 Yards Point Blank Range

Yards

0

50

100

150

200

Velocity – fps

2159

1866

1600

1371

1189

Energy – ft.-lbs.

1863

1391

1022

751

565

Momentum – lbs-sec

1.72

1.49

1.27

1.09

0.95

Path – in.

-1.5

2.0

2.9

0.4

-6.7
300 Grain +3 Ordinate 142 Yards Point Blank Range
Range
0
50
100
150
200
Velocity – fps
1477
1354
1248
1158
1086
Energy – ft.-lbs.
1453
1221
1037
893
786
Momentum – lbs-sec
1.96
1.80
1.66
1.54
1.44
Path – in.
-1.5
2.6
2.0
-4.3
-17.0
All of the loads cycled though the Ruger Carbine, proper feed, full bolt travel chambering and ejection. Accuracy was good, recoil was mild and the heft and feel of the little rifle instilled confidence. I couldn't help but think it would make an amazing pig rifle. So we'll wring it out over the next few months, work up some additional handloads and report back.