As I've grown older, I notice there are more bitter, sweet moments in life. Most recently, it was the last pork butt of the season to pass through the smoker. The plan was to put the butt in the smoker at 6 AM. Unfortunately, caught up in morning distractions, I didn't get the butt in the smoker until 10 AM. So I spent the interim time between then and midnight thinking about firearms and watching good, bad B movies on Netflix; the Sharknado Trilogy +1 and Iron Sky.
Fourteen hours of smoldering mesquite chips, water vapor and patience were required to hit 200°F internal temp to break down all of that connective tissue into melted fat goodness. Then a an hour rest before shredding… the butt, not me. So fresh, I could almost hear it squeal. Now, with smoked pork burrito in hand, I can settle in and write about this traditionally styled Ruger American Rimfire.
Ruger American Rimfire

Manufacturer
Ruger
Point of Origin
Mayodan, NC

Model

8329

Type

Bolt Action

Caliber

22 Long Rifle

Magazine Capacity

10

Barrel / Contour

22″ / Sporter

Twist Rate

1:16″ 6R

Barreled Action
Carbon Steel

Metal Finish

Satin Blue
Scope Mount
D&T and 3/8″ Groove
Front Sight
Williams Fiber Optic
Rear Sight
Adjustable Folding Leaf

Trigger

Adjustable 3 – 5 Lbs

Trigger Pull As Received

4 Lbs 3 Oz

Stock

Hardwood

Length of Pull

13 3/4″

Line Of Sight Drop – Comb
1.75″
Line Of Sight Drop – Heel
1.76″

Weight – Nominal

6.1

lbs

Overall Length

48.0″

Safety

Tang 2 position

MSRP

$459
The American Rimfire assembly is a combination of a hardwood stock made at Ruger's Newport, NH facility, final assembled to a barreled action at Ruger's Mayodan, NC facility.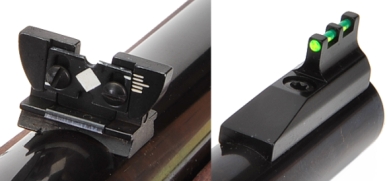 I would not accuse Ruger of leaving sights as an afterthought. The metallic sight set is useful and appropriate for a rimfire rifle. Ramped fiber optic front and folding leaf rear.
The rear sight is adjustable for elevation, one hash mark shifts one inch at twenty five yards. The rear sight may also be adjusted for windage by drifting. No, not doing doughnuts in the Walmart parking lot with a 2004 Prius, but rather tapping on the sight's base with a soft punch and light hammer to shift it left or right in its dovetail slot.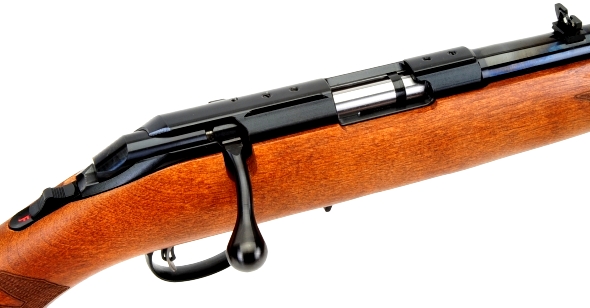 Ruger was also considerate in providing receiver top drilled and tapped holes for Weaver #12 bases and 3/8″ dovetail mounts. The bolt lift for the Ruger American Rimfire is 60º and the rifle cocks on close. The shallow bolt lift permits relatively low scope mounting which places the scope's optical center more closely aligned with line of sight from a proper hold.
The American's 22″ barrel is useful as it extends the range of the rimfire cartridge in comparison to a shorter barrel length and the associated longer sight radius makes it easier to shoot accurately with metallic sights. The barrel is hammer forged and a tight slip fit and cross pinned to the receiver.

The bolt handle provides one very heavy locking lug. A round is held securely by the extractor and positioner spring (Ruger nomenclature) when stripped from the magazine and upon extraction.
The trigger, as you can see, is very large. The pull is very crisp, clean and every other adjective I can't think of that describes no slack, no slop and a glass snapping release. The trigger release, the blade in the middle of the trigger, is spring loaded to park it square on that aft cross pin. This very effectively prevents shock or awe from moving the trigger rearward without a finger square on the trigger.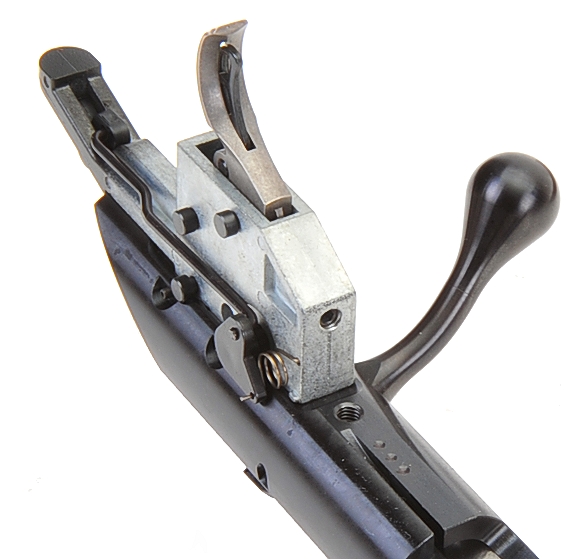 The little hex head screw in the face of the trigger allows pull adjustment between three and five pounds… a feature that clearly belongs on ALL other Ruger rifles. The stock must be removed… two fasteners, to get to the adjustment. Anyone not willing to expend that much effort to adjust a trigger is not worthy. Besides, when is the last time you were ready to take a shot and had a compulsion to adjust the trigger pull on your rifle, "Squirrel, 50 yards. Quick, take 'er down to 3.2 lbs".
The key to the American's accuracy is the Ruger V block Power Bedding® system that locates and clamps the receiver to the stock both radially and longitudinally at the front and provides a steel pad support contoured to the receiver at the rear. The barrel floats in its stock channel.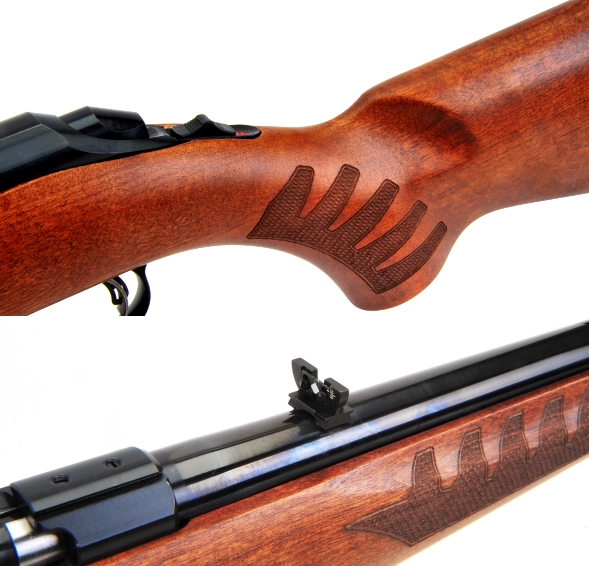 I have to say that the hardwood stock is nicely finished even though, as a rule, I do not like "hardwood" stocks, as the description lacks specificity to understand the materials toughness, scuff and wear resistance, finish and maintenance. In this case, the color is good, the grain is tight and the finish is durable. The splayed checkering pattern suits the stock aesthetically and the bluing is excellent. Listed as satin, I don't think it has that degree of tooth, but it also isn't a dipped in plastic look. Just nicely finished steel.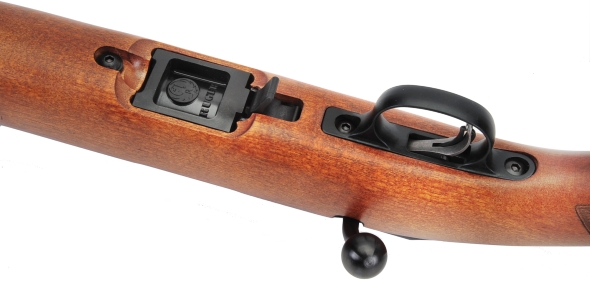 The bottom side of the Ruger American Rimfire is unobstructed; nothing poked at my hand when holding it in the three and one half shooting positions I am flexible enough to assume. While the magazine is held very securely, a push on the release lever will let it drop free without extracurricular wrangling. The rotary magazine holds 10 rounds and is a Ruger Model 10/22 type standard so the American also accepts all 10/22® magazines, including the BX-25, BX-25×2 and BX-15.
We all need at least one good 22 LR rimfire
A 22 rimfire is an incredibly versatile firearm; training new shooters, small game hunting, pest remover, recreational target shooting. There are many on the market, but few good ones. Most these days are cheaply made and lack accuracy and reliability, some are so expensive they rival the price of a centerfire hunting rifle. Ruger has ceased production of the M77 rotary magazine rifle, one of my favorite, so the Ruger American's rimfire is an import product in the Ruger line up.

Shooting personality…
That is one thing virtually all firearms have, a personality. Not always good, not even always distinctive, but always a personality. In this case, the Ruger American Rimfire feels like… 1955 and a day walking the woods, with a box of ammo in a jacket pocket, and a good chance of rabbit or squirrel stew. Does anyone even do that anymore, or is it mostly $5,000 for a white tail, an ATV ride to a tree stand and waiting for a deer to walk by to snipe? I'll stick with 1955.
The wood is warm, the bluing shows oil film rainbow and the balance and the rifle's geometry make it feel like a proper 22 rimfire. The metallic sights are terrific, bright front and well defined rear, but a scope coaxes more out of the American. I am not sure what it could do locked down in a rest, but below are a couple of the targets shot at 100 yards, not 50 yards or 25 yards, and the ammo was the first two types I pulled off the shelf.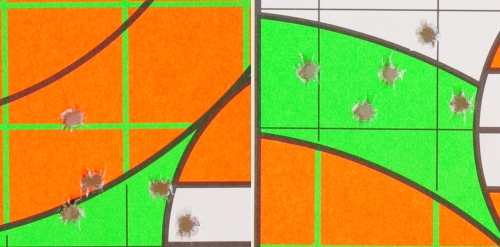 The left 1 1/4″ group was shot with Peters 40 grain round nose, the 1 1/2″ was Remington Golden Bullet 40 grain round nose with the rifle's forearm resting on a couple of sand bags. I'd guess groups would have been tighter with target ammo, something I can try at a later date, if I feel the need. For now, excellent little rifle.