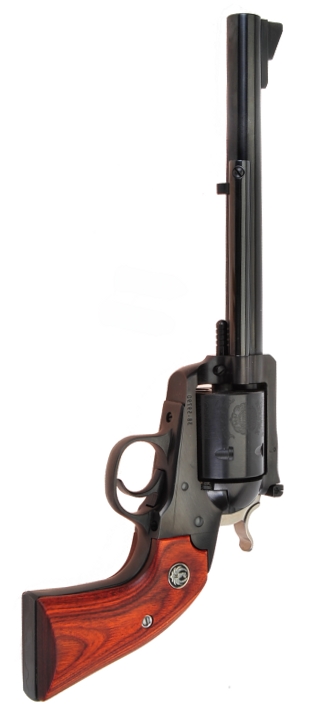 The 45 Colt cartridge is to handguns what the 45-70 Gov't is to long guns; both very old low power black powder cartridges that can produce a lot of power by combining smokeless powder with stout modern firearms. The span in power is not insignificant.
Standard pressure 45-70 Government 405 grain ammunition is rated at 1300 fps. Buffalo Bore Magnum Lever Action factory ammunition, unsuitable is early firearms and all but the strongest lever action modern firearms, is rated at 2000 fps.
Standard Colt 45 250 grain loads are rated at 730 fps, whereas 260 grain Buffalo Bore Heavy Colt +P is rated at 1450 fps. The former can be used in any firearm chambered for the Colt 45 that is in good working order. The latter cannot be used in even modern single action army replica firearms and similar, but may be used in more modern robust designs as recommended by the ammunition's manufacturer.
A handloader of either cartridge can pretty much load to any of these performance levels, limited only by the firearm that will see the final product.
The Ruger Bisley Blackhawk
The Ruger Bisley version of the New Model Blackhawk was a product of a Larry Larson, Bill Ruger collaboration. While it does pay tribute to the 1894 Colt Bisley target pistol, it share none of that firearm's design, including the grip frame form.
Introduced in 1985, it is a version of Ruger's New Model Blackhawk optimized for target work. As there are only six people in the world who shoot single action revolver bullseye, it is fortunate that the form intended for accuracy also applies to handgun hunting and anyone who has time for recreational target shooting and plinking. The Bisley was initially chambered in 357 Magnum, 41 Magnum, 44 Magnum, and 45 Colt. Over its first ten years of production, the order of popularity as sold was 44 Magnum, 45 Colt, 357 Magnum, and 41 Magnum. Currently, the Bisley Blackhawk is chamber for 44 Special, 44 Magnum and 45 Colt cartridges. There is also a Bisley Vaquero model, 357 Magnum and 45 Colt chambers for CAS application and another in the Super Blackhawk line, chambered for the 44 Magnum, 454 Casull and 480 Ruger for the handgun hunter.
How I Learned to Stop Worrying and Love the Bisley…*
Before the Bisley, I was a happy go lucky shooter of the 1911 45 Auto. As a young man I dabbled with the Single Six convertible rimfire, much to the dismay of a multitude of squirrels and rabbits. The Single Six was easy and inexpensive to shoot, accurate and reliable. As a moderately young man, I purchase a plow handle Ruger Super Blackhawk in 44 Mag with dragoon style trigger guard and quickly I noticed that it slapped my fingers, tossed its barrel vertically skyward until the hammer engaged the web of my hand, none of which contributed to accuracy or the joy of shooting.
For shooters who assess their manliness by the amount of punishment that can absorb from a firearm, the plow handle grip is a clear winner. For me, it was enough to keep me popping away with a 1911. However, an old John Linebaugh article, regarding hot footing the 45 Colt, dragged me back into the good cartridge – bad gun dichotomy. Large frame and large cylinder attributes had me looking for a Ruger single action, a search which concluded with a soft shooting Bisley Blackhawk. The grip form put the entire palm of my hand in contact with the pistol's backstrap, it reduced muzzle climb and the low hammer made for more comfortable one hand operation. Good cartridge – good gun.
The Ruger Bisley has excellent sights for critical shot placement; serrated ramped front, micro windage and elevation adjustable rear. In this particular case, the Bisley has a 7.5″ barrel and a long 9.375″ sight radius for critical alignment.
That's all, cuz there ain't no more… The Bisley Blackhawk, like all other Blackhawks is modular in design and easy to strip down to piece parts. For a quick clean up after a shooting session, the center pin pulls forward, the loading gate is flipped open and the cylinder rolls out into the palm of your hand.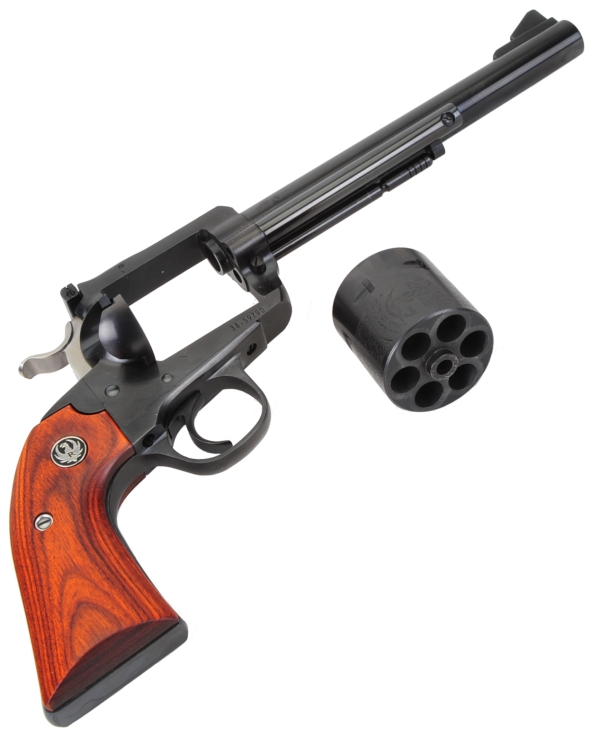 One of the reasons the Blackhawk, Bisley or otherwise warrants its own higher performance section in most handloading manuals is its stout construction. At the thinnest points, the frame surrounding the cylinder is a full 0.250″ thick. By comparison, a Colt SAA is only 0.210″ at the top strap, but that is a generous assessment as the Colt top strap has a shallow side to side radius.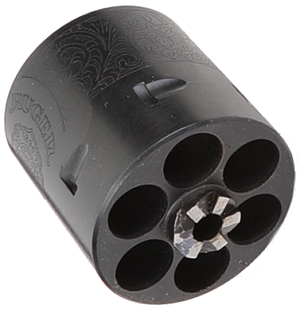 The Ruger cylinder measures 1.735″ in diameter and 1.704″ in length. Exterior chamber walls are 0.095″, adjacent chamber walls check 0.105″. The Colt SAA cylinder diameter is 1.650″, length is 1.607″, outside wall thickness is approx. 0.070″ and adjacent chamber walls are 0.600″.
The Colt is more than adequate for the Colt 45 SAAMI 14,000 PSI standard and SAAMI standard 1.600″ cartridge overall length. However, the Colt would never stand up to mainstream reloading manual data reserved for the Ruger Blackhawk or hot factory ammunition intended for the Ruger or other similar strength firearms.
Colt 45 handloads that utilize heavy bullets, in excess of 260 grains, typically exceed the 1.600″ overall length standard and would not function in the short Colt cylinder.
"Leave the gun, take the cannoli"
While longish with a 7.5″ barrel the Blackhawk Bisley is tucked in and narrow. Other than the cylinder width, the Bisley feels narrow in a holster and on the hip.

Ruger® New Model Blackhawk Bisley

Company

Sturm, Ruger & Company, Inc.

Point of Manufacturer

Newport, NH
Model #
0447

Type of Action

Single Action

Caliber

45 Colt

Capacity

6

Barrel Length

7.50″
Rifling Twist Rate
1:16″ 6 Groove RH
Firearm Construction
Alloy Steel

Grip Frame

Bisley
Grips
Hardwood

Front Sight

Serrated Ramp

Rear Sight

W/E Adjustable

Weight of Firearm

48 Oz

Trigger Pull

4.7 Lbs

Overall Length

13.25″

Overall Height

5.7″

Width

1.70″

Key Lock

No

CA Approved

Yes

MA Approved

Yes

MSRP

$899
This is one of those guns that looks good, feels good and reflects American ingenuity and manufacturing capabilities. I'm thankful for these folks who stick around, give my neighbors jobs and fuel the U.S. economy with quality product. I guess I'd like to stop now so I can go assemble some handloads and shoot. Of course, you'd probably like that also… the stopping part. In any event, a run at light target loads and heavier Colt 45 thumper loads seems about right. Be back soon with Part 2.