It has been a curious handful of days; snowfall on the verge of spring, plummeting sub zero temperatures and a snow squall on the near horizon. My wife and I are having our annual, end of winter, 'Maybe it is time to move to warmer weather" conversation and attempting to plan our fiftieth wedding anniversary. Do we travel out of state to share the day with grown children and grandchildren, or do we buy tickets for a future Mars flight, eat dinner at the local Friendly's, stay home and watch British mysteries on Internet TV? Decisions decisions…
Like many others, firearms have been a part of my life from a very young age, providing a vital service under numerous circumstances. Subsequently it would be difficult not to appreciate them for the intricate machines they are, the power they command and how they have influenced the course of human history. That said, I do not live and breath firearms so it takes ever greater product substance for me to allocate some days of my life writing about one…. like the Ruger Mark IV.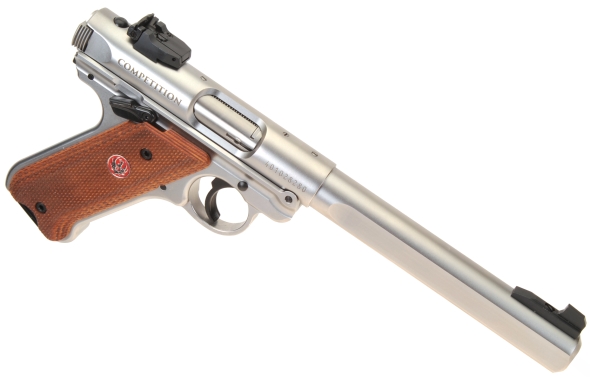 Sixty eight years and twenty three hours earlier…
In 1949 Bill Ruger and Alex Sturm, on a fifty thousand dollar capital investment from Sturm, pulled the pieces of Ruger's original company out of receivership and created Sturm, Ruger & Company. The first product introduced was a blow back 22 rimfire pistol, the Ruger Standard, which was joined by the Ruger Mark I target pistol. That original models persevered in numerous configuration until 1982 when they were displaced by the Mark II. The major changes from Mark I to Mark II were: The bolt remained opened after the last round from its magazine was fired, magazine capacity was increased to 10 rounds from 9, the magazine latch was refined, the pistol could be loaded or unloaded with the safety "on", and the rear of the receiver was scalloped to facilitate grasping the bolt cocking lugs.
The major changes from the Mark II to the 2005 Mark III were: one extra "I", the sights and ejection port were re-contoured, the magazine release was moved from the grip bottom to the frame's left side, a visible and tactile loaded chamber indicator was added to the left side of the receiver, a key actuated internal lock was added and a magazine disconnector was added. The latter three, according to some Internet message board denizens, signaled Ruger's compact with Beelzebub, the Price of Darkness, Lucifer, or the Evil One. If there was such a pact, it was broken with the Mark IV.
Which brings us to today…
While the Mark IV Competition bears many outward similarities to the highly successful Mark III series, the Competition's refined design brings with it significant improvement.
Field stripping is accomplished with a one touch button at the rear of the frame; the barrel and receiver tip down and lift off and the bolt pulls free of the receiver. No tools required.

The new one piece grip frame is CNC machined from a solid piece of stainless steel.

The hammer, sear, bolt and firing pin are all refined pieces.

The bolt stop has been reshaped for easier operation, the little Mark III thumb safety nub has been replaced with a more traditional ambidextrous thumb safety.

The magazine release has been extended and magazines now drop free when released.

The Mark III loaded chamber indicator is gone, as is the internal key lock.

The Mark IV maintains compatibility with Mark III sights, scope mounts and magazines.

The one piece barrel/receiver assembly and internal bolt design is retained.
The results of the changes, retentions and omissions in the move from the Mark III to the Mark IV is a smoother functioning pistol, improved reliability, improved accuracy, and ease of routine maintenance. To say the cleaned up lines and redesigned controls make the Mark IV aesthetically pleasing would be a gross understatement.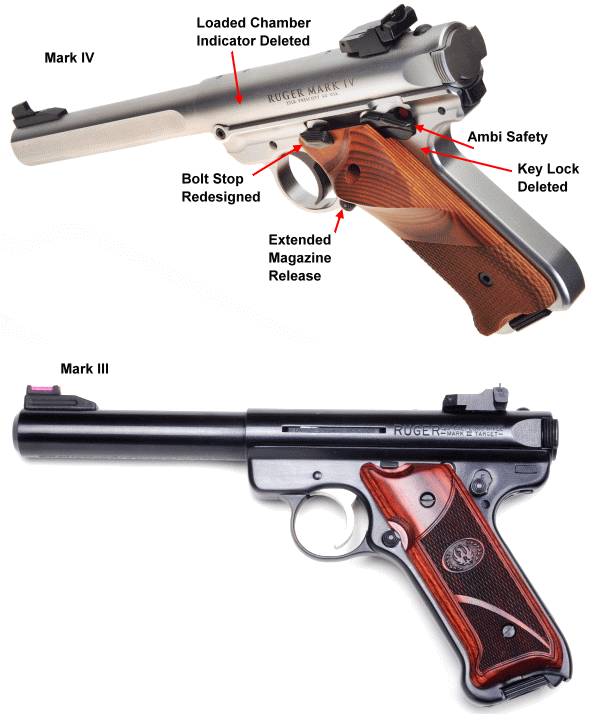 Mark IV Models? Many.
Ruger Mark IV Pistol

Company

Sturm, Ruger & Company, Inc.

Point of Manufacturer

Prescott, AZ U.S.A.

Model #

40112

Description

Mark IV Competition

Type of Action

Autoloader SA

Caliber

22 Long Rifle

Magazine Capacity

10

Barrel Length

6.88″

Barrel Material

Stainless Steel

Barrel Contour

Slab Sided Bull

Rifling Twist Rate

1:16″ RH

Receiver Material

Stainless Steel

Grip Frame Material

Stainless Steel

Frame Finish

Natural – Satin

Grips

Laminate Thumbrest

Front Sight

Undercut Blade

Rear Sight

Adjustable W/E

Weight of Firearm

45.8 Oz.

Overall Length

11.12″

Overall Height

5.550″

Width

1.75″

Manual Safety

Thumb – Ambidextrous

Magazine Disconnect

Yes

Loaded Chamber Indicator

No

Key Lock

No

CA/MA Approved

No

MSRP

$749
The subject pistol is the Ruger Mark IV Competition, however, the overwhelming majority of rimfire pistol enthusiasts will find models within the product line to suite individuals preferences. Regardless the model selected, all have the same refined controls and one button takedown.
Target – Three bull barrel models, alloy steel receiver / aluminum grip frame or stainless steel receiver / stainless grip frame ranging in MSRP from $529 to $689.
Hunter – Two fluted bull barrel, stainless steel receiver / stainless steel frame models with plain or target grip options; MSRP $769 to $799.
There are three 22/45 versions based on the Mark IV system, two are Lite models, one is a Tactical model, all poly frame, all with aluminum receiver, and all with threaded bull barrel. All carry an MSRP of $529.
The Mark IV Competition model fits in well with numerous organized competitive shooting events. Its under ten inch sight radius, over two pound trigger pull, adjustable metallic sights, and accommodations for optical and electronic sights makes it a fit for any number of .22 rimfire combat or tactical events and NRA Precision Pistol and Conventional Pistol Competition events. Of course the same attributes that qualify the Competition model for organized shooting events also make an excellent handgun for small game hunting and for recreational target shooting.
Good balance and easy take down…
The Competition is the heaviest of the Ruger Model IV pistols; 3 Oz. more than the stainless steel Target model, 10 Oz more than the aluminum frame Target Model. The weight is attributable to the Competition's longer barrel and all stainless steel construction. The Competition model is about 2 Oz less than the Mark IV Hunter, both with the same length barrel, however, the Hunter's multi-fluted barrel and non-thumb rest checkered grips. For the sake of context, the Ruger Competition weighs about the same as the rib eye steak I intend to grill on a snow covered deck this evening.
The 6.88″ barrel puts the front sight way out on a long sight radius which certainly aids critical aiming, but the balance is relatively neutral, located at the trigger pivot pin. The rear sight is fully adjustable, elevation and windage, both adjustments are so setting is positive and positions set are secure. The top of the receiver is drilled and tapped to accept rails and optical/electronic sights.

The Mark IV Competition's slab sided bull barrel is threaded into its cylindrical receiver, its internal bolt is also cylindrical… a whole lot of concentric circles that leads to a high degree of rigidity and accuracy. The barrel is fixed, the receiver is fixed, the sights are fixed to that assembly. Only the bolt moves inside of the receiver.
For folks who like their safeties one at a time or find that the right side ambidextrous safety running into their hand when their thumb clocks the left side safety off, a supplied Allen wrench is used to remove the right side safety thumb piece and to install the small bushing picture… not actual size.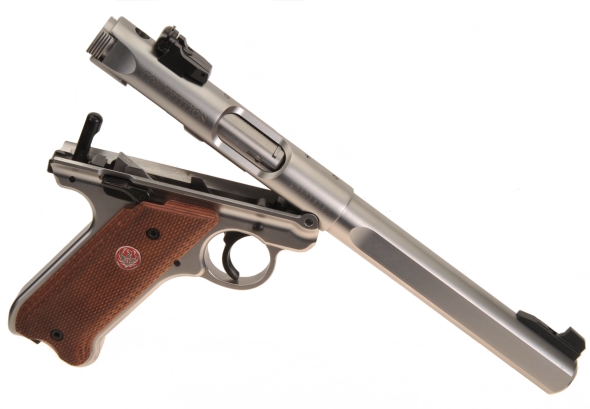 Disassembly is as billed; pull the magazine, pull the bolt back and check for empty, switch safety on, push the take down button in, rotate the barrel/receiver off. From there the bolt pulls free and there is easy access to clean anything that needs to be cleaned or lubed.
Reassembly is just as easy. There are parts trickling in from the usual suspects, intended to "improve" the Mark IV's performance. My suggestion would be to shoot the Mark IV for a few years, catch up to its potential, then revisit the issue. In the meantime, there are the various Mark IV models to get desired features and the Ruger store offers grips, sights, holsters, magazines, etc. to suit.
Even better with ammunition…

Ammunition
Bullet
Weight
Grains
Bullet
Type
Mfg
24″
Rated
FPS
Ruger
5.50″
Actual


FPS

Ruger
6.88″
Actual


FPS

50 Ft
5 Shot
Group"

Remington Cyclone

36

HP

1280

113

4

1132

0.9

Eley Subsonic

40

RN

1040

952

974

1.0

Remington Golden Bullet

40

RN

1255

1059

1141

0.8

Remington Target

40

RN

1150

1015

1082

0.7

Peters

40

RN

1255

1027

1102

0.8

Chronograph 10′ from muzzle – Groups shot from a sandbag rest
The Competition and Target models were not shot side by side, however, the ammunition used for both came from the same lot. With the exception of Remington Cyclone, the longer barrel Competition bump up velocity over the Target model.
In addition to the rested target shooting, I did have the opportunity to do a little plinking. Single handed shooting presents a steady sight picture and a comfortable grip. Surprisingly, the thumb rest works with a two handed grip as well. Pine cones died a sudden death, as did protruding branches on winter tree fall.
Recoil is non-existent, report is a sharp crack, both a relief from some of the wrist pounding centerfire handguns I've recently been shooting. A holster would have been nice, probably any one of the fifteen offered through the Ruger store would do the job. I suppose I could have mounted a scope or red dot sight, but sometimes shooting with a good set of metallic sights makes for a rewarding day of shooting.
Just spit balling here, but…
I honestly don't know which Ruger Mark IV is my favorite. I do know what every firearm enthusiast should own a 22LR auto loader as it keep shooting skills sharp, it is easy to find a spot to shoot them with frequency and they make an ideal gun for a little family/friend recreational competition. The Ruger Mark IV is one of those pistols that will last forever and provide endless hours of fun and reliable operation.
My wish list for the Mark IV product line? A 5.5″ barrel all stainless target model with threaded muzzle for suppressed applications and a Competition like the subject firearm chambered for the 22 Mag.