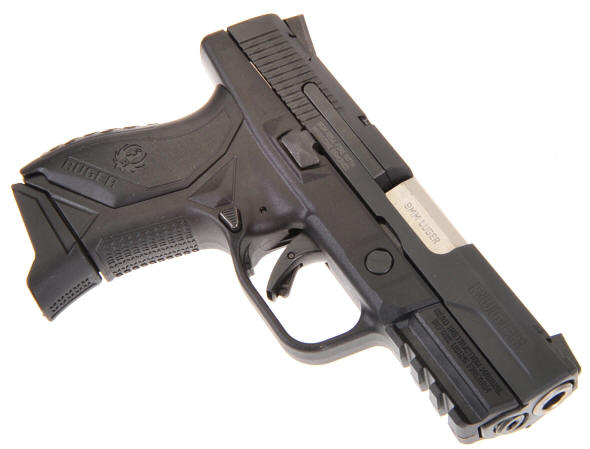 The Ruger American Pistol Compact Pro

Model

08637

Manufacturer

Sturm, Ruger & Co., Inc.

Point of Origin
Prescott, Arizona

Type

SA Pre-Tensioned Striker

Caliber

9mm Luger (+P)

Magazine Capacity

10

Barrel

3.55″
Rifling

1:10″

Overall Length
6.65″
Overall Height
4.48″

Overall Width

1.40″

Weight Oz.
28.70 Oz.
Sight Radius
5.75″

Trigger Pull – Actual

6 Lbs

6 Oz.

Sights
Novak LoMount Carry 3 Dot
Slide Material
Stainless Steel – Black Nitrided
Frame Material
Glass filled Nylon – Stainless Chassis

Grips

Small, Medium, Large Inserts

Thumb Safety

No

Key Lock

No

Chamber View Port

Yes

Magazine Disconnect

No
CA approved
No
MA Approved
No

MSRP

$

579

–
Keeping balance in coverage is a daunting task. Writing about firearms that are not a personal preference requires seeing value and application from the perspective of others. Subsequently, while I believe the .45 Colt should be the universal cartridge for handguns and long guns, I must seek to understand why 9mm Luger autoloaders sell like jelly beans.
The Ruger American's unique attributes
If a cartridge is going to perform, it would seem the associated pistol is of significant importance, even though there is a consumer tendency to skip over the details of the firearm while looking a ballistic tables.
The Ruger American Pistol is a tilting barrel, locking breech design which means the barrel is locked to the pistol slide on discharge to maximize the use of chamber and bore pressure and to provide stability to enhance accuracy. The barrel is unlocked from the slide only after bore pressure has dropped to zero and the pistol's slide is moving rearward.
The Ruger American Pistol has a pre-tensioned striker action; the pistol is fully cocked by the movement of the slide, rather than requiring effort during trigger pull to fully cock and then discharge the pistol. The result of this approach is dramatically shortened and lightened trigger pull. The profile of the barrel cam reduces recoil, the slide is low mass and the barrel is located low to the frame.
Disassembly is easy and requires no tools. The 9mm Luger Compact Pro utilizes a captive, dual recoil spring arrangement in deference to its short barrel length. The stainless steel barrel is ramped, a small notch in the barrel hood permits checking loaded or empty chamber status.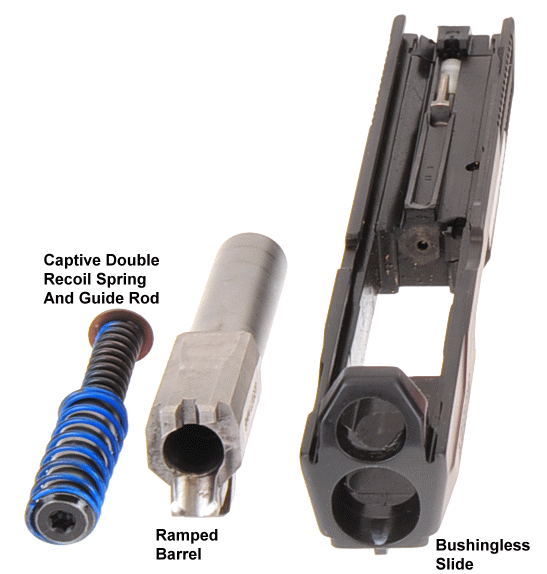 The modular grip system is practical and useful. Three are supplied with the Ruger American Pistol, cleverly nomenclatured small, medium and large. The selected grip locks into a channel in the frame and is secured with the a quarter turn of a #10 Torx head locking cam. The slide must be removed prior to removing or changing grips.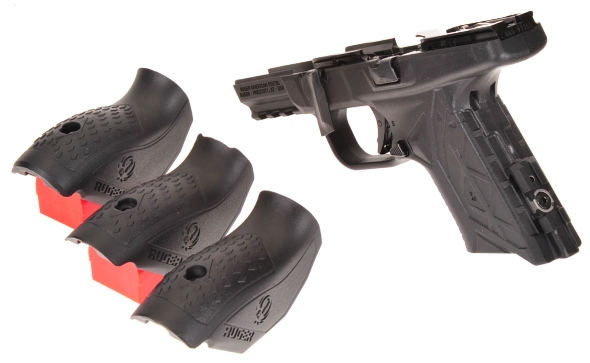 Initially, the thought crossed my mind that interchangeable grips might be a snowflake feature, incorporated at the urgings of little boys and girls who were used to having everything their own way… boys and girls destined to move back in with their parents when a career in classic comic book trading did not work out. But I was wrong… so wrong. Changing grips alters the way the Ruger fills the shooter's hand and moderates finger to trigger reach.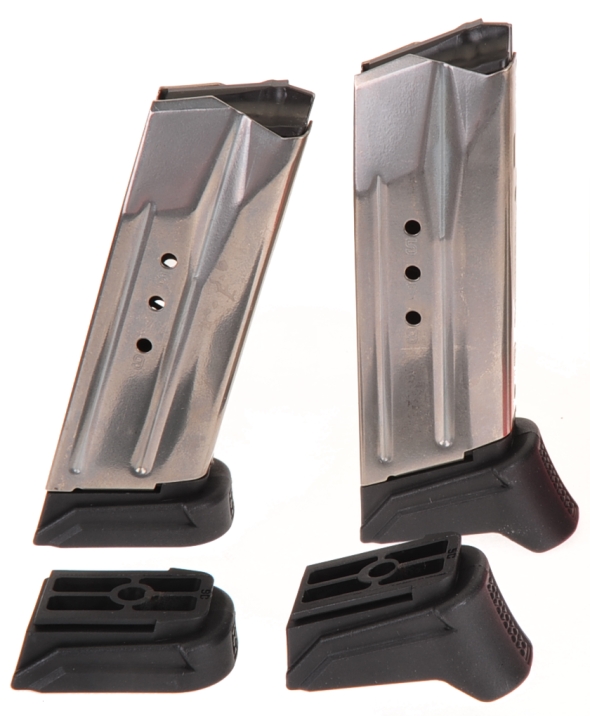 Supplied with the Ruger American Pistol, two 10 round Nickel-Teflon® plated steel magazines. Additionally, flat bottom floorplates and floorplates with finger extensions are included.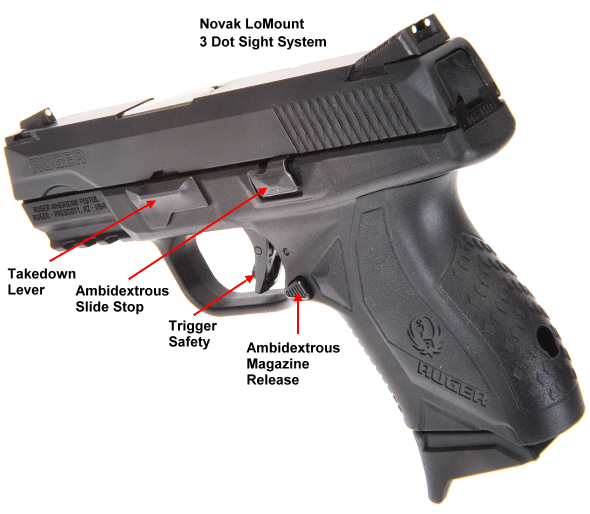 Controls are placed well for reach. Actuation is crisp and positive and the ambidextrous controls are handy in handling and in use. The sights are simple and optimal for concealed carry. The frame and grip form encourage a high grip.

Nice clean top side, no thingamajigs sticking up or out to snag on clothes or fingers. sights are dovetail mounted to facilitate installation and windage adjustment. The chamber viewport is visible on the barrel hood. Below, no thumb safety on this version and no magazine disconnect; it will fire a loaded chamber with the magazine removed.
The 9mm whatchamacallit
The 9mm Luger began life as a powerful cartridge upgrade to the original 7.65mm Borchardt – Luger. The first 9mm version cartridge was made my opening the original 7.65mm to 9mm and leaving a slight shoulder to set headspace. Around 1903 the 9mm became the straight walled gem it remains today, headspacing on the case mouth. 1)
My guess is that a cartridge in popular demand for 114 or so years, is probably beyond being a fad. The European standards CIP listing is "9mm Luger" with alternative names 9mm Para Bellum (two words as it is in Latin) and 9x19mm. The U.S. SAAMI listing is 9mm Luger / 9mm Luger +P. CIP has no +P designation. In any event, the Ruger American is approved for sustained +P use.
In the words of Billy Joel… Pressure

Compared to the 45 Automatic, the 9mm Luger is a little intense; 21,000 PSI Maximum Average Pressure compared to the 9mm's 35,000, or the same as the modern 40 S&W. The +P differential is 23,000 PSI for the 45 Automatic +P and 38,500 PSI for the 9mm Luger +P.
Piezo Conformal Transducer Method PSI

Cartridge

SAAMI

CIP

NATO

Max Proof

9mm Luger

35000

34084

33359

55000

9mm Luger +P

38500

–

–

55000

9mm NATO (9x19mm) Stanag 4090 is rated 36,985 CUP, not PSI, which
has no correlation to transducer method which renders the rating irrelevant.
The 9mm Luger is a good fit for this Compact Pro. The round generates only moderate recoil, even in concert with a pistol of this size, and it generate good velocity even from the 3.55″ barrel. By comparison, my Colt 45 Auto Officer's Model loses considerable velocity to the extent heavy bullet weight selection is critical if expansion is to occur.
Shooting standard and +P level ammunition posed no problems, even when mixed within the same magazine. No failures to feed, no stove pipes, no failures to eject and the slide locked open on empty to facilitate a quick reload. The beavertail's deep radius protects the shooting hand and makes for a stable high grip.
Ammunition

Bullet
Type
Bullet
Weight
Grains
Rated
FPS
Actual
FPS
3.55″ BBL
50′
3 Shot
Group "

Hornady Critical Defense

FTX

115

1140

1077

2.6

PMC

JHP

115

1160

1062
2.9

Remington UMC

FMJ
124

1100

988
2.4

Remington Ultimate Defense

BJHP
124

1100

1

058
2.8
Hornady Critical Duty
FlexLock
135
1115
1050
2.7
None of the ammo indicated above posed problems for the Ruger American Pistol Compact Pro, the pistol was 100% reliable. The level of accuracy is very good, especially for a short barrel pistol at 50 feet. A selection of handloads in being assembled and the associated data in Part 2.
1) – The Luger Story, The History of the World's Most Famous Handgun – John Walter