For a company that seems able to introduce a new product every few months, rifle and/or handgun, it makes me very happy to see the Ruger M77 Hawkeye continuing to chug away in production. Why? I think the firearm consumer market, at least the portion that is directed at the North American big game hunter, is split in two. The first group is comprised of older and/or traditional hunters who like clean walnut stocks wrapped around blued alloy steel, accuracy and reliability. The second group is comprised of folks who wait in line for the newest iPhone release and love their new wave, synthetic stocked, stainless steel 1,000 Yard paper punchers.
 

Ruger M77 Hawkeye Standard

Manufacturer
Ruger – Newport, NH
Model Number
37122
Type
Bolt Action
Caliber
7mm Rem Mag

Mag Capacity
3
Barrel Length
24″
Rifling
1:9.5″
Weight
8.2 Lbs

Overall Length
44.75″
Stock Material
Walnut
Hardware
Blued Alloy Steel
Length of Pull
13.5″
Metallic Sights
None
Scope Mounting
Ruger Rings – Included
Trigger
3.5 Lbs

Safety
3 Position – Swing
MSRP
$979
The Ruger M77 Hawkeye represents the company's current contribution to traditional rifle enthusiast, a product evolution that began in 1968 with Ruger's first M77 bolt action rifle. The Model 77 was available as a short action for 308 Winchester length cartridges and long for 30-06 Springfield length cartridges, including this length belted magnums.
Introduced in 1989, the Ruger M77 Mark II replaced the original model's adjustable trigger with a non-adjustable unit. The floorplate release was moved from inside the trigger guard to a flush latch embedded in the face of the trigger guard. The M77 Mark II's three position, bolt locking safety replaced the  M77's two position tang safety. The M77's plunger ejector was replaced with the M77 Mark II's blade safety which allowed a shooter to moderate ejection velocity.
In addition to the short and long action models, a 7/16″ longer magnum length action was introduced in the Ruger Magnum Bolt Action rifle, which was chambered for 375 H&H and 416 Rigby cartridges.

Introduced in late 2006, as a refined replacement for the Ruger M77 Mark II, the M77 Hawkeye Standard remained a traditional firearm, receiving only modest changes; a slimmed down walnut stock, a slick, newly designed LC6 trigger and a now iconic red recoil pad. The magnum length M77 Mark II action was retired., however, Ruger introduced their 375 Ruger cartridge in the Ruger M77 Hawkeye in 2007. Only 30-06 Springfield length, but greater in capacity and higher in performance than the 375 H&H. In 2009, the 416 Ruger was introduced, a 30-06 Springfield length cartridge that surpasses the performance of the 416 Rigby.
M77 Hawkeye bits and pieces…
The controlled round feed Hawkeye has a near full length, non rotating extractor and a fixed blade ejector. A round comes under feed control the moment it is stripped from the magazine well and rate or force of ejection is controlled by the shooter's bolt opening effort.
The dog leg bolt handle provides exceptional scope eyepiece clearance for lower scope mounting. The receiver mates to proprietary Ruger rings to clamp laterally and to key them longitudinally. Scopes, regardless size, stay put.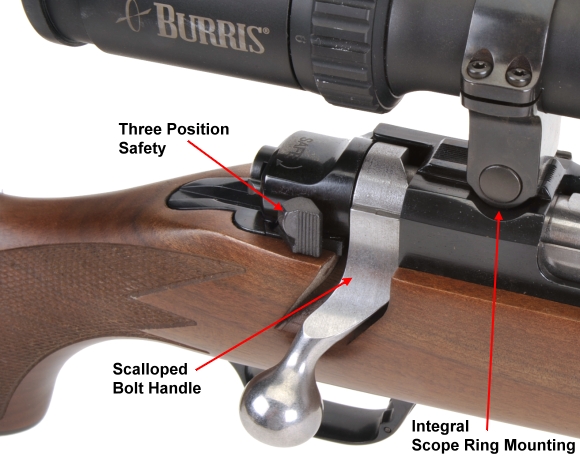 The three position safety; fire, safe allowing unloading, safe bolt locked closed, is a good one. Quiet, but positive in position.
The bottom metal is actually metal, steel to be more specific. The push in floorplate release can be seen in the front of the trigger guard. The Ruger logo is nicely done on the floorplate, giving the rifle a quality look. The trigger may not be adjustable, but it has no creep, crisp let off and with a consistently 3.5 lb pull.
The subject rifle…
The M77 Standard is available in: 204 Ruger, 243 Win, 270 Win, 7mm Rem Mag, 7mm-08 Rem, 308 Win, 30-06 Springfield, and 300 Win Mag. Standard cartridge rifles get 22″ barrels, magnum rifles get 24″. This particular M77 Hawkeye is chambered for the 7mm Remington Magnum cartridge. At 8.2 lbs it is not a flyweight, but it is a comfortable and appropriate weight for a magnum firearm. The barrel is more sporter weight than magnum with a diameter at the muzzle of 0.570″. The recoil pad is stable, non-slip, but just a tad on the thin side.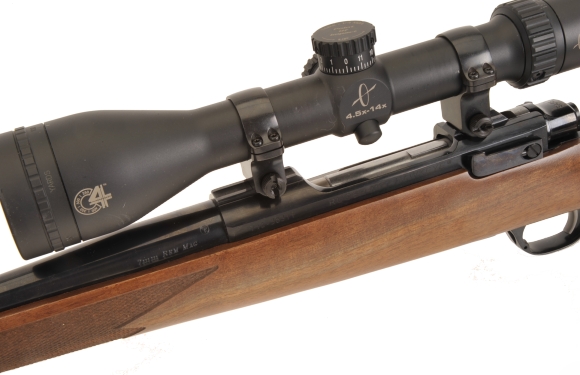 The Ruger M77 Hawkeye is a very balanced rifle, easy tracking and steady t the muzzle. The rifle is supplied with swivel studs and with the addition of a shooting sling can be shot from standing, kneeling, sitting and prone positions without the use of a rest. The fit and finish of metal parts are excellent. The walnut stock has good color, tight grain and even some very nice figure in the buttstock. Checkering is very good for machine cut. It has none of the fuzziness see on other brands and the panels are well placed for function.
Will the real 7mm please step forward?

These are only a handful of the many 7mm standard and magnum cartridges that have gone in and out of popularity. Left to right: 7mm-08 Remington – still popular, 7mm Mauser – a rarity these days, 7mm WSM – a great cartridge gone and mostly forgotten, 7mm Rem Mag – the 7mm that will not die, 7mm Ultra Mag – attempting to ride a big cartridge trend when Winchester pulled the rug out from under Remington with a glut of short magnums.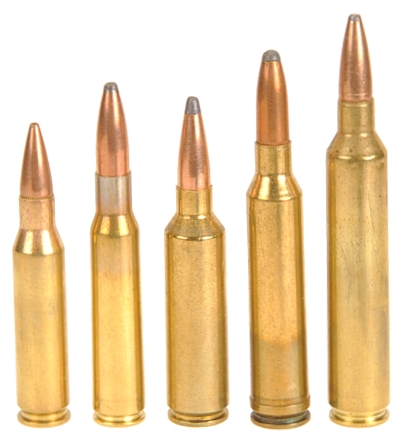 Introduced in 1962, the 7mm Remington Mag is a truly successful cartridge, outliving virtually all of the other 7mm cartridges, surviving wave after wave of competitors' marketing assaults and for good reason. With 70 factory loads available, there are only 4 cartridge with more; 223 Rem (147), 308 Win (155), 30-06 Springfield (127), and 300 Win Mag (95). Loaded with bullets from 125 grain to 180 grain bullets, the 7mm Rem Mag can handle anything from coyote to big bear. In fact, it is one of the most flexible hunting cartridge.
I began hunting with the 30-30 WCF on the east coast, hunted western states with the 243 Winchester, then began hunting at longer distances and for larger game. After trying the 300 Win mag and 338 Win mag, I finally settled on the 7mm Remington Mag and have used it successfully, even if not exclusively ever since. One of my wood stocked and blued steel 7mm Magnums is 37 years old. It has seen heavy use, the bore is in great shape and it still shoots sub MOA. For me, the Ruger M77 Hawkeye makes for an ideal 7mm Mag. in barrel length, heft, accuracy, and reliability. So we will take a little brake, assemble some hunting handloads and see how the two perform. Be back shortly with Part II…