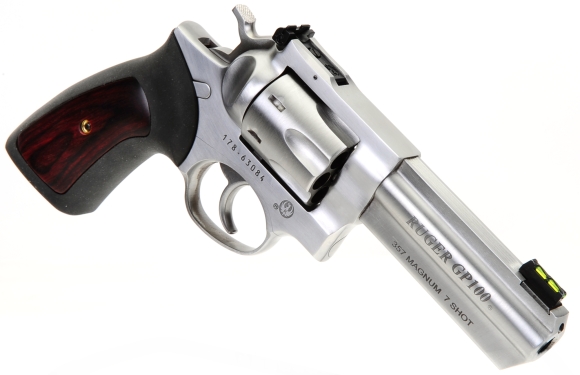 Well, I was going to announce that Ruger has introduced a new 357 Magnum, seven shot version of the GP100, but apparently they just went right ahead and blurted that out, right there on the barrel. I suppose I could have beat them to the punch by moving this paragraph ahead of the picture, but no point now, you've already read this. I guess we can go with elaboration.
Pictured  below, top, my personal trail carry, home defense handgun is a Ruger GP100 357 Mag. No weird modifications, just slicked up a bit; lightened hammer spring, micro shimmed action, a grip that suits me, Fire Sights, and broken in from lots of use. It's most endearing quality? I can hit with it, shooting double action, all day long. Other than tinkering and the occasional cleaning, there isn't much to do with it other than shoot it.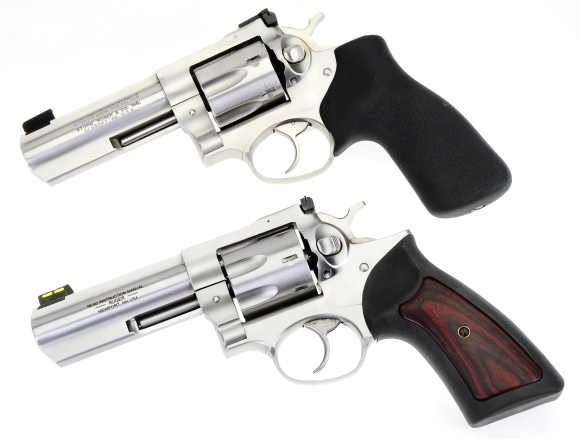 Pictured above, Ruger's GP100 Seven Shot. It is very similar to the standard GP100 with the exception of the factory rubber grip with laminated wood inserts and factory green fiber optic front sight. Even the change in cylinder fluting is subtle on the outside, but noticeable when swung open… sort of like waking up and finding you have an extra finger on each hand. Well, OK, not exactly like that but…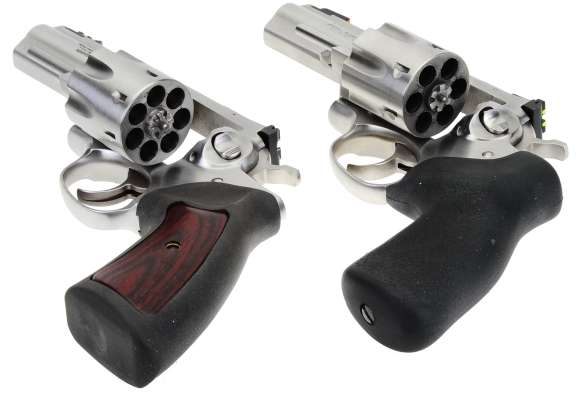 OK, if you can stop pointing to how dirty my GP100 is for a moment, I thought I might point out how one gets seven chambers into a space that used to be occupied by six. Adjacent chamber spacing is decreased while outer walls remain unchanged.
 Revolver

Cylinder




Length "

Rear




Cylinder




Diameter "

Rear Chamber
Outer

Wall




Thickness "

Adjacent




Chamber Wall




Thickness "

GP100

1.609

1.546

0.080

0.122

GP100 Seven

1.608

1.545

0.081

0.055
There is no cautionary note in the firearm's manual other than that which applies to all GP100 revolvers chambered for the 357 Magnum; use any SAAMI, CIP approved 357 Magnum, 38 Special or 30 Special +P ammunition. In working with the GP100 Seven Shot, I ran through everything from Winchester 110 grain target ammunition to Buffalo Bore 180 grain Outdoorsman hard cast without a problem and without stiff empty case ejection.

 GP100 Seven – 357 Magnum


Manufacturer

Ruger – Newport, NH

Model Number

 1771

Type

SA/DA

Caliber

357 Magnum


Capacity

7

Barrel Length

4.2″

Rifling

1:18.75″

Weight (Actual)

39.5 Oz


Overall Length

9.50″

Grip

Rubber / Hardwood Insert

Frame & Cylinder


Stainless Steel

Rear Sight

Adjustable W/E

Front Sight

Fiber Optic – Green


Trigger Pull DA/SA

10 Lbs 1 Oz / 4 Lbs 4 Oz

MSRP

$899

For folks who would like alternatives to the 357 Magnum, there are models chambered for the 22 long rifle, the 44 Special and sometimes the 327 Federal Mag. GP100s are available in blue and stainless, in barrel lengths of 2.5″, 3″, 4.2″, 5″, 5.5″, and 6″. The GP Seven is available with 2.5″ barrel (1774), 4.2″ barrel (1.771) and 6″ barrel (1773). Additionally, there are two match models for those with a competitive bent. Yes, I do realize this information begs to be placed on a table with models and features for easy reference, but Ruger has already accomplished that task.
The GP100 Seven is a continuation of a quality design and quality manufacture of the GP100 in any chamber or configuration. The cylinder frame is relatively compact, but built like a tank, and the cylinder is secured at three locking points when discharged. The grip frame is a peg, which offers a wide range of grip designs. Disassembly of the revolver requires minimal tools… mostly a paper clip.and a small common screw driver.
A little elaboration….
The rubber grips with hardwood panels are an improvement over the more narrow Hogue Monogrip. The wider expanse at the backstrap softens recoil to the palm of the hand, makes for a natural high grip and still positions the trigger fingertip square over the trigger. The absence of grip finger grooves allows more natural placement of fingers.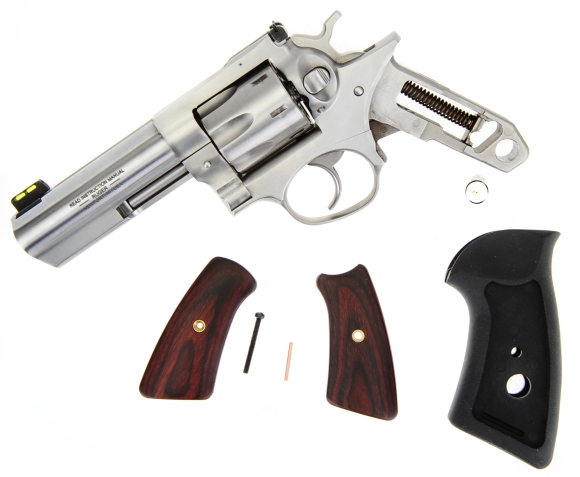 The stub grip frame is an excellent opportunity for custom grip makers, one or two piece grips. The Ruger rubber grip slips on and is held in place with a large cross dowel, or grip locator, that passes through the grip and frame. The panels pop into the rubber grip and is held in place with one small diameter cross slot screw. The little brass pin is retain a compressed hammer spring when disassembling. The GP100 shares grip commonality with the Ruger Super Redhawk.
Some of the companies making grips and grip panels for the GP100 – Altamont offers replacement grip and fancy side panels. Eagle Grips offers custom solid wood types and sizes. Hogue lists 148 grips, both overmolded rubber and exotic hardwood types. Gemini Customs offers custom grip services for the GP100/Super Redhawk that are quite sensational.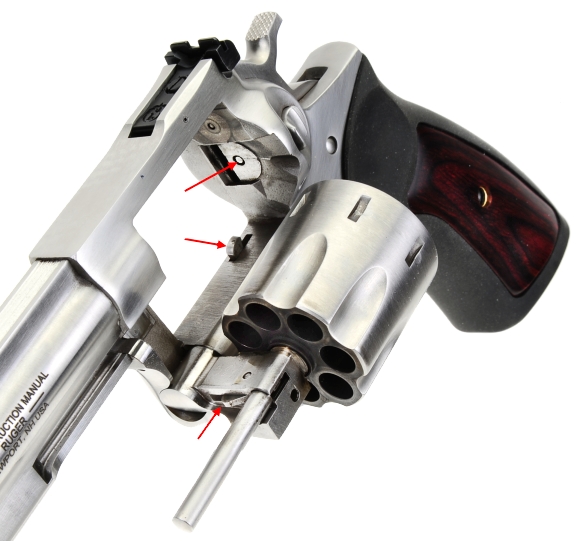 The Ruger GP100 is a true triple lock; front latch, cylinder latch and center pin lock. The tight cylinder lock up contributes a great deal to GP100 accuracy and safety of operation. Exceptional frame strength means a revolver beginning with a 0.006″ or so cylinder gap, will have the same cylinder gap after thousands of rounds have been fired.
The Ruger GP100 Seven, like the standard GP100, has a very clean sight line. The cylinder frame drops below the rear sight, the barrel rib is grooved to kill glare. The rear sight is click adjustable for windage and elevation and the front sight is quick change interchangeable.
As a shooter…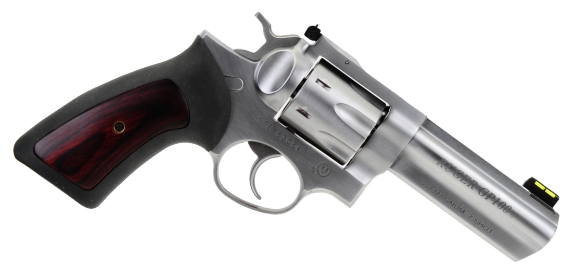 The GP100 Seven was shot predominately with 158 grain SWC hard cast handloads. Muzzle velocity recorded was 1316 fps from the 4.2″ barrel. From a steady rest, group sizes ran 1.2″ to just under 2″ at 25 yards, depending on ammunition selected; more toward the low side than the high side, both jacketed and cast, light and heavy weight bullets.
Of greater consequence, from a two hand hold, it was easy to shoot double action and consistently hit a 4″ square foam filled box with my 158 grain handloads, driving it from 10 to 25 yards. Compact in form, it is a fast handling revolver and a comfortable belt carry. The seventh round matters; an extra shot over the six shooter model and it comes without disadvantage.
One of the reasons my personal open carry revolver has been a GP100 six shot, is the gun's good manners. Even with hot 357 Mag ammo, recoil is modest, as is muzzle jump. My wife also find the GP100 a comfortable gun to shoot to the extent it is often the subject of a little backyard shooting competition. The GP100 Seven is one of many Ruger's excellent ideas.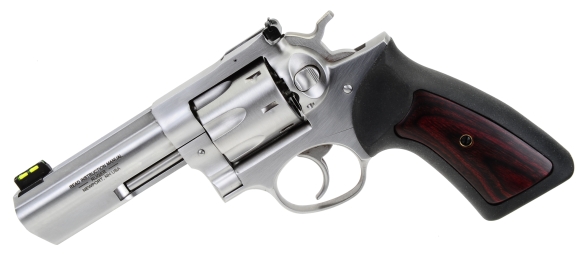 What will a 357 Magnum do in a confrontation with a block of ballistic gel?
I apologize for not putting these on a light table, but I just got finished running back and forth checking targets and pulling slugs from ballistic gel… and I was feeling pret-ty lazy.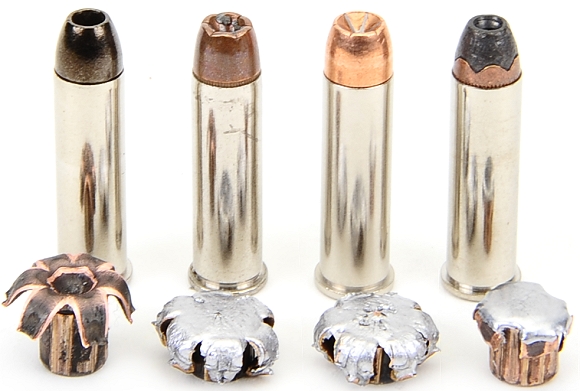 Ammunition

Bullet




Weight




Grains

Bullet




Type

Factory




Rated




FPS

Actual




FPS

5 Shot




Group "




25 YD

Gel Block "




Penetration

Recovered




Bullet "




Diameter

Recovered




Bullet




Grains

Barnes TAC-XPD

125

CHP

1200

1406

 1.7

16.0

0.690

125

Winchester PDX1 Defender

125

JHP

1325

1327

 1.3

11.0

0.650

123

Speer Gold Dot

158

GHP

1235

1232

 1.8

10.5

0.660

155

Remington HTP

158

JSP

1235

1337

 2.1

22.0

0.506

118

The results were… interesting. The Barnes solid copper hollow point stopped literally between the two 16″ gel blocks. The Winchester and Gold Dot are two different bullets in the way their respective nose cavities are configured. With nearly 100 fps difference in muzzle velocity, they expanded to nearly the same diameter and penetrated nearly the same. The Remington penetrated the most of the jacketed bullets, probably because of the smaller expanded diameter and boosted velocity, but it also shed the most weight. Its large exposed lead tip beyond the jacket fragmented within the first 10″ of wound channel. The low penetration, large expansion bullets are ideal for personal defense.
Left –  158 Grain Hard Cast handloads. 1307 fps with 9.5 grains of Alliant Power Pistol, I carry my GP100 loaded with these whenever I am out and about in area woodland. Penetration in ballistic gel is 32″+ and they don't fragment. They shoot under 2″ from a steady rest.
So is there a summary for the Ruger GP100 Seven? Sure, the seven shot version does all of the exceptional things the GP100 does, and it does it with one extra round in the cylinder. On the balance, the GP100 six or seven shot is one of the very best 357 Magnum revolvers on the market. Nice gun.