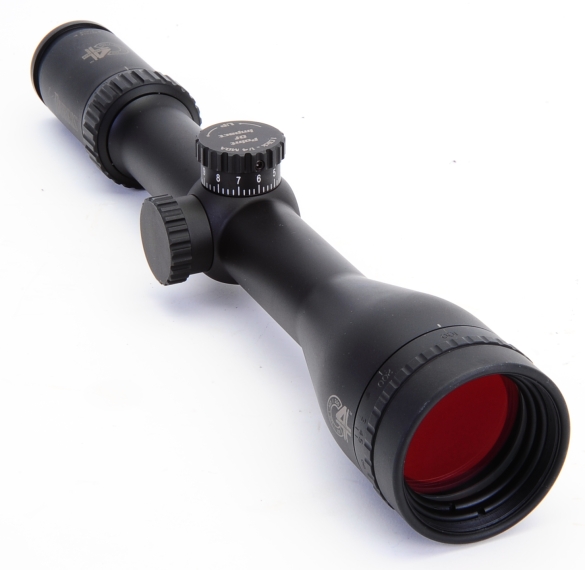 Guitars played in bars and guitars played by would-be stars...
In my old neighborhood, when someone wanted to make a living with music, they bought a Fender Stratocaster or a Gibson Les Paul, depending on their style of music, then practiced and practiced until they were good enough to play local clubs. They would continue to develop their skills and supported themselves solely with their musical talent and some did very well. They knew the intimate details of the tools of their craft and they exploited all of its potential. There were also, however, the kids who got their hair frizzed, bought an expensive and flamboyant Flying V then waited for Glam Rock to arrive. Decades later they still own the same guitar, in pristine condition... placed on static display for party conversation. Rifle scopes are a lot like guitars.
Virtually every day at Real Guns, there is a need to mount a scope on a project rifle for use in live fire assessment. The scope doesn't have to be fancy or expensive, but it does need to be rock solid reliable over the long haul. It must hold up to use on heavy recoiling rifles and the optical and mechanical performance has to be of a quality that won't limit the evaluated rifle's potential. A product that keeps its aesthetic appeal, enduring frequent handling, is appreciated.
Why don't low end scopes grace review rifles very often? Because we've not seen a low end scope that is not materially inferior to a mid range scope. Why don't very expensive rifle scopes appear atop review rifles on Real Guns? Because we've not seen one that is materially superior to mid range scope within the context of our hunting or shooting applications. The mid range Burris C4 was brought in for evaluation, it offered everything we look for in a quality scope and it found a home in the shop as a scope we could trust to provide critical service.
Can I reduce that to useful information? We can certainly try...
Burris C4 Wind MOA # 200468

Reticle Construction
Etched
Reticle Type
C4 Wind MOA
Reticle Location
Second Focal Plane

22 - 7.5Ft

9 - 3 MM

1/4 MOA

66 MOA

17.8 Oz

3.2- 3.9 In

57mm

42mm

39mm

13 In

Ring Mount Span

1.2 - 5.9 In

Tube Diameter
30mm
Parallax Correction
Objective Lens
Warranty
Forever Warranty
Water Proof
Yes
Shock Proof
Yes
Fog Proof
Yes
Nitrogen Filled
Yes
Discount Retail
$499
The Burris C4 Wind MOA is compact for a scope with such a wide magnification range. Its 30 mm tube is long enough to bridge a magnum length action, but short enough to not look like a Unertl Ultra Varmint. The combination of 30mm tube and 42mm clear objective makes for a bright image and the Hi-Lume multicoated lens system and excellent baffling makes for sharp, high contrast images and vivid colors.
The 42mm objective lens and 30mm tube combination passes a lot more light than a 50mm objective with a 1" tube. It also allows mounting close to a gun's barrel with only medium height rings.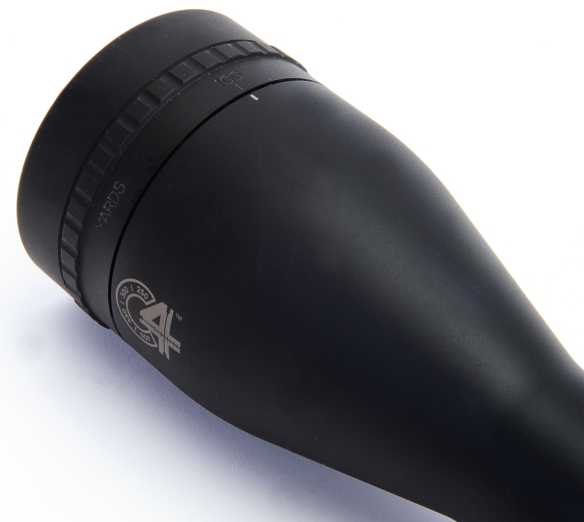 Parallax adjustment is made with a knurled collar on the end of the bell and is incremented for 50, 100, 200, 300, 400 and 500 yards, plus infinity. Indexing marks are not done in a contrasting color, which compliments the overall appearance of the scope and they are still easy to read. Adjustment is smooth and the setting stays put. The matte black finish is resilient. It doesn't scratch or mar easily and it wipes clean with Windex and a paper towel.
C4 - Cartridge Calibrated Custom Clicker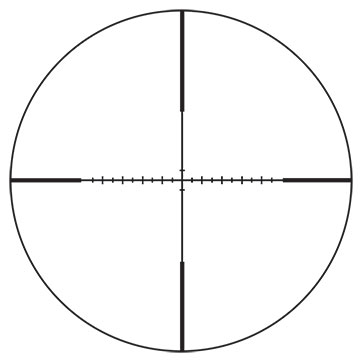 The C4 includes elevation and wind compensating tools. The first is an MOA indexed, etched reticle; one tick up and one down tick for elevation and 10 ticks in either direction for windage. The second compensation tool is a free custom indexed elevation knob.
As received, the C4 elevation knob is indexed in 1/4 MOA increments to facilitate typical scope adjustment. However, by providing basic information regarding a favorite factory or custom handload Burris will provide a custom elevation knob. The knob is scaled for MOA increments, yards and wind hold off. Selecting the range on the elevation knob removes the need for hold over and the associated windage hold off is matched in 10 MPH increments to the horizontal tick count on the reticle.
Below, standard cap left and custom cap right. The standard cap is marked in 1/4" MOA increments only for relative elevation adjustments to point of impact. The custom cap, is indexed for the trajectory of a 6.5x55mm cartridge with a 140 grain Nosler Partition bullet and a muzzle velocity of 2880 FPS... my favorite handload for the Swede.
The small tick marks at the bottom of the custom cap are uniformly 1/4 MOA increments. Immediately above that scale is the point of impact elevation scale tailored for that specific cartridge configuration and level of performance. When using that particular ammunition, the elevation knob can be turned directly to the range of the target and no hold over is required. The top scale represents windage compensation. A 10 MPH crosswind at 500 yards would require 3.8 ticks of hold off, or double for 20 MPH winds, etc. The printing on the cap is nicely done and turn around is quick.
Pictured below, standard adjustment caps in place and removed. The side cap is a simple dust cover that is removed when making sighting in windage adjustments. The click positions have good tactile feel and the indexing contrasts sharply for easy reading. Additional custom calibrated caps may be purchased from Burris.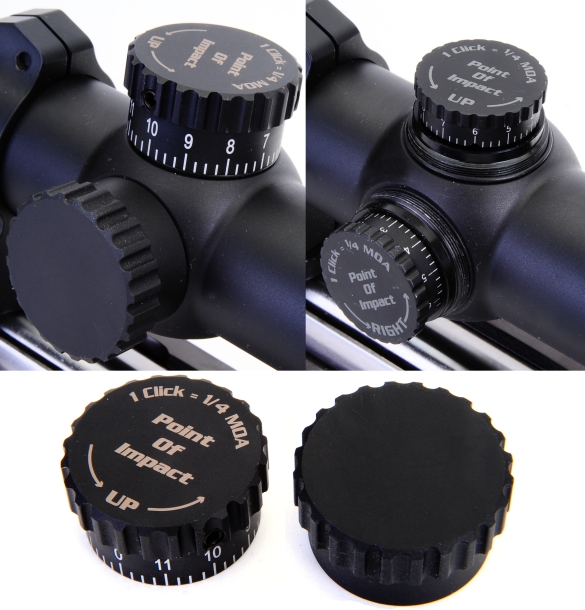 If I were to whine about minor concerns...
Is there anything I would change on the Burris C4? Sure, but all nit picking and nothing that discouraged us from buying the scope for constant range work and hunting. The scope has too many logos and model markings. If a decision was made to keep parallax and magnification scale the same color as the rest of the scope for improved aesthetics, I'm not sure what warranted all of the branding... beyond the obvious.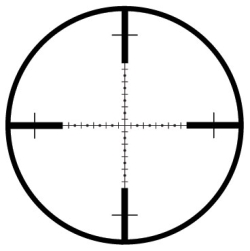 For folks who are use to cranking turrets in the field, I believe the Cartridge Calibrated Custom Clicker feature is a good one. The feature certainly tracks to that sort of scope use and it provides valuable information. For me, personally, I don't think it takes value away from an excellent scope, but nor do I think it adds value. I shoot a lot of different handloads and types of factory ammo, so a custom cap would be of limited use. The full feature of this type, and one that is easily and quickly programmable by the customer, can be found on the Burris Eliminator II. The Eliminator II has a built in range finder with its reading factored by angle of inclination. The Eliminator III adds wind drift consideration.
I do like the C4 Wind Reticle. It is clean, provides aiming points that are useful for folks who know the exterior ballistics of their firearm and can estimate distances accurately and dope wind correctly. However, my favorite Burris reticle in that regard is the G2B Mil-Dot™ which is supplied with the Burris MTAC product line..
How does the scope really perform?
We mounted the Burris C4 on a light weight 375 Ruger and test fired handloads during a two day load development effort. The C4 was also mounted on a light weight 338 Ultra Mag and finally a heavyweight 22-250 Remington. The scope held zero, tracked to incremental adjustment and pretty much didn't blink. When it came off of the last rifle, there were no permanent ring marks on the scope's tube and all of the adjustments worked as smoothly and precisely as when it was new.
I'm sure, in just quality of presentation alone, it will enhance the appearance of any firearm on which it is installed for years to come. Very nice scope, decent price... what's not to like? For more information, drop by the Burris Optics site.